Have you heard of flyboarding? It's like riding a hoverboard over water and it's absolutely exhilarating! I had the chance to try this exciting water sport with Flyboard BAMA on my recent trip to Gulf Shores & Orange Beach, Ala. Here's how it went…
When you browse YouTube and see the flashy videos, flyboarding can look intimidating. But you can see from my video that it's pretty simple. It might take 10-15 minutes to get balanced, but once you "get it," you are literally just standing there, flying over the water!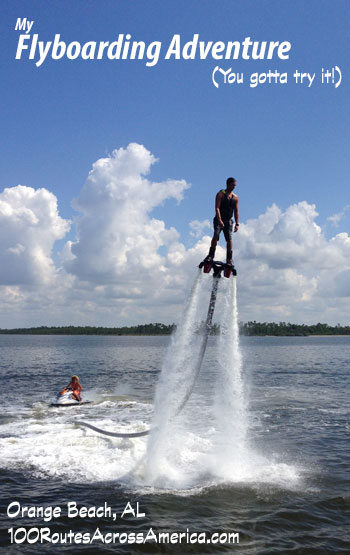 I started out by strapping my feet into the flyboard and putting on a life jacket and helmet. The flyboard is attached to a long tube attached to a jetski. I started swimming out a bit, just letting my legs dangle behind me. Slowly, the instructor increased the water/air pushing through the tube and into the flyboard, which pushed me gently along in the water. As the pressure increased, I picked up speed, letting my arms fall down to my sides and just plowing through the water with my head and shoulders!
When we got into deeper water, the instructor told me to bend my knees and get my feet under me. He slowly increased the pressure and it pushed me and the board out of the water. I fell several times, but even the falling part was pretty fun. It didn't take long to get the right balance and start to fly! And what a feeling! I love to waterski, but I think flyboarding is better because it's less effort. No holding on to a rope, no sore arms and shoulders, just standing and flying. I can't wait to try this adventure again and attempt some turns and dives.
Flyboard BAMA in Gulf Shores & Orange Beach, Ala., offers 20, 30, and 60-minute sessions. I recommend 30 minutes for your first flight – once you get up, you'll want time to keep going! Flyboarding is the new, hot summer sport – I just heard it mentioned on the Weather Channel! – so look for it this summer wherever you may be!
Thanks to Flyboard BAMA and Gulf Shores & Orange Beach for facilitating this review. All opinions are my own.