Are you a last-minute shopper? I am – and it's by design. I've shopped early in the past, but I always seem to come across a gift that's just right after my shopping is done. So now I wait. If you're like me and you're still looking for a thoughtful gift for the traveler on your list, here are some products I've tried, tested, and recommend!
Gifts for Under $15
Have a traveling child on your gift list? The Recipe for Adventure book series from Food Network's Giada De Laurentiis is all about family, food, travel, adventure, and magic! The chapter books, written at a 7-11 year age range, remind me of the Magic Tree House series – a brother and sister team find themselves transported to different cities where they must accomplish a mission while learning all about the city's food and people. Each book comes with two recipe cards. My daughter and I have loved reading the books, learning about another culture, and cooking together. $6.99
Every girl loves a good headband. For a stylish way to keep your hair out of your face and sweat out of your eyes, try One Up Bands. I love these headbands for working out, but also wear them when I travel to tame the frizz that inevitably happens after a day on the road or in the airport. They keep my hair in place and are super comfortable. One Up Bands offers several styles: non-slip athletic headbands, tie-back style headbands, stretch headbands, hair ties and more. $2 to $15.
Gifts for Under $50
One of my biggest frustrations when traveling is how to carry everything. Sometimes I don't need a handbag or backpack, but I want my necessities in an easily accessible place that is also secure and comfortable. That's why I love pocket belts. I have three different types of belts that I love for different reasons: the FlipBelt, the Hip Appeal, and the Fusion Belt. You can see the difference in style and size in this photo: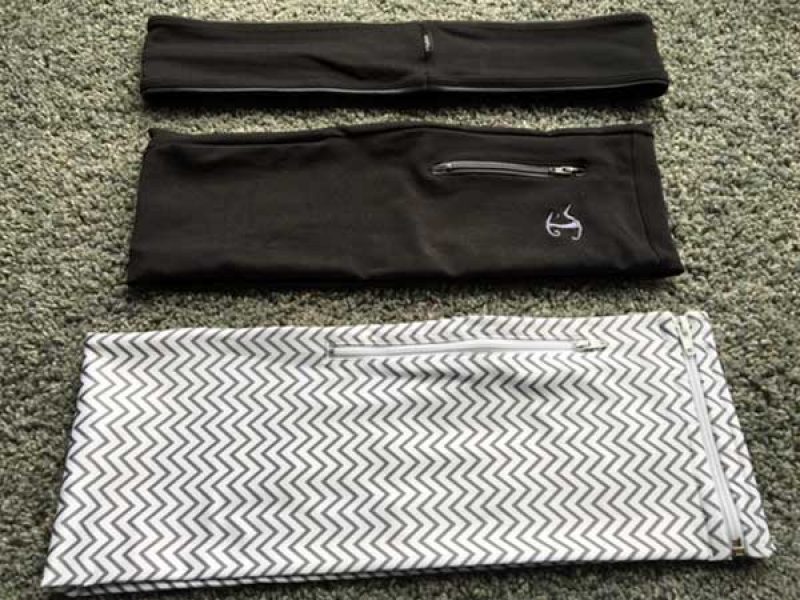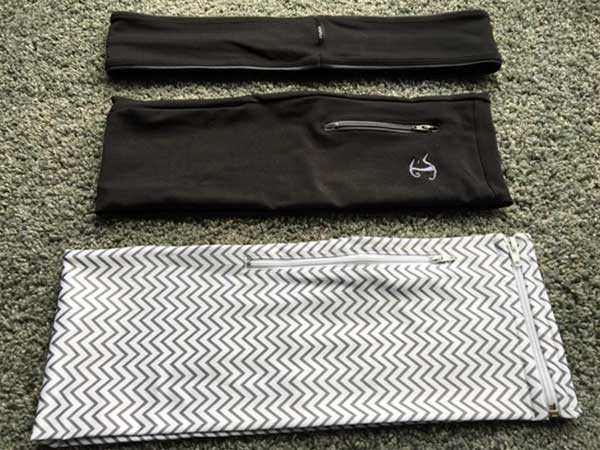 The FlipBelt offers a slim design that's great for carrying a few things when you don't need to access them often. Items slip in, then you "flip" the belt over to secure the openings against your body. (They now offer a zippered version which I have not tried.) I like this belt best when I'm active because it's thin. The Hip Appeal is a bit larger and items are secured by zipper. I like this belt when I'm traveling and need to get to my phone repeatedly. The pockets are larger and the zipper offers security as well as easy access. The Fusion Belt is different in that it zippers on and off – the other two belts you need to step into and pull up to your hips. I like the Fusion Belt when I have a bit more to carry – it has an 8″ front zippered pocket and a large 180° back pocket – and when I might need to take it off easily. When I'm flying, for example, I use this belt to keep my phone, ID, boarding pass, and snacks on me in the airport, but then I can easily zip it off when I get on the plane and don't want any extra "bulk" around my waist while I'm sitting in those tiny seats! $25 to $35
For air travel, The Airhook is a clever little device that hooks into the seatback in front of you. It securely holds your electronic device at just the right level for viewing, and it has a cup holder for your drink. Your tray table stays up, allowing you more space to move your legs around and making it way easier on you if someone in your row needs to get up and use the restroom. Here's my video demo. $25
The Smartphone Spy Lens makes an awesome gift for the tween or teen – you know, the one who gives you attitude about activities while traveling?  Set them up with this spy lens and watch how much fun they have. The lens attaches to your smartphone with a magnetic ring. It comes with four self-adhesive rings (in case you want to use the lens with multiple phones) that easily stick around your phone's camera lens. Just magnetically attach the spy lens and you can sneak photos at a 90-degree angle. It looks like you're just looking at your phone, but you're spying on the people next to you. $20
The Travelogue Journal is ideal for someone who is taking the trip of a lifetime. It comes with eight scratch-off maps (covering the whole world) and a book with a travel checklist, pages for planning your trip, and lots of space for journaling. $25
Gifts for $50+
Keeping your electronics charged is also important to every traveler! The myCharge HUB series of portable chargers is the all-in-one charging solution that not only eliminates that bird's nest of tangled wires; it also delivers excellent performance in a small footprint. Their Hyper-Charge™ technology charges smartphones up to 30% faster than the Apple-supplied charger. HUB series chargers are priced between $50 and $100 and MyCharge offers several other charging options starting at $19.99.
The Classic Poppet Travel Cardigan is a stylish, functional addition to a traveler's wardrobe. It comes packed in a pouch – just pull it out and put it on. The pouch section stays attached to the cardigan at your inside lower back, giving you a secure spot to keep valuables. I was skeptical about this product. I thought the pouch inside the back might bulge or be uncomfortable, and I figured any clothing stuffed into a pouch would be a wrinkled mess. But I was wrong. It's made of rayon/spandex, so it doesn't wrinkle too badly. When you first pull it out, you'll need to wash it a couple times to get out the manufacturing creases, but after that, it stays relatively wrinkle-free. It's soft, stretchy, and more stylish than I expected. I love the pretty ruched sleeves and the box pleats in the back. As for the pouch, the smart design of this cover up hides the pouch and anything you want to store in there. I didn't find the pouch extremely useful for carrying items because it is hard to access while you're wearing the cardigan and you can't put anything bulky in there like your phone or keys if you want to sit in a car or plane because it's uncomfortable against your back. But I did put my phone, travel docs, and a granola bar in the pocket when I was walking through the airport. That kept my hands free and the items secure. I'm looking forward to experimenting more with this cardigan when I travel, but in the meantime, it's pretty enough to wear any day! $79
I love essential oils for all kinds of uses, but when I discovered a way to enjoy them on the go with Skimbaco's Essential Oil Diffuser Jewelry, I was hooked. Essential oils are the aromatic, natural liquids found within shrubs, flowers, trees, roots, bushes, resins, and seeds. Know that amazing, relaxing feeling you get when you walk through the door at the spa and smell the calming scent? That's what diffuser jewelry can do for you. Skimbaco offers necklaces, bracelets and earrings made with leather, lava beads, or crystal geodes that are specially designed to hold the scent of your favorite essential oils. I am in love with this bracelet that allows me to carry the scent of "Stress Away" around with me all day! $23 – $108
For more ideas, check out my previous gift guide for travelers!