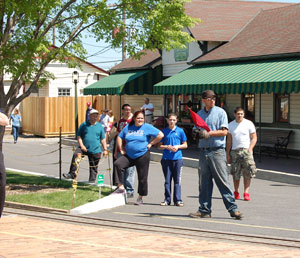 This is the first in an irregular series called "30 Seconds With…" in which I talk with random behind-the-scenes folk who do interesting stuff.
While waiting on the platform at the Strasburg Railroad, I noticed a man running alongside the Pint-Sized Pufferbelly – Strasburg's 23-minute miniature steam train ride. He was dressed in traditional railroad garb – oiled-up jeans and a blue button-down shirt – and carried a red flag. I watched him, running along with the train, back and forth, again and again. I had to get the scoop.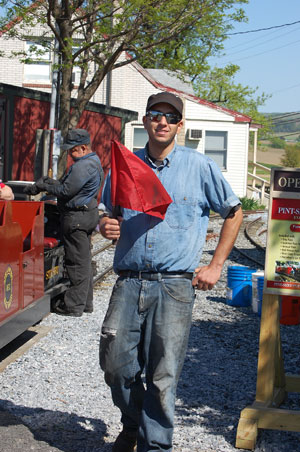 Me: Excuse me, can I ask you a few questions?
Flagman: (surprised and humble) Sure.
Me: I noticed you running alongside this train. What exactly is your job?
Flagman: To make sure pedestrians don't cross in front of the train.
Me: So you follow the train back and forth… for hours?
Flagman: Yup.
Me: How many hours do you work in a shift?
Flagman: Usually six.
Me: Sounds hot and tiring. But it's great you are protecting all the little kids around here.
Flagman: (smiles) Yeah.
And that's 30 seconds with the Flagman.