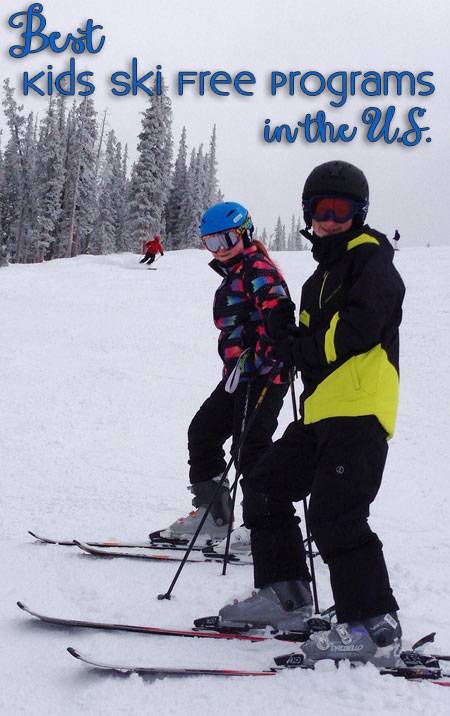 September is here and it's time to start planning your family's winter ski vacation! While most ski resorts offer free skiing for kids five and under, there is still free skiing to be had if your kids are ages 6 – 12, and even as old as 17. Here are some of the best kids-ski-free programs in the US.
Cream of the Crop
These are the best kids ski free programs that I have found based on value and restrictions.
Keystone, Colo.: This is my favorite ski resort for families and they offer a spectacular, no-nonsense deal. Stay at least two nights in their lodging and kids 12 and under ski free – no blackout dates.
Sugarloaf, Maine: Same deal as Keystone, but you need to book by November 30, 2015. Book any ski and stay package for two or more nights and kids 12 and under are free. Also no blackout dates.
June Mountain, Calif.: Just north of Mammoth Mountain, June offers free skiing for kids 12 and under – all the time.
Copper, Colo.: Copper's "One. Two. Free!" program has lots of perks. Book two nights lodging, get the third free, and kids 12 and under ski free. You'll also get 33% off rentals, tubing, Woodward, and off lodging beyond the third night.
Loveland, Colo.: If you live locally, Loveland will give you a free season pass if you purchase three full-day lesson packages – offer applies to kids and adults!
Passports
If you have a 4th, 5th or 6th grader – rejoice! Tons of ski areas are working to get upper elementary aged kids bitten by the ski bug by offering passports for free skiing. Some passports require a small fee ($20 – $40), some are only good for students in that state, some offer free tickets all season, and others only offer a few tickets at each resort. Please check the fine print.
Colorado & Utah:
Northwest:
Northeast:
Michigan:
Several resorts additionally offer unrestricted free skiing for the 12 and under crowd in the early and late ski season – typically before mid-December and after mid-March. And March is a great time to get kids on skis for the first time – a sunny spring day always makes for a better first time ski experience!