At the beginning of 2020, my husband and I embarked on a quest for physical and financial health that we are calling #401Kto401K. We'll be hiking 401 kilometers every year from now until can get our 401(k) savings.
As of the end of January, we are on track! We stayed close to home this month, hiking several trails and parks in Hunterdon County, NJ.
Kilometers hiked in January: 33.1
Total for 2020: 33.1
Goal for 2020: 401
We spent an unseasonably warm Saturday hiking near the Musconetcong River at Heritage Park and saw evidence of busy beavers hard at work. Then we took some fun photos in a corn field.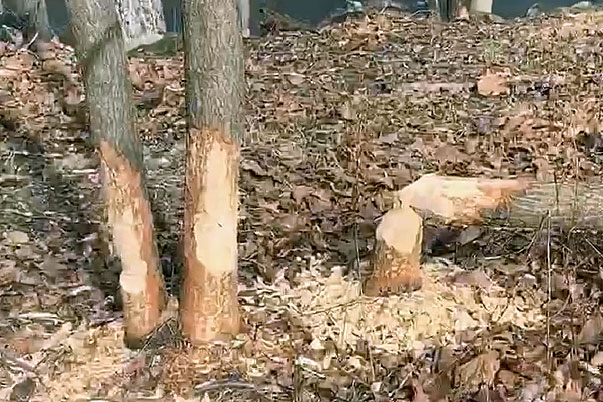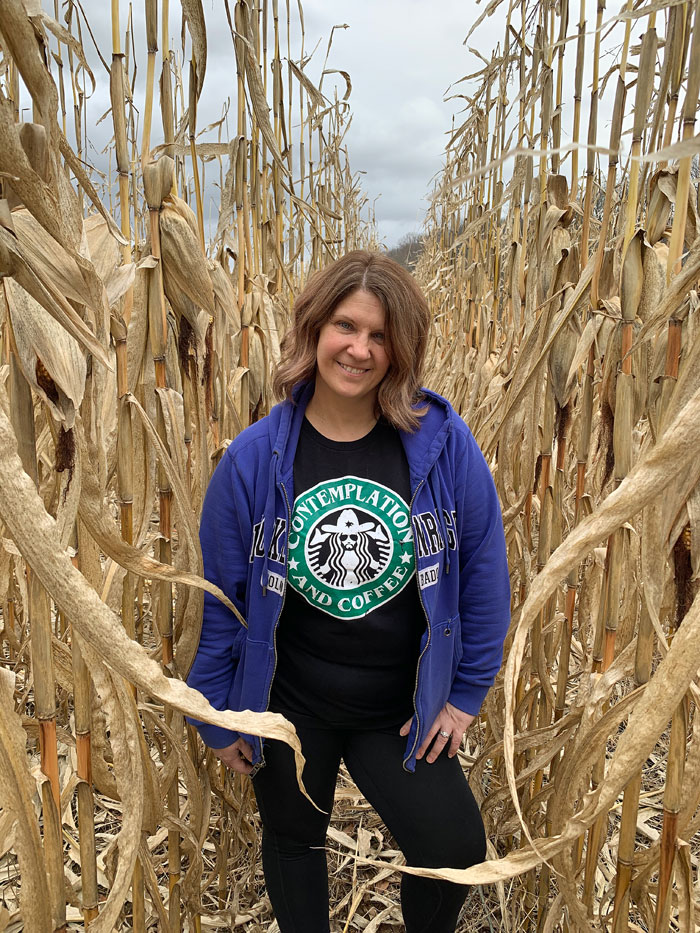 We took a snowy, uphill hike at Marble Hill Natural Resource area near Phillipsburg, NJ. With a tight window, we didn't make it very far, so that's one I want to get back to when the weather's a bit better and there's enough time to climb to the vista overlooking the Delaware River.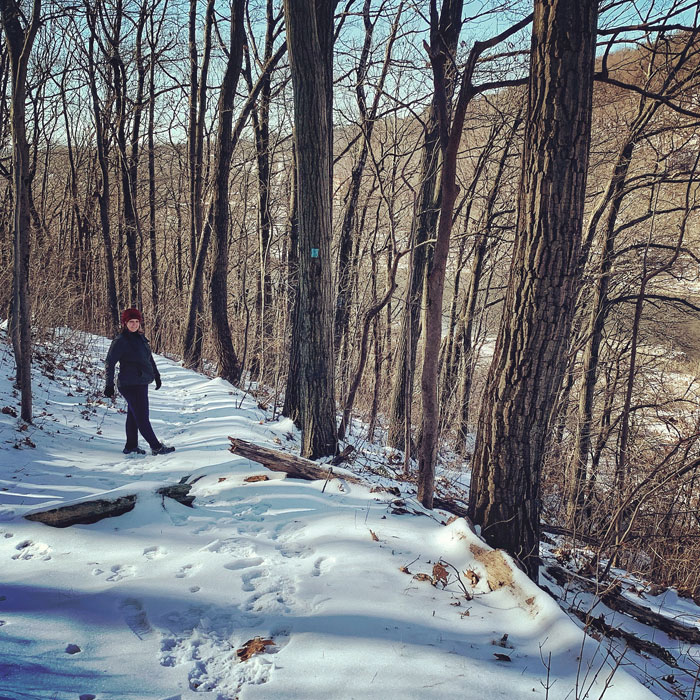 Hoffman Park has a fantastic trail system that's partially paved and has lots of loops so you don't have to just walk up and back. We'll definitely be back there again.
We also hiked part of the Lansdown Trail. It was muddy and rather unimproved, but the views along the Capoolong Creek are very pretty. And there's a make-out bridge.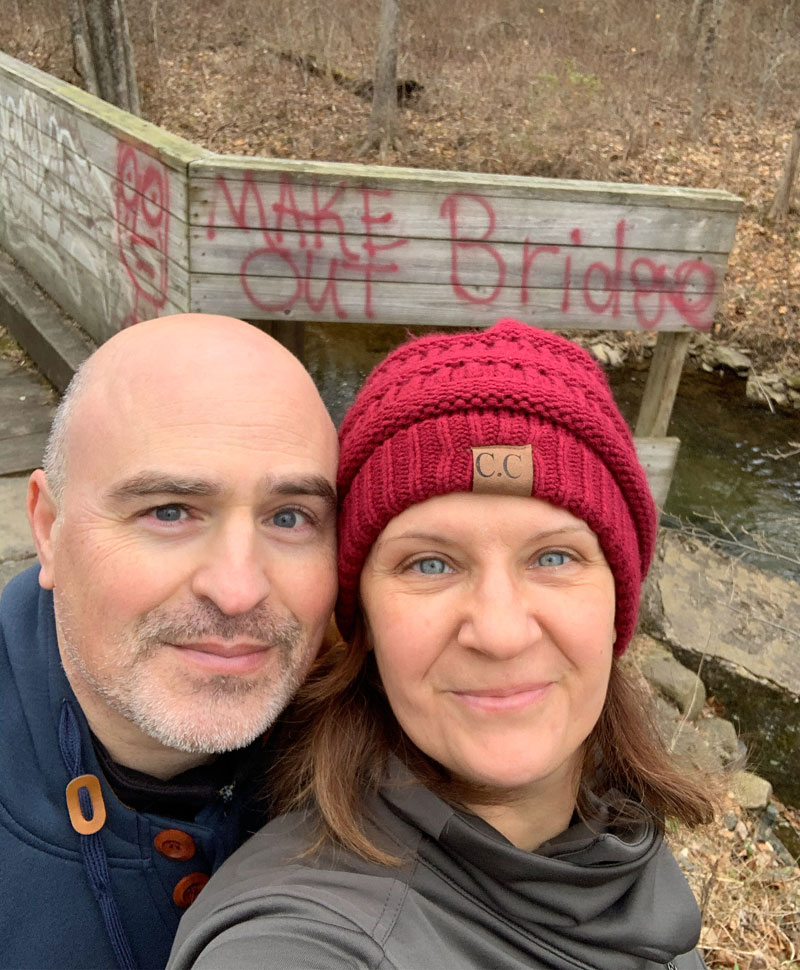 Hiking the Columbia Trail
One of our favorite trails is the Columbia Trail, which we pick up in the little town of High Bridge. There's a big parking lot at the trail head and the rails to trails path is long, wide, and scenic.
We typically walk a couple miles in, then turn around and come back. But today we ventured off the trail and down a nearby road to walk down by the South Branch of the Raritan River.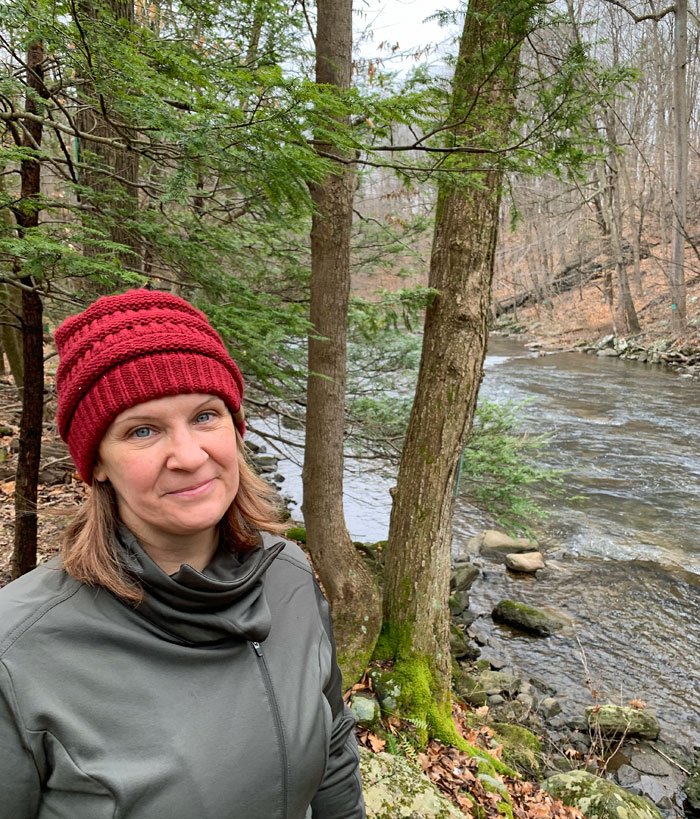 We walked through the woods for a bit, looking for a trail. When we didn't find one, we made our way back to the road and continued on. We came upon some Revolutionary War-era historical buildings, an old ironworks facility (the signage says it secretly produced cannonballs for George Washington and the Continental Army!), and finally a steep climb up that put us back onto the Columbia Trail.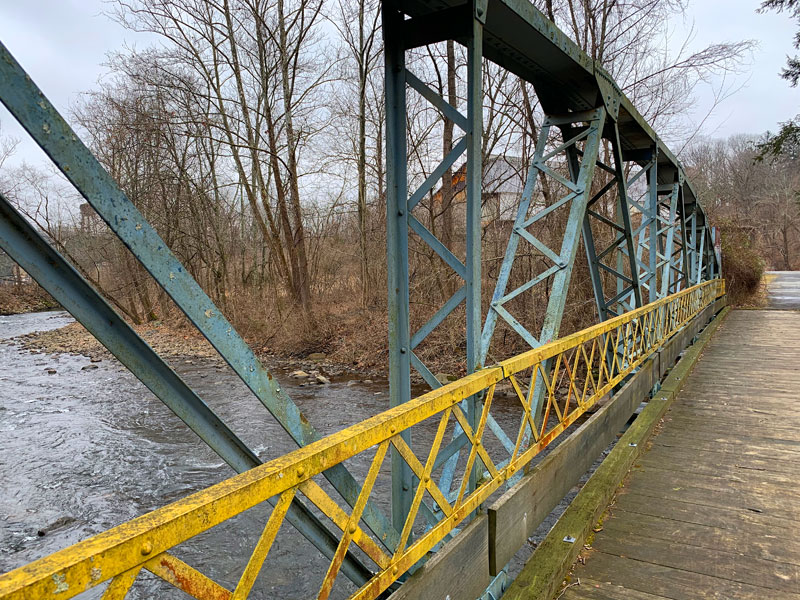 Paul loves to just walk off – and he's pretty darn good at finding his way using only nature's signs. I was happy to have my phone and map app just in case, but his adventurous excursions rarely disappoint.
Where to Eat in High Bridge, NJ
After hiking the Columbia Trail, our favorite spot in High Bridge for a snack is Scout's Coffee Bar & Mercantile. They have excellent coffees, unique flavored lattes, tons of tea options, and smoothies. They also serve sandwiches, breakfast items, and baked goods.
Today I had a bowl of steel cut oats with chocolate, peanut butter, and raspberry compote. Warm and filling, their oats and granola bowls have all kinds of topping options. But my favorite fare is their egg, maple sausage, and sweet potato breakfast burrito.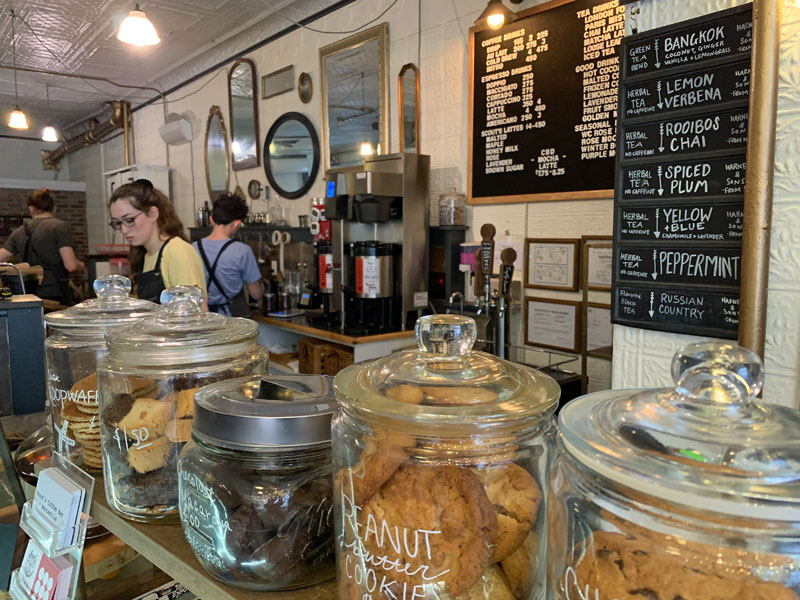 There are several other spots for post-hiking food in High Bridge, but we haven't checked them all out yet. There's the Polka Dot Cafe, Highrail Brewing Company, Casa Maya Mexican, Mrs. Riley's for beer and a burger, and a pizza place. If you're there later in the day, Circa is a cozy dinner spot. And I've heard that Peking Wok has some of the best Chinese food in the area.
Financial Freedom Tip #1
While we're happy to show off the under-appreciated beauty of winter in rural, western New Jersey, we spend a fair amount of time on these hikes talking about when we can hike, bike and ski in places that are far more renowned for their dramatic, natural scenery. In fact, that's a conversation we've had virtually non-stop since we setup our wedding registry at Eastern Mountain Sports (EMS) in Bridgewater, NJ a long time ago.
Today, we're much closer to flying off to Banff, Mammoth Lakes and Northern Ireland thanks to our FF Tip #1: Maximize your 401(k) contribution!
People often think of their retirement fund contributions as forced savings, which is great, but it's also important to think of the direct savings on income tax. The more you contribute up to the limit, the more you can save on taxes.
Plus, if your employer matches your 401(k) contribution like our company did years ago, do everything you can to take full advantage and save the maximum amount that they will match. It's basically free money your employer is giving you!
Many young people don't take advantage of this and they're missing out on a major opportunity. When struggling to pay rent, feed kids, or saving to buy a home, every dollar matters. But if you're in a stable job with any measure of job security, making that full contribution might mean something simple like skipping a Starbucks twice a week or cutting down on take-out. The savings will compound and grow exponentially without even thinking about it and it usually isn't missed.
Note: This post is for informational purposes only. I am not a financial professional and you should not construe the content of this website as legal, tax, investment, financial, or other advice.