As a fangirl who loves visiting TV and movie filming locations, I totally support fangirling (and fanboying!) in all aspects of life.
We've all worn our favorite band's T-shirts or bought our favorite movie or TV series collection to watch at home. But some people, myself included, go next-level with their fandom.
There's cosplay and fan conventions, where people invest a lot of time and money to interact with other fans, attend celebrity panels, and get photo ops with their favorite stars. Not to mention creating amazing costumes to honor a particular fandom.
It's one of my favorite things to do and I always get a thrill from meeting a celebrity in real life.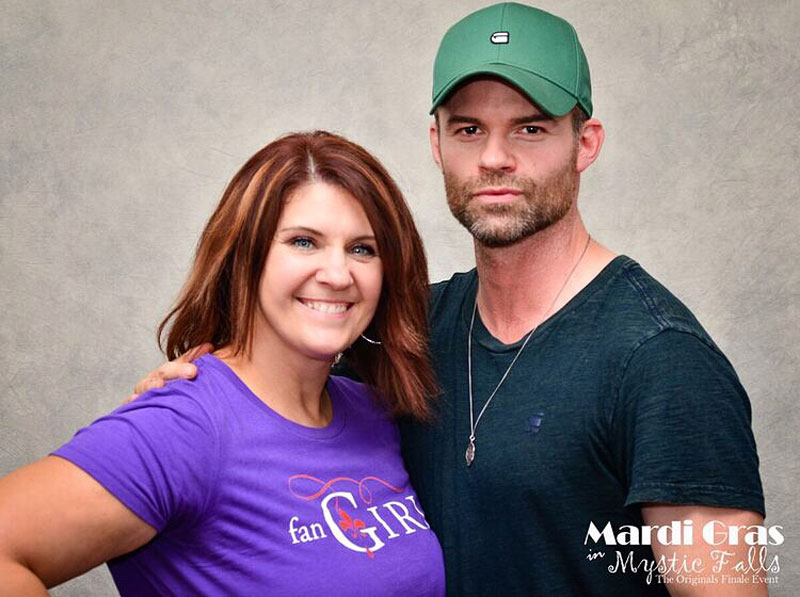 There is also travel to filming locations. Obviously, this is a favorite for me, since I write about it a lot on this blog! It gives me a thrill to search for locations and see what things look like in real life.
I'm always amazed how filmmakers can make a small space seem big, or shoot from a specific angle to make a busy road look like it's the most remote place in the world. I love that TV and movie magic.
But during those times when you can't travel to your favorite fan conventions or filming locations, there are lots of ways to bring your fandom into your lifestyle with home decor, recipes, craft projects, themed parties, and more.
Swifties Love Mood 13
For example, let's look at the recently-launched Mood 13 Magazine. Mood 13 is a monthly digital magazine featuring Taylor Swift inspired DIY projects, crafts, home decor and entertainment, including party decor, food, and beverages. All project ideas are themed around Taylor's music, lyrics, videos, quotes, and general interests/pursuits. It's a magazine for Swifties by Swifties.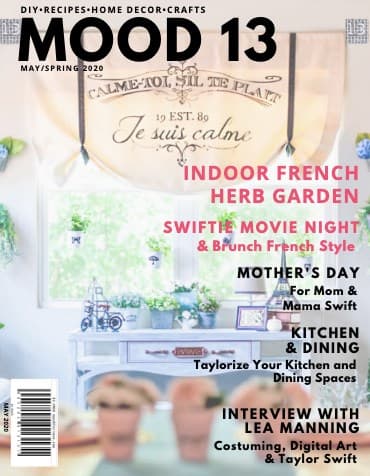 In addition to providing glittery, rainbow-y, Swiftie inspiration, Mood 13 Magazine aims to inspire creativity and mindfulness that promotes balance, well being, female empowerment, equality and women's rights. They support the initiatives, accolades and narratives of the Taylor Swift brand and uphold those ideals through social awareness, editorial content and charity through donations and random acts of kindness.
I mean, what Taylor Swift fan wouldn't love to see this in their window every day?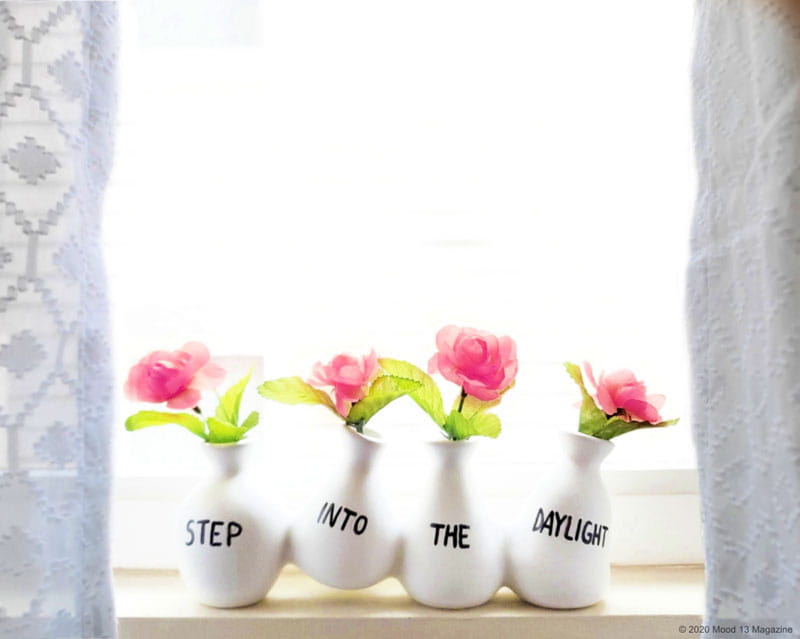 And for all the cool chicks…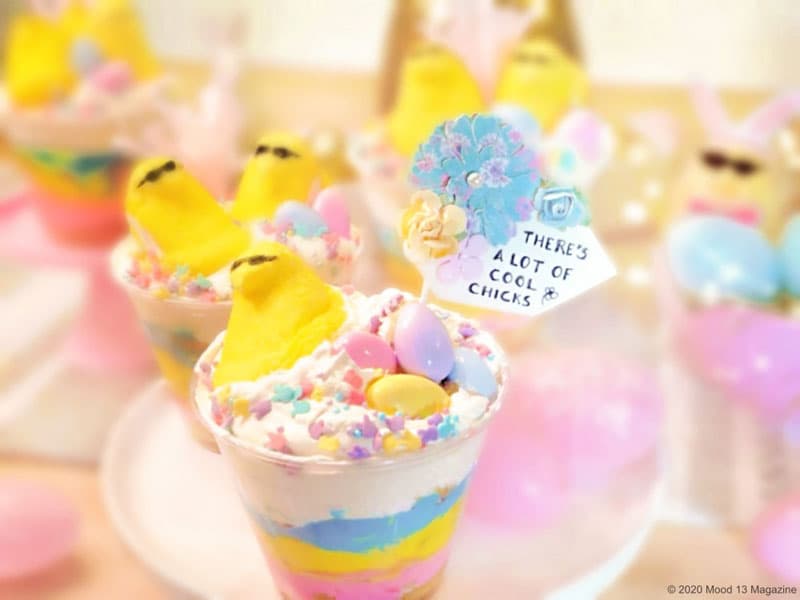 I don't consider myself a Swiftie, but browsing this magazine is inspiring me to apply some of these ideas to my love of TV shows like Stranger Things and Ozark. I can see some pretty awesome Ruth Langmore quotes on projects around my house!
This is 100% the kind of fandom I support. You can check out Mood 13 Magazine online or download through the Apple or Google Play stores now.
Wall-to-Wall Walking Dead
Another example of next-level fandom is the home of my friend Tom. He is a super fan of The Walking Dead and has pretty much made it the theme of his entire home's decor.
I met Tom at WalkerStalkerCon. He has met every member of the cast of both The Walking Dead and Fear the Walking Dead. He's partied with them, taken fan cruises, and met tons of friends that he will no doubt have for life – all thanks to his fandom. And through his dedication to the show, he's become good friends with actress Jenna Elfman who plays June on Fear the Walking Dead.
His house is a testament to that dedication. His walls are covered with beautiful fan art and photos of him with cast members. It's better than any Walking Dead museum I've seen!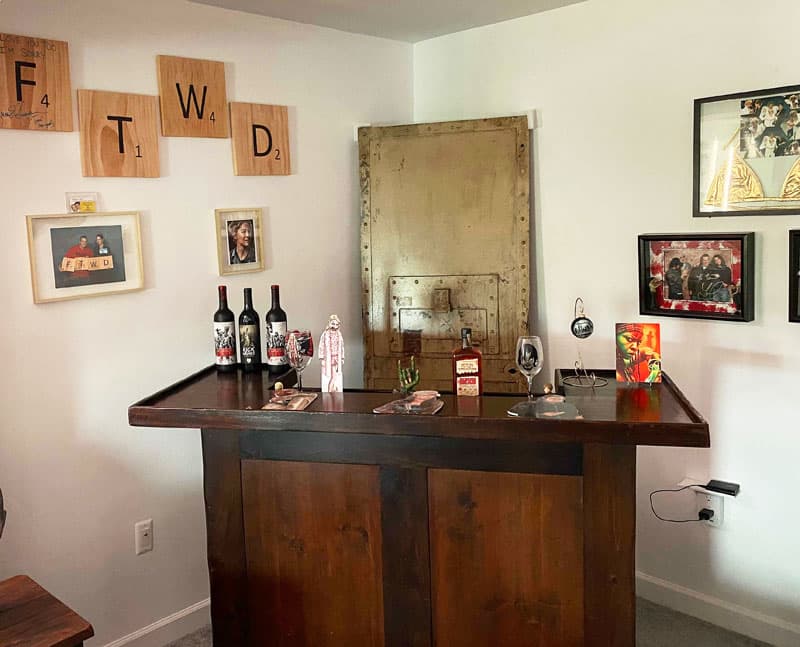 He has shelves and shelves of memorabilia, action figures, Funko Pops and more. He even has actual pieces from the set of The Walking Dead – those metal doors you see in the photos were from the prison!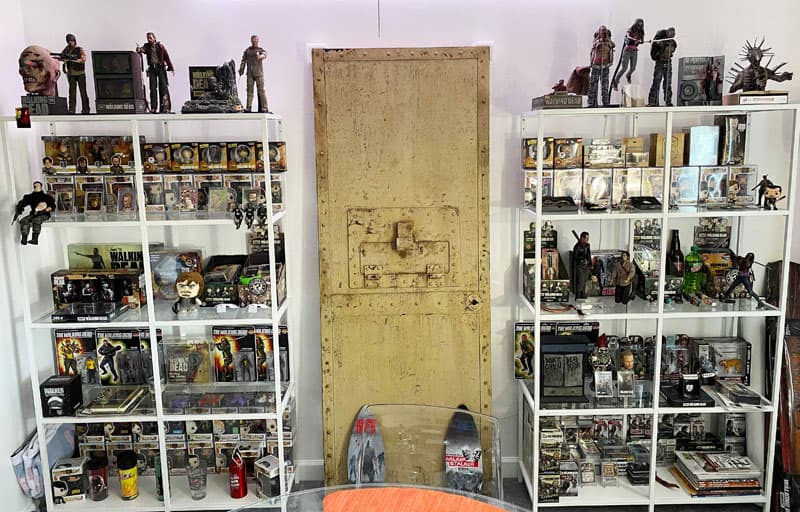 You can follow Tom on Instagram for more!
As for me, I've got a wall with some of my treasured, cast-signed art. And I've had a couple pretty epic themed parties.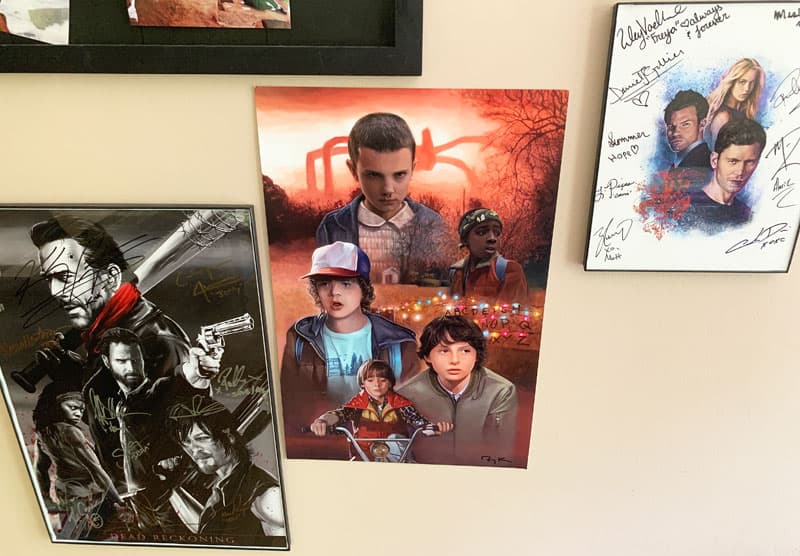 But after seeing what other fans are doing to bring their fandom into their homes, I clearly need to step up my game! I'm off to break out my glue gun.