Spoiler warning! This post contains spoilers for all seasons of Game of Thrones.
Daenerys Targaryen. She's lost a husband, two dragon-children, two devoted advisors, and a squad of loyal Dothraki and Unsullied fighters. And she recently discovered her lover might just be the one person who could screw up the attainment of her lifetime goal. She's gearing up to do some major work.
Get this woman a cup of coffee.
The internet is blowing up today over a take-out cup of coffee that was inadvertently left in a shot in episode 4 of Season 8 of Game of Thrones. You can spot the cup on the table near Daenerys during the victory celebrations at Winterfell.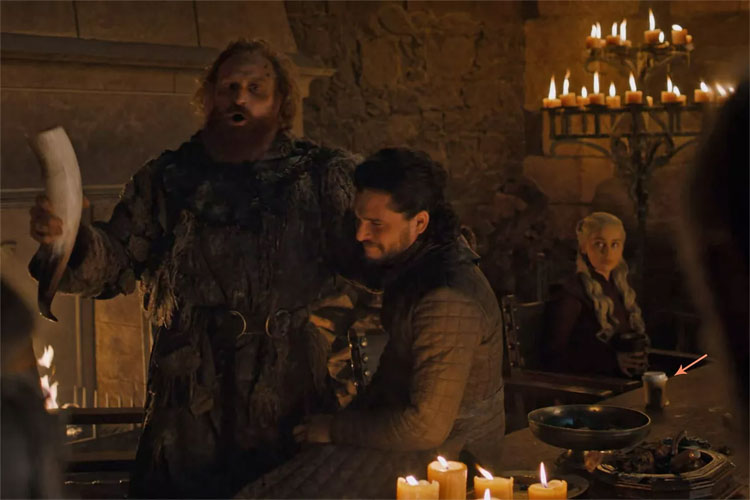 Inspired by this amusing oversight, I took a trip to my local Starbucks to create my own Game of Thrones-inspired drink. I present to you… Dany's Revenge.
How to Order a Dany's Revenge at Starbucks
Here's how to order your own Game of Thrones-inspired drink at your local Starbucks or coffee shop.
Grande Americano with an extra espresso shot
2 pumps cinnamon dolce syrup
2 pumps caramel syrup
Sprinkle of cinnamon
Optional: add a little bit of cream if you like creamier coffee
Just like Daenerys, this drink is deep and dark, with a touch of sweet and a kick of spice. It'll keep you focused when you need to plan your domination of Westeros.
Best Game of Thrones Starbucks Tweets and Memes
Daenerys Stormborn of House Targaryen, the First of Her Name, Queen of the Andals and the First Men, Protector of the Seven Kingdoms, the Mother of Dragons, the Khaleesi of the Great Grass Sea, the Unburnt, the Breaker of Chains, and Drinker of Pumpkin Spice pic.twitter.com/BOPdolRhXz

— Ira Madison III (@ira) May 6, 2019
Guys it's not Starbucks, it's Winterfell's own coffee chain "Dire cup" #GameofThrones pic.twitter.com/icM6bhXkbx

— ♉️ (@_alexalexalex) May 6, 2019
With all the tweets about the Starbucks cup in the GoT scene, I decided to look throughout history and see if I could see Starbucks cups at some key points in time. I found cups at the murder of Julius Cesar, the birth of Christ, the inquisition, and signing of the declaration pic.twitter.com/G7RRfhx2Lb

— Darren (@DarrenC347) May 6, 2019
And some of the more amusing comments:
Starbucks is everywhere. It would be unrealistic if there WASN'T a Starbucks in Westeros.
— @T_lockhart
Dany: "It's Daenerys with a Y"
Barista: "Gotcha" *writes Yaeneris on the cup*
— @Statboy_Steven
Got it at Stark-Bucks
— @tvbudge