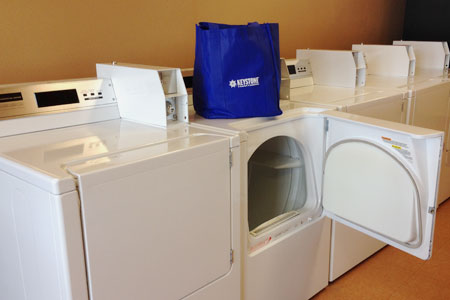 Whether you are flying and want to avoid ever-increasing airline baggage fees or driving and needing every inch of your car's real estate, the need to travel light is greater than ever before. And the best way to travel light is to pack less clothing and do laundry on vacation. My family road-tripped from New Jersey to California for 10 days and used only one suitcase and a laundry bag for all four of us. Yes, I had a few learning experiences during that time, so I'm going to share with you this definitive guide to doing laundry on vacation.
Bring Your Own Detergent
Whether driving or flying and checking a bag, get a secure plastic container and measure enough detergent to get you through your trip. If you're flying and only taking a carry-on, detergent is a bit harder because you'll need more than the 3-oz. limit. One trick I've used is to pack four 3-oz. containers of detergent and have each person in my family carry one on. That's typically enough to get me through three or four loads of laundry. I always pack dryer sheets when I travel. They take up no room at all and keep your clothes smelling fresh!
Sometimes you will have to buy detergent when you get to your destination. Picture it: You're on vacation and you discover that one thing you forgot. Sunscreen, sunglasses, beach toys, lip balm – something like that. I know you've walked into the local CVS or Walgreen's and – magically – that one item you need is right on display in front of you! It's also three times the price you would have paid for it at home. Laundry detergent falls in this category of "things they can charge an exorbitant amount for and you'll pay it." Especially if you just want a small package.
Before you overpay, check the laundry room at your hotel or resort. Maybe you'll get lucky and find some detergent that has been left behind. I have left bottles of half-used detergent in laundry rooms several times. If you strike out, don't go to the closest tourist trap retailer. You may have to drive a few more minutes, but you're likely to save a little money if you buy at a local grocery store.
How to Pack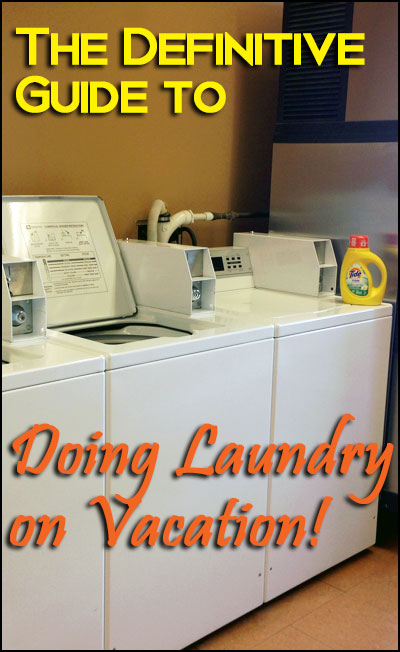 It's easy to create your own laundry schedule based on how long you'll be staying in one place and how often you want to do laundry.  On our road trip, I packed three outfits for each family member. Two outfits (for each of us) went in the suitcase and one went in the laundry bag. On the second day of our trip, we wore the clean outfits in the laundry bag then packed in our dirty clothes. We still had two sets of clothes in the suitcase to take us through two more days. So the fourth night was laundry night. I planned our schedule around this, building in time at the hotel for the kids to swim with Dad while I did laundry.
Laundry SNAFUs
At one hotel, the change machine didn't work so I had to walk to the front desk to get quarters. Then the detergent vending machine ate my quarters and I had to walk back (a looong way) to the front desk for assistance. The hotel was very gracious and helped me out, sending a maintenance person to the laundry area to check on the detergent vending. Lesson learned: Bring your own detergent whenever possible.
At another hotel, I returned to the laundry area to find my clothes had been taken out of the dryer and piled up on top so someone else could use it. The clothes were still damp and I know someone had bogarted my dryer time. Lesson learned: Keep an eye on your laundry. You could bring a book or your iPad and enjoy the quiet time. I don't always keep an eagle eye on the laundry the whole time, but I do check frequently.
Then there was the time when I planned to do laundry later at night, but the hotel locked up the laundry room at 9 p.m. Lesson learned: Always find out if the laundry room has specific hours of operation. 
If you're staying in a private home or condo with a washer/dryer, laundry is a piece of cake. If you'll be in a hotel, resort, or campground, it can be more challenging, but absolutely doable. Ask about laundry facilities when you book your accommodations. Most have them and they will save your family from over-packing, over-spending and lugging a lot of extra weight during your travels.