It's unseasonably warm here in the Northeast. No white Christmas for us. Instead, we've had day after day of gray skies, dense fog, and rain. To celebrate the holiday, my family drove about four hours to upstate New York to spend time with my sister, my mom, and my mom's side of the family.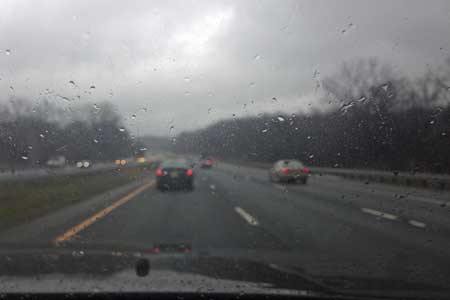 While our holiday travels didn't involve snow and ice, driving in the rain and in the dark – and any type of driving at all, really – requires preparation. For the first leg of the trip, I thought we'd be driving in bumper-to-bumper traffic up the New York State Thruway. It was Christmas Eve day, after all. So, with some advice from Jiffy Lube, I took care of a few things before we hit the road.
First, I got the oil changed on our SUV and made sure to check the levels of all vital fluids, including motor oil, coolant, transmission fluid and windshield wiper fluid. Did you know that motor oil does more than just lubricate moving parts? In colder temperatures, it keeps the engine from freezing, too. My family will soon be taking a road trip through the Rocky Mountains to ski, so I'm definitely going to keep that in mind.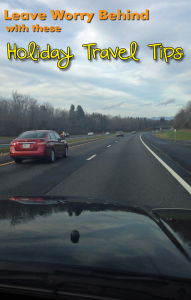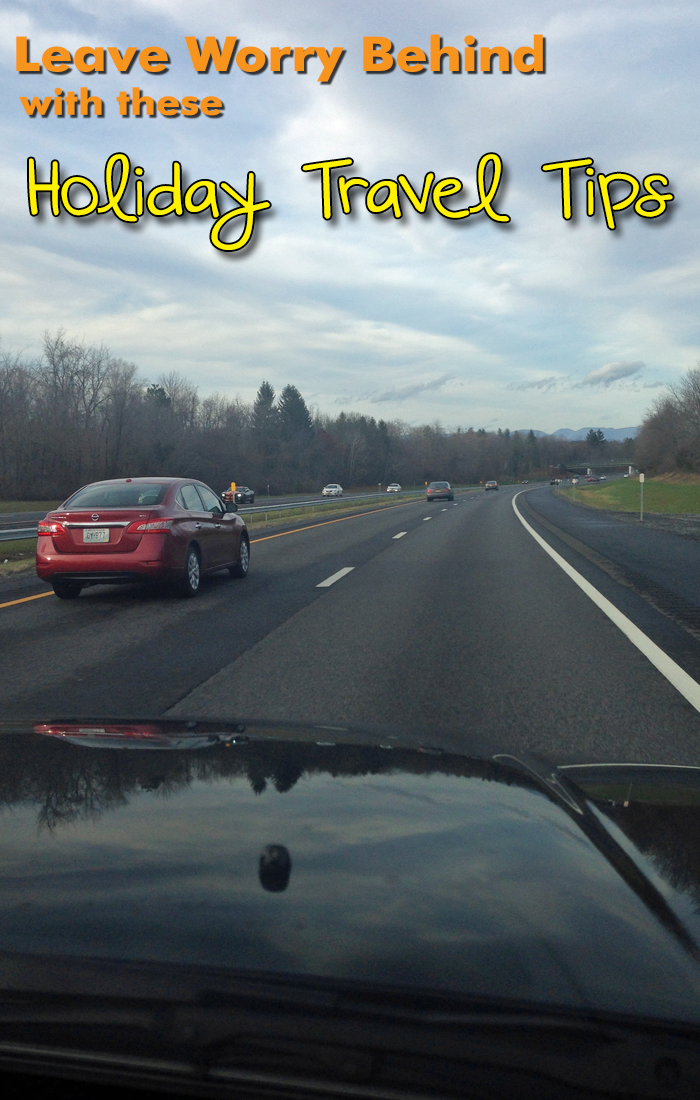 Next, I made sure we'd be able to maintain a clear view. With the fog and rain, it was especially important to check that the headlights, taillights, turn signals, parking lights and license plate lights were all working properly. And thanks to a suggestion from Jiffy Lube, I also cleaned the lights to remove haze and clarify the lenses for better visibility during night driving.
As I fueled up for the trip, I showed the kids how to check the tire air pressure. Over- or under-inflation can weaken your tires, cause uneven tread wear and impact your gas mileage. Many drivers think the proper tire pressure can be found on the actual tire, however, that's incorrect. Refer to your vehicle owner's manual or to a decal often found in the doorjamb or glove compartment for the proper tire pressure. Check the pressure when the tire is cold/at air temperature. Do not check the pressure after an extended drive on the highway or after driving for more than five minutes.
Finally, I double-checked our emergency car kit. I'm always shocked at how many people do not carry emergency items in their vehicle. Kits should include a flashlight, jumper cables, batteries, electrical tape, a rain poncho, a reflective safety vest, flares, and an emergency blanket. Drivers should also pack a medical kit equipped with band aids, gauze, alcohol antiseptic pads, insect bite relief and any necessary medications. Towels, water bottles and snacks are also good to have on hand for a road trip.
Surprisingly, there was no traffic and our trip was smooth-sailing. The rest areas on the New York State Thruway beckon to me with their promise of Starbucks and Roy Rogers, but fast food is not the best way to go when you're on the road. I knew I could find healthier options like cheese, fruit and nuts, but paying $6.99 for a small container of almonds is not how I want to spend my travel funds either. Pack snacks and drinks from home and only stop at rest areas to stretch and use the bathrooms.
Finding gas on the Thruway is easy, but you pay for that convenience. I like to be armed with apps on my road trips. iExit and GasGuru are my go-to apps for finding affordable fuel and food on the road. And be sure you have a car charger for your phone so it doesn't die if you're stuck in traffic for long hours. Thankfully, we arrived at our destination in record time and enjoyed a wonderful Christmas with my family.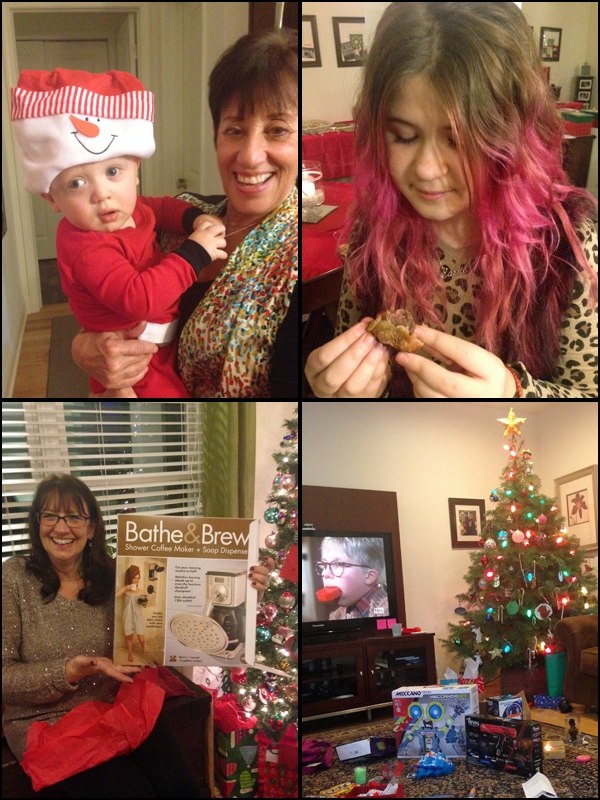 The day after Christmas, we went to the mall in Albany, NY. Crazy, right? Well, we didn't go to shop. We went with my sister and her family to The Mystery Room! The theme of our room was "Treasure Island" and we had 45 minutes to uncover clues, solve puzzles, and find the treasure map and gold coins. We solved it in about 20 minutes and it was a lot of fun for all of us. Even with a group of eight people ranging in age from 6 to 46, we all contributed in some way.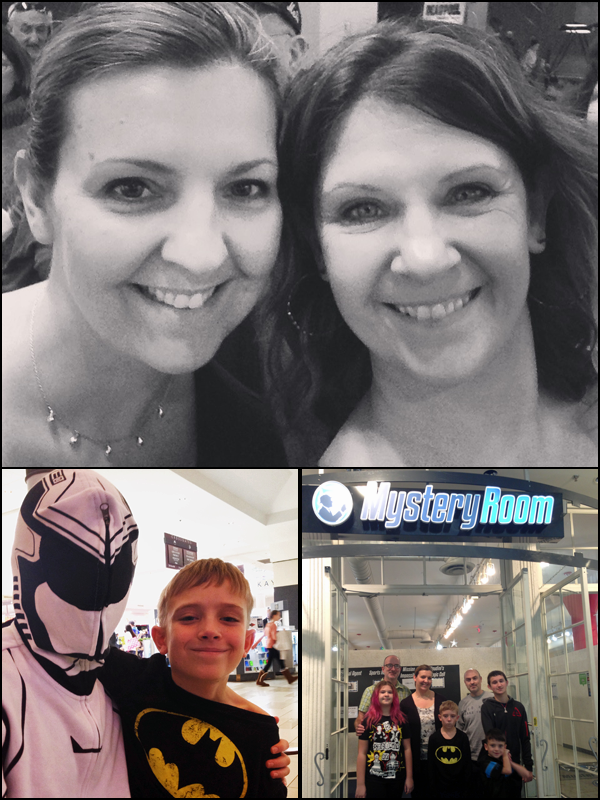 After a quick lunch in the crowded food court, we headed to the movie theater to see Star Wars: The Force Awakens. It was the second viewing for my family and I've got a great theory about who Rey really is. Ask me about it some time.
After a long day at the mall, we drove back home to New Jersey. The kids were amped up from the day's excitement, and here's where my final road trip tip comes in: Keep the kids busy. Bored, over-tired, fighting siblings can make for stressful – and even dangerous – driving conditions. A movie downloaded on a iPad can be a lifesaver, as can travel games or toys for younger kids. Pack a bag of activities for each child that might include books, crayons, pens & pencils, action figures, Etch-A-Sketch, travel bingo, drawing pad or notebook, electronics, and other items your kids will enjoy.
With preparation, holiday travel tips from Jiffy Lube, and a bit of luck (no traffic!), I was able to Leave Worry Behind® and have a relaxing, fun-filled holiday.
Disclosure: This post is sponsored by Jiffy Lube. Jiffy Lube is committed to helping individuals prepare for the road ahead so they can Leave Worry Behind® this holiday season.