This is a guest post by Katja Gaskell of Globetotting.com. I met Katja at TBEX in Cancun and we discovered we share a passion for traveling with our kids. Since I have not yet traveled overseas with my kids, I asked Katja to share her thoughts on the topic. Thanks Katja!
I have always believed that travel can be transformational. I grew up in a family that lived abroad, moving frequently between Europe and the US and travelled regularly with my parents and two siblings. Often these travels would be by car; we once spent a summer driving around Europe and my mother talks of the road trip we undertook from Houston, Texas to Orlando, Florida one summer ("long" is how she remembers it).
I'm now living a similar life with my own family. Since leaving the UK nine years ago, my husband and I have lived in Sydney, New Delhi and we currently call Mexico City home. Our two children were born in Australia and India. So in a way travelling with kids, and travelling with children overseas, is in my blood. It's also a necessity, whether it's simply moving from one country to the next or – more importantly – travelling home to England to see family.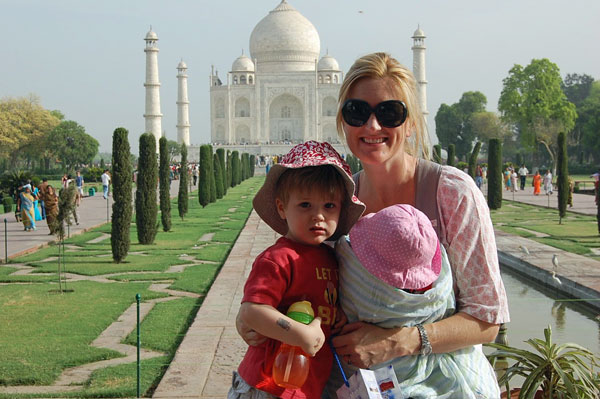 However, we also want to see as much of our current home as we can. For me, there's no point in living abroad if you're not going to explore, enjoy and try to understand the country that you're living in.
Despite Australia's enormous size (and our lack of funds as newlyweds with a baby) we covered as much ground as we could. In India we travelled frequently to escape the Delhi pollution, crowds and crazy summer heat. And now in Mexico we head out to explore whenever we can and are making steady progress ticking off places on our "Must See" list.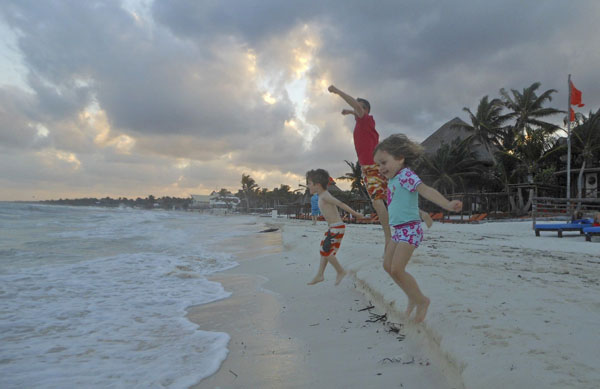 Even if we didn't live overseas, however, I believe that we would travel abroad with our children (funds depending of course). For me it's vitally important that children are introduced to other countries, cultures and ways of life, particularly in this globalised world. Don't get me wrong, we've had some terrible trips with the kids, the kind where you wish you had never left home. But these episodes are just as likely to happen on your doorstep, as they are thousands of miles from home. And in no way should these experiences put you off travelling with children!
Why travelling overseas with kids is a must
1. The world is only getting smaller. At least it certainly feels that way, and we want to show our children that they are just one part of this big, enormous, wonderful world. Children usually see their immediate surroundings as their world-view. By travelling overseas, they learn that not everyone lives just like them; not everyone speaks English, not everyone eats pasta for dinner, not everyone sleeps with a roof over the heads at night.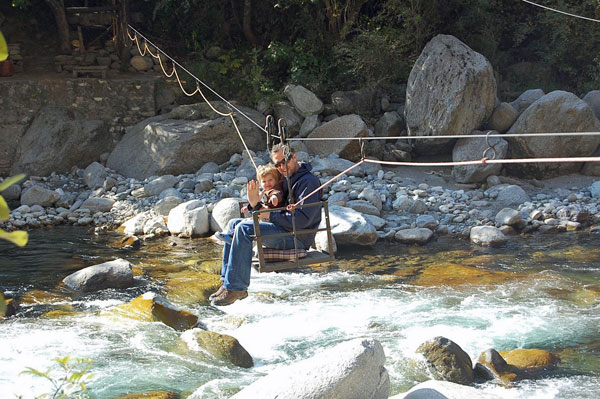 2. Travel teaches children to be flexible. With our kids we have waited hours on a crowded platform for a train that never arrived in India and were forced to spend an unexpected night in a hotel when our flight was cancelled when we were in transit in New York. Kids are remarkably adaptable, and as long as they see you coping with the changes in the planned schedule, they will deal with the changes too – often far better than you might! This flexible, adaptable attitude translates into every day life.
3. New countries, new cultures, new languages, these all help to get children curious and interested about the world. One of my son's favourite books is the Lonely Planet "Not For Parents" World Atlas. He regularly pores over this book, making lists of where he wants to go next. The Galapagos Islands and Mongolia are currently top of the charts.
4. Children make wonderful travelling companions and often break down cultural barriers. India has a reputation for being a difficult place to travel. And it can be. However, when we travelled with the kids people could not have been more friendly or helpful. The innocence and joy with which children greet the world is infectious.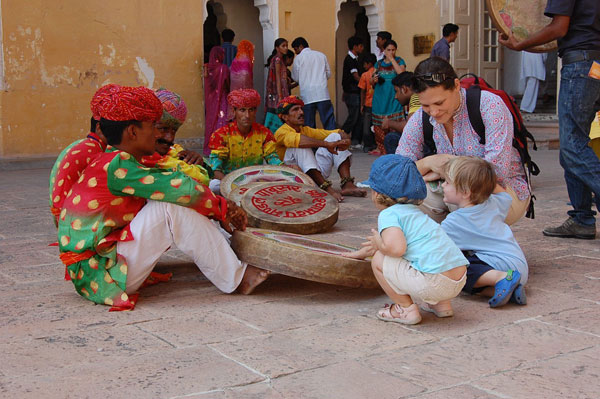 5. Mostly I love exploring new countries with my kids because it's fun! Much like travel with children anywhere, it is an incredible way for families to spend time together. We feel like a real team when we head out on the road and the memories that are created are ones that will stay with us forever.