It's dark out there. Traveling by train, at night, through West Virginia and Kentucky leaves one with very little to see and spotty cell service. I'm entertained, however, by seeing all the positions people sleep in on a train. There's much more room than an airplane so people are quite creative. Some are sleeping traditionally with their footrest up, leaning against the window. Others are laying across two seats, shrouded in blankets, legs tangled up, heads sometimes hanging off the seats.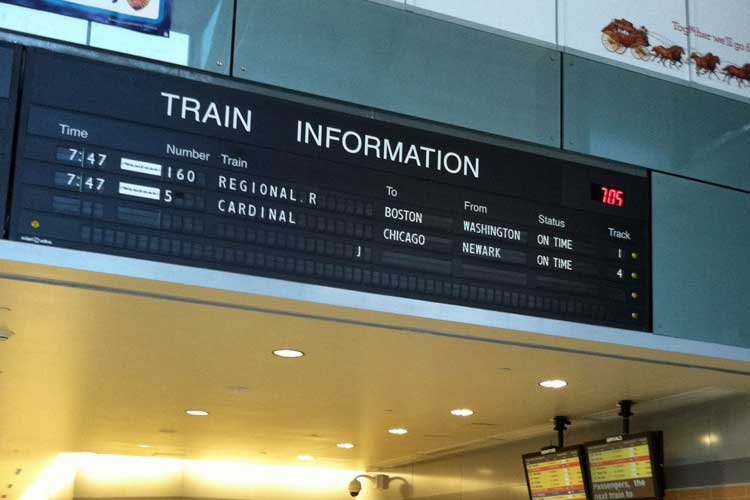 My family and I are taking an Amtrak from Trenton, NJ to Chicago. It's a scenic train that goes deep into Virginia and West Virginia, then heads through a bit of Kentucky before going north through Indiana into Chicago. We boarded at 7:47 am and and will arrive tomorrow morning around 10am.
Sleeping is tough. I got a bit, but now just wish for daybreak so I can see more of the countryside! The kids and the husband seem to be sleeping, albeit fitfully. And if you ever take a long train trip – bring food. The snack bar food is nasty, soggy, microwaved food that is honestly worse than any airplane food I've ever had. We ate in the dining car for dinner, which was better, but still not great and fairly costly.
There's been some bad weather out ahead of the train. Thunderstorms disrupted signals. A car accident blocked the tracks. Delays. I think we are about 2 1/2 hours behind schedule, which unfortunately cuts into our precious little time with friends in Chicago.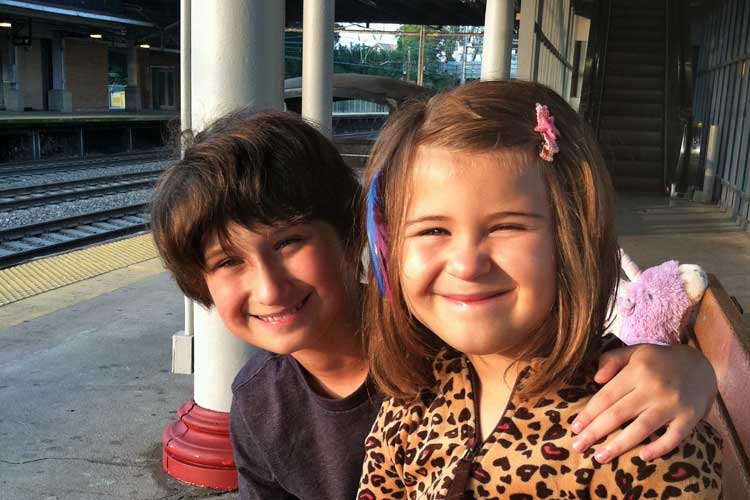 But I'm not unhappy with our adventure. I am loving it, and the kids are enjoying it, too. Each seat has an electrical outlet, so the kids can plug in, play games, and watch movies. I've also brought along several books and activities. I think one thing the kids love is the solid attention they are getting. There's nothing to do but sit in our seats and just be together.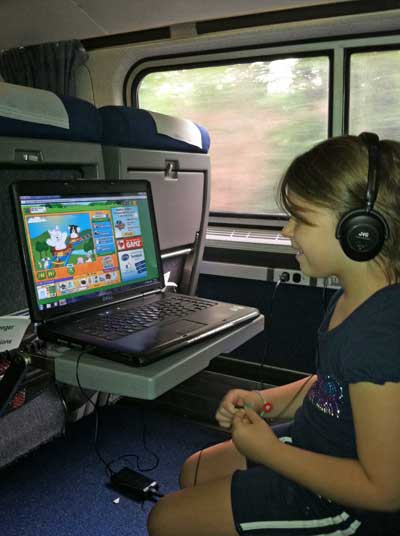 I had a feeling I would enjoy this trip (otherwise why would I have planned it?), but I'm discovering a whole new level. While I've never considered myself much of a people person, the people are fascinating. The train is relaxing and I have met a couple interesting, kind people. The man sitting across from us bought my kids cupcakes at the station in Washington DC because I watched his bag while he got off the train. Even the drunken redneck (I had to give him the evil eye for patting my daughter's head as he passed our seats on his way to the bar) and the people who watch movies and laugh WAY too loud are fascinating.
I remember how my Nana loved to travel. And she was the type that could make friends with the lamppost. When she was in her 60's, she took a trip around the world. How I wish she had a journal of that trip. I hope someday my grandchildren will read my blogs and journals and feel the excitement and fascination I feel right now.