The past few months have been a whirlwind of travel for me and my family.
In February, we spent a week in Breckenridge, Colo. I am in love with this little town and the resort. Here's how I'd spend One Perfect Day in Breckenridge.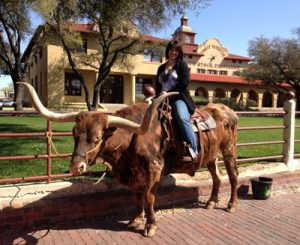 In March, I learned how to Get Your Cowgirl On in Fort Worth's Stockyards District. Fort Worth is now in my top five favorite cities in the USA. Wait until I tell you about the food…
In May my family visited Amish country in Lancaster, Penn. We had a blast at the Strasburg Railroad and Choo Choo Barn, and we stayed at the family-friendly Bird-in-Hand Inn.
A few weeks ago we explored the National Aquarium in Baltimore and got a behind-the-scenes tour of their new exhibit, Blacktip Reef, scheduled to open this summer. We learned that for the Blacktip sharks, fish can be friends AND food.
Coming soon I'll have lots of info for you on ways to beat the heat this summer in NJ, and some must-see places in Newport, RI, and Cape Cod, Mass.