I'm always on the lookout for new travel gear to make my life easier. Here are a few travel products I've recently tested that are worth checking out and may make your summer travels more enjoyable and more organized.
The Airhook
My favorite new product is The Airhook. This clever little device hooks into the seatback in front of you when you fly. It securely holds your electronic device at just the right level for viewing, and it has a cup holder for your drink. Your tray table stays up, allowing you more space to move your legs around and making it way easier on you if someone in your row needs to get up and use the restroom. Here's my video demo:
Check them out at http://www.theairhook.com/
The Bubi Bottle
The Bubi Bottle is another brilliant innovation. This collapsible, BPA-free, puncture-resistant bottle is a multi-use container that will serve you well when traveling. It can store hot or cold liquids as well as dry goods, and it can even be used to keep your electronics safe from moisture. You can use it as a hot/cold compress and its durable material makes it ideal for camping and outdoor sports. I've read it's even been used it as a pillow on a plane.
Bubi Bottle has an attachable sipping cap with a straw, which I was not a fan of. While it's certainly leak-proof, you need to bite on the straw to get the liquid out. I found it difficult and could barely get any water through. It's also a bit pricey for a water bottle ($17 – $25, depending on size) and it doesn't stand up straight when placed on a table. It's like a Weeble (am I showing my age?) – it wobbles but it doesn't fall down! It's kinda fun in that sense, but also a little annoying because I'm always thinking it's going to tip over.
I do love all the ways the Bubi Bottle can be used though. It's microwave and freezer safe – I froze water in it and took it along to the beach. And the fact that it rolls up to save space makes it much better than an aluminum water bottle for air travel. Just roll it up, toss it in your bag, then fill it at a water fountain when you get through security. No more buying $5 bottles of water at the airport!
Toiletry Bag
While I love my Travelon Mini Independence toiletry bag, sometimes it's just too big (it's really not "mini" as its name suggests). If I'm taking a quick trip and only want to carry on, I prefer a smaller toiletry bag that fits better into my luggage. The Toiletry Bag by ToiletTree Products fits the bill.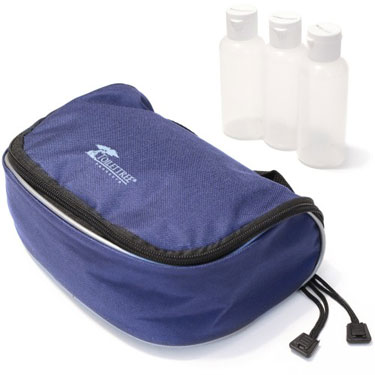 As basic as its name, this bag comes with three TSA-approved bottles for liquids and and is made of durable, lightweight, nylon material. While the three bottles fit nicely into the bag, I like to keep them in a separate Ziploc for easy access while going through security. With my liquid bottles out, this bag is just the right size for my makeup, deodorant, a razor and some hair accessories. Low-maintenance men and women could easily fit their necessities in this bag along with the liquids.
The Toiletry Bag measures 8″ x 7″ x 2.5″ and features two zippered compartments, two elastic pouches and a built-in hanging hook. If you're looking for a basic, durable, not too big/not too small toiletry bag, it's a bargain at only $18.95.
Crossbody Power Purse
The Chic Buds Crossbody Power Purse was designed with the avid traveler in mind. Besides being a stylish purse, it's a phone charger. Inside a zippered pocket in the purse is a thin, lightweight battery that's practically undetectable and will recharge smart phones and USB devices – you can even use it to charge many camera batteries. This purse is perfect when you want to travel light for a day, but you know you'll be pushing your electronics to the max with tons of photos or video. I love being able to just plug in my phone and toss it in my purse, knowing it'll be charged and ready when I need it.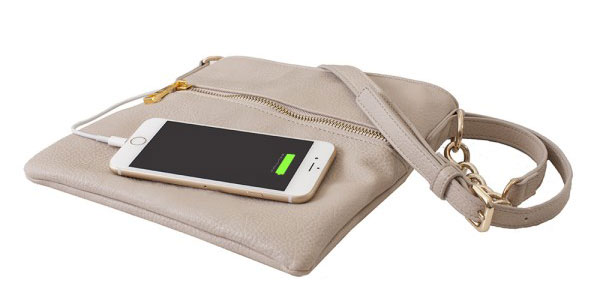 Crafted in vegan leather, the Crossbody Power Purse has plenty of room for your essentials and it looks beautiful. It's available in six colors and costs $69.99.
Disclosure: Except for the Airhook (which I invested in via KickStarter.com), I received these products for free to facilitate my review. All opinions are my own, and affiliate links may earn me a few pennies. Thank you!