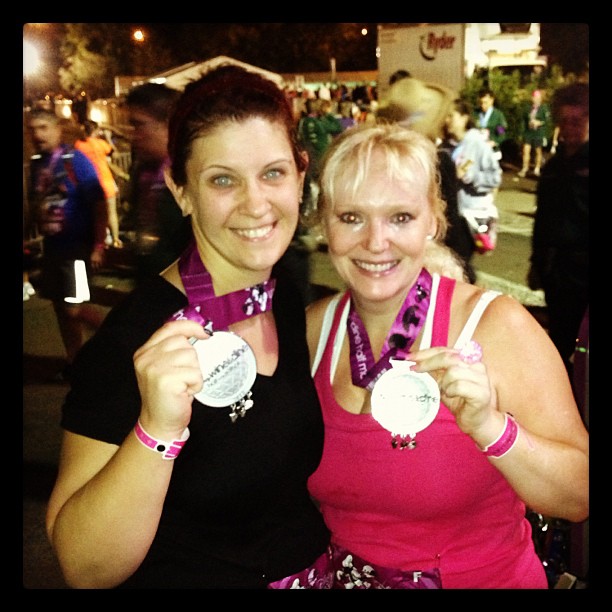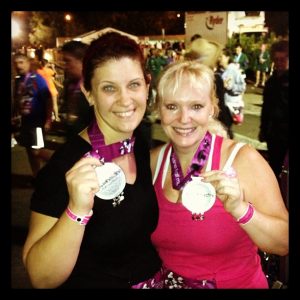 In early November I ran the Disney Wine & Dine Half-Marathon, checking off another item on my life (bucket – but I don't like that term) list.
I enjoy running. I like to lose myself in music and thought and let all the tensions of life fall away. I wanted to train for a half-marathon, and I love Disney World, so the runDisney races were my first choice. I was going to run the Princess Half, but timing and other travel plans made me decide on the Wine & Dine Half. I absolutely loved Epcot's International Food & Wine Festival last time I went, so I was stoked to run a half marathon that ended at the Festival! Disney is a well-oiled machine, but I have to say that the race process had its bumps in the road. To avoid traffic issues, there was no drop-off allowed at the race start. You had to take a shuttle bus, and you had to take it early. So we arrived at the starting area two+ hours before race start. Did I mention the race started at 10 pm at night? So it was a little chilly waiting around, but they did have some good music and an emcee getting everyone motivated.My corral started the run at 10:20 pm. It was crowded – 14,000+ participants. There were points on the course where it got very narrow and we had to almost stop because of the bottleneck. We ran down Osceola Parkway and through Animal Kingdom. (It was great to be able to stop at the bathrooms in the park rather than the port-o-potties along the course!) Next we ran back down the Parkway and into Hollywood Studios. This was my favorite part of the race. We ran past the Rock-n-Rollercoaster and Tower of Terror, down main street, back through the Lights, Camera, Action! set, and into the Spectacle of Dancing Lights. As my friend Jessica said, it was surreal. The final section of the race was down the Boardwalk area into Epcot.I felt like I was doing really well with my pace until around mile eight when I calculated my time and realized I wasn't on target for my goal of finishing in 3 hours. I tried to pick up my pace, but that eighth mile was tough for me. I started to have some aching in my hips and my feet were getting sore. By mile ten it was tough. But I am proud to say that I ran the last half-mile pretty hard – I was in pain, but I didn't drag my ass across the finish line, I finished strong.
My official time for running this 13.1 mile race was 3:17:06. I was a little disappointed to not finish in 3 hours, but for my first time running a half-marathon, I'm ok with that. After the race, I met my family and we enjoyed some chicken satay, dumplings, cheese fondue, and cannoli from the Food & Wine Festival. I wish I could have eaten more, but it was 2 o'clock in the morning and I really needed to sleep.
I don't think I'll do another night marathon. It was cool running in the dark, but I believe I would have been faster in a morning run. I'll test that theory in March when I run the Shamrock 1/2 marathon in Virginia Beach!