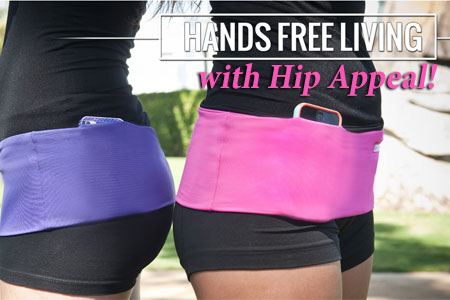 The Hip Appeal hip wrap is my new favorite travel accessory. I'm a huge fan of bags, belts, jackets, and pockets that keep you organized while traveling, and the Hip Appeal's thoughtful design and comfortable style scores big in my book.
Made from a blend of Micropoly/Lycra fabrics and available in many colors, the Hip Appeal stretches around your hips and has three pockets to secure your valuables.
Sometimes carrying a purse or bag is a nuisance. At amusement parks you want to feel light on your feet and unencumbered on rides without losing your phone and wallet. While sightseeing or on a walking tour, you don't want your back and shoulders hurting from carrying a bag. And it's absolutely perfect for hiking or biking.
Here's how I used it last weekend at a wine festival:
I neglected to mention in the video that there is a third, unzippered pocket that fits your phone perfectly (as shown in the photo at the top). We all whip our phones out many times during the day, and this open pocket offers easy access – a thoughtful touch.
I reviewed the FlipBelt a couple years ago and still use mine regularly. If you don't need to get into the belt often(for example, while running) and have only a couple of items to carry, the FlipBelt is fine. But the Hip Appeal belt is larger and the pockets are easier to get into. The material is also lighter and stretchier than the FlipBelt.  I had money, a credit card, my license, lip balm, my iPhone charger cord and battery backup, car keys, and phone in the Hip Appeal at the wine festival. My necessities were held securely and comfortably all day, and I had quick-zip access to anything I needed.
Check out the Hip Appeal and go hands-free!
Disclosure: I was given a complimentary Hip Appeal wrap to facilitate this review. All opinions are my own.