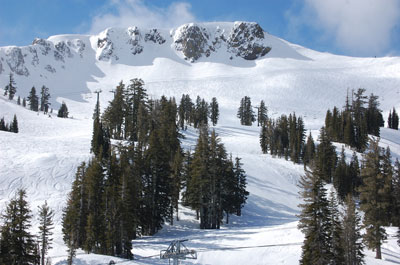 If you aren't a regular reader of my blog or social media channels, you may not know the excellent adventure I am having right now. My family drove across the country from New Jersey to California and we are living in Lake Tahoe for two months.  We've been here a little more than two weeks and we're getting into the groove of the Tahoe ski bum lifestyle.
We've been hitting the slopes most days and the warm, spring conditions are perfect for me. We ski in the morning, then when the snow starts to warm up and get slushy, we head to an apres-ski spot for lunch and drinks, or just go home to get some work in. Not a bad way of life.
I've only skied at Squaw Valley and Sierra-at-Tahoe so far. I'm hoping to get to every resort around the lake, but I'm racing against this season's above-average temperatures and below-average precipitation.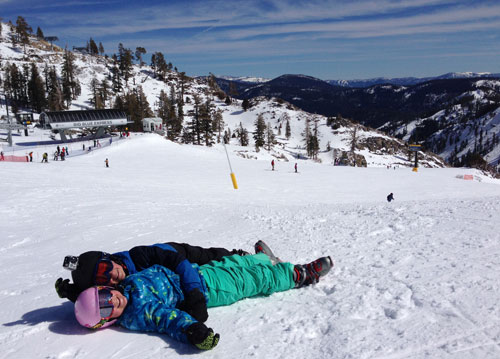 My favorite area to ski is the top of Squaw – Gold Coast, Solitude and Emigrant lifts. Big Blue is the best lift for the whole family, with access to a variety of terrain. While I am admittedly a "comfort" skier – enjoying the scenery and staying safe on the intermediate, groomed trails – I did have a moment last week when I tackled terrain that was out of my comfort zone. I panicked, but went back and attacked that trail two more times. That day, I became a better skier.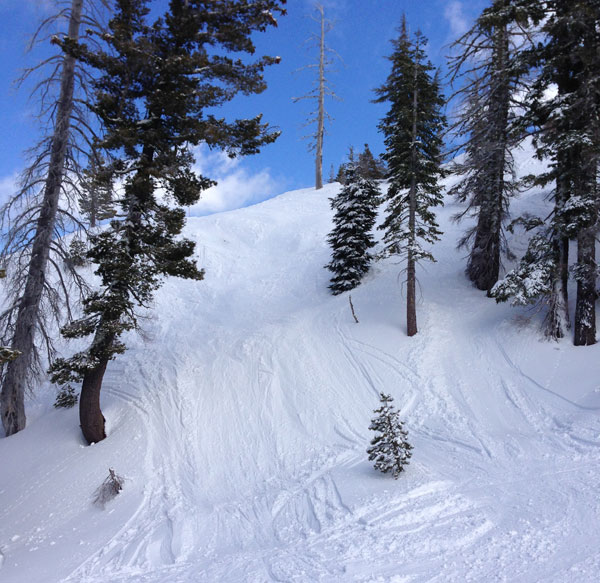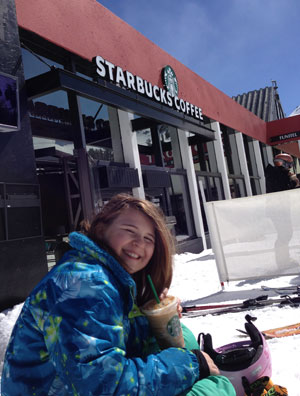 Squaw Valley has a lot of excellent food options, from the ski-in, ski-out Starbucks, to the delightful Mountain Nectar where I enjoy smoothies and bacon & egg sandwiches. There are Belgian waffle and crepe stands, as well as the Mountain Roots food truck which offers regionally and sustainably sourced dishes.  My favorite place to eat, however, is Rocker. Everything I've had there has been phenomenally fresh and perfectly cooked. Their jalapeno bacon mac-n-cheese is sinful. Have a side of deliciously crisp kale chips with lemon aioli to make you feel more healthy. Their short ribs fall of the bone and the chicken sandwhich on sourdough is divine. The chicken noodle soup gets high praise, too – my kid practically liked their bowls clean.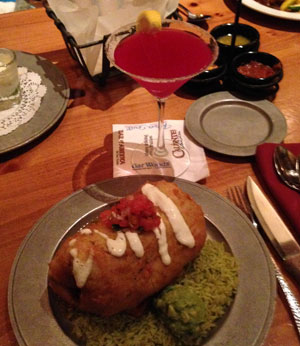 Off the mountain, my favorite place to eat (so far) is Caliente in Kings Beach, Calif. Serving up outstanding mexican cuisine and drinks that aren't watered down, I had a memorable chimichanga and just two of their Cactus Lemon Drops nearly put me on the floor. Jake's on the Lake also has superb food and a relaxing lakeside location.
Moving the family to a new place for an extended period of time does have its challenges. The kids miss their friends, activities, and the comforts of their own home. The DSL internet is slow-ish. I miss my own bed.  I had thought that without having to run around to various activities, we'd have more free time as a family. I thought there would be more family game time, more time for walks by the lake, even more time for homeschooling. But that hasn't been the case so far. We spend that time skiing, which is fantastic, and when we're home the kids are exhausted and want to talk online to their much-missed friends.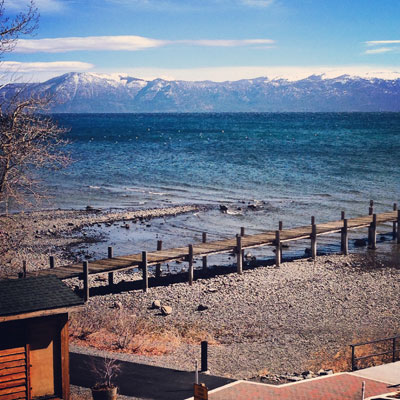 Here in Tahoe, I realize how frenzied things are back in NJ. I've always liked the fast pace back east, and I do feel a bit isolated here. It's a tourist area, so things like Target, a movie theater, or a mall are not close by (or I haven't found them yet). The South Shore of Tahoe is more commercialized, but still a far cry from what I'm used to in NJ. The jury is still out on whether this is a good thing or a bad thing. 
I do love it here, though. Everywhere I go there is this amazing view. A simple trip to the grocery store or post office leaves me feeling peaceful. 
We have several more weeks here and more exploring to do. I'm looking to find that magic number of weeks where I can truly feel that I've experienced "living" in a new place (as opposed to vacationing), but be ready to go back home at the end.
It's Friday and you can see more gorgeous photos from fellow travel writers at Friday Postcards from Walking on Travels.