I'm guest posting today at WordTraveling.com's "Vote for Travel" series – a month-long celebration of travel with an amazing giveaway (see below)! 
Summer is nearly here and if the idea of visiting another amusement park or sitting on a beach doesn't motivate you to make vacation plans, consider a good, old-fashioned road trip. With the open road in front of you and time built into your itinerary to explore some small-town attractions along the way, your family can truly experience America and learn about its history (and they kids won't even realize they are learning!). I've got tips for making the most of your road trip – planning, apps, games, packing, and safety. Read all about it over at WordTraveling.com!
Make sure you click over to Wordtraveling.com and Cast your "Vote for Travel' by entering the awesome $1500 vacation giveaway to the incredible Beaches of Ft. Myers/ Sanibel and to read more posts from other bloggers and family travel experts in our third annual series!
No purchase or real voting necessary!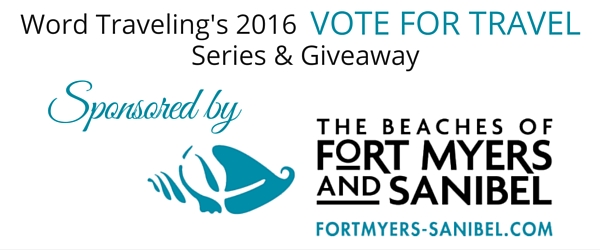 *Terms and prize details can be found at WordTraveling
Click the image below to read the rest of my post and ENTER TO WIN: