The following is a guest post by KayakGuru.com. 
Wondering what to bring kayaking? This list of essentials will not only make your day trip more enjoyable, but also ensure that you're prepared for inclement weather or other unexpected circumstances that arise.
Safety Equipment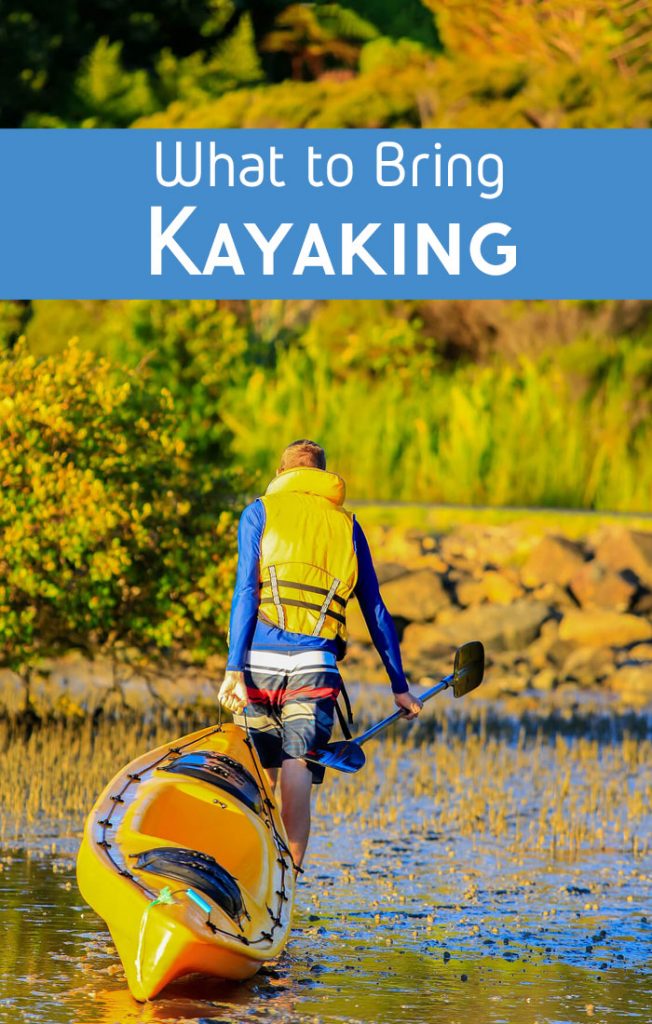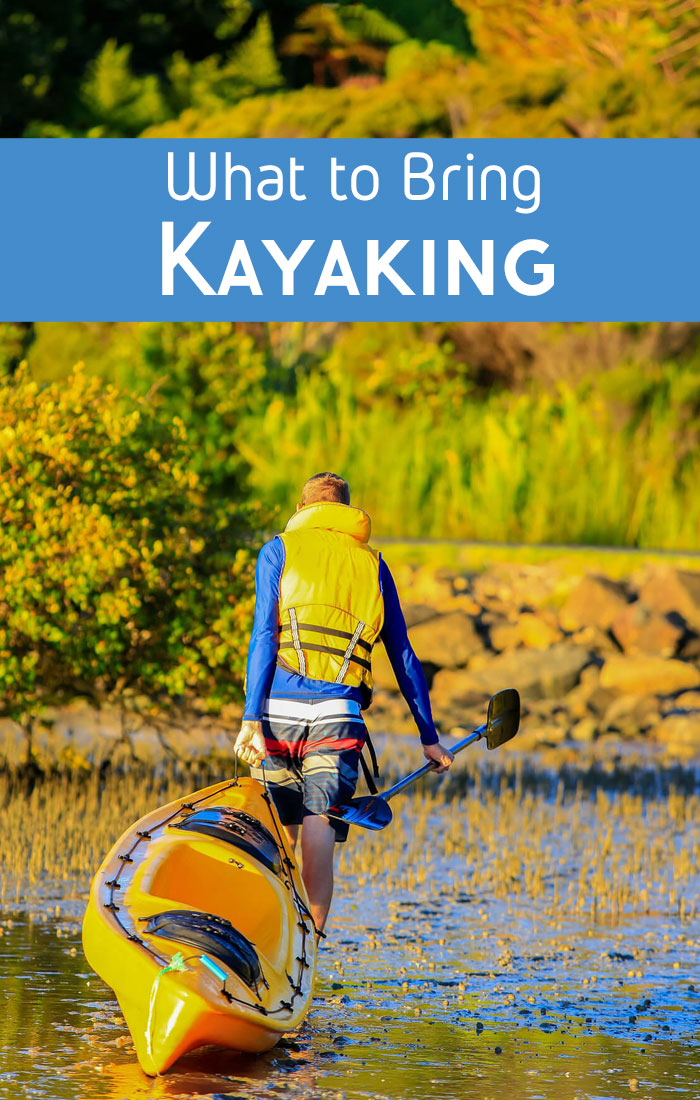 Regardless of your experience level, it's important to be prepared for a situation where you end up in the water. For that reason, your packing list should include a properly-fitted personal flotation device (PFD), or life jacket.
Not only is a PFD a good idea, it's actually mandatory to wear one (when kayaking) is some states, and they should be approved by the U.S. Coast Guard.
It's also smart to bring a small first-aid kit to treat injuries that occur on the water or at your destination. Because sunlight reflects off the water, sunscreen with at least SPF 30 is important to protect your skin from cancer-causing UV rays. Remember to apply sunscreen at least 30 minutes before going outside and reapplying every two hours, or more often if you get wet.
Other safety-related items in your pack should include a working, charged cell phone, headlamp, utility knife, safety whistle (attached to your PFD), spare paddle, and a map of the area where you're kayaking. A helmet is essential if you're expecting rough waters.
Food and Drinks
It's important to bring more food and water on a kayak trip than you expect to consume in case you get waylaid. In addition, a day of paddling can really work up your appetite. In hot weather, choose salty items that will replace the salt you lose through sweating.
When it comes to water, plan to bring 3 to 5 liters for a day trip, as well as a purifying device if you're kayaking in salt water. REI's comprehensive Kayak Day Touring List recommends also packing energy bars, pouches, or powders, or trail mix too.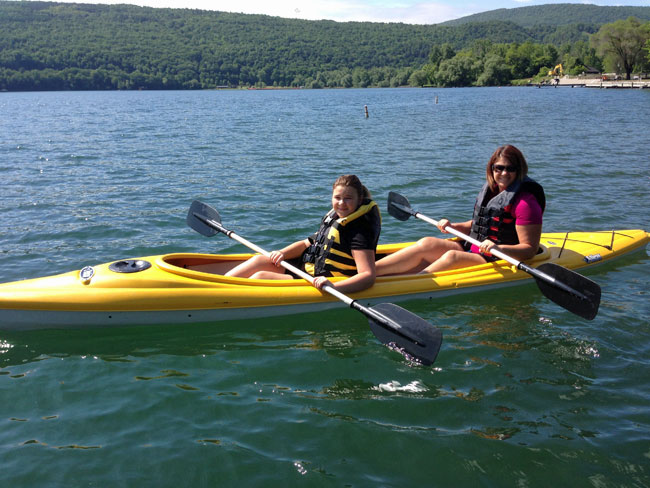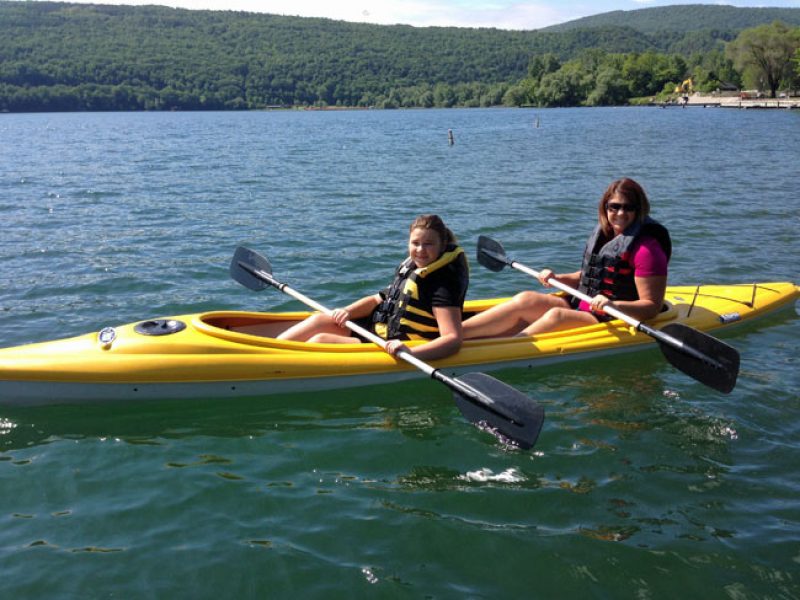 Gear and Convenience Items
Dry bags are perhaps the most important item you'll pack for a kayak trip. These are designed to keep clothing, food, electronics, and other gear dry even if your kayak flips over or you get hit with bigger waves.
Dry canisters can hold smaller items like keys, money, and cell phone. Dry bags are especially critical if you have a sit-on-top kayak, since you're more exposed to water.
If you're a sit-in kayaker, you may want to consider outfitting your kayak with a spray skirt if you're traversing less calm waters. This device keeps water from getting inside your boat and soaking your clothing and gear.
If water does get in your sit-inside kayak, you'll need a bilge pump to remove water from the kayak. For most small crafts, a hand pump is sufficient. This is not an issue with sit-on-top kayaks, however.
If your kayak gets damaged, repair items will be a godsend. At minimum, pack sealant, bailing wire, nylon cord, putty, duct tape, and replacement nuts and bolts. A cooler with ice will keep beverages cold. You also may want to bring binoculars and toilet paper. And of course, always travel with all appropriate licenses and permits.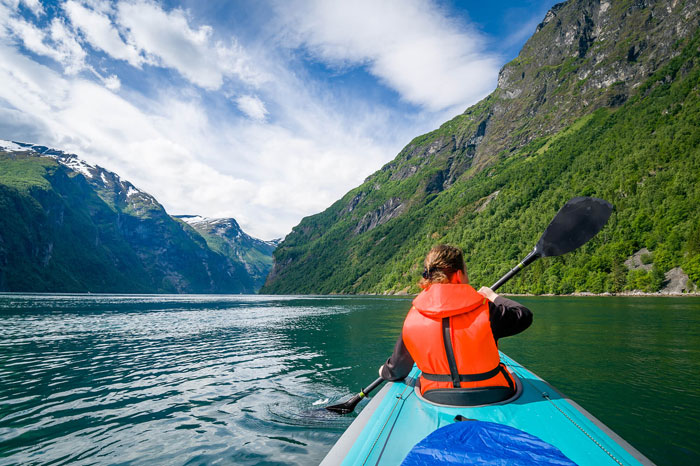 Clothing
Wearing the right clothes can mean the difference between a fun outing and a miserable slog. Moisture-wicking items that are designed to dry quickly, along with a rashguard to prevent chafing, are your best choices.
Regardless of the weather, pack a set of rainwear and sun-shielding shirts and pants. Protect your eyes with a hat and UV-blocking sunglasses.
In addition to packing these items for your kayak trip, it's essential to print two copies of your complete itinerary in case of emergency. Leave one copy with a trusted friend and the other under the seat of your car.
Spending the day kayaking is a great way to enjoy beautiful weather and explore the natural wonder of the area you're visiting. Packing these essentials will help you fully enjoy your kayaking experience.