If you're looking for a destination race to run where you can feel comfortable, supported, and inspired, try runDisney! Runner's World magazine calls runDisney events the perfect races for new runners because there's less pressure, no qualifying time required and runners can enjoy the sights of a Disney theme park while world-famous Disney characters cheer them on during the race.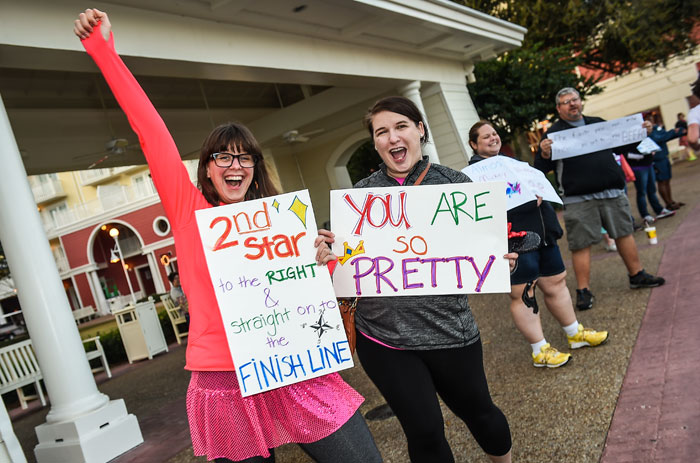 My first runDisney race was the Wine & Dine Half Marathon in 2012. I couldn't think of a better way to stay motivated to run than to be working toward a trip to Disney World. I'll never forget the magical moment when I ran through the now defunct "Osborne Family Spectacle of Dancing Lights" show in Hollywood Studios. Complete with holiday music and fake snow, that surreal portion of the run remains one of my most vivid memories.
Mickey Says You Can Do It!
Through runDisney.com, participants get access to official training consultant Jeff Galloway and official nutritionist Tara Gidus, who both share tips on how to train and how to make finishing a race achievable to runners of all ages and athletic abilities.
"Training for these events shows me that my body can do so much more than I thought it could," says Christina McMenemy of Columbus, Ohio, publisher of AMommyStory.com. Christina recently completed runDisney's Dark Side Challenge: a 10K and half marathon in the same weekend. "I was that kid in high school who came in last when running the mile in gym: wheezing, red-faced, and trying not to vomit. I had accepted that I just wasn't athletic. But then I found runDisney, and more importantly, found the Jeff Galloway run-walk-run method and I'm still shocked that I can do 19.3 miles in a weekend. It's really empowering to know my nearly 40-year old body is accomplishing more than it did at 20, and that motivates me to keep going."
The word is out that you don't have to be in tip-top shape to run this 'race,' according to Desiree Miller of Atlanta, publisher of StressFreeBaby.com. "I have been part of other half marathons and it stinks to feel like everyone is faster and in better shape than you. That's not the way a runDisney event makes you feel. It's all about encouraging others, enjoying your time outdoors and knowing that no matter how slow you are, you're faster than your friend sitting on her couch. The information sent before the run and shared on the web site can walk anyone through the training and make it possible to go from couch to finish line."
5 Things You Need to Know About runDisney
You need to get up early! Because you run through the Disney parks, the race needs to happen early. Start time is usually 5am, but due to the number of participants (typically in the 20,000 range!) you'll need to be at the start and in your assigned corral around 4am. Staying at a Disney property is your best bet because they offer bus transport to/from the race start/finish. Driving yourself from an off-site location means you need to drive in by 3-3:30 in the morning and give yourself extra time to account for traffic.

If you pass an open bathroom in the park – take advantage!  In my experience, it was faster and cleaner to use a bathroom as we ran through a

Disney

park instead of using the porta-potties, which typically have lines and no where to wash hands.

Run

light. Yes, they have bag checks so you can store personal items during the race and pick them up at the end. But it will save you time before and after the race to just bring less stuff. As mentioned above, there are a LOT of people at

Disney

races! Get a

FlipBelt

or

Hip Appeal

and carry only your key, ID, smartphone, and any nutritional supplement you might need.

If you are new to running races, familiarize yourself with race etiquette. If you are slowing down or walking, move to the right so runners can pass you on the left. If you are running and need to slow or stop, raise your hand to signal to those behind you that are slowing down.
If you are an experienced runner and anticipate finishing in less than 3 hours, be SURE to submit your proof of time so you can get placed in an early corral. There are tons of casual runners and walkers at

RunDisney

events and if you don't get into an early corral, you will not only start your race 15-45 minutes after start time (read: more waiting around), but you might find yourself stuck in a crowd of walkers and unable to move as fast as you want to.
Participants love the character stops, costumes, and live music along the course, and getting to see the parks in a way they never have before. I was interested to see how the parks connected to one another and found it fascinating to be able to travel those "back routes" on foot. During the recent Star Wars Dark Side Half Marathon, I ran through the World Showcase at Epcot, Disney's Boardwalk Resort, Hollywood Studios and Animal Kingdom. The 13.1-mile race ended at ESPN's Wide World of Sports where medals, music, characters, cold/wet towels, and a post-race snack waited.
runDisney provides some serious motivation to get your entire family on the bandwagon toward a healthier lifestyle. Eat well, exercise, and… go to Disney? Yes, please! Plus, when you burn all those calories running, you don't feel guilty enjoying an extra Dole Whip (or two) once you get to the parks!