Sioux Falls, South Dakota, has received many accolades over the past years: Top 10 Best Places to Live (CNN Money); one of the happiest and healthiest cities in America (Prevention.com); Falls Park in the top 25 parks in the US (TripAdvisor); and Best Small City for Business Careers (Forbes). And I've just awarded the city another honor: One of America's Best Places for Edutainment (The Entin Family).
My family spent two days in Sioux Falls – not nearly enough – and fell in love with its history, natural beauty, and family fun. Follow my itinerary below and you'll experience eight ways to be educated and entertained at the same time in Sioux Falls.
Sertoma Butterfly House
Learn about the life cycle of a butterfly while strolling amid nearly 1,000 butterflies fluttering around and landing on you in this indoor tropical garden. Kept at 80 to 85 degrees, Sertoma Butterfly House is a warm, relaxing place to visit.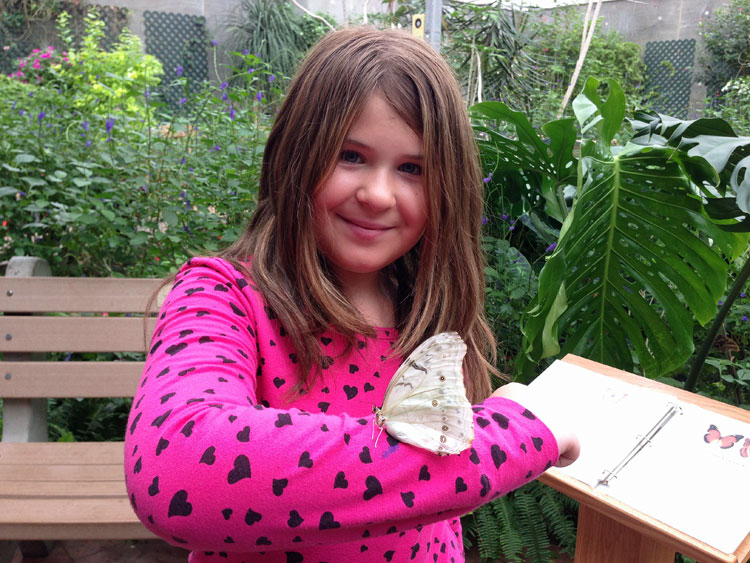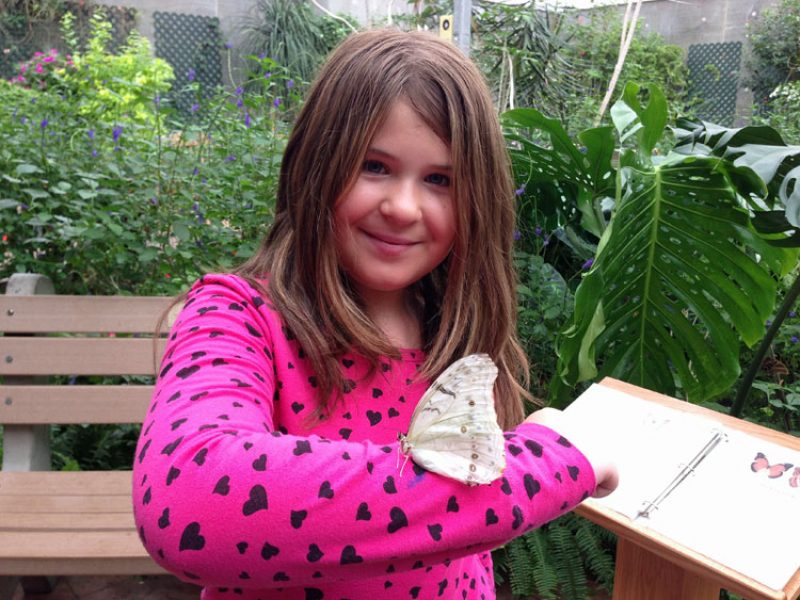 Butterflies are all around you, but they don't stay still for long! It's quite a challenge to get a good photo.
Marine Cove
Adjacent to the Sertoma Butterfly House is an intimate aquarium housing corals, clownfish, lionfish, and more. Aquariums are common in the Northeast, where I grew up, and I never considered that children in middle America – far from the oceans – don't enjoy the same access. Marine Cove has the only shark and stingray touchpool in the Midwest. And while I've been to quite a few aquariums, I've never had the experience of a pop-up dome that offers 360-degree views of a coral reef. It's as close to snorkeling as you can get without being wet!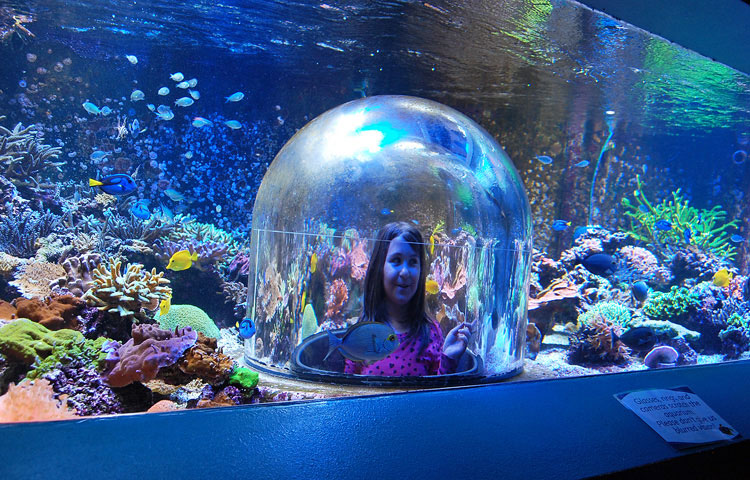 The Outdoor Campus
Right next to Sertoma Butterfly House and Marine Cove, this complex encourages education about outdoor skills, wildlife, conservation, and management practices of the South Dakota Game, Fish and Parks Department. They offer many kinds of classes and events, and there are two miles of hiking trails. You can also check out orienteering maps and compasses to test your skills on their permanent "O" course.
The fantastic playground (actually five separate structures) is also a great stop for families, with its huge pavilion and picnic tables. I could imagine some excellent homeschool park days and field trips taking place at the Outdoor Campus.
Great Plains Zoo
With 18 endangered species bred at the zoo, their award-winning snow monkey exhibit, and their Rare Rhinos of Africa experience, the Great Plains Zoo offers the perfect place to be educated and entertained. My nine-year-old daughter filled my iPhone with photos of every single animal at the zoo, and especially enjoyed her up close and personal encounter with this adorable owl.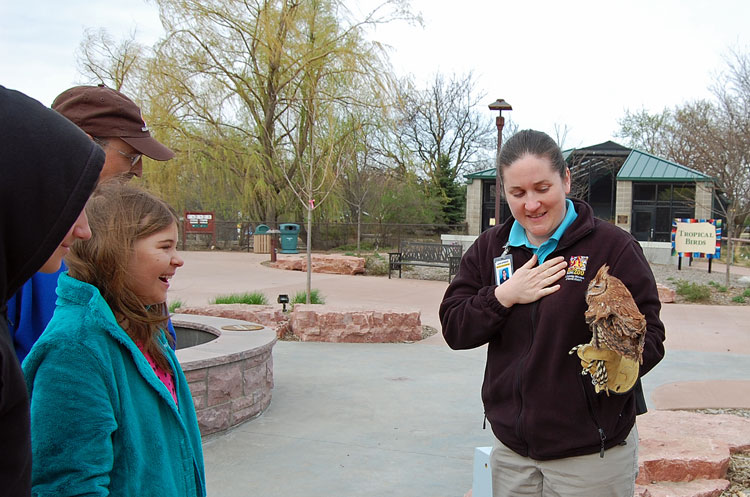 The Rhino exhibit offers indoor interactive learning stations so kids can play games while learning about Africa, rhinos and conservation. Watching from an expansive viewing area, we were oddly transfixed at the sight of a rhinoceros doing his business and attempting to kick dirt over his huge mound of excrement.
There's also a great amount of open space at the zoo – plenty of room for kids to run around and pretend to be animals!
Old Courthouse Museum
This gorgeous building has three floors of historical exhibits, murals, and courtrooms that have been restored to their original beauty. R.F. Pettigrew, South Dakota's first full-term U.S. Senator, was instrumental in bringing several railroads to Sioux Falls. By 1888, the city had access to five lines. A City on Track interactive exhibit showcases the opportunities the railroads brought to the city.
The Old Courthouse Museum can be a quick, engaging walk-through or an in-depth study, and admission is free.
Kirby Science Discovery Center
Three floors of science exhibits and play space will keep your kids entertained for hours at the Kirby Science Discovery Center. My kids were transfixed for quite some time by a sand table with a metal ball that rolled complex, computerized patterns in the sand. Once I tore them away, they loved the Starting Line: Fit for Life exhibit where they could test their reflexes, try wheelchair races, and put themselves in the action with virtual reality, green-screened sports.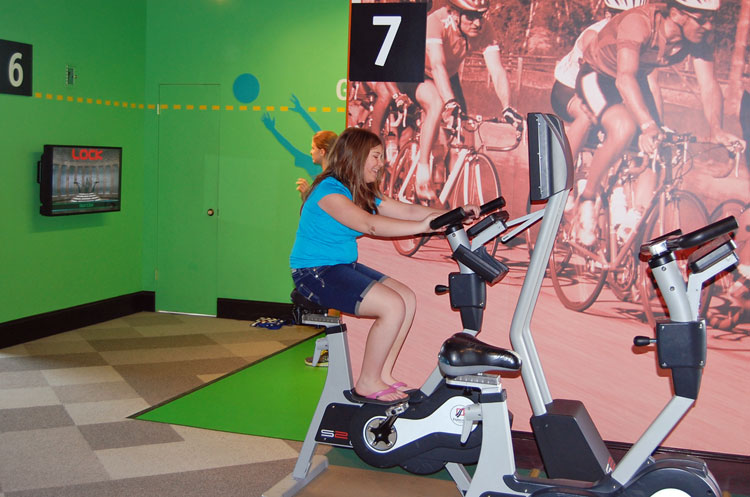 The Washington Pavilion, which houses the Discovery Center, also boasts a grand theater, art galleries, a sculpture garden, a cinedome, and several meeting areas. Don't miss Leonardo's Cafe – our lunch was outstanding!
Sculpture Walk
This internationally-recognized exhibit of more than 50 outdoor sculptures displayed throughout downtown Sioux Falls lets parents enjoy a little window shopping without the kids getting bored! Stroll, shop, and eat (Phillips's Avenue Diner has epic milkshakes and terrific food) all while pondering the many intriguing sculptures that line the streets.
During the summer, ballot boxes collect votes for a favorite sculpture to be purchased by the city and put on permanent display. My kids wanted to see them ALL before making their final vote!
Falls Park
Hopping from ledge to ledge and climbing down close to the waterfalls of the Big Sioux River was the highlight of my family's visit to Sioux Falls. We learned about the glacier that helped form the dramatic ridges of Sioux Quartzite, and we took a lot of selfies.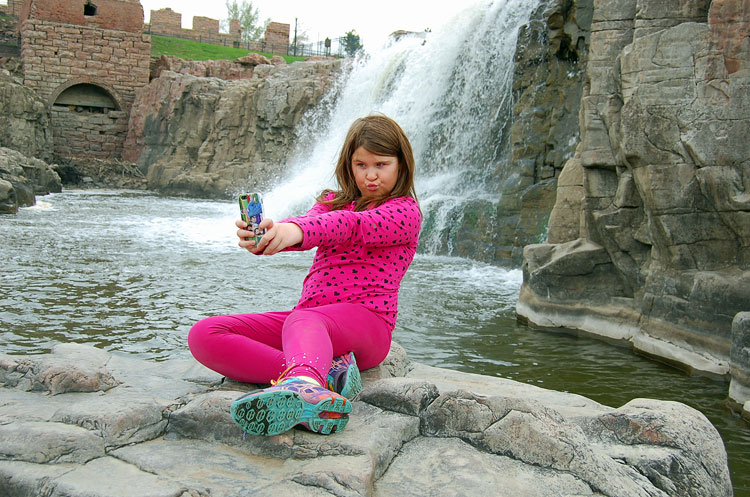 Falls Park has a visitor center, gift shop, 50-foot viewing tower, horse barn, mill, the Falls Overlook Cafe, and more, but I couldn't tear the family away from the falls long enough to visit any of it. There will definitely have to be a next time, Sioux Falls.
For information on all of these edutainment activities, check out Visit Sioux Falls.