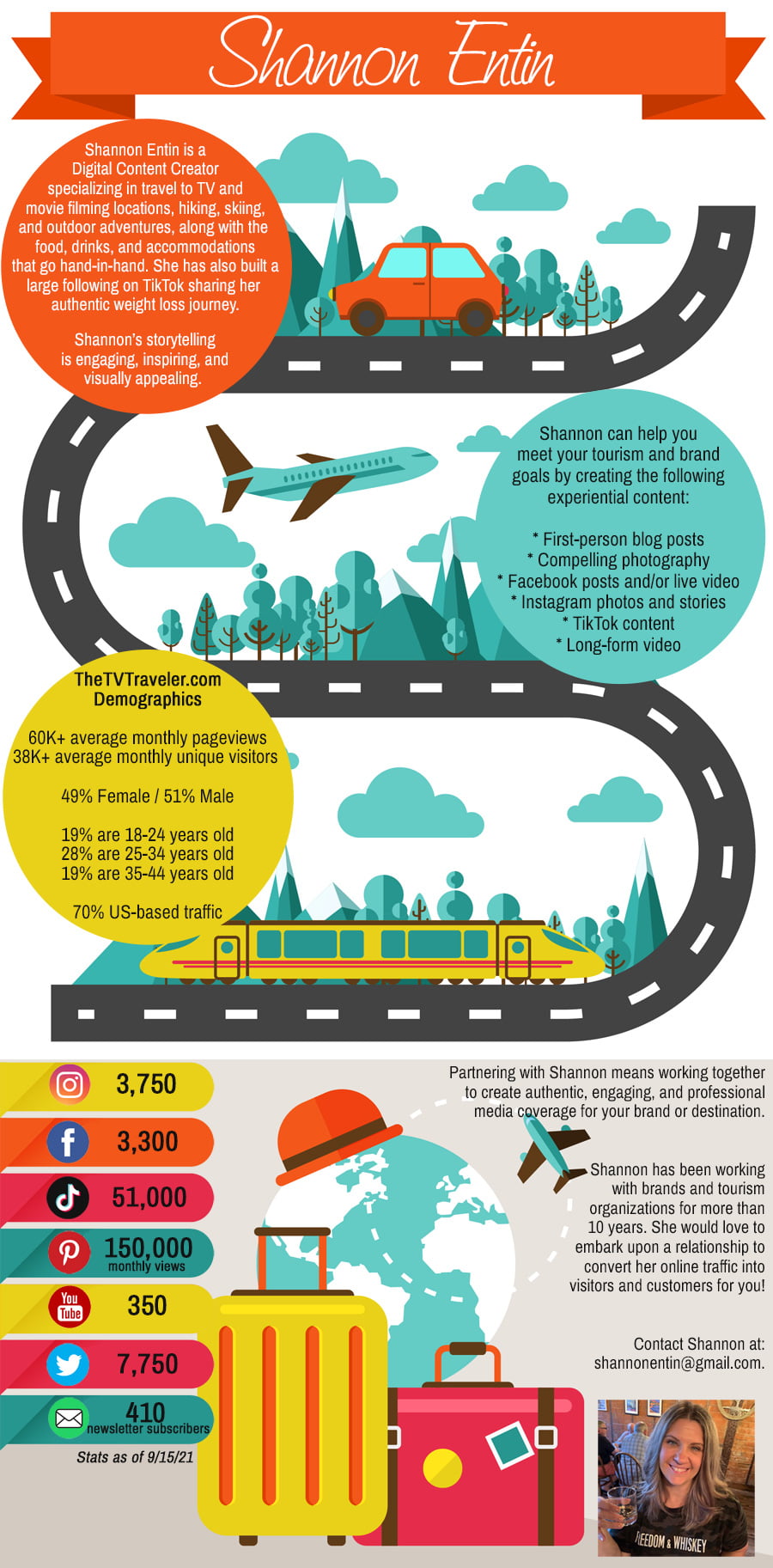 About Shannon Entin, The TV Traveler
Active in the publishing world since 1995, I'm an expert in getting your message out to the masses. I am proficient in writing, editing, and online marketing, having designed and developed several web sites, launched and marketed email newsletters, written two books, and contributed numerous feature articles online, in newspapers and in magazines.
Travel is my passion and I specialize in family, entertainment, and adventure travel in North America. I love active, outdoor adventures as well as road trips to wherever your favorite TV shows and movies were filmed. Whether you're looking for your next travel adventure or your next binge-watch, I've got you covered. I share my adventures at The TV Traveler.
Writing specialties: Travel, filming locations, skiing, hiking, health and wellness for women over 50, food and drink, and TV reviews.
Contact me via the form below:
Experience
Featured on Travel Channel's Panel of Advisors for their 2015 Best Road Trips feature.
Auto Editor and Facebook manager for aGirlsGuidetoCars.com, 2017-2018.
Project manager for "Girl's Night Out" influencer event at the 2017 New York Interational Auto Show.
Team Leader for TravelingMom's "Ask a TMOM" and Pinterest teams, 2016-2017.
Launched 100 Routes Across America in 2011, now rebranded as TheTVTraveler.com.
Featured speaker on "Blogging as a Homeschooling Tool" at the 2009 BlogHer conference and "Creating a Vision Board For Your Blog" at the 2011 BlogHer conference.
Started blogging in 2005 and became an active member of the parenting and homeschooling blogging community.
Created FitnessLink, an online fitness information magazine, in 1996 and served as Editor and Web Designer. A web content portal purchased FitnessLink in August 2000.
Co-authored The Complete Idiot's Guide to Online Health and Fitness (Macmillan, 1999) and wrote numerous feature articles for newspapers and fitness magazines, including the Times of Trenton and Physical Magazine.
Presented at several health and fitness conferences in the early 2000's, speaking about marketing yourself online as a fitness professional.