Adventure tour guides don't get enough credit. Not only do they need to instruct you, keep you safe, and handle gear, the best ones also teach you the history of the area, turn you on to must-see sights and restaurants, and keep you entertained. A skilled tour guide, like our kayaking leader, Archy, at ACE Adventure Resort in Minden, West Virginia, can make your excursion more than memorable.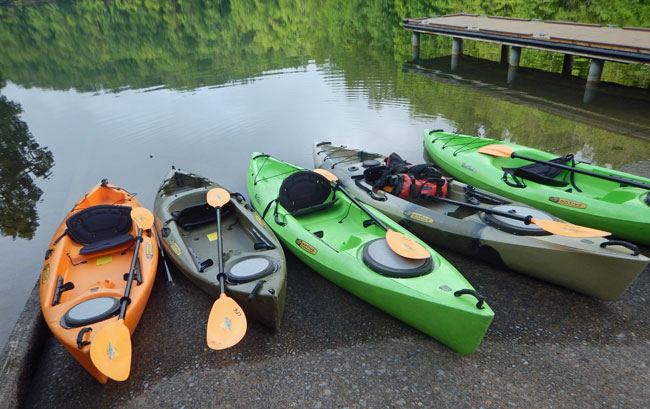 Archy was full of techniques, tips, and little secrets as we began our kayaking tour of Summersville Lake. He also had a keen sense about us. It was opening weekend for ACE Adventure Resort in early May and there was a slight chill in the gray air. Archy quickly observed that my son and his friend were not eager to get wet. I believe that's when he started plotting.
We paddled casually, observing the nooks and crannies of the sandstone cliffs that flanked the lake. Soon we reached a lovely waterfall and I instructed the boys to pose for photos. Archy asked, "Want me to get a photo of all of you?" Naturally, I replied yes.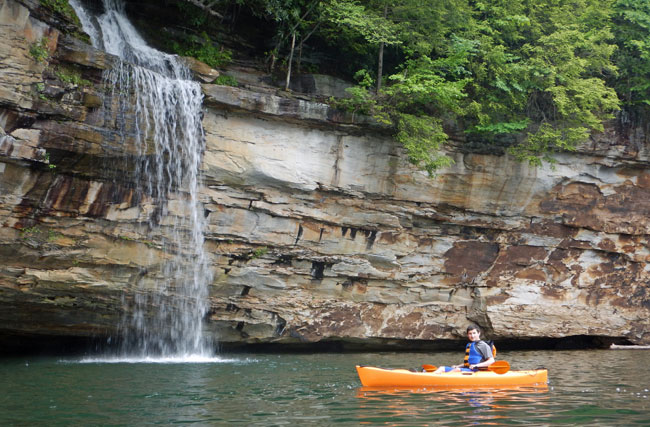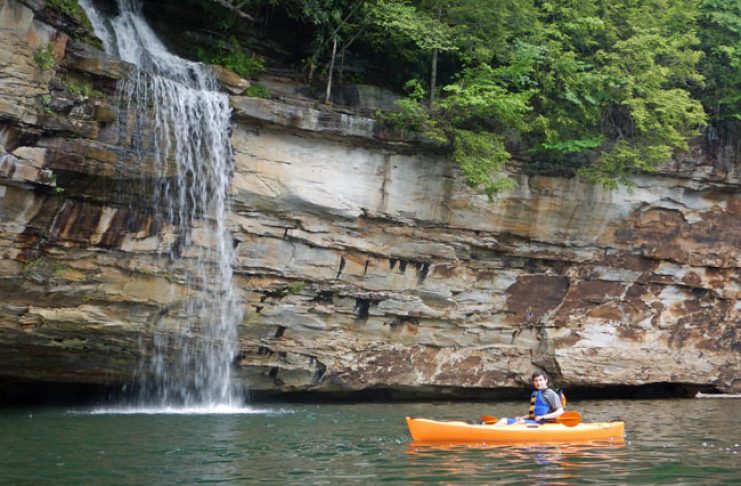 Archy told us exactly how to line up our kayaks for the best shot. He kept telling us to "move back" toward the waterfall and that he knew exactly how to get the best photo. My son was getting nervous.
"Are you sure?" he asked. "We're getting really close to the water!"
Archy waved us farther back, prodding our kayaks with his oar.
"He does this all the time, he's not going to get us wet," I assured my son. Then I turned and saw Archy paddling with all his might, gently ramming our kayaks and pushing us directly under the freezing, cold waterfall. He was skilled enough at this trick to have put the boys in the back, so they were soaked, while I stayed relatively dry. It took a few seconds to paddle out from under the falling water and much longer to stop laughing. It was one of those moments we'll never forget.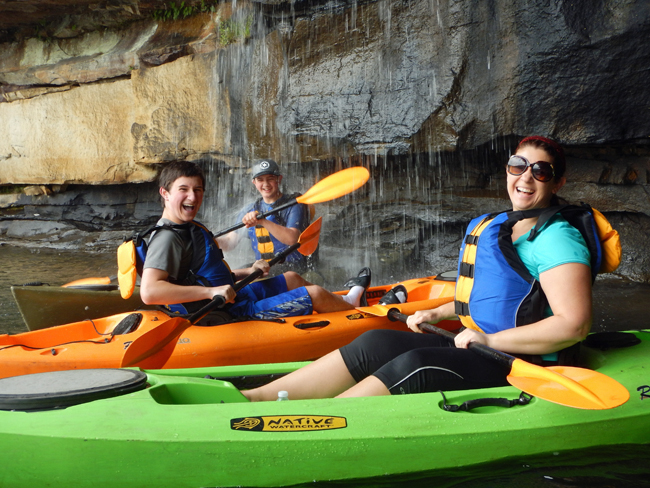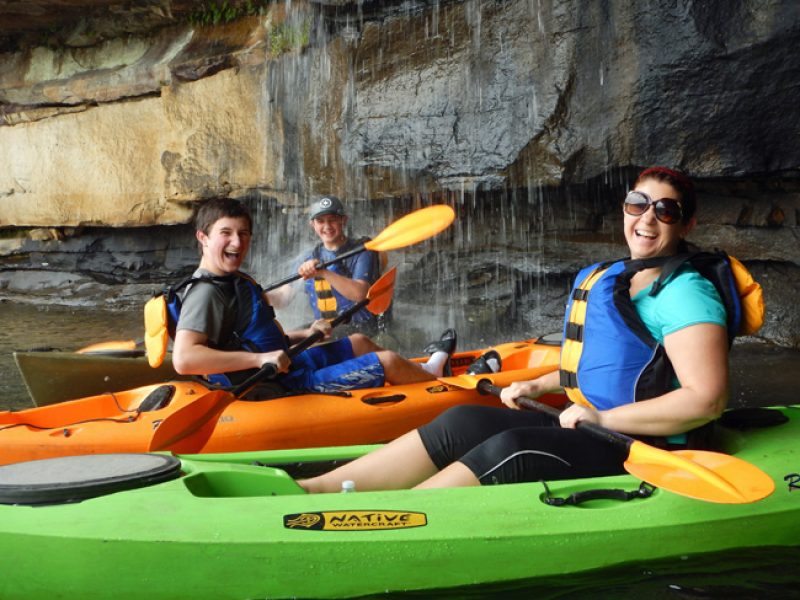 But even beyond the laughter we shared, there was another benefit to Archy's clever tactic. Now that the boys were wet, they were willing to be a bit more adventurous for the rest of the tour. Solo rock climbing and kayaking under more waterfalls ensued.
ACE Adventure Resort has tons to offer the adventurous family. Beyond kayaking, they offer zip lining, whitewater rafting, stand-up paddleboarding, hiking, climbing, horseback riding, disc golf, paintball, and more. And if you bring some younger adventurers in training, their Wonderland Water Park is a lake full of incredible inflatables where you can climb, jump, and slide.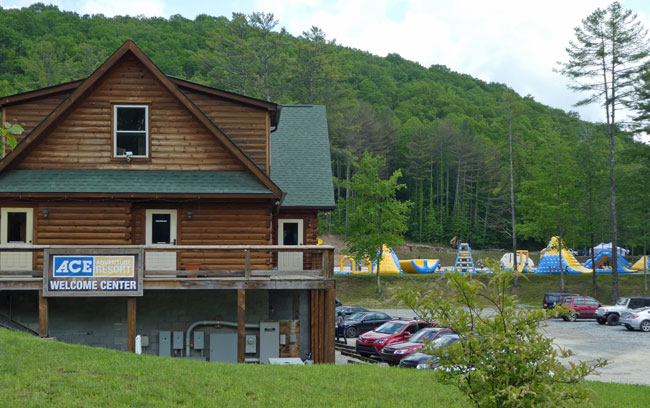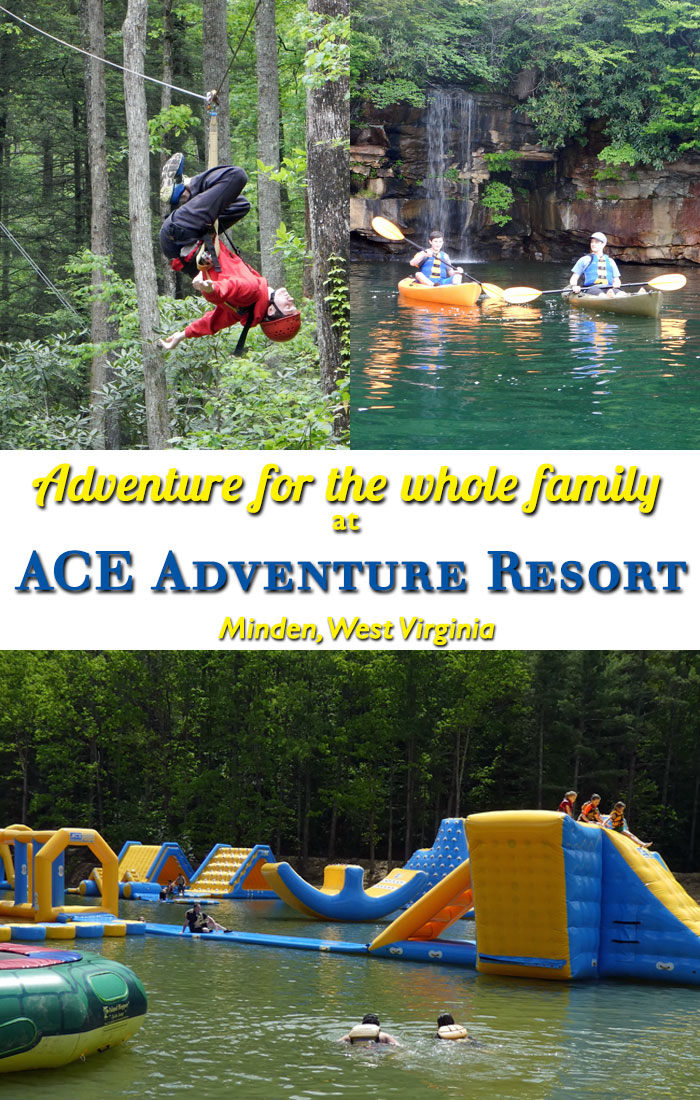 Where to Eat and Stay at ACE Adventure Resort
While there are hotels and restaurants in the area, staying at the resort's lodging is the way to go for easiest access to all the fun. From tent sites to simple cabins to deluxe homes, ACE offers an option to fit your needs.


I stayed in the Laurel Cabin with my son and his friend. The cabin has two bedrooms with queen beds, a pull-out couch, bathroom, and kitchenette. The best part? The deck and private hot tub.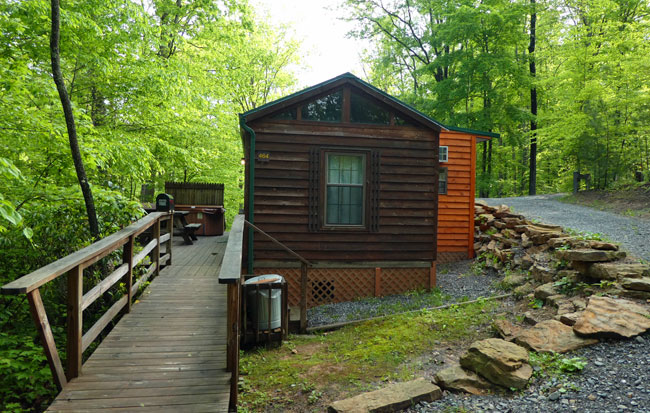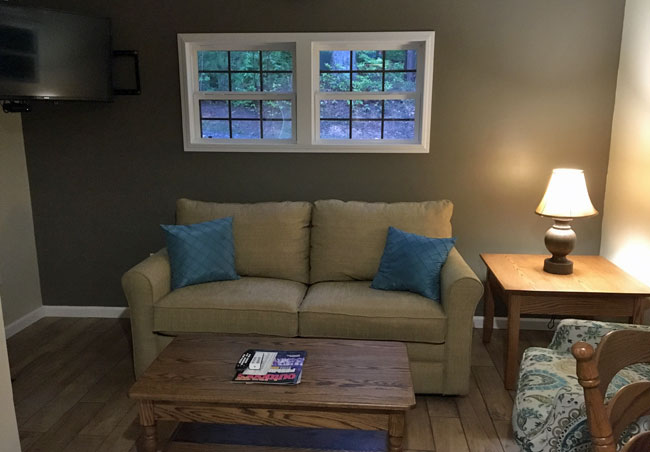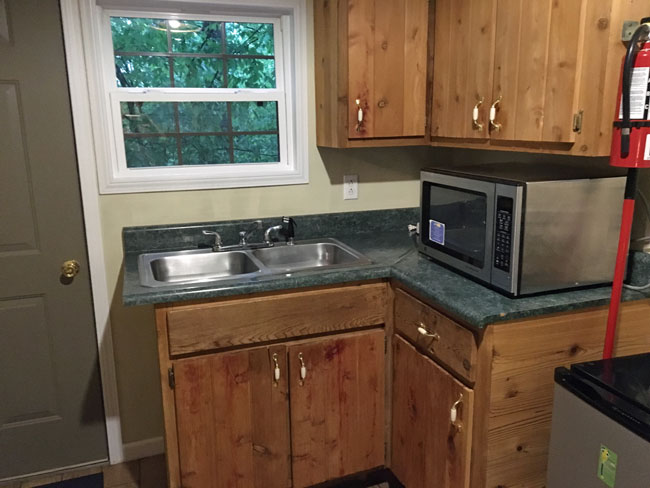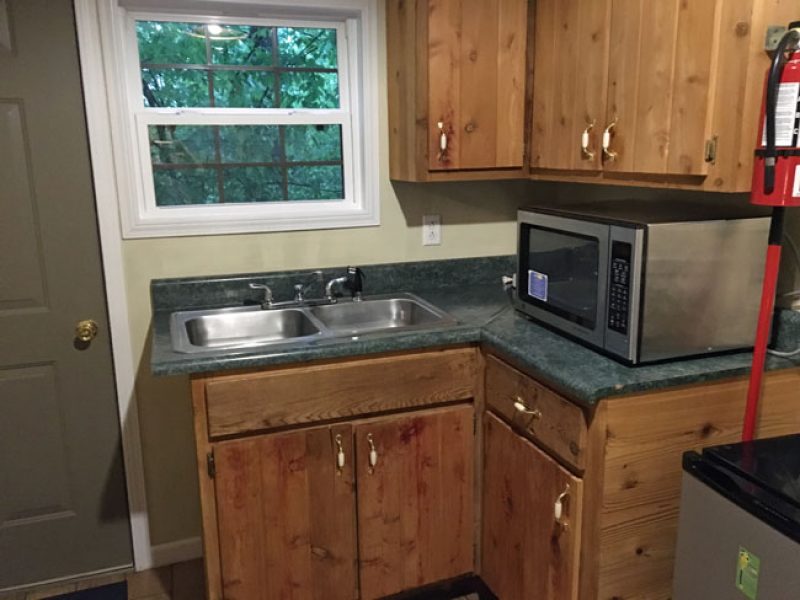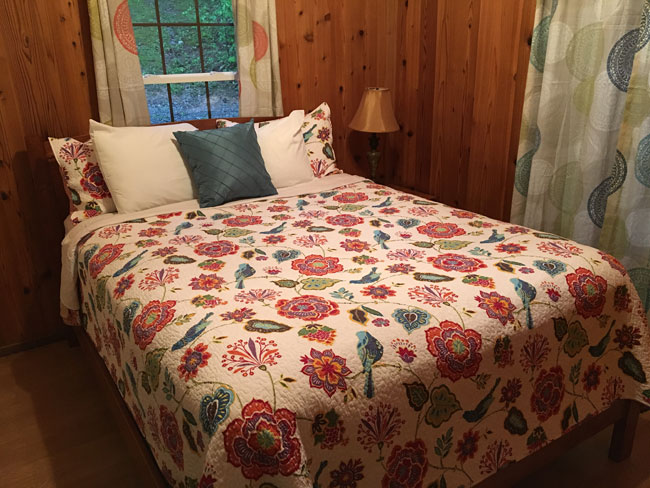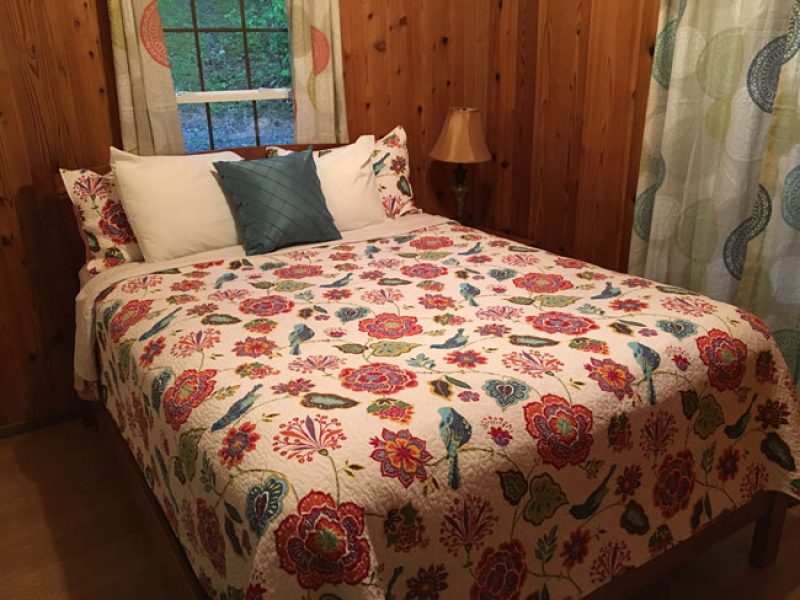 ACE offers a lakeside dining hall where buffet breakfasts, lunches and dinners are served overlooking the water, but we loved the Lost Paddle Lounge. Open for lunch and dinner, the Lost Paddle serves American fare and wood-fired pizza. A cozy fireplace, a full bar, pool table, and regular live entertainment set the scene for telling tales from the water. Our first night, I enjoyed a delicious brisket sandwich and crispy, oozing, Philly Cheesesteak Eggrolls.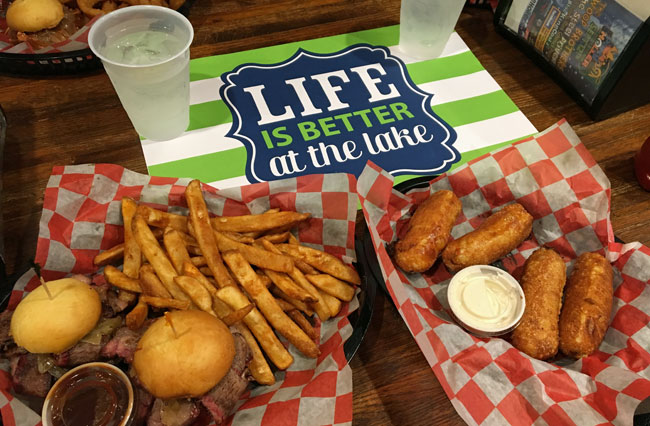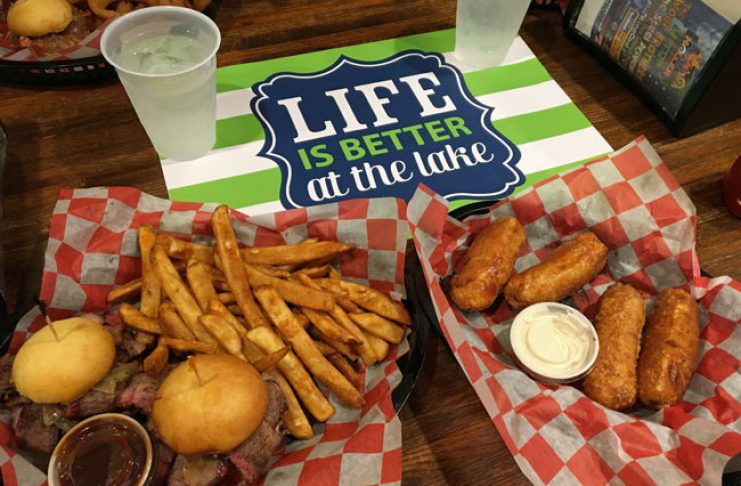 The second night, we got a pizza to take back to our cabin, and I had this delightful "Irish Car Bomb" alcoholic cupcake. I could really taste the Irish stout and Kahlua – they weren't cooked out. The bartender told me they are developing several more "cocktail cupcakes" for this summer.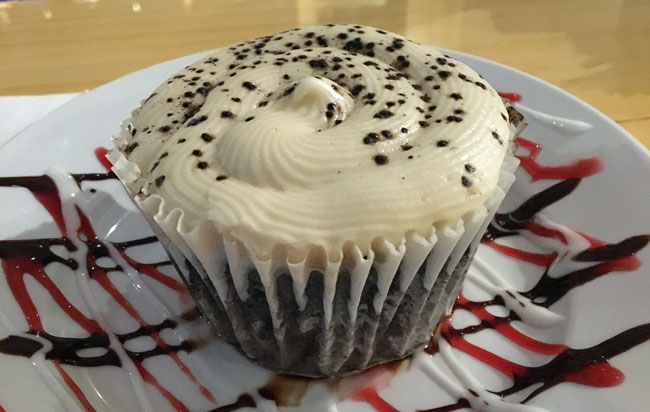 In addition to kayaking, we had a blast zip lining during our visit. It was a bit too early in the season for me to get in the cold water, but I am itching to get back to ACE to play in the Wonderland Water Park and do some whitewater rafting. Our kayak guide Archy was full of tips about where to hike, where to eat, and other activities not to be missed, so it seems I need a lot longer than two days at ACE Adventure Resort to get the full experience!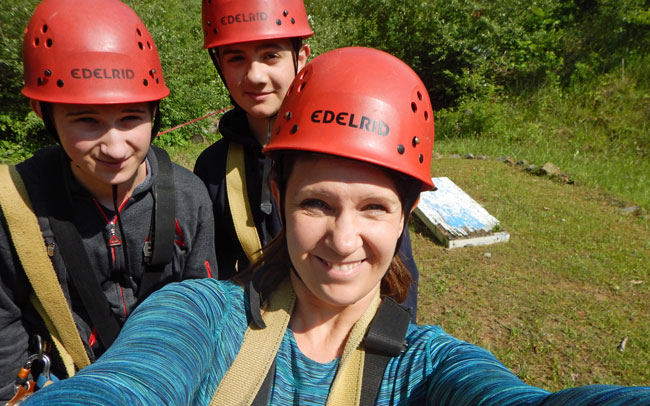 Disclosure: I received a discounted rate for my stay at ACE Adventure Resort to facilitate this review. All opinions are my own.