Blacksburg, VA may be home to Virginia Tech University, but it's also home to some incredible outdoor adventures. Located about 40 miles west of Roanoke, Blacksburg is the perfect spot for a weekend getaway. The area offers hiking opportunities with stunning payoffs, unique distilleries and wineries, and an iconic movie filming location!
Where to Stay in Blacksburg: The Inn at Virginia Tech
First, let's talk about why The Inn at Virginia Tech should be your home base when visiting the Blacksburg area. My husband and I were hosted by The Inn for our weekend getaway and we couldn't have been happier with the accommodations.

The Inn at Virginia Tech is tucked away near the VA Tech campus. Its beautiful, stone exterior gives it a castle-like feel, and while you are only a one-minute drive to food, shopping, and entertainment, staying at The Inn gives you the feeling of being away from from it all.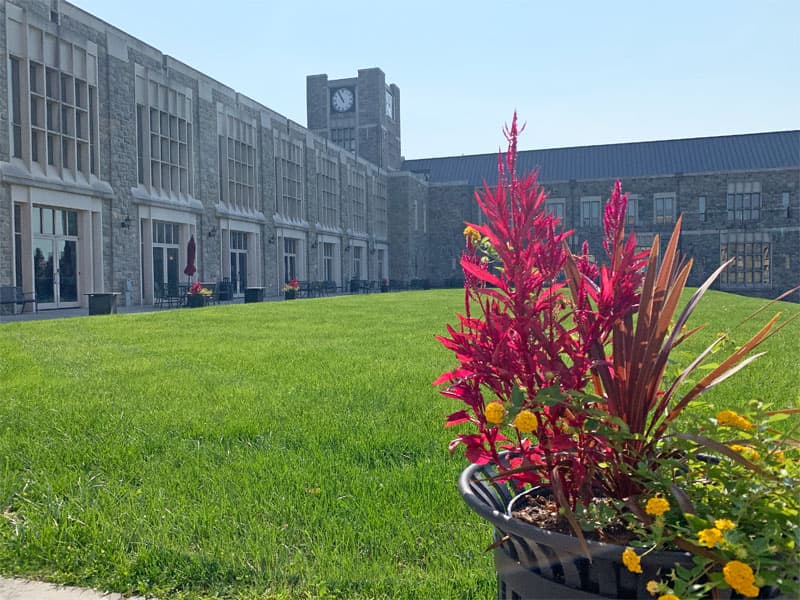 People sometimes think the hotel is just for the University, but it's open to the public and is the only full-service hotel in Blacksburg. The Inn is home to the Skelton Conference Center, with ten dedicated conference rooms. They currently have four meeting rooms that can accommodate hybrid (virtual/in-person) meetings. They also host 25 to 30 weddings per year – many of those are couples who met on campus!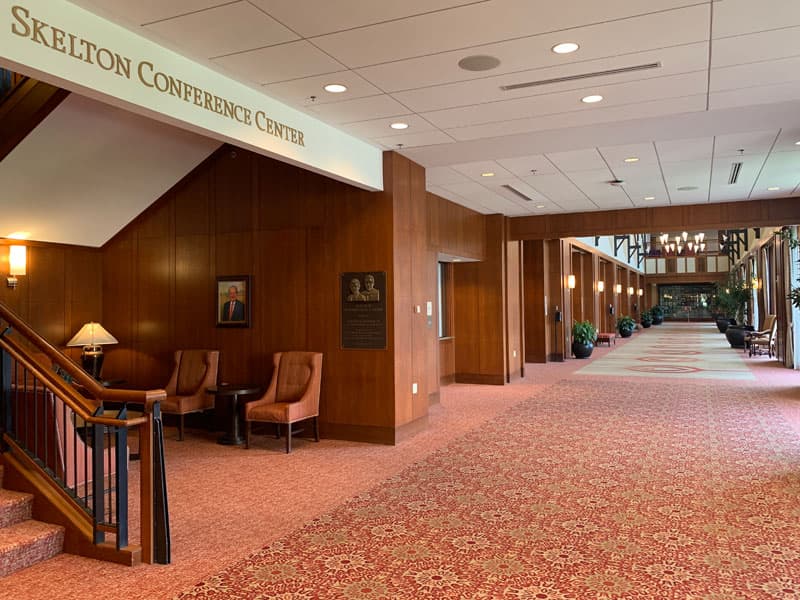 Our room was spacious and well-appointed. It featured two king beds and two nightstands, with additional plugs and USB chargers built in to the table lamps – always appreciated! The sitting area included a couch, a comfortable lounge chair and ottoman, a desk with free wired and wireless internet, a coffee maker and refrigerator, an armoire, and a large television.
The bathroom had all the basics, with a second sink/vanity area outside the main bathroom. Our room was about 1.5 times the size of their standard room – making the standard rooms (shown below) also quite large.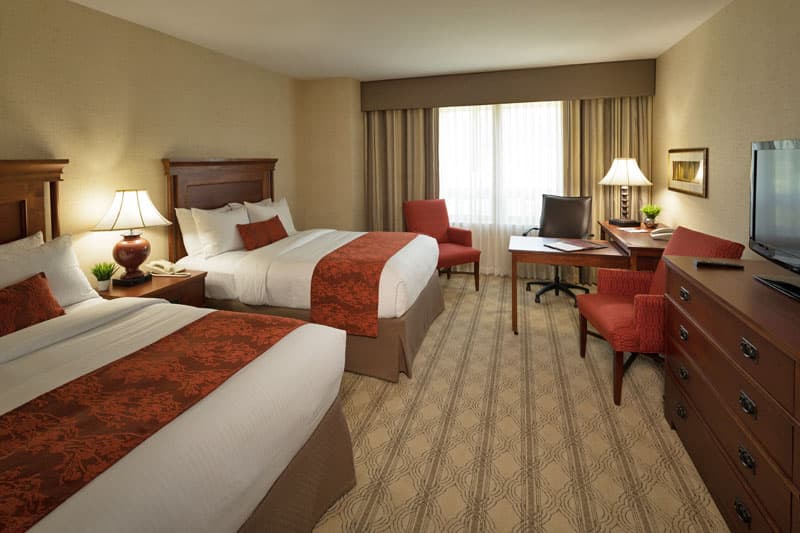 The Inn at Virginia Tech is conveniently located close to downtown and just 15 minutes from a championship golf course. But since I'm only a mini-golfer, I took advantage of some of the amazing hiking opportunities nearby. There are also lots of other ways to enjoy the great outdoors in the area with tubing, rock climbing and biking. Check out my full video here.
Blacksburg Adventure #1: Hiking McAfee Knob
After a good night's sleep, we drove about 30 minutes to the McAfee Knob trailhead. This hike is part of the Appalachian Trail and it's one of the most popular hiking destinations in Virginia.

The main attraction on this hike is the rocky ledge overlooking an incredible 270-degree view of the valley and mountains. The hike to the overlook is 3.9 miles (and another 3.9 miles back down). It's a moderately strenuous, rocky, uphill climb. The path is rather narrow, so you have to move aside to let people pass you who are going in the other direction.
There is also a fire road that more or less parallels the trail. It's flatter, wider, and easier, but not nearly as beautiful or fun. I recommend taking the trail on the way up and the fire road on the way down if you are tired!
The payoff for your 4-mile climb is a gorgeous view at the top. The ledge is just that – a ledge! I saw a lot of people climbing right out to the very tip and dangling their legs off – yikes! This is as brave as I got: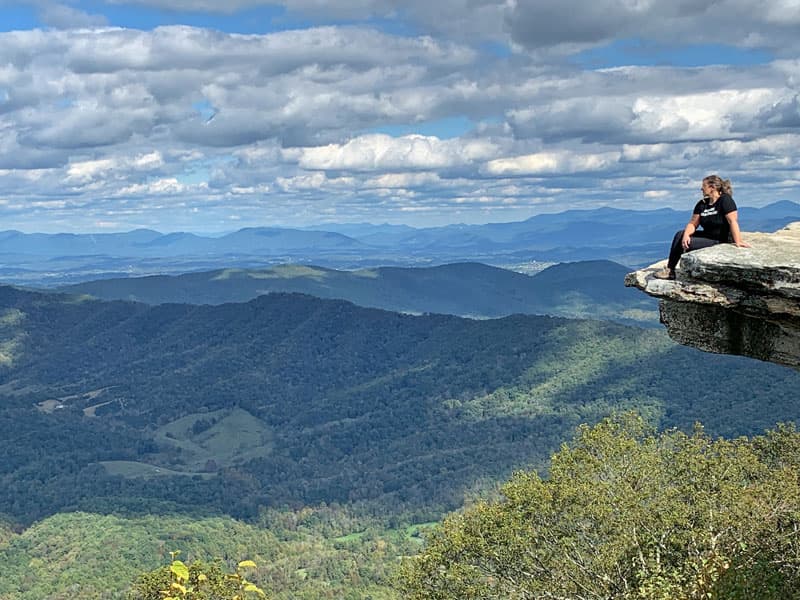 At the top, there are lots of flat rocks and plenty of space away from the edge to sit and have a snack, enjoy the scenery, and people-watch.
Tips for hiking McAfee Knob:
Get there early! The parking lot fills up fast, especially on the weekends. If the lot is full, as it was when we arrived, try Old Catawba Road – your first right after the parking lot. Don't park on the main road – we saw cars parked between the no parking signs being towed as we headed to the trail.
Watch the signs on the trail. There is a point where you come to an intersection and it's not easy to see that you have to go left to get to the overlook. I heard two different people talking about how they went the wrong direction and hiked a mile out of their way.
There are no restrooms on the trail or at the parking lot. And with such a heavily-trafficked trail, there isn't a lot of opportunity to sneak into the woods either.
Allow 4-5 hours to complete this hike.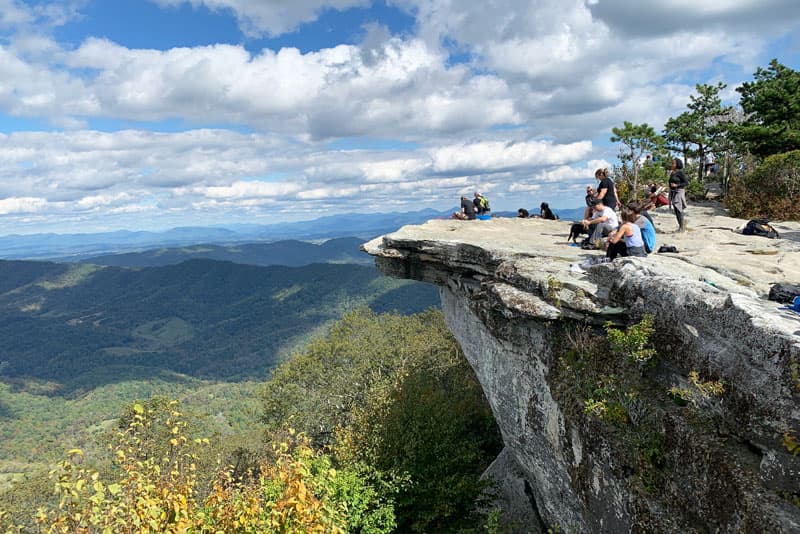 Blacksburg Adventure #2: Hiking Cascade Falls
The next day we hiked to Cascade Falls in nearby Pembroke, also about 30 minutes from The Inn at Virginia Tech. This was a just-challenging-enough hike to a beautiful 66-foot waterfall.
The trail is 2 miles each way and beautifully maintained. I was getting "Lord of the Rings" and "fairy forest" vibes with all the rock steps and moss-covered boulders along the gently cascading river.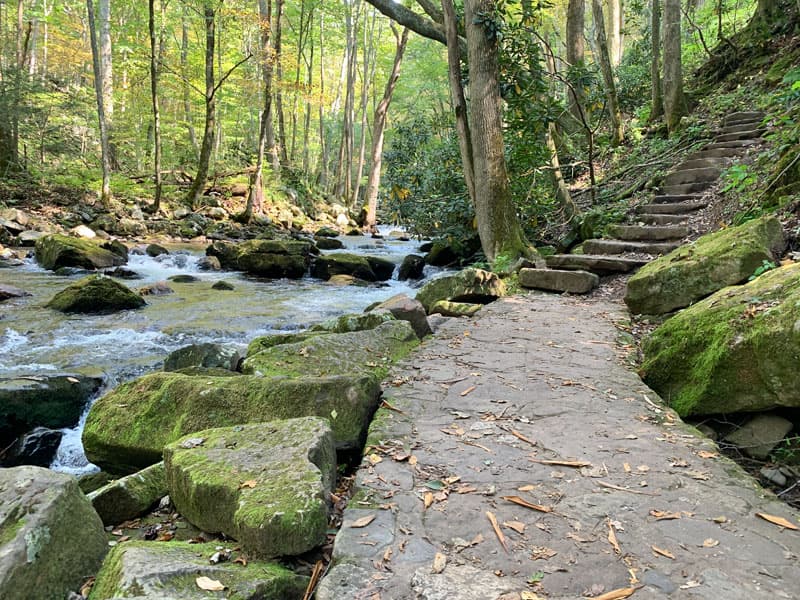 The Cascade Falls Trail features an upper and lower trail. The upper trail is a wide road of primarily dirt and gravel. The lower trail consists of rocks, roots, and boulders (as well as the aforementioned fairy forest steps). It follows the river the whole time, so you'll enjoy the peaceful sound of rushing water for the whole two miles. I definitely recommend the lower trail for the best experience. You can take the upper trail on your way back down if you are short on time.
Once you reach the falls, there is a lot of space to sit by the water and you can even swim (with caution) at the base of the waterfall if it's a hot day. There is also one more set of stairs that will take you higher and closer to the falls.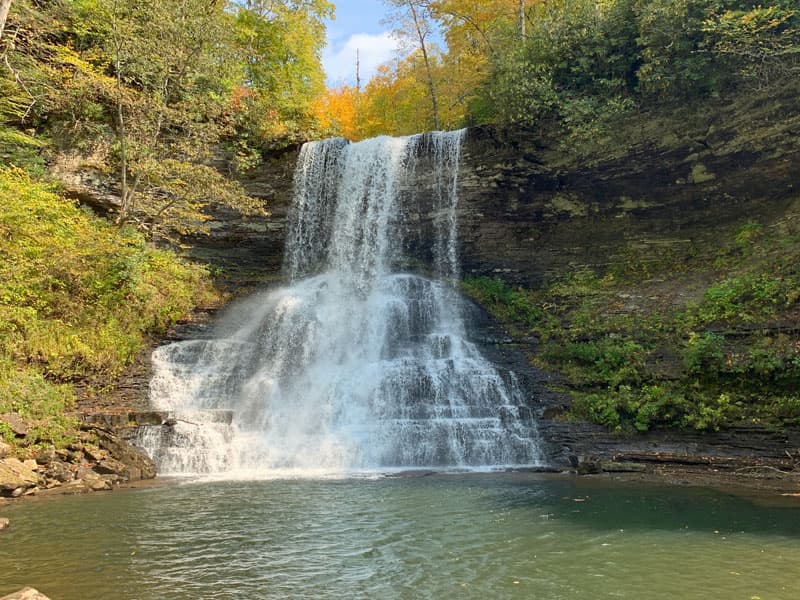 Tips for hiking Cascade Falls:
It costs $3 to park in the large parking area.
At the trailhead there is a nice park with picnic tables and restrooms (though they were not open on the Sunday we visited, presumably due to the ongoing pandemic lockdown situation).
The trail map is somewhat deceiving. It makes it sound like the upper trail is more strenuous and that the lower trail is often washed out and dangerous. The upper trail is the easier hike (especially on the way down). Definitely take the lower trail unless it is closed – it does sometimes get washed out during periods after heavy rainfall.
Allow 2-3 hours for this hike.
Blacksburg Adventure #3: See Where Dirty Dancing Was Filmed
After your hike at Cascade Falls, take a 20-minute drive to nearby Mountain Lake Lodge which served as "Kellerman's Resort" in the movie Dirty Dancing. I expected to drive by this lodge and maybe recognize the building, but I found that they totally embrace their Dirty Dancing history!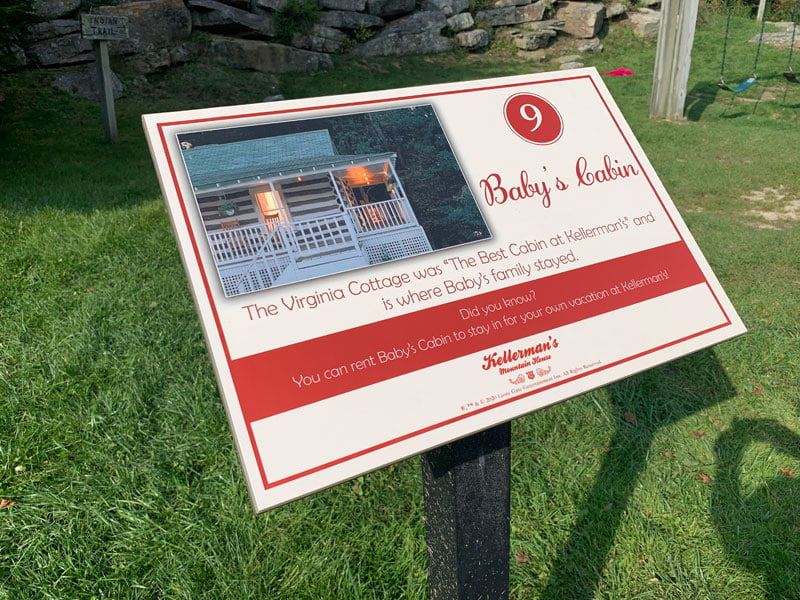 The Lodge offers a free, self-guided Dirty Dancing walking tour to highlight the exact areas where the movie was filmed. You can see Baby's cabin, the gazebo where Penny taught dance lessons, the lake (now dried up) where Johnny & Baby practiced the lift, and several more recognizable spots. You'll see a memorial stone dedicated to Patrick Swayze, too. The grounds are beautiful and offer additional hiking and biking trails.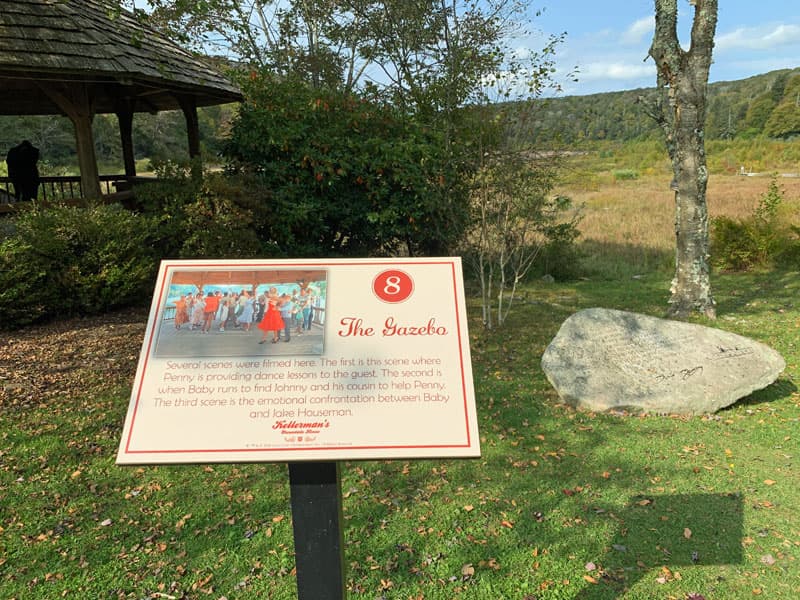 You don't have to be a guest at the lodge to check out the iconic Dirty Dancing filming locations, but you might consider booking a weekend with them for the full experience. They even offer Dirty Dancing-themed weekends throughout the year!
You could also make a separate day trip to Mountain Lake Lodge. Mountain Lake Outfitters connects you to the many hiking and biking trails on the 2,600 acre property, while providing information about the Mountain Lake Conservancy programs that preserve the environment. You can obtain trail maps, snacks, mountain bike and archery rentals, or make reservations for their Treetops Adventure Courses, Bubble Ball, 3D Archery, and Archery Tag. Mountain Lake Outfitters also sells Mountain Lake and Dirty Dancing apparel, local arts and crafts, toys, glassware, and unique gifts.
Food, Drink, and Shopping in Blacksburg
Charming, historic, and walkable, downtown Blacksburg is home to more than 150 shops and eateries. Try the enormous pizza slices at Benny Marzano's, lunch at Cabo Fish Taco, or dinner at The Blacksburg Tavern, located in the oldest house on Main Street within the town's original Sixteen Squares.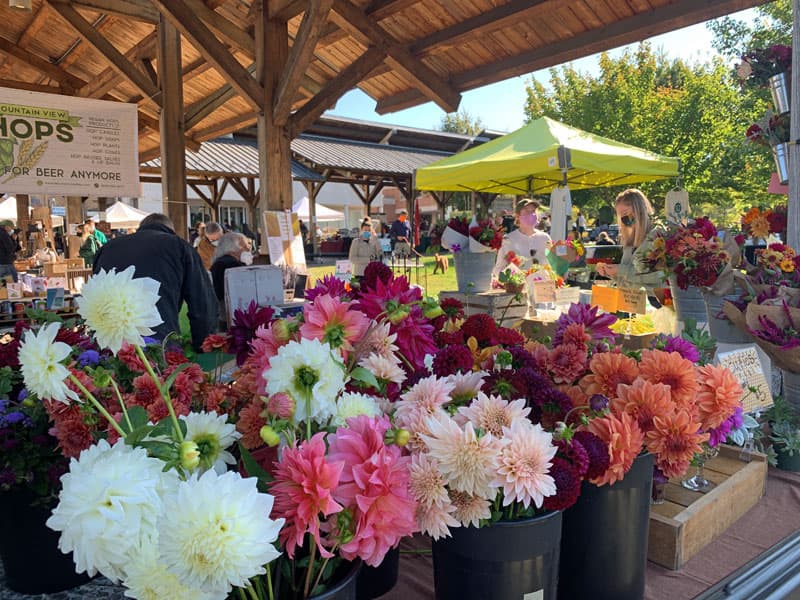 On Saturdays from 9am to 2pm, don't miss the Blacksburg Farmer's Market. Eat locally throughout the year with the freshest meats, organic produce, baked goods, and prepared food from farmers that are all located within a 50 mile radius of downtown Blacksburg. Be sure to get up early though – with social distancing rules in place, there might be a line to get in to the market.
There are also ample opportunities to taste local wines and spirits. We visited Five Mile Mountain Distillery – about a 40-minute drive away in Floyd, VA. There's a deep-rooted history of making moonshine in the Blue Ridge Mountains. During prohibition, neighboring county Franklin was hailed as the "Moonshine Capital of the World," but Floyd was actually a much larger producer. Five Mile Mountain Distillery is Floyd's first distillery since Prohibition.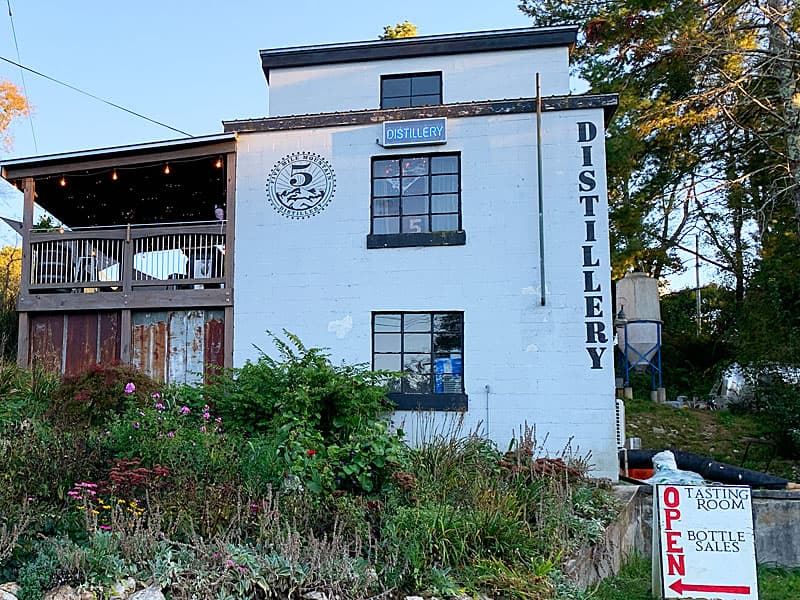 They have an outdoor patio and a lovely wooded area with picnic tables to allow for social distancing. Taste their moonshines made with locally-sourced corn and rye, pick your favorite and then enjoy one of their unique cocktails. There is also a cozy indoor tasting room and gift shop.
I sat down with 5 samples and sipped these 90- to 100-proof moonshines very slowly. I loved the Lemon Ginseng moonshine and brought a bottle home so I could create some of my own cocktails!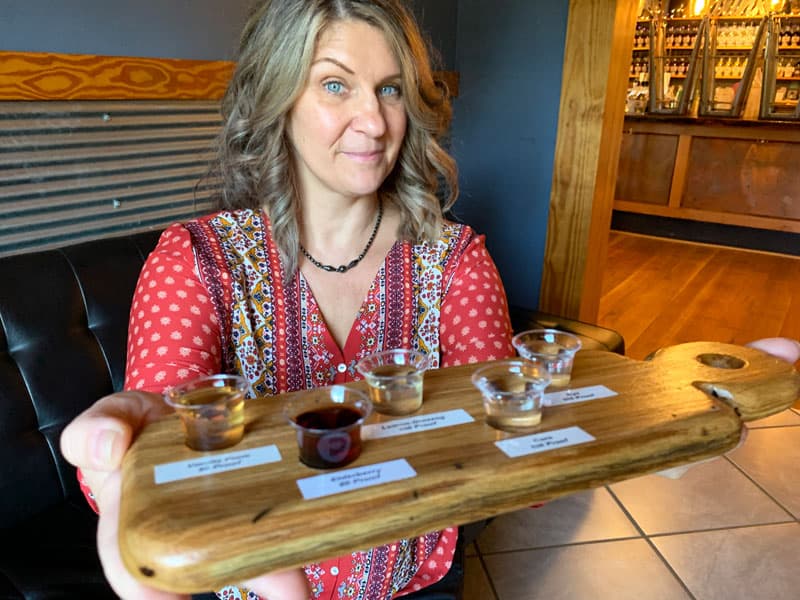 Another local establishment I highly recommend is Carol Lee Donuts. Who doesn't love a good donut? We stopped here on our way to McAfee Knob to stock up on donuts and I can't tell you how good they tasted after our 9-mile hike!

While there are a lot of restaurant options in Blacksburg, we ate most of our meals at Preston's – the onsite restaurant at The Inn at Virginia Tech. After a long day of hiking, we weren't up for showering and heading back out to town for dinner. So we cleaned up, put on some comfy clothes, and went downstairs for a relaxing drink at the Continental Divide Lounge. (Yes, the hotel is actually located on the Eastern Continental Divide!)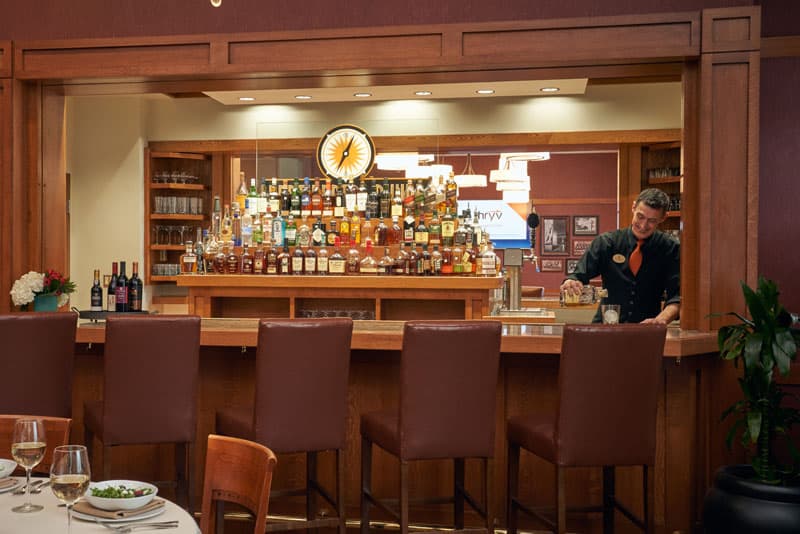 Then we enjoyed a delicious dinner at Preston's. I noticed that Preston's has two large rooms for a more private dining experience if you are traveling with a larger family or group. It was so convenient to eat at the hotel, we went back to Preston's for breakfast. This hearty meal kept me fueled for a full day of activities.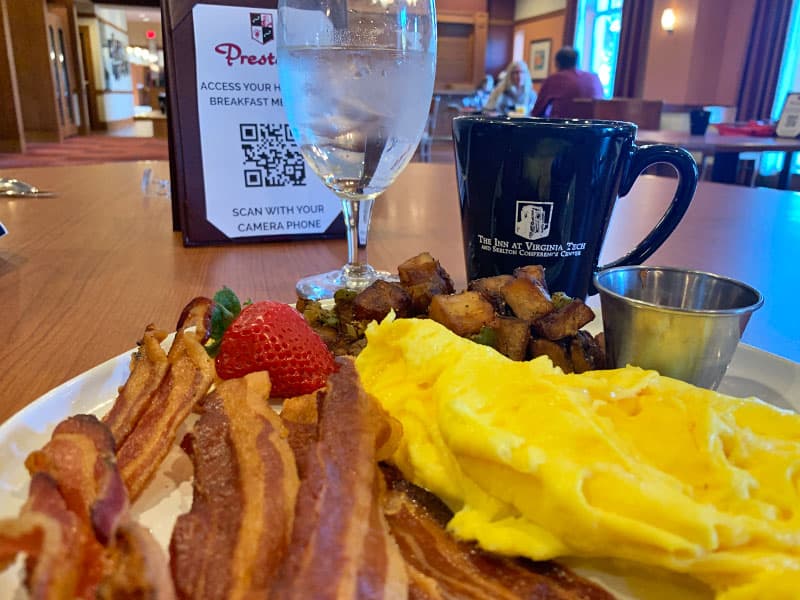 I love discovering towns that have so much to offer and make it easy to enjoy it all. Blacksburg strikes the perfect balance of charming, small-town vibe and youthful, college-town excitement. And with so many amazing outdoor adventures nearby, now is the perfect time to book a weekend road trip to The Inn at Virginia Tech to enjoy the amazing fall foliage!