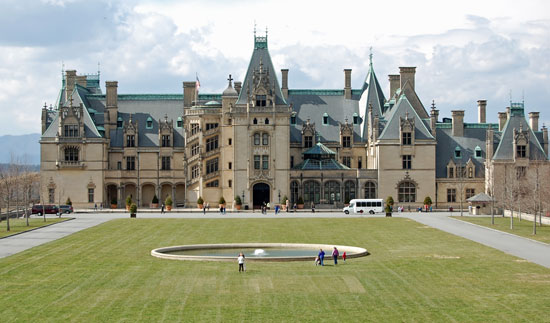 The Biltmore Estate, located in the rolling hills near Asheville, NC, is America's Largest Home. The 250-room French Renaissance chateau displays the famous Vanderbilt family's original collection of furnishings, art and antiques. The grandeur and detail of the architecture at the Biltmore is fascinating, as is learning about everything a high-society family needs to do to keep an estate of this size running smoothly.
The home is an enormous, fascinating maze (I really felt like I was lost a couple times!) of living history. Using the self-guided audio tour, you simply press a button as you walk into each room, then listen to the room come alive. Perfect for families, the tour gives you time to listen, take in the splendor and detail of each room, talk with your kids about the history, then move on at your own pace.
Your family will also love the 8,000 acre "playground" that surrounds the Vanderbilt home. There's the garden, which boasts 100,000 tulips in the spring, more than 2,300 roses in summer, and an array of brilliant annuals. There's also biking, rafting, hiking, fly-fishing, and horseback riding available. Or just get a picnic basket and lunch at Biltmore's Bake Shop and enjoy a riverside picnic. There are plenty of spectacular family photo ops on the Biltmore grounds.
Antler Hill Village is the perfect place to end your day. This is where the Vanderbilts once had their dairy farm. It has since been converted into a winery and much more. The farm is still there and ready to help your family experience farm life of the early 1900s with blacksmiths, woodworkers, animals, games and crafts. The kids will be having so much fun they won't realize their vacation also comes with a history lesson.
The winery tour is entertaining and informative, and short enough not to completely bore the younger crowd. Our tour guide oozed with passion for the winery, and I learned quite a bit about wine-making in a short time. The free wine tastings at the end of the tour (and grape juice for the kids) are a bonus! You'll also find restaurants and shopping at Antler Hill Village, as well as the Outdoor Adventure Center, where you can rent bikes, arrange a rafting trip or carriage ride, or one of the many other activities they offer.
North Carolina is a gorgeous state for road trips. From the ocean, to the Blue Ridge Parkway, to the Smokey Mountains, it's got it all – even Hunger Games filming locations. Plan at least a full day at the Biltmore. To take advantage of the outdoor activities, plan for two days. Be sure to check their web site for specials before you go!