The first thing that struck me when I entered the Corning Museum of Glass (CMoG) was the enormity of the place. Having been in other glass museums, I expected the usual when CMoG invited me to visit: a glass-blowing demo and a few rooms of beautiful glass exhibits. But the Corning Museum of Glass is not the usual.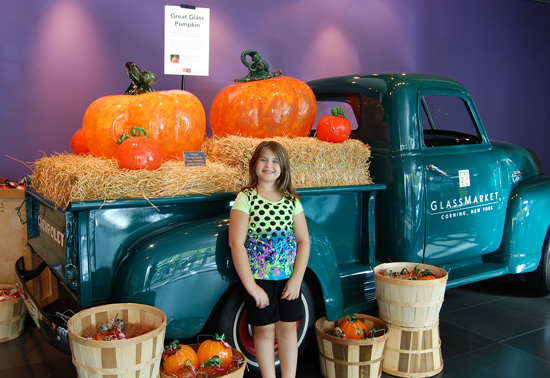 CMoG truly brings the history of glass to life. As you stroll through the glass collection galleries, you learn about the origins of glass making, the history of glassblowing, and the transformation of the Corning, N.Y., area from farm town to "Crystal City." The Brooklyn Flint Glass Company moved its operations to Corning in 1868 because of its proximity to canals and railroads, which made it easy to get materials in and out of the area. The exhibits and artifacts seem to go on forever, but you never get tired of looking at them. I looped around the gallery two or three times while my kids pulled me from one area to another with "Mom! You gotta see this!"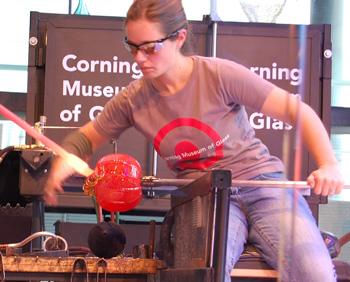 There is a focus on education, but it does not detract from the hands-on excitement and beauty that pulses through the museum. One of the first things we did was attend the Hot Glass Show, a live glassblowing demonstration. We all oohed and aahhed as the glassblowers explained the procedure and created a glass pumpkin. And during each show they give away a glass creation to one lucky winner! Later in the day, we saw the Flameworking Demo, where the glassworker created a glass fish right in front of us, and the Glassbreaking Demo, where you watch how glass breaks – or doesn't break – and learn about ways glass can be made stronger or weaker. Don't miss the demos – they are all worth watching for all ages.
CMoG also offers you the chance to get into the workshop and work with glass yourself! This was my kids' favorite part of the day. My 9 year-old daughter tried glassblowing and made a unique glass pumpkin – she loved that she could choose her own colors to match her newly-painted bedroom! My 14 year old son, as well as my husband and I, created glass flowers. The workshops take 15 – 30 minutes per person and there are activities suitable for all ages. You can pick up your finished glass pieces the following day or they can be shipped to you. There is an additional – and very reasonable – charge for the workshops, and they are worth every penny considering kids 19 and under get into the museum for free!
My family also enjoyed the interactive areas at CMoG. We tried to determine what elements produced what colors in glass – it's not as easy as it seems! We learned what makes glass retain heat and how electricity can be conducted through a pane of glass to turn it transparent from opaque – the kids had fun with that one, which you can see in the video below.
When it comes to eating and shopping, CMoG also has you covered. Their GlassMarket Cafe has tasty food and an unusual variety of options such as panang curry, pasta primavera, pork stir-fry, chicken marsala, a noodle bar, pizza, salads, sandwiches, soups, and chili. The gift shop is extensive and exhausting if you have a child that wants every. pretty. thing! It took quite a while for my daughter to decide on earrings, a fiber optic lamp, and a headband. They also have books, games, pots, lamps, dinnerware, decor and more.
Plan to spend a full day at the Corning Museum of Glass. Take your time and enjoy everything they have to offer, and you will leave with new glass-making skills and a new appreciation of glass in your every day life.
CMoG provided my family with passes to the museum and workshop experiences. All opinions are my own.