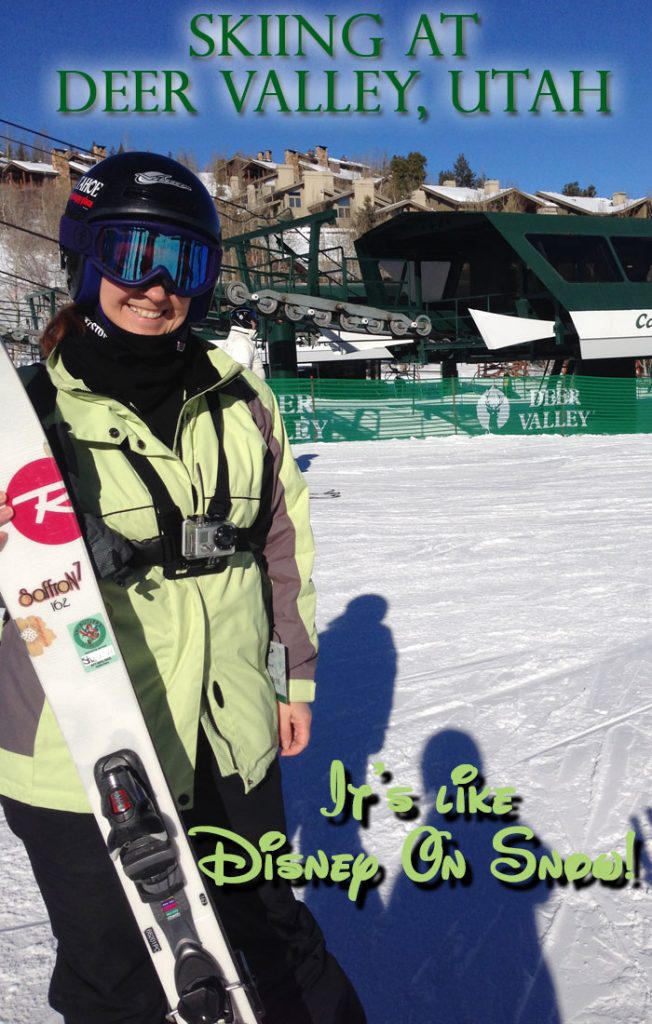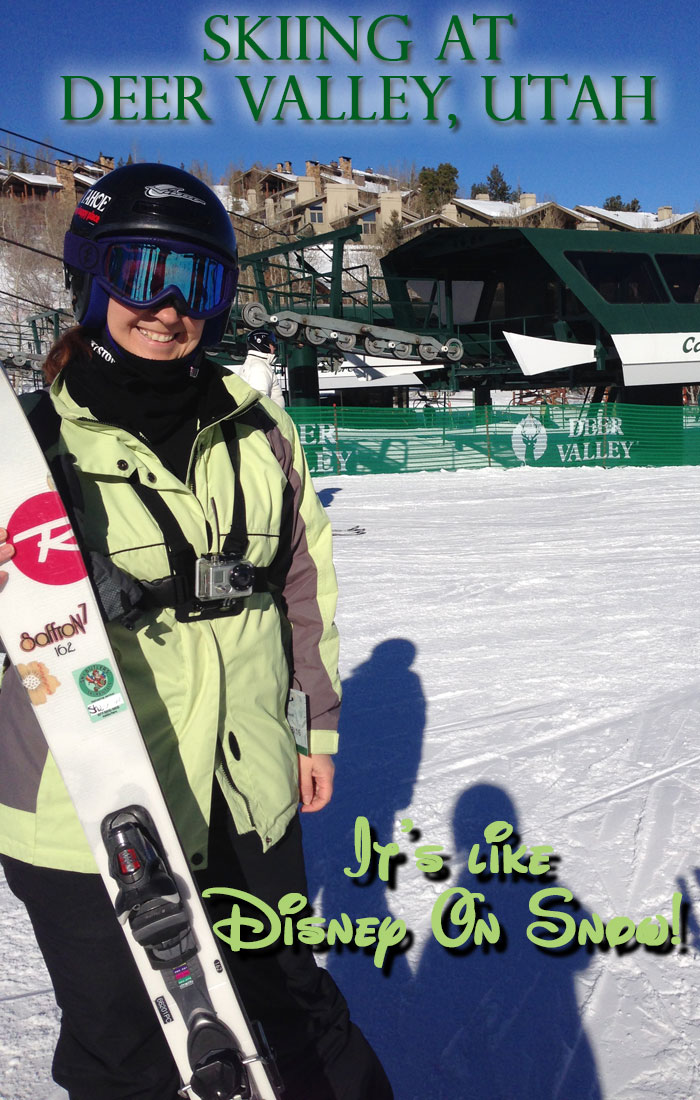 When my family visited Deer Valley Ski Resort in Park City, Utah, we called it "The Happiest Place on Snow."
If you've been to Disney World, you know why they call it "The Happiest Place on Earth." The service is impeccable, the Cast Members (employees) are the epitome of friendly and helpful, and the experience is smooth and seamless, with thoughtful amenities at every turn. Our experience at Deer Valley was all that and more.
The first thing you need to know before booking a trip to Deer Valley is that it is a ski-only resort. No snowboards allowed. Bummer for the snowboarders, but skiers absolutely love it. Many a skier has complained about snowboarders shaving down moguls or cutting banana lines in the trees. And let's face it, snowboarders can sometimes ride out of control. I've personally been mowed down by snowboarders more than once… thank goodness for my helmet.
The absence of snowboarders is bliss, but that's just the beginning at Deer Valley. When we arrived on the late side of the morning and parked our car in the nearly-at-capacity parking lot, we thought we might have quite a walk ahead of us to the lodge. But almost instantly, we noticed a tram rumbling along, picking up skiers throughout the lot. Hopping on, we were quickly transported to the base area and given clear instructions on when and where to get back to the tram and our car. Easy peasy. Just like parking at Disney.
Skiing at Deer Valley – A Luxury Experience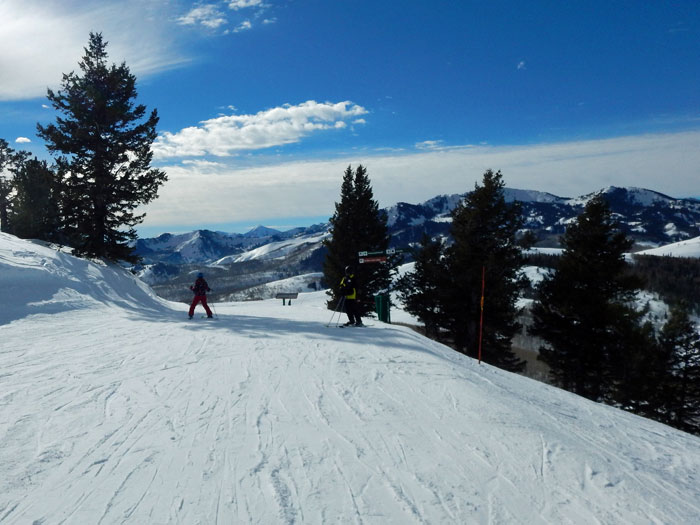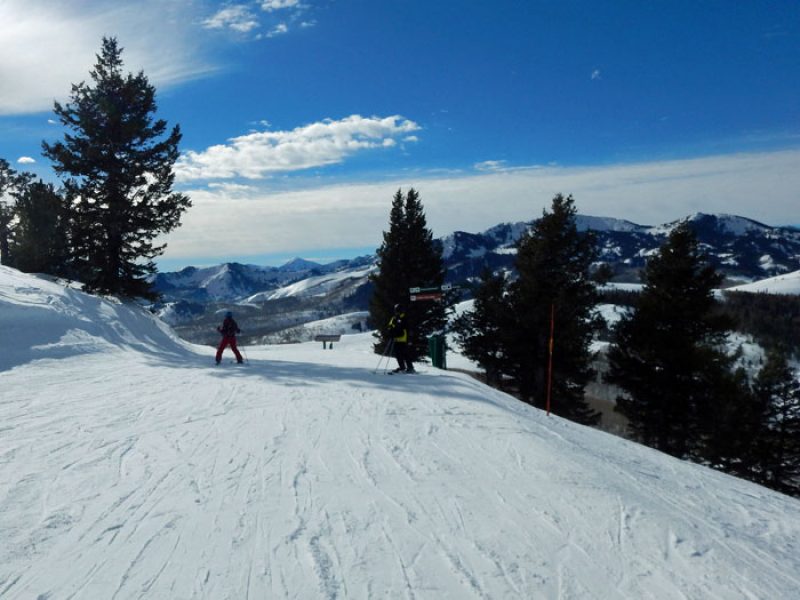 After a short walk to the ticket window, we hopped on the Silver Lake Lodge lift and – AAAHHH! – my butt was treated to the most comfortable, cushioned lift ride I've ever experienced. No cold steel or hard, icy bottom – I think the seat is padded with a good six inches of foam. Pure luxury. Like a couch.
The Sterling Express Lift was our base for the next few runs. The whole family enjoyed skiing the top of Homeward Bound – a green trail that winds around for some spectacular views of the area and of nearby Park City Ski Resort. We continued down blue groomers Sunset and Birdseye. Ranked #1 for grooming in SKI Magazine's Readers' Poll for the past several years, Deer Valley has some of the best corduroy around.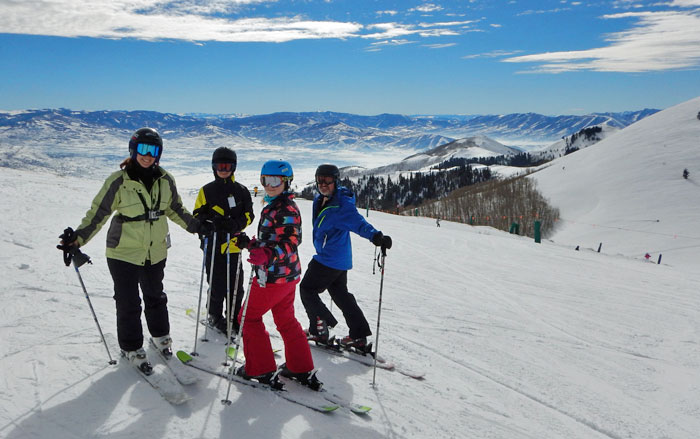 Oh, and by the way, Deer Valley was also ranked #1 in Access, Guest Service, Lodging, Dining, On-mountain Food and Kid-Friendliness by readers of SKI Magazine for 2017. Like I said, the happiest place on snow.
Next we skied over to the Quincy Express lift. My family loved how all abilities could ski together from the same lift. While I took my daughter down a green trail named "Trump" (everyone was stopping to take a photo by that sign!), my son and husband skied the black diamond Ontario Bowl.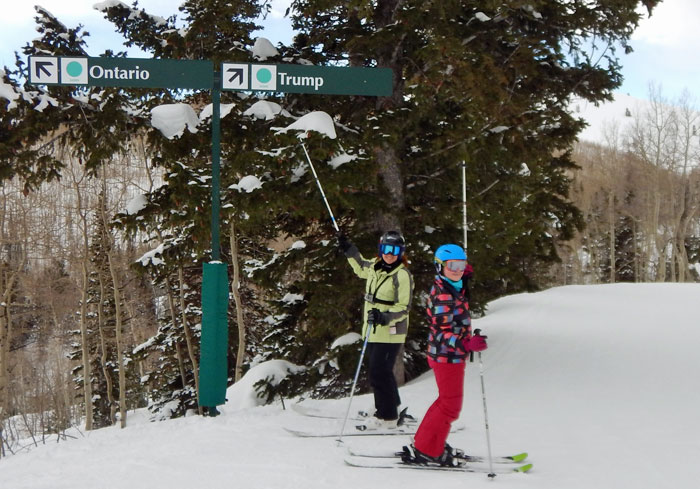 In addition to the terrific grooming, lack of snowboarders, comfy lift rides, and all-terrain access from most lifts, Deer Valley offers an awesome ski swap program. The Rossignol High Performance Test Center, located in the yurt next to the Empire Canyon Lodge, allows skiers to swap their skis for a 2-hour demo of the latest in Rossignol ski technology. Whether you are skiing on your own skis or renting, you can swap your skis by simply leaving a credit card and license on file while demoing. My husband was skiing on Rossi Sin7 all-mountain skis, but wanted to try something more suited to Deer Valley's packed powder conditions. A quick swap for the Rossi Experience in a narrower waist made ripping the blue groomers a fantastic experience.
Award-Winning Food at Deer Valley Resort
We stopped for lunch at the Empire Canyon Lodge. This beautiful building has a high ceiling with wooden beams, a fireplace, and some of the most amazing food I've ever encountered on-mountain.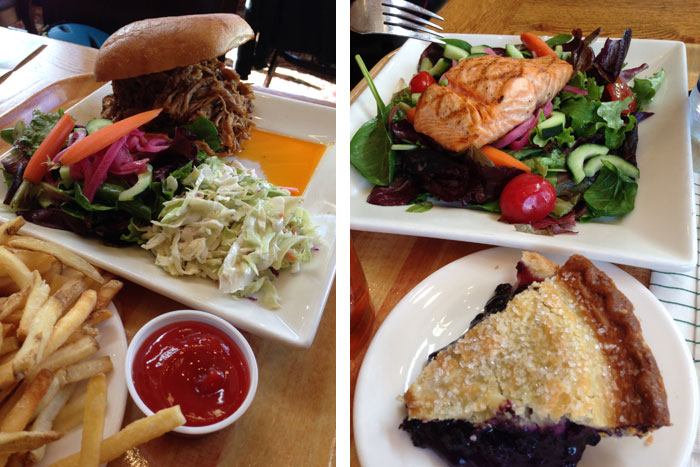 Deer Valley has an abundance of award-winning eateries for apres-ski, too. We had dinner at the Brass Tag, a gourmet, brick-oven restaurant. We enjoyed the Brick Oven Shrimp Skillet, New York Strip Steak, and Roasted Vegetable Hash. Our meals were fantastic, but there are two items you do not want to pass up: The Chimichurri Chips appetizer was sprinkled with cheese, bacon and scallions and perfectly seasoned, and the Chocolate Chip Skillet was warm, gooey, and not overly rich – the perfect dessert.
Novel Amenities Make Deer Valley Great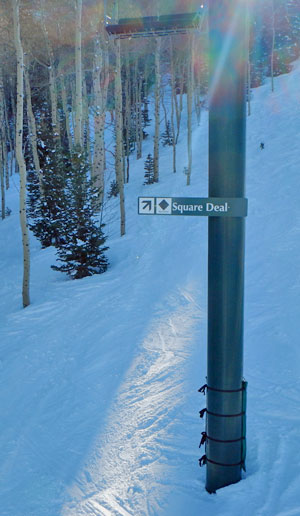 Sometimes it's the little things that make a place great. Deer Valley has a lot of big things going for it, but here are a few of the extra touches that will make you smile.
Ever ride on the lift and wonder what trail is underneath you? It looks like a good one, but do you know how to find it when you're halfway down the mountain? Deer Valley sets trail signs facing in both directions – looking uphill and downhill – so you always know where you are and how to find where you want to ski!
Park City is just minutes from Deer Valley, and a free bus system takes you from the mountain to downtown. We visited during the Sundance Film Festival and spent a few apres-ski hours browsing the shops and enjoying live music. After skiing, we dropped our boots and skis at our car, hopped on the bus, then took the bus back to the Deer Valley parking lot when we were done. Bonus tip: the slopes are relatively empty if you visit during the Film Festival!
When a woman is wearing all her ski gear, going to the bathroom is an effort! The stalls in the ladies room were quite spacious with shelves to hold your gloves, cell phone, etc. while going to the bathroom.
Deer Valley is unique in that luxury homes and condos dot nearly the entire mountain. There are tons of options for ski-in/ski-out lodging – a huge perk for families. And many massive, private homes line the trails. My family had fun checking out the beautiful homes and dreaming just a little bit! A few of the homes have fun decor – like the bears climbing, sitting, and skiing on this house!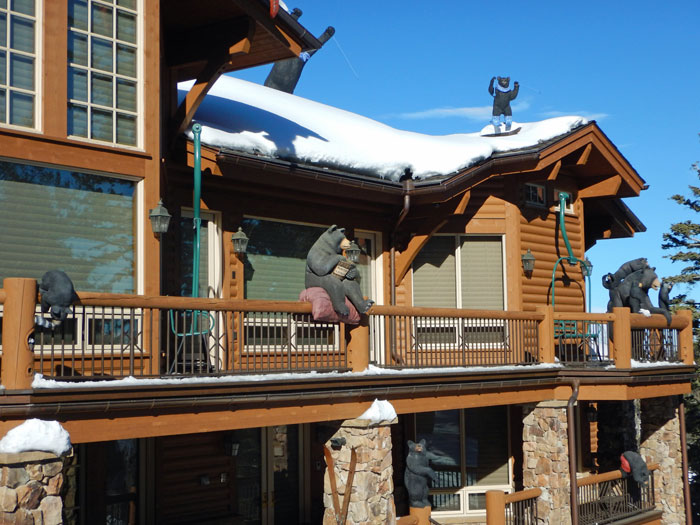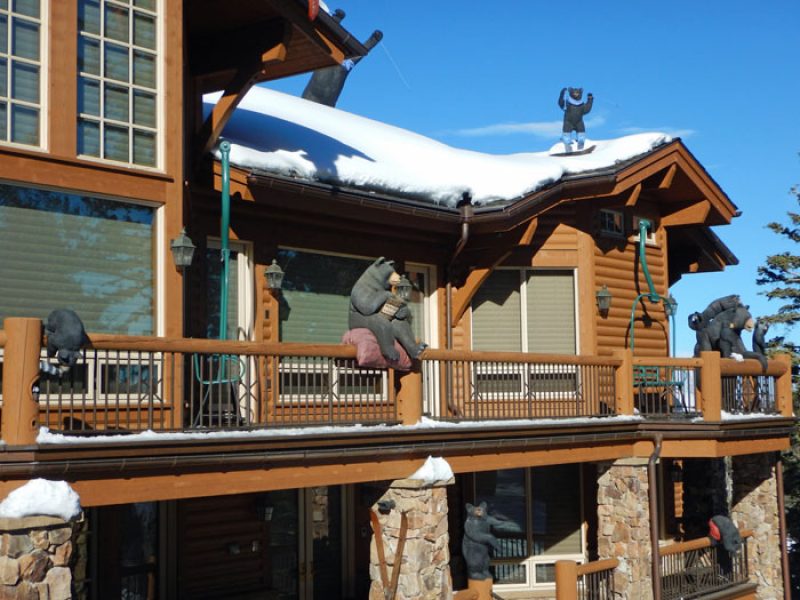 For families with kids in ski school or needing child care/activities, the mountain has convenient lodging near the Children's Center in the Snow Park Area. Look for accommodations in the following areas: Trails End Lodge, Silver Baron Lodge, Lodges at Deer Valley, or Deer Lake Village.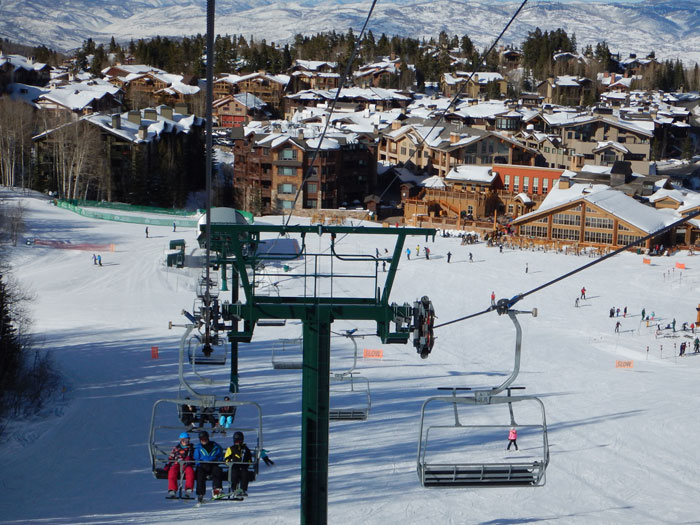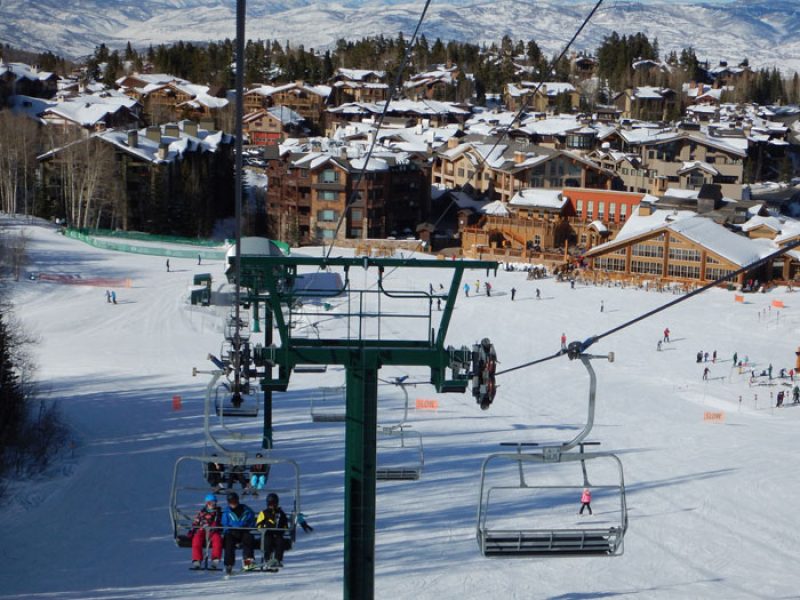 You can tell my family enjoyed our short time at Deer Valley. But since there's still so much more to explore, we intend to go back for a longer trip to experience everything else that makes Deer Valley the happiest place on snow.