Disneyland vs Disney World? This is a guest post by my teenage daughter Cassie that highlights all the things she liked better at Disneyland.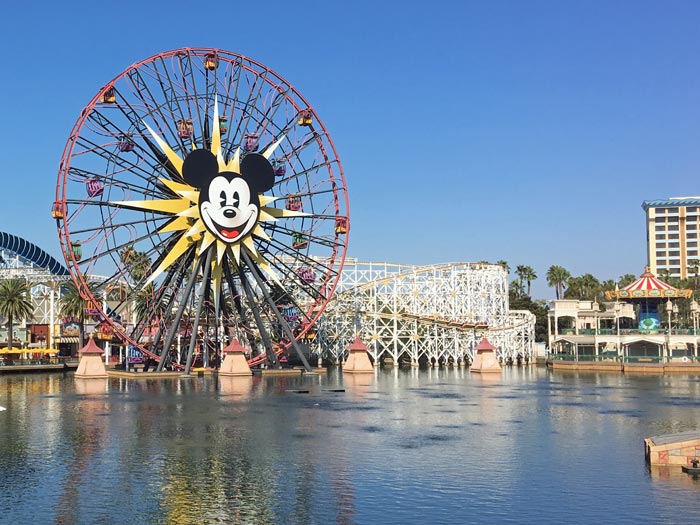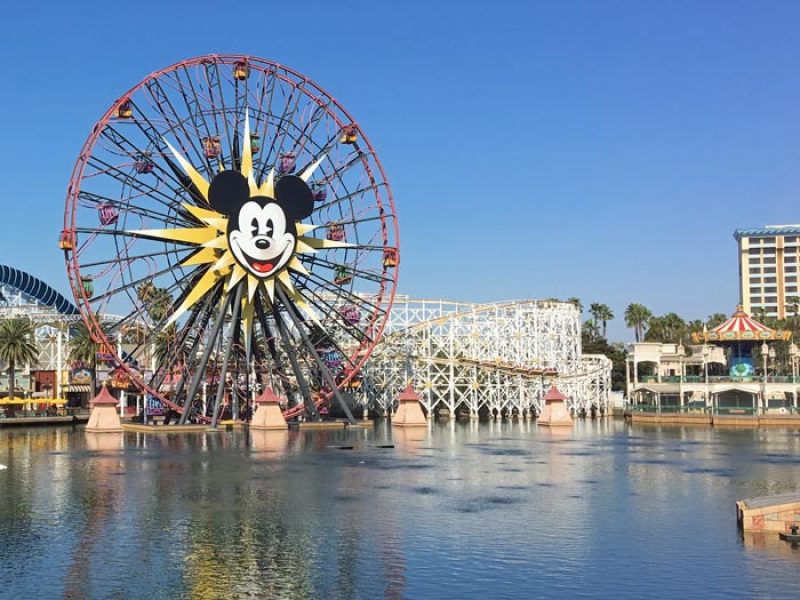 I had only ever visited Disney World my whole life, but recently I made a trip to California where I got to experience Disneyland for the first time! Florida's Walt Disney World includes four different parks, while Disneyland has two. Disneyland's parks have a mixture of rides and attractions that can be found in Disney World, but also exclusives that can only be found there in the California parks. So here are my thoughts on Disneyland and its rides, and what parts of these parks were better or worse than Disney World's.
Rides Exclusive to Disneyland
California Screamin'
This coaster was definitely one of my favorites. It features fun drops and a fast pace, and even a loop – though from the outer view of the ride it's hidden in plain sight. We didn't even notice it was there until we went on and experienced it ourselves! The only thing I disliked simply just because it scared me, was that there is a drop build up that slows down and makes you feel like you could go backward at any point. Despite the slight heart attack you may have at that time, it's an extremely fun ride!
Radiator Spring Racers
For one of the most popular rides in Disneyland, I have to say I was expecting a bit more. While my family loved it (and thought it was the best ride in Disneyland), I guess I was hoping for more of a thrill. It was still a fun ride with sharp turns, a speedy race, and even a jumpscare, but I wish there was more to it and that it lasted a little longer. Overall this is still a really fun ride for anyone. I just have really high expectations when it comes to rides.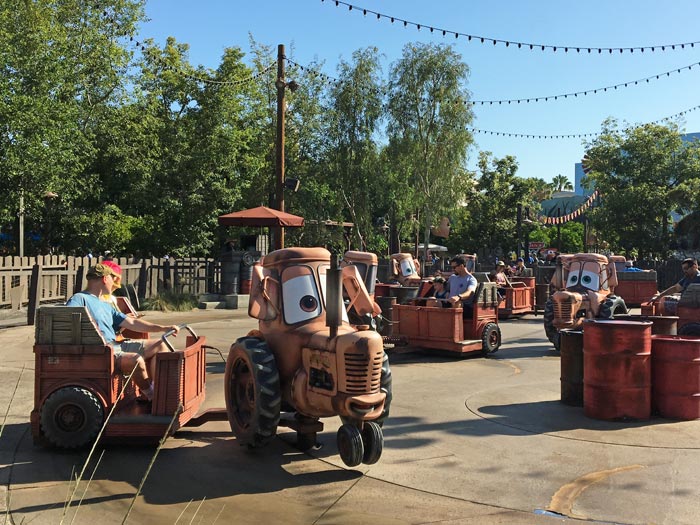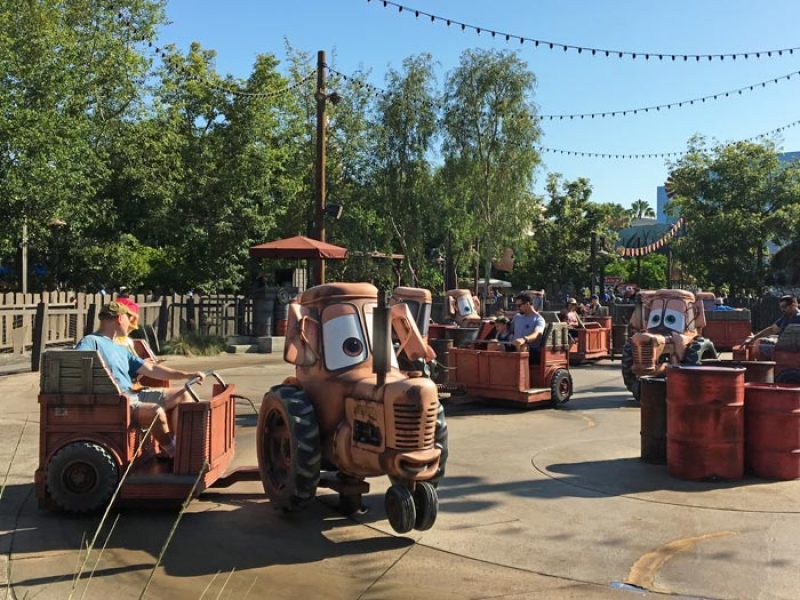 Mater's Junkyard Jamboree
This family-friendly ride is just like a version of the spinning teacups, but this time your teacup is a car! It's a small area and a short ride, and the car isn't very secure. (I dropped my phone and it fell out of the car.) But alas, it's still a fun ride that I would always do just because I could; but make sure to hold on tight to your belongings!
The Matterhorn
As of right now, I'm not a huge fan of this ride. However, it might have been because of the circumstances I was in when I tried it. It was late, and I was tired from having been there for about 15 hours. We were frustrated with the ride having been closed for maintenance off and on throughout the day, and this was the only time we could finally get on it.
When I sat down, the ride began before I had buckled in. I started to freak out because I thought it was going to be some big scary roller coaster. Spoiler alert – it was not! No drops, no loops, no nothing – just a fast track of turns the whole ride. To be honest, I ended up disappointed, hoping for something a little more exciting.
It was actually a beautiful ride though. While we were quickly turning in dark caves for half of it, we also got quite a view of the park and a fresh breeze as we rode around the outside of the mountain. So, not my favorite, but definitely not my least favorite.
Goofy's Sky School
This coaster certainly takes you for an unexpected ride! Looking at it from the ground, it appears to be a calm children's ride. But once you're on it, you're taken by surprise with sharp turns, sudden stops and drops, and heights that make you think you're going to fall off. It's really fun though, and hilarious if you don't tell people what they're in for.
Disneyland vs Disney World Rides
Since we only had one day at Disneyland, we focused a lot of our time on rides exclusive to those parks. But I did experience a couple rides for comparison.
Space Mountain
Over on the east coast, Space Mountain is known to be a fun, fast, and jerky ride. Not to mention the eternal darkness! When I went on in Disneyland, it was still fast and had its famous sharp turns, but it was much smoother! Space Mountain in Disney World is a single seat row, with three people in each car. In Disneyland, you can fit two in a row, with three rows in one car.
So with Disneyland's version being smoother, faster, and more accommodating to families who don't want to sit alone, it sounds much better than Disney World's Space Mountain. My parents thought it was definitely better than the Disney World version. But there is one factor of Disneyland's Space Mountain that I disliked: There were no drops, and I love drops. With each park's version having different strengths, I can't choose which I prefer. But I can tell you both are worth experiencing.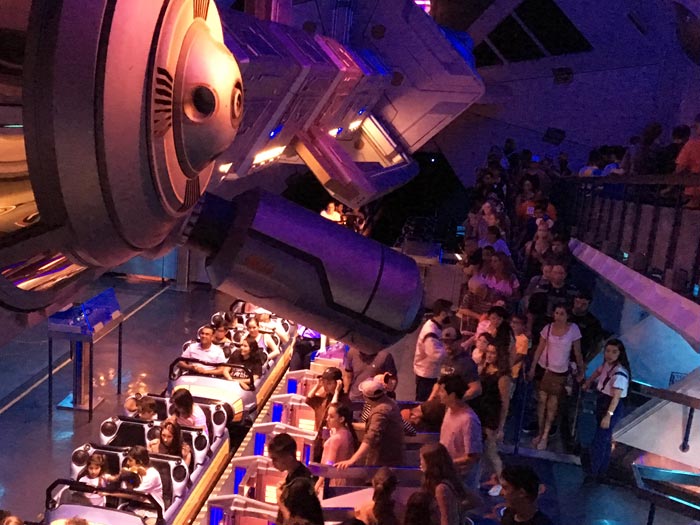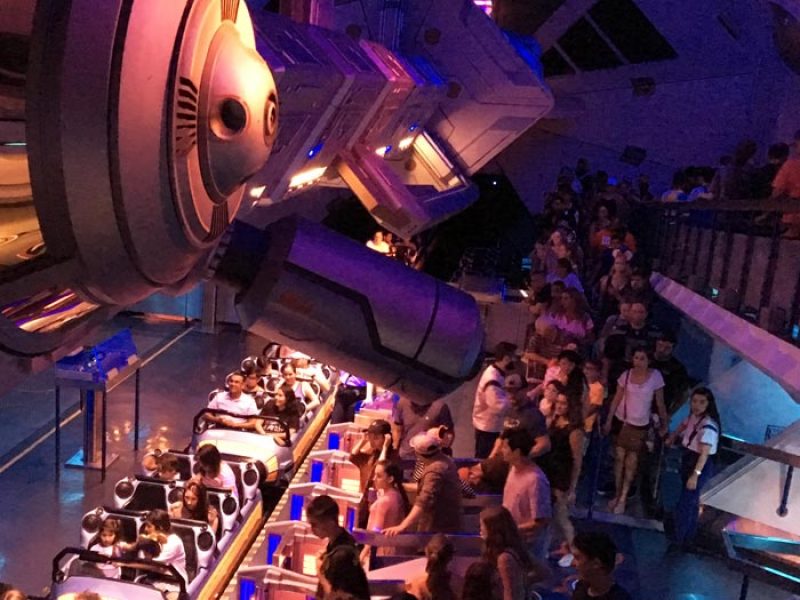 Splash Mountain
Disney World's Splash Mountain is more than 10 minutes long, ending in a 50 foot drop into splashes of water. Along the way to your 50 foot demise, you encounter smaller drops, splashes, and slightly frightening animatronics.
Disneyland's Splash Mountain is essentially the same, though I thought the drops and splashes seemed smaller. The big difference is that you are sitting in logs with single seats, so you can't sit next to anyone. The logs also seemed lower and closer to the water, and less secure than I was used to in Disney World. (But don't worry, nobody fell out of their seats!) I prefer Disney World's Splash Mountain over Disneyland's, but the ride is enjoyable at both parks.
Buzz Lightyear Astro Blasters
This ride is exactly the same in Disneyland vs Disney World, with one big exception: you can remove the astro blaster guns from the holder! In Disney World's version, the blaster is mounted on the ride so you can only swivel it side to side. Being able to pick it up and aim made it much easier to use the blaster and it seemed to be more accurate. The ride also seemed newer in Disneyland.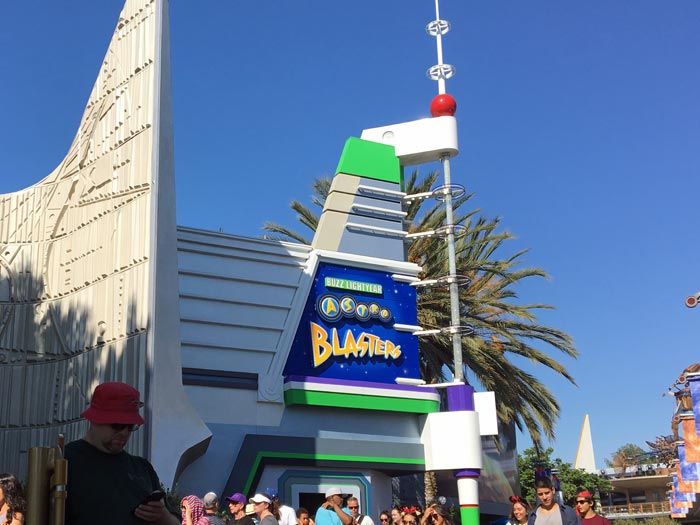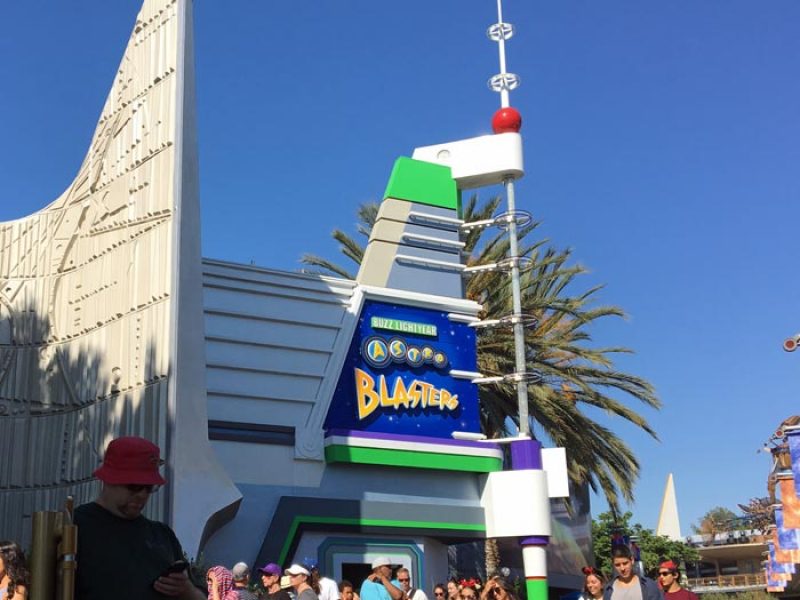 I want to give an honorable mention to the Tower Of Terror, which is now Guardians Of The Galaxy in Disneyland. Unfortunately, I didn't get to ride it because of long lines, but I have heard it's a much better ride with the new theming. It is longer and the graphics are supposed to be excellent.
Themed Lands in Disneyland
Enough with the rides, let's get into some other unique things about the Disneyland parks.
Toontown
Growing up a lot of my friends and family played Disney's 2003 online video game, Toontown. I began to play, and though the game closed in 2013, I still play to this day on a recreated server called "Toontown Rewritten."
Needless to say, I love Toontown very much, and I was very excited when I found out Disneyland had a whole area dedicated to it, since Disney World removed theirs when I was too young to even remember it existed there. Although it was exciting for me to see it all come to life, sadly the rides there were closed for maintenance so there wasn't much for me to do besides admire the area. It was more like a playground for younger children, but I still enjoyed my time there. And that's where I bought my Minnie Mouse phone case!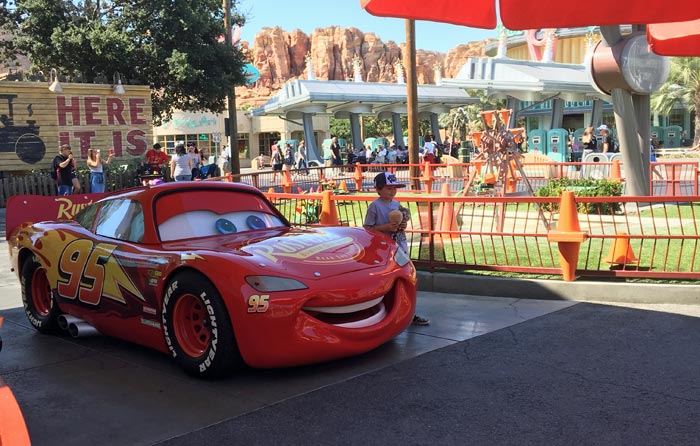 Cars Land
Cars Land was a really enjoyable spot, feeling very true to the movies. I loved seeing the cars actually drive through the land – you could take a photo with Lightning McQueen – and it left me wondering how they made that work. There was a big, cute sign by the land entrance where I took photos and had a nice encounter with an employee. I even convinced my mom to buy me a churro, which was decorated in colored edible glitter and stars!

Bugs Land
Bugs Land was a small, leafy and shaded area with smaller rides for children. While there wasn't much for me there, I still enjoyed the aesthetic and scenery of the place.
Paradise Pier
When I visited it was Paradise Pier, but now the area is split into two new sections: "Pixar Pier" and "Paradise Park." They even renamed California Screamin' to The Incredicoaster, which now features scenes from the movie The Incredibles. I would love to go back and check that out!!
So I guess most of what I saw at Paradise Pier may not be the same anymore, but it was a very fun and beautiful place in Disneyland. Plus, everything they're adding to the place sounds even better than it was before!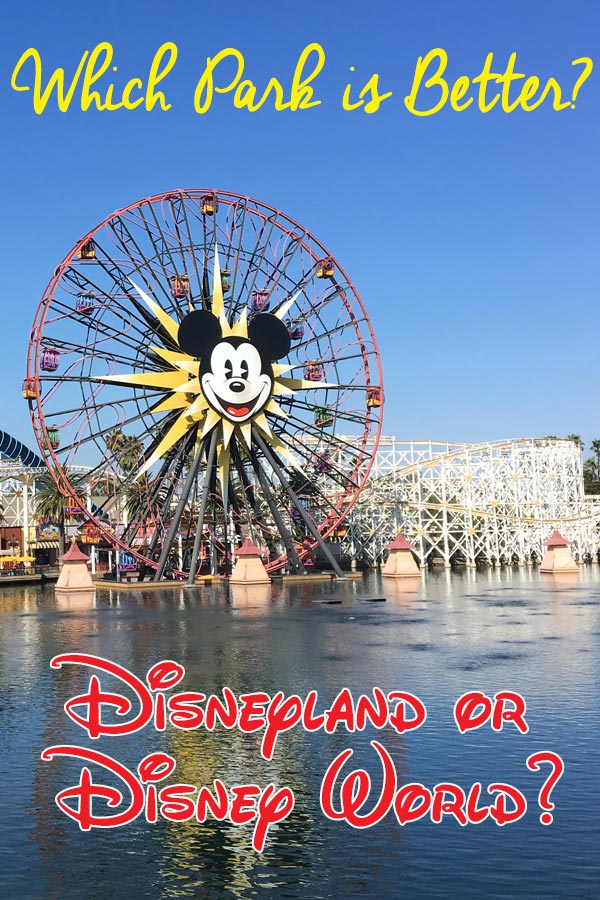 Which Disney Park is Better?
Disneyland vs Disney World – which is better? It's all up to however you prefer your theme parks! I thought the people (visitors in the park) were friendlier and less intense than in Disney World, but my parents thought it was too laid back and didn't feel as "magical."
Disneyland does have lots of unique food options! Make sure to look closely at every shop you see, because they've got some tasty dishes that are sometimes only found at their own one place in the entire park!
While Disneyland is smaller, has less large thrill rides, and seems to be directed more to younger kids, the plus side is that you can visit it all in one day if you really try!
Which do I like better? They are both really fun and I would be happy to visit either one, but I think I will always prefer Disney World because it's bigger and has more rides that are my style.