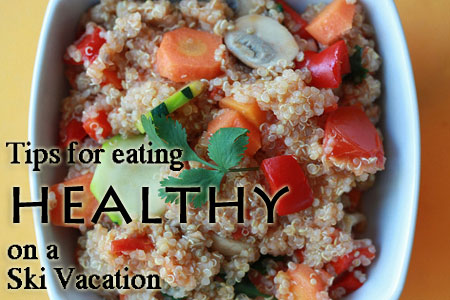 When we checked into our third property on our three-week ski trip, guess what item in the condo my daughter was happiest about? The blender. She'd been asking me to make her a strawberry banana smoothie, and I could finally make it for her. It was very satisfying to see that she missed our healthy habits from home.
As a travel writer, I obviously do a lot of traveling. It's hard to reconcile a busy travel schedule with health and fitness goals, but I've developed a good pattern on this ski trip. I hope these tips for eating well on a ski vacation will help you on your next trip.
Eat breakfast in your hotel or condo. Oatmeal, yogurt & granola, fruit, even a quick egg and microwave bacon can get you started off on the right foot.
Bring granola bars, energy bars, or trail mix and water with you on the slopes. Snack on them when you feel hungry. Don't stop for lunch on the mountain. It's expensive and you're likely to induge in calorie-laden soups, burgers, or candy.
Have a good dinner at the end of your ski day. This will typically be 4-5pm – Happy Hour on the mountain, so be careful. Indulge in an amazing dinner once or twice on your trip, but the rest of the time try to eat clean: lots of water, salads, veggies, and lean protein.
After an early dinner you may be tempted to snack before bed. Keep nuts, popcorn, fruit, and veggies on hand if you can't make it until breakfast.
Drink tons of water and keep alcohol to a minumum, as it will just make you want to eat irresponsibly.
There are many, many food temptations when you're away from home and out of your routine. But with a little searching, you can find healthy and enjoyable alternatives. At Endo's at Copper Mountain, Colo., I had a delicious soup, salad, and half an avacado/bacon/tomato sandwich… a better choice than a burger or steak. And at Soupa, one of my favorite eats at Squaw Valley, Calif., they make amazing quinoa bowls loaded with veggies.
Trying the local cuisine and enjoying the food scene is all a part of the vacation experience. But you don't have to indulge every day, every meal. Maintain a balance and your body – as well as your wallet! – will thank you.