Are you ready for the new Bill and Ted movie? Have you been waiting for 30 years for this moment, like I have?? Here's everything you need to know before watching Bill & Ted Face the Music.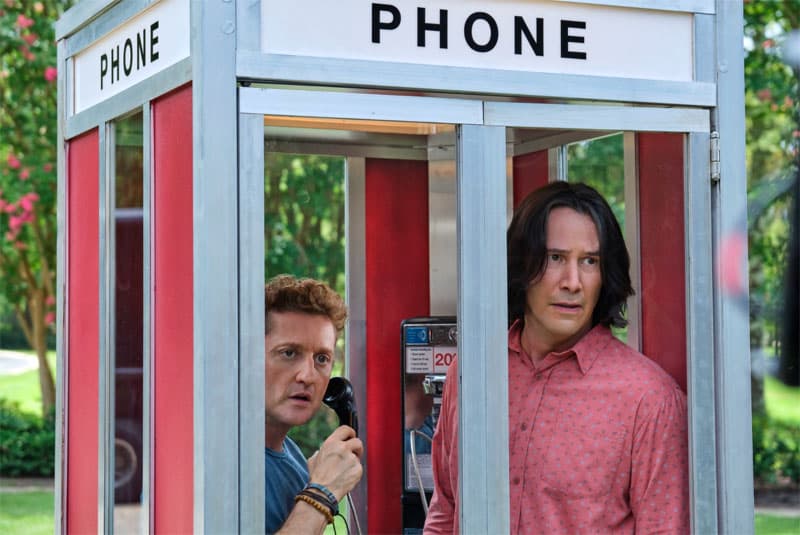 You know Keanu Reeves, right? Star of massive hits like The Matrix, Speed and John Wick, this charming, humble Canadian actor recently experienced what was termed a "Keanussance." His popularity surged due in part to his playful role in Always Be My Maybe and his respectful, no-touch policy when taking photos with women.
But do you know where it all started for Keanu? San Dimas High School. Whoa.
That's right, Reeves' breakout role was Ted "Theodore" Logan in the 1989 cult hit Bill & Ted's Excellent Adventure. While some might find it goofy, this movie is in my top five all-time favorites. Bill & Ted are charming, Rufus is the mentor we all wanted, and the historical figures bring the past to life in a humorous way I'd never seen before. And having been a teenager in the 80s and being more than a little obsessed with the "Valley Girl" craze, the dialogue is absolutely iconic.
I regularly quote lines from B&T. I mentally reference historical figures in terms of what I know about them from this movie. I used to own Bill & Ted action figures. And a little-known fact: My son Logan was named after Michael York's Logan in the movie Logan's Run… but also in small part after Keanu's Ted.
So am I excited about a new Bill and Ted movie 30 years later? Hell yeah!
Which is Bill and Which is Ted?
Bill S. Preston, Esq., is played by Alex Winter. Ted "Theodore" Logan is played by Keanu Reeves. I've talked about Reeves' career, so let me fill you in on what Winter has been up to.
He was a child actor and at 15 was starring opposite Sandy Duncan in Peter Pan on Broadway while attending Montclair High School in New Jersey. After the second Bill & Ted movie, he decided he wanted a less public life and shifted behind the camera. He has been working as a director – mostly documentaries – for the past 25 years.
Bill & Ted's Excellent Adventure Recap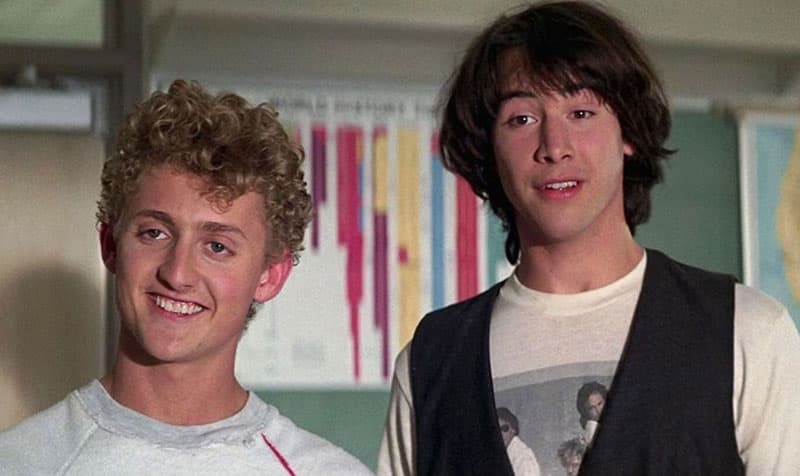 In one of the original time-travel movies, the sweet and earnest, yet oblivious, Bill and Ted just want to make it as rock stars a la Eddie Van Halen. But heinous things like parents, school and chores keep getting in their way.
Enter Rufus, played by the late George Carlin, to deliver a time-traveling phone booth and help the guys pass their history report so Ted doesn't get sent to Alaskan Military School. Why? Because the music of their band, Wyld Stallyns, ends up bringing the universe into harmony in the future. They need to stay together to fulfill that destiny.
Bill & Ted embark on a "most excellent adventure" collecting historical figures such as Socrates (yes, I still call him "So Crates"), Beethoven, Billy the Kid, Joan of Arc, Napolean, and more. They bring them all to the San Dimas Mall to get their thoughts on the world of San Dimas today.
In the end, Bill & Ted lead the historical figures in an epic presentation at school. They ace their report, pass history, and live to see another day of band practice in the garage. Oh, and Rufus rescues two babes for Bill and Ted from 15th-century England just before they could be forced to marry a pair of royal ugly dudes!
Bill & Ted's Bogus Journey Recap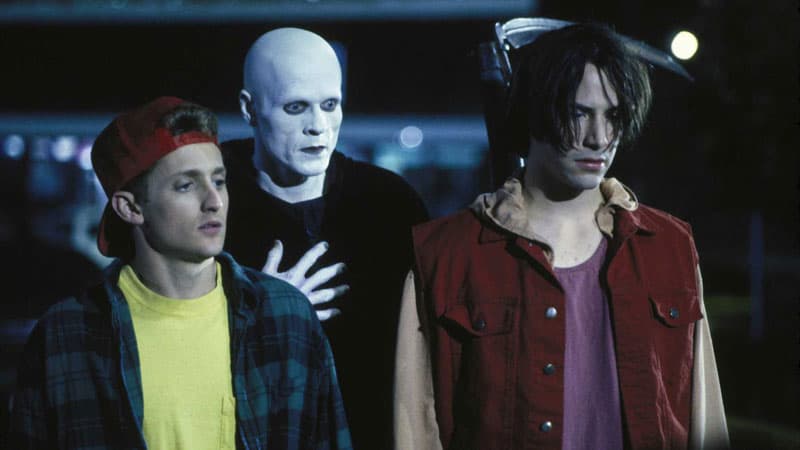 Did you know the second Bill & Ted movie was originally named "Bill & Ted Go To Hell?" But studio execs insisted they remove the word "hell" from the title.
This second movie came out in 1991 and was no where near as good as the first. The playful goofiness and delightful historical characters are replaced by a darker theme and senseless characters. In Bogus Journey, Bill and Ted are killed and replaced by evil robot Bill & Ted, sent from the future by an absurd villian – a gym teacher turned terrorist named Chuck De Nomolus.
But Bill and Ted are determined to escape the afterlife, challenging Death (aka the Grim Reaper), played by William Sadler, to a series of games in order to return to the land of the living. Once they beat him (time and time again – Death is a sore loser!), they seek out God to help them build robots to dispense with evil Bill and Ted.
Instead of "most triumphant" and "bogus," this movie tries to make the inane "station" into a catchphrase. Station is a dumb-looking alien who is apparently the smartest person in the universe. He builds the good robots for them. The characters fail in comparison to the first movie's historical figures, with the exception of Death who is actually pretty funny and not so grim at all.
Acknowledging that they are still terrible musicians, Bill and Ted decide to use the time travel booth to give themselves 16 months of intense guitar training, as well as get married and have kids – Little Bill and Little Ted. They return to the Battle of the Bands and win with a stunning rock ballad that is broadcast across the universe, finally fulfilling their destiny.
This end to Bogus Journey is problematic for Face the Music, however.
What is Bill & Ted Face the Music About?
The synopsis for Bill & Ted Face the Music reads: "The stakes are higher than ever for the time-traveling exploits of Bill & Ted. Yet to fulfill their rock and roll destiny, the now middle-aged best friends set out on a new adventure when a visitor from the future warns them that only their song can save life as we know it. Along the way, they will be helped by their daughters Thea and Billie, a new batch of historical figures, and a few music legends to seek the song that will set their world right and bring harmony to the universe." (Seems like we need a bit of this in 2020!)
Wait, what? Didn't they already bring harmony to the universe? And didn't they have sons in Bogus Journey? In an article at CinemaBlend, Bill & Ted co-creator Ed Solomon says, "We were barely post-adolescent boys when we wrote Bogus Journey, of course we assumed they were going to be boys." But when they started writing Face the Music, they found the idea of Bill and Ted's spawn being male as "derivative" and "stale." So they changed them to girls. And once you see how this is explained, you'll be fine with it.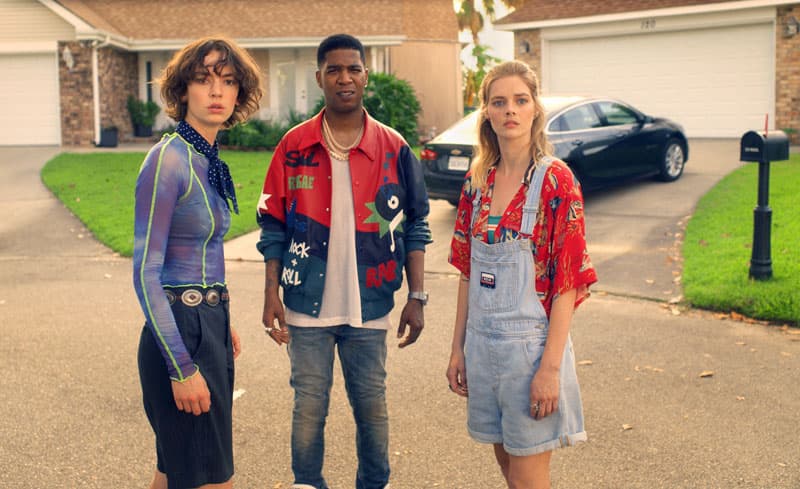 As for bringing harmony to the universe? Well, you'll have to watch the new Bill & Ted movie to see how that gets played out. But I will tell you that it's sorted out in a very believable manner.
Bill & Ted Face the Music Cast
I couldn't be more excited about this cast. Besides the most triumphant Keanu Reeves and Alex Winter, I am most excited to see Brigette Lundy-Paine as Ted's daughter, Whilhelmina "Billie" Logan. This is casting perfection and I love her in Netflix's Atypical as big sister Casey.
Returning to the series are William Sadler (Death), Hal Landon Jr. (Captain Logan), and Amy Stoch (Missy – I mean Mom!). The film also stars Samara Weaving as Thea Preston, as well as Kristen Schaal, Erinn Hayes, Jayma Mays, Holland Taylor, Kid Cudi, Anthony Carrigan, Jillian Bell, and Beck Bennett.
Is Bill & Ted on Netflix?
No, Bill & Ted is not on Netflix at this time. Here's where you can watch all 3 Bill & Ted movies:
Bill & Ted's Excellent Adventure and Bill & Ted's Bogus Journey are available for free to STARZ subscribers. Otherwise, you'll need to rent it on Amazon Prime Video, Google Play, Microsoft Store, or YouTube for $2.99-$3.99.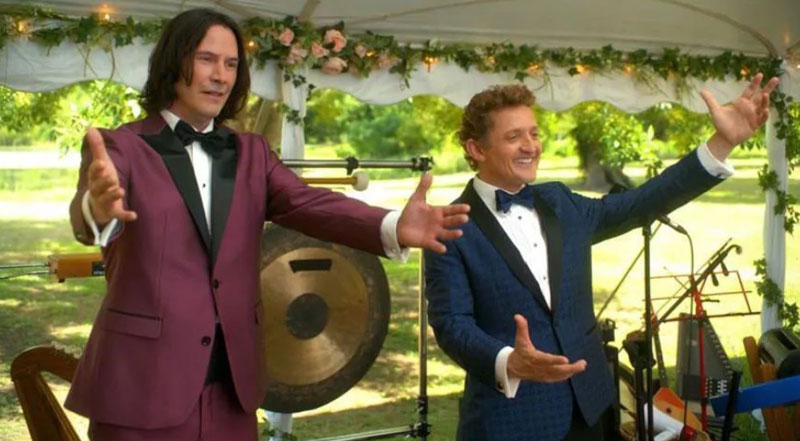 Bill & Ted Face the Music premiers August 28, 2020 in theaters and video on demand. If you are lucky enough to have theaters open in your area, you may be able to catch it on the big screen. Most of us will be watching from home, though. You can rent the movie at Amazon Prime Video, Apple TV, Google Play, and Vudu for $25. FandangoNow has it available for $20.
I've got a Bill & Ted marathon planned for August 28th and I'll update this post with my review once I've seen the movie.
Update (no spoilers): My family and I just finished the movie and we all really enjoyed it! It's fun and nostalgic, but updated just enough to make it appealing to viewers young and old. Everything made sense and the story came to a most excellent (though predictable) conclusion.
Alex Winter and Brigette Lundy-Paine were particular stand-outs as far as acting. I felt at times Keanu was trying a little bit too hard to reprise his younger self. In the end, the movie left me feeling warm and fuzzy and completely satisfied.
Where Was Bill & Ted Filmed?
While San Dimas is a real city in Southern California, Bill & Ted's Excellent Adventure was filmed in Arizona in the Phoenix and Tempe metropolitan areas. Many scenes were filmed in and around Scottsdale's Coronado High School.
Waterloo, the water park that inspired Napolean's battle plan, is actually Golfland Sunsplash, located at 155 West Hampton Avenue in Mesa. It's still open today and has expanded considerably. Triomphe Napolean!
The actual Circle K is located at the corner of Southern Avenue and Hardy Drive in Tempe. But you can stand in front of any Circle K and do your best Ted impression. I can't help myself from saying the line, "Strange things are afoot at the Circle K," every time I see one.
Bill & Ted's Bogus Journey was filmed mostly in Southern California. They meet Death in Vasquez Rocks Natural Area Park in Agua Dulce. The site of the "Bill and Ted University" campus is the Japanese Garden in Van Nuys. And the "San Dimas Civic Auditorium," where good Bill and Ted defeat evil robot Bill and Ted at the Battle of the Bands, is Santa Monica Civic Auditorium in Santa Monica.
Bill & Ted Face the Music was filmed in New Orleans. One of the film's producers, Alex Lebovici, shared a photo on Instagram of filming at the historic Saenger Theatre, located in downtown New Orleans. Not a lot of info is out yet on exact locations, but I'll be following up once the movie has played for awhile!
Best Bill & Ted Quotes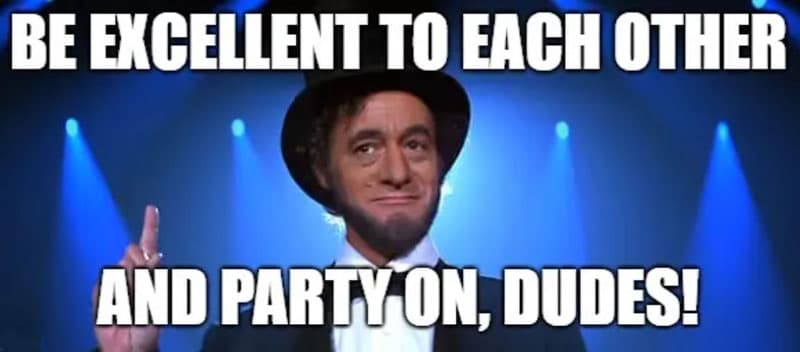 Bill & Ted: "Be excellent to each other. Party on, dudes!"
Ted: "Now your Dad's going for it in your own room!"
Bill: "Shut up, Ted."
Ted: "Your step mom is cute though."
Bill: "Shut up Ted!"
Ted: "Remember when I asked her to the prom?"
Bill: "Shut UP Ted!"
Ted: "Strange things are afoot at the Circle K."
Ted: "If you guys are really us, what number are we thinking of?"
Time-traveling Bill & Ted: "69, dudes!"
Bill: "The only true wisdom consists in knowing that you know nothing."
Ted: "That's us, dude!"
Ted, to Socrates: "All we are is dust in the wind, dude."
Bill: "You ditched Napoleon!?"
Ted: "Deacon, do you realize you have just stranded one of Europe's greatest leaders in San Dimas?"
Deacon: "He was a dick!"
Ted, introducing Genghis Khan: "This is a dude who, 700 years ago, totally ravaged China, and who, we were told, 2 hours ago, totally ravaged Oshman's Sporting Goods."
Bill: "Maybe it's time we get Eddie Van Halen."
Ted: "Maybe we should start learning how to play."
Bill: "I can't believe we just melvined Death!"
If you're a huge Bill & Ted fan like me, hit me up on Instagram or Facebook and tell me how you like the new Bill and Ted movie!