To facilitate this review, I was a guest of MGM Resorts International / The Park Las Vegas. All opinions are strictly my own.
The Park Las Vegas is an immersive, outdoor destination for dining and entertainment. But it's not a glitzy, Vegas-y type of place.
The Park – which is quite literally a park – offers art sculptures, restaurants, games, trees, water fountains, Special Events and seating to relax in a place where it can sometimes be tough to steal a quiet moment. It's an oasis off the Vegas Strip.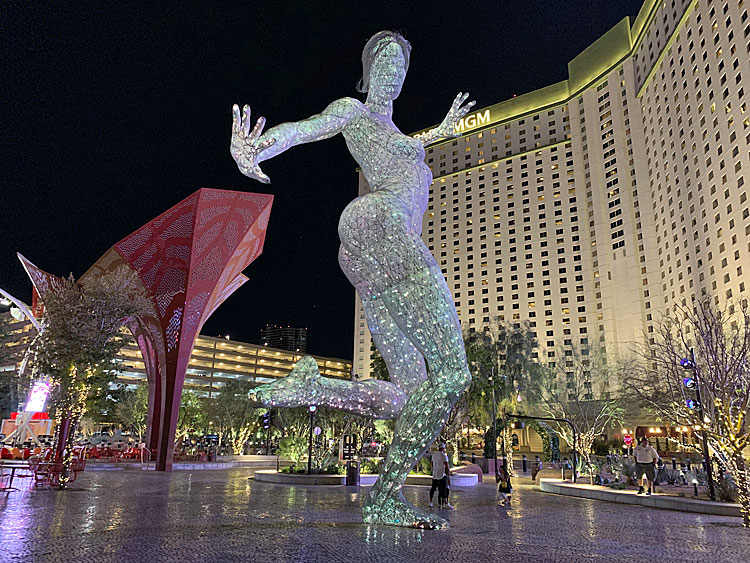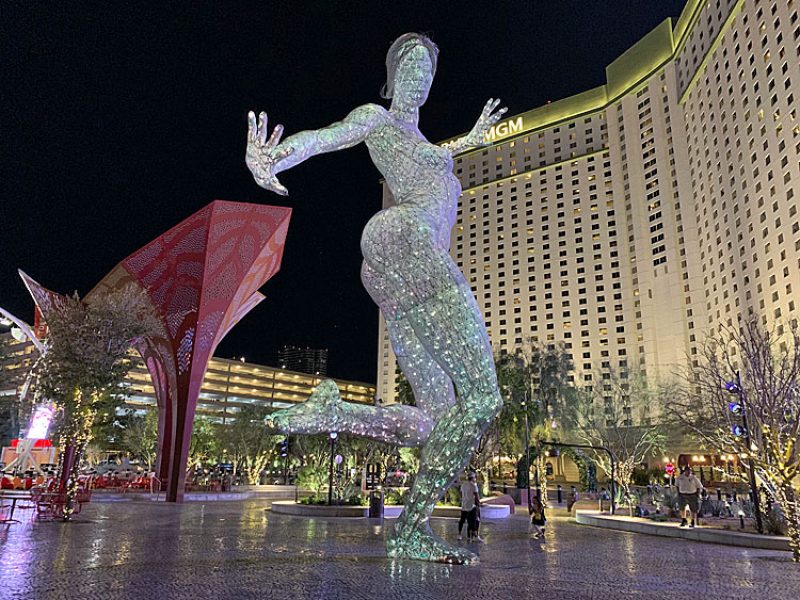 The Park is located between the New York-New York hotel, the Park MGM hotel, and T-Mobile Arena, and effectively integrates these venues into a beautiful, vibrant, and welcoming neighborhood.

A Peaceful Place in the Middle of Sin City
When you visit Las Vegas, just leaving your hotel room throws you into the action. Of course, that's what we love about the entertainment capital of the world! But the lights, sounds, and constant activity can get a little overwhelming.
For example, when I went to grab some breakfast at the New York-New York hotel, I stepped off the elevator and was greeted by flashing lights and dinging slot machines.
But just outside the hotel was a peaceful place where I could sit by a fountain with my coffee and waffle sandwich and enjoy the morning sun. There aren't a lot of places in Vegas that offer that and The Park is one of them.
Artwork That is Pure Bliss
I sat at an outdoor table near the Bliss Dance sculpture. This 40-foot tall, steel sculpture of a woman dancing was created by Marco Cochrane.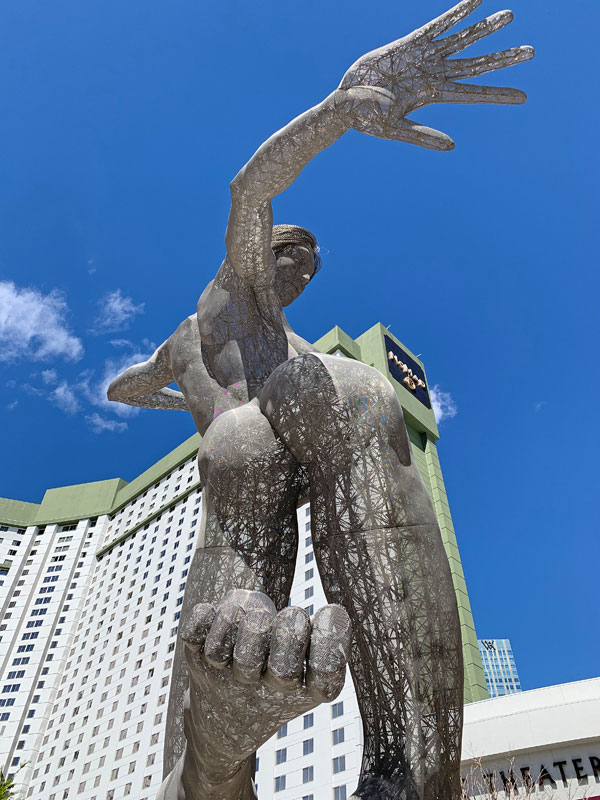 It's intended to focus attention on an appreciation and respect for feminine energy and the power that results when women are free and safe. Cochrane hopes to inspire viewers to take action to end violence against women and make room for women's voices. That's a mission I can get behind.
This sculpture is incredible in many other ways:
It took over 10,000 hours to construct and was designed and built without the aide of any computer.
It's made entirely of steel and weighs 7,500 pounds.
It was previously featured at Burning Man (2010) and The Great Lawn at Treasure Island (2011-2015).
The mission of Bliss Dance clearly radiates throughout The Park. The sculpture towers over The Park, and her presence seems to envelope the area in safety and serenity.
I spent several hours alone in The Park over the weekend, wandering around, taking photos, eating, and people-watching. Never once did I feel unsafe, even late at night. There are workers constantly sweeping and cleaning up tables to ensure The Park remains beautiful and I noticed several security personnel.
More Than a Park – It's an Experience
Even with all this bliss going on, The Park is a perfect place to enjoy a variety of dining and entertainment options with friends and family. I visited during March Madness and I can tell you there was plenty of partying going on!
There are TVs on the patio at Beerhaus, giant Jenga games on the tables, life-size Connect4 games, a beer-pong table (the cups were empty, so family-friendly to play!), and several cornhole games scattered throughout the park. For March Madness, there was also a fun "Coca-Cola on the Court" game where visitors could take a half-court shot for a chance to win prizes like T-shirts, sunglasses, AirPods and even $500!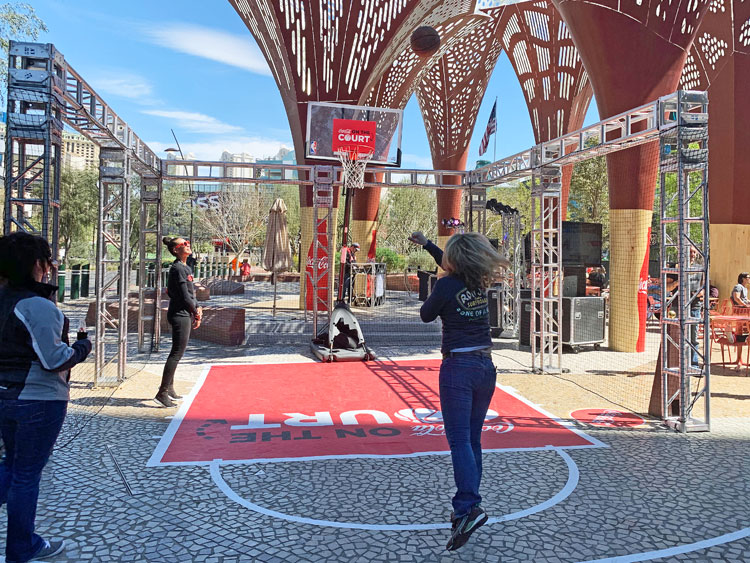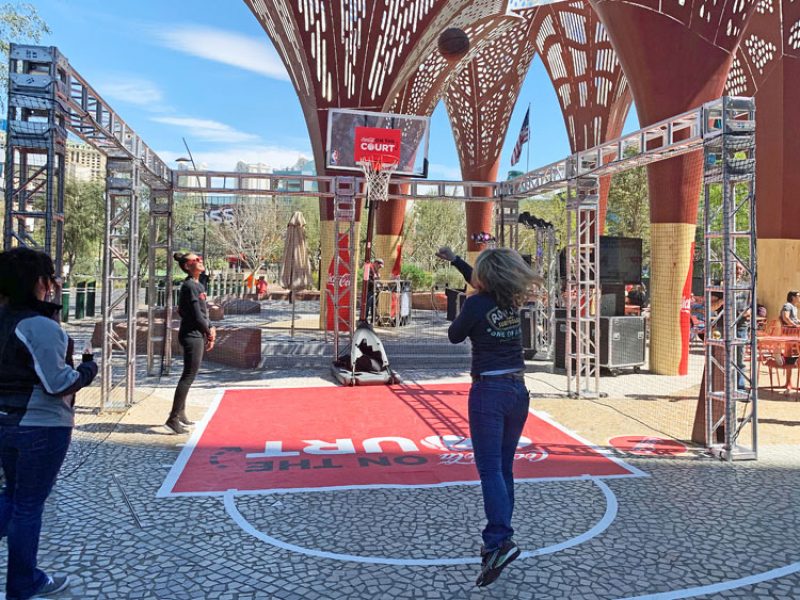 There's also T-Mobile Arena at the end of The Park. If you're in town to enjoy a concert or a Vegas Golden Knights hockey game, The Park is a natural meeting place for your pre- and post-event celebrations. Seriously, don't miss hanging out in The Park before a Golden Knights game – these Vegas locals take their hockey seriously and there's a parade through The Park before every game.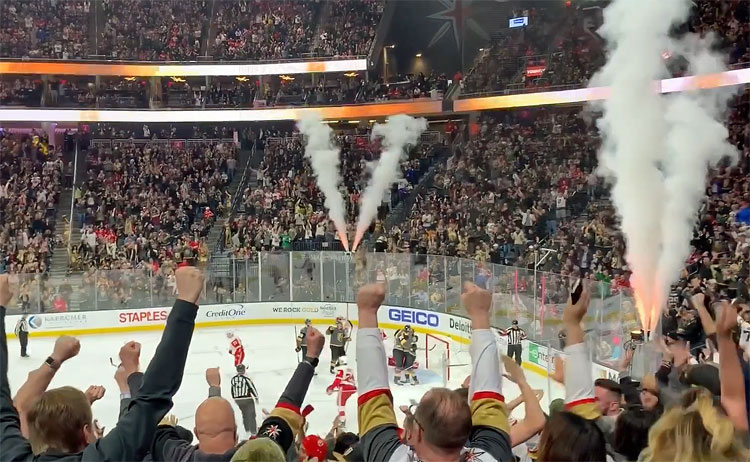 After the hockey game, The Park was once again abuzz with excitement for the "Back of House Brawl" Food Truck Battle. These battles for food industry professionals take place every month into late 2019. Fans pouring out of the arena after the hockey game got to enjoy some excellent food truck bites.
Eclectic Food Options at The Park Las Vegas
Speaking of excellent bites, there are five fantastic restaurants at The Park.
Beerhaus
Beerhaus has an impressive menu of beers and ales, sandwiches and snacks. I highly recommend the mac 'n cheese bites. The creamy, cheesy macaroni has a bit of a jalapeno kick and is fried up in a light, crispy coating.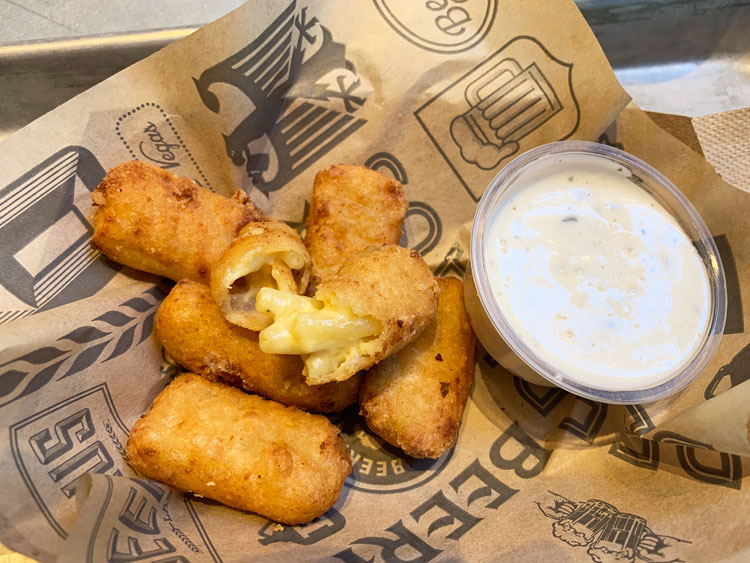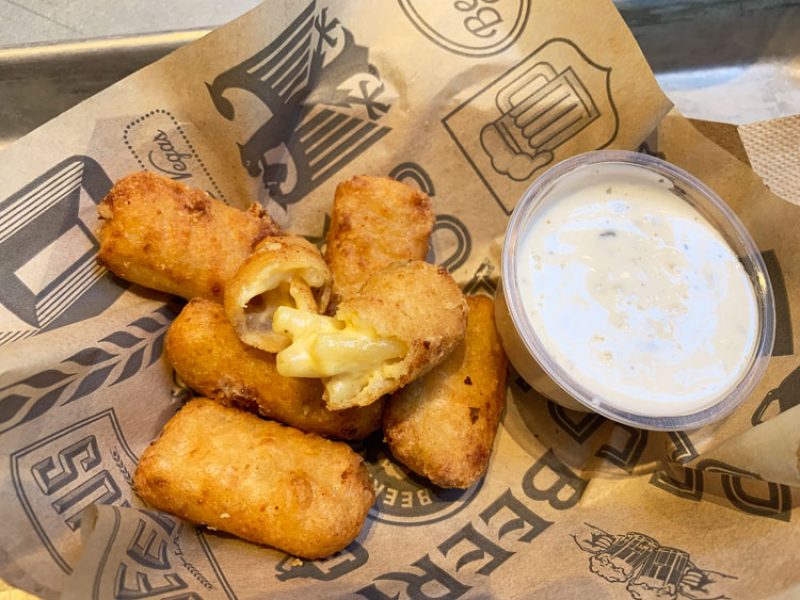 Beerhaus is the perfect place to catch any sporting event, since they have more than 20 TVs throughout the large, airy beer hall and outdoor patio. They have a digital food menu and they rotate their offerings based on what hockey team might be in town. So when a Canadian team is in town to play the Golden Knights, you'll probably find some poutine on the menu!
Sake Rok
Sake Rok was my favorite experience at The Park Las Vegas, and I don't even like sushi. I tried a couple rolls – and even attempted it with chopsticks – but there was also a good amount on the menu that wasn't sushi. Everything was delicious, right down to the Honey Bread dessert.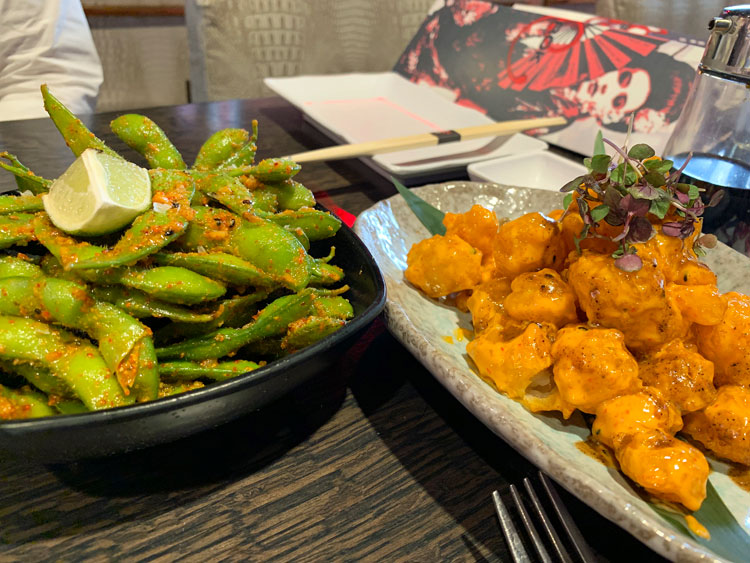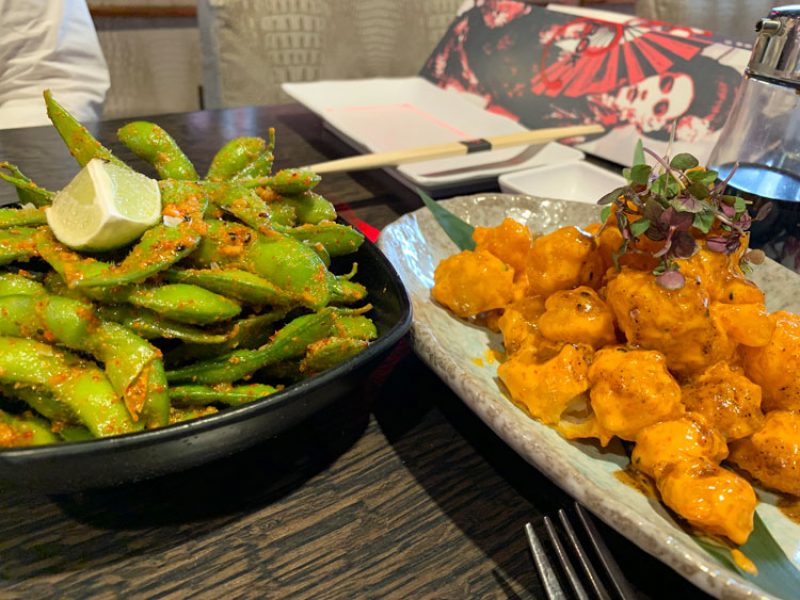 However, it wasn't only the food that made the night memorable. Sake Rok is a high-energy, social dining experience. There's an emcee that roams the dining area, making fun conversation with each table and periodically breaking into song and dance with the rest of the serving staff. It's an absolute blast! Be prepared for some audience involvement, too! Check out my video to see more of the experience.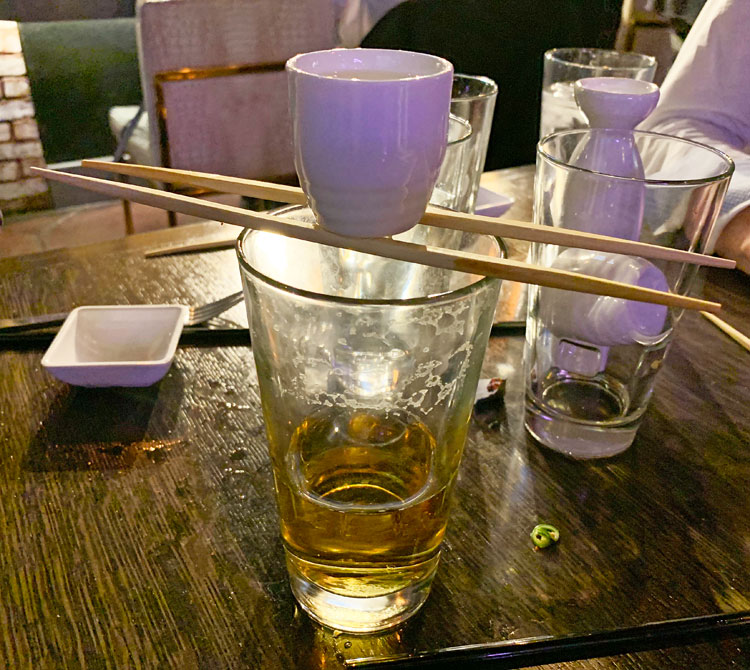 This was also my first experience with a Sake Bomb. If you're not familiar, you take a small cup of sake and balance it on two chopsticks atop a half-full glass of beer. Then you yell "SAKE BOMB" and bang on the table, causing the balancing chopsticks to fall and the sake to plunge into the beer. Then you chug it. The emcee for the night, Simone, was more than happy to offer instructions and join in anytime a table was ready for a Sake Bomb!
California Pizza Kitchen
CPK offers fresh, seasonal ingredients in its hand-tossed pizzas, pastas, salads, and more. It's a great spot for gatherings with their outdoor patio, full bar, and open kitchen around a hearth oven.
Shake Shack
Shake Shack has earned a cult-like following around the world for its awesome burgers, crispy chicken, flat-top hot dogs, and fresh frozen custard and shakes. It's a fun, casual, family-friendly restaurant.
Bruxie
Bruxie was founded by two waffle-obsessed chefs. Their menu includes sandwiches served on waffles instead of bread. I'm not usually a waffle fan because I find them too doughy, but Bruxie's waffles are super thin, sweet, and just crispy enough.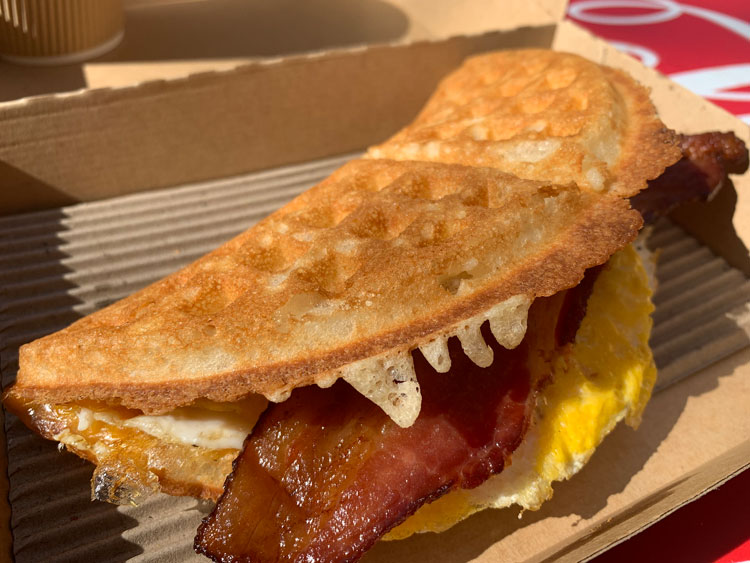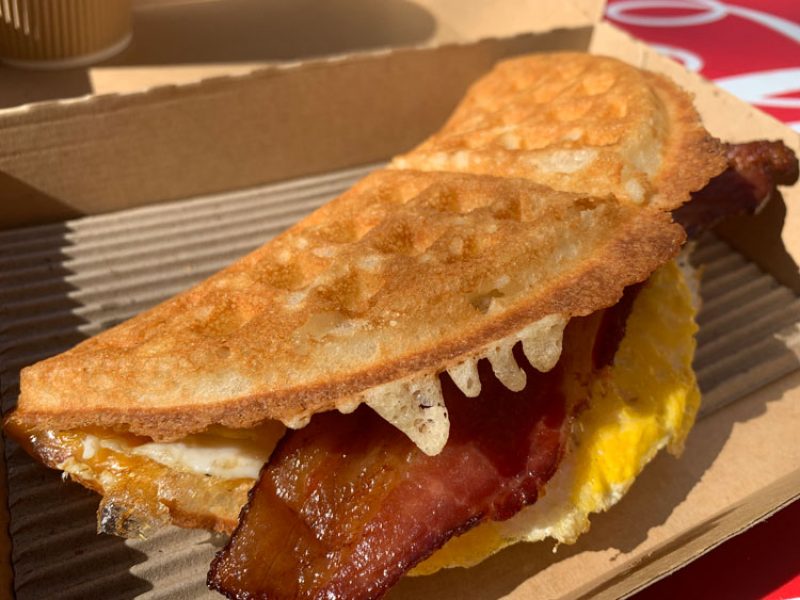 I had a delicious breakfast sandwich. I'm extremely sad that Bruxie only has locations in California and Nevada. Here's hoping they come to New Jersey some time soon.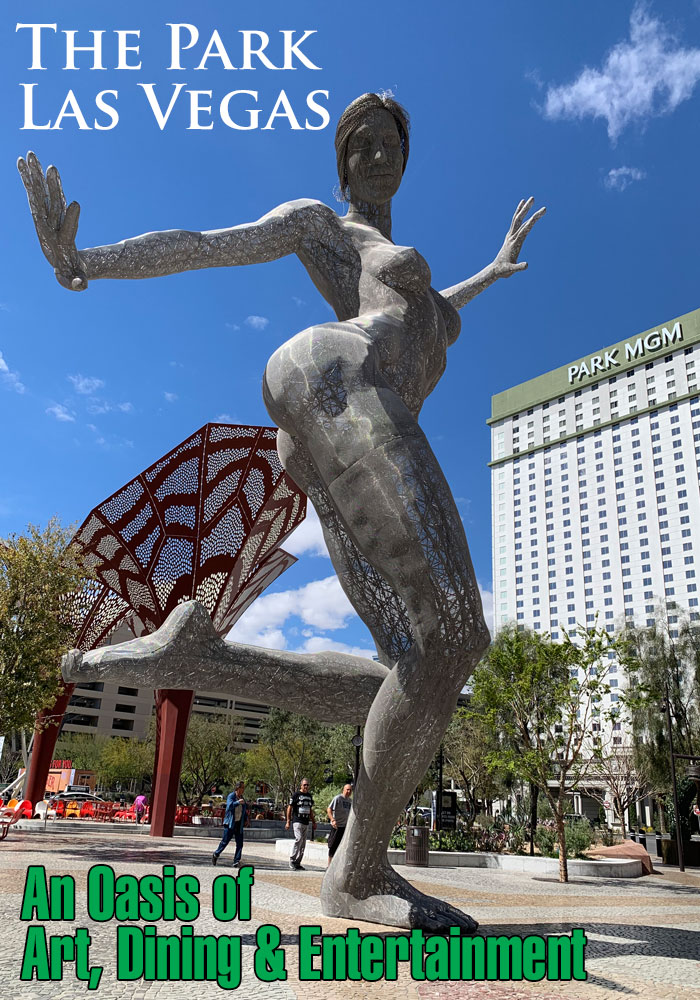 The Park's unique entertainment and dining options are perfect for girls night, guys night, couples, and friends and family gatherings of all kinds. The next time you're in Las Vegas, be sure to check out the fabulous neighborhood that is The Park.