Sunday night I checked another item off my life list. I was thrilled to be invited by A Girls Guide to Cars and Jeep to cover the premiere of Batman vs. Superman: Dawn of Justice in New York City. I stood in the press pen on the red carpet (which was actually a black carpet for this event) as the celebrities filed into the theater, I watched the movie in beautiful Radio City Music Hall, and I went to the official after-party!
I attended the event as a guest of Jeep. The Special Edition Dawn of Justice Jeep Renegade is driven through the streets of Metropolis by Bruce Wayne and is available now in dealerships across the country. Based on the Latitude 4×4, the vehicle offers exclusive features like the Carbon Black exterior paint color, 18-inch Gloss Black wheels,  a black interior, black premium cloth seats and High Gloss Black finishes. Metal Diamond accents are found on the shifter knob and door handles. It's a pretty sweet car!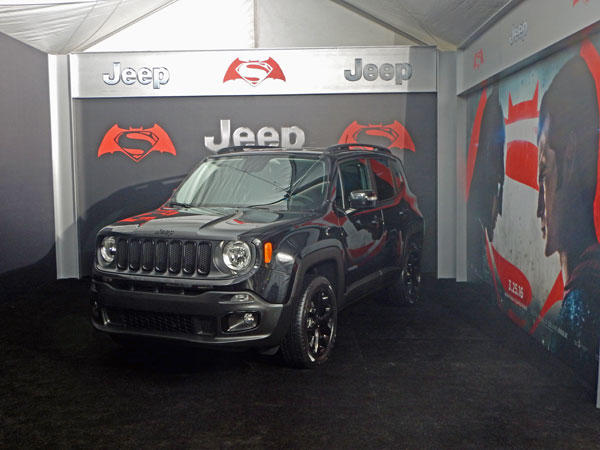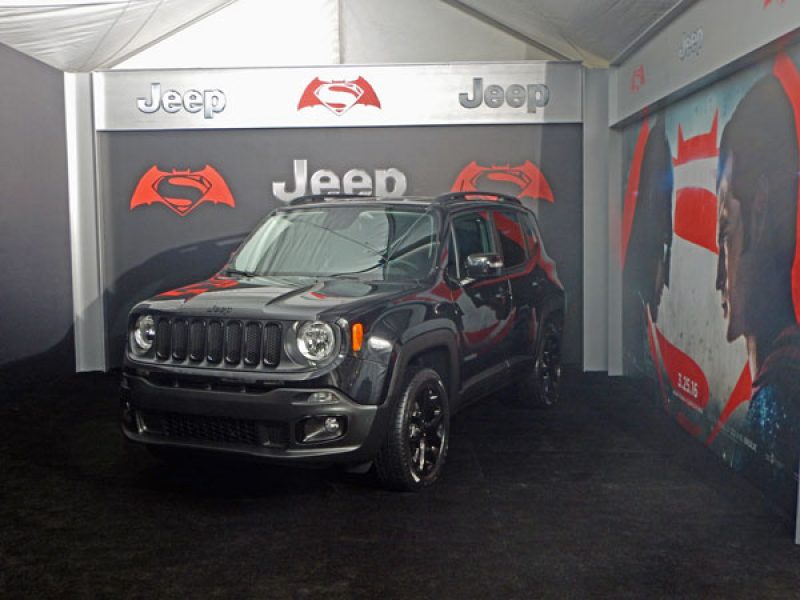 I didn't get a lot of hands-on time with the vehicle, though. Red carpet events are a mix of chaos and waiting… When I arrived, I was able to take a few pictures of the Jeep and look it over, but didn't get inside or do any in-depth video because the next person was always waiting to get a photo next to the car. Quickly, I was ushered behind a rope where I had to remain for the duration of the red carpet procession.
What is it like to be on the red carpet?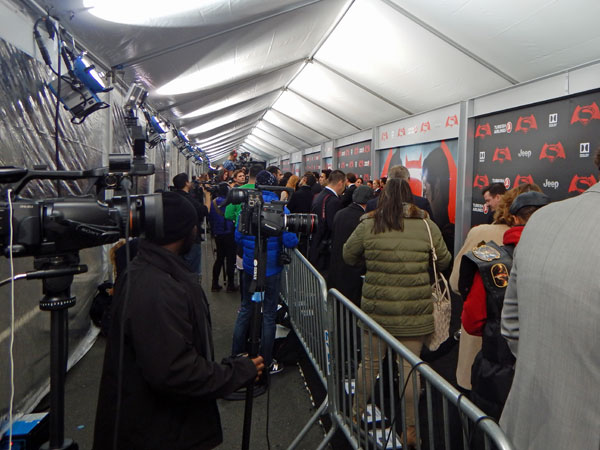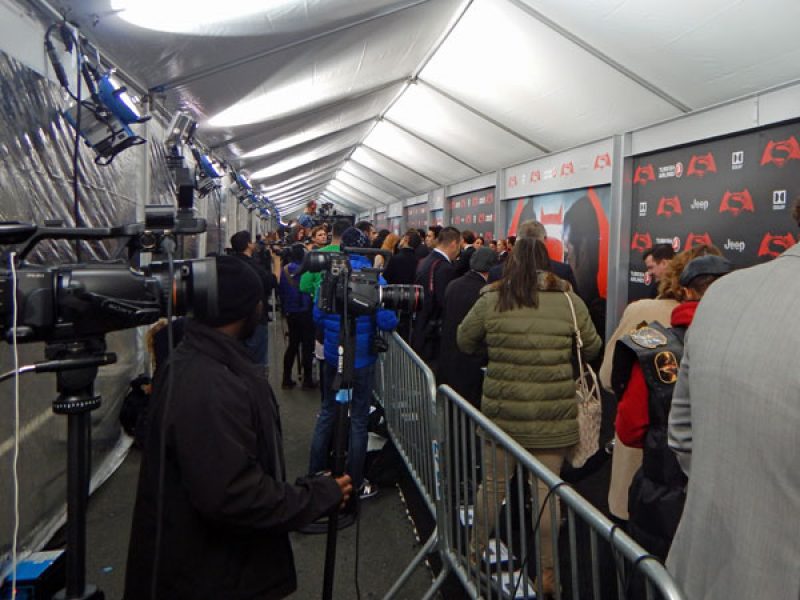 There is clearly a hierarchy of press in the pen. Those with the most impressive credentials are at the beginning where the actors first come in. I was at the end, just before they walked into the theater. But I had an excellent spot and was able to see and hear many of them being interviewed by journalists ahead of me.  I would see a flurry of flashes (and sometimes cheers) going off at the beginning of the carpet, but then it took the celebs 15 – 20 minutes to get down to my end. Maybe you saw my Periscope videos… it was tough to video because it either took the stars forever to get to me, or they flew by too fast to get any good footage! By the time the biggest stars were coming in, security was trying to whisk most of us into the theater, as it was already 30 minutes past the time the movie was scheduled to begin. With the help of my son and the four cameras we had between us, I managed to get some excellent photos and it was great fun watching the stars walk the carpet!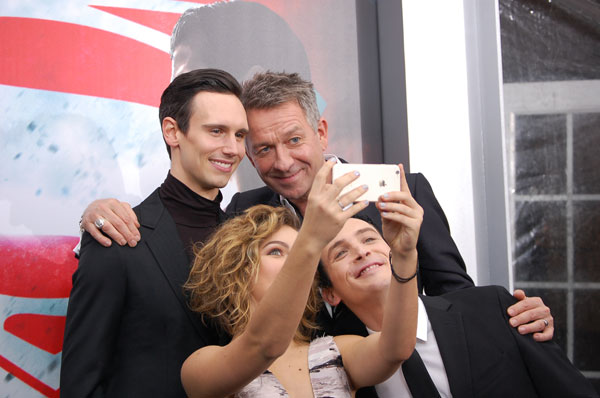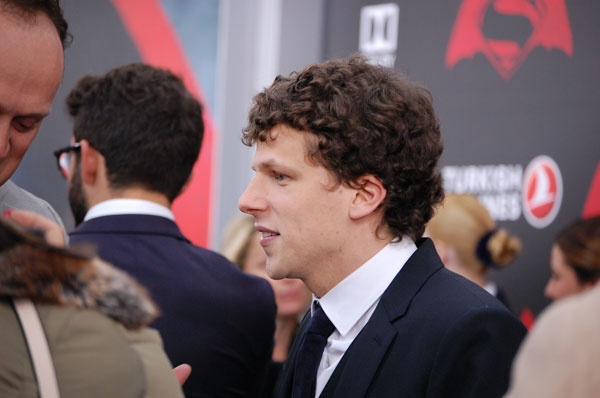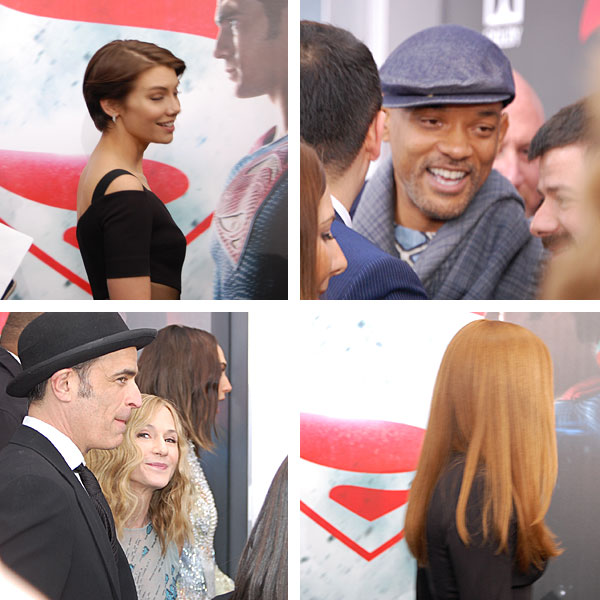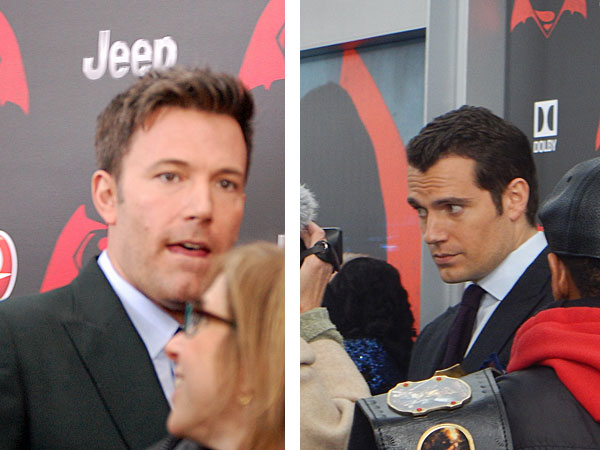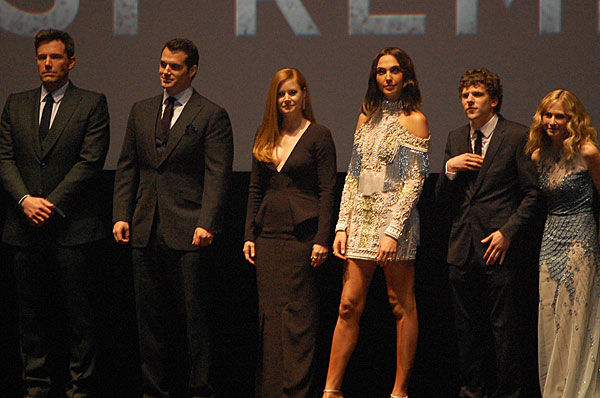 The movie itself was good. Not amazing, but you definitely want to see it. There was a lot of gratuitous fighting and special effects destruction. If you are one of those superhero fans who has always longed to see a full-on battle between Batman and Superman, you won't be disappointed with that scene. For me, the best part of the movie was Jesse Eisenberg as Lex Luthor. And I even got to tell him that face-to-face at the after-party! *swoon*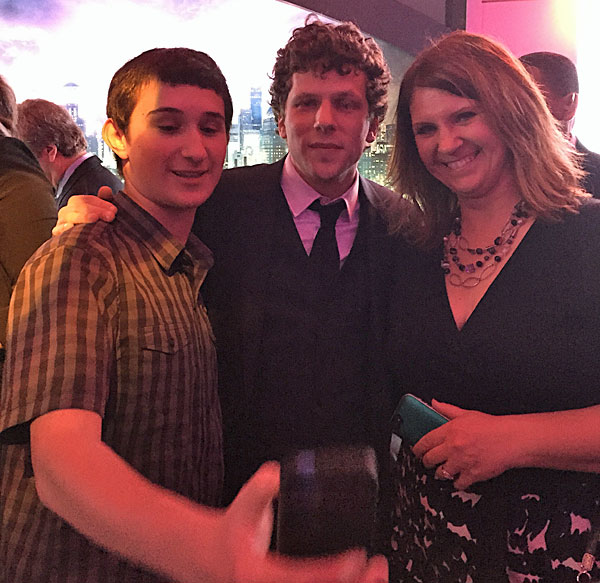 I was also very impressed with Gal Gadot as Wonder Woman. Having grown up loving TV's Lynda Carter as Wonder Woman, I wasn't sure about the new "warrior princess-inspired" character DC Entertainment was launching. But Gadot won me over and I'm super excited to see her movie come out in June 2017.
Selfies with the stars at the after-party!
After the movie, we headed to the official after-party. I had heard various reports of after-parties: sometimes the stars are sequestered in their own little area, sometimes they are walking about. We were thrilled to find the stars interacting with everyone and taking photos. As soon as we walked in, my son rubbed elbows with some of his favorite actors from TV's Gotham.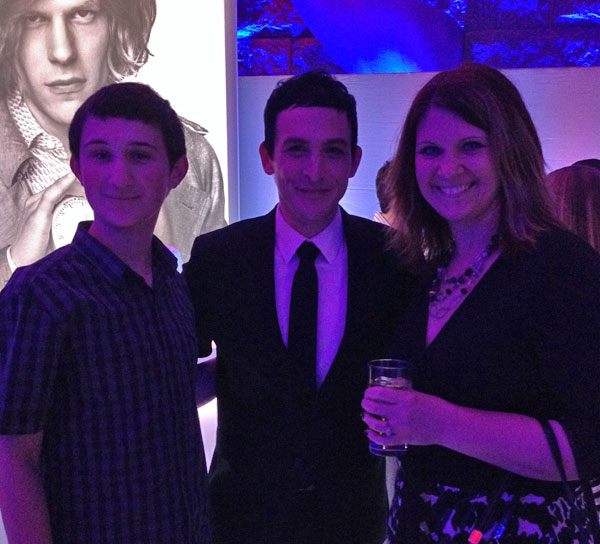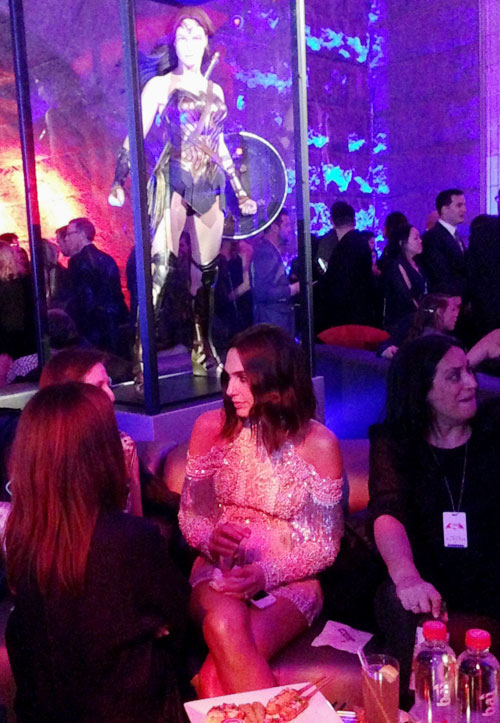 The biggest stars – Batman and Superman themselves – were surrounded by throngs of people and security guards, but were still friendly and accessible if you waited long enough. Ben Affleck (Batman) brushed past me. I watched from a distance as Henry Cavill (Superman) took a photo with some starstruck boys. I was close to approaching Gal Gadot (Wonder Woman), but she was whisked to an exit by her security people. Sadly, Amy Adams (Lois Lane) was not at the after-party.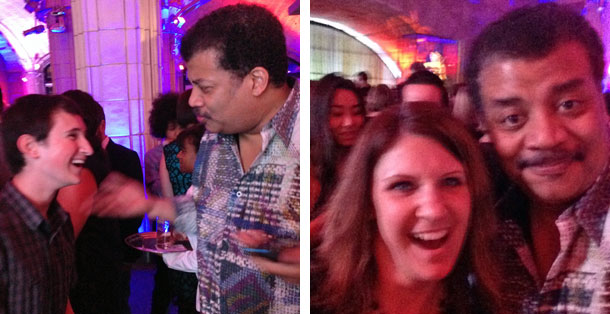 But this guy… Neil Degrasse Tyson is the host of Cosmos and had a bit part in the movie. He was one of the funniest and friendliest celebrities there. My husband is a fan of Cosmos, so I talked to Neil and asked if we could get a photo. He grabbed my phone and not only took a selfie of us, but showed me that you can take a selfie with the side buttons on your iPhone. A fact that even my teen son didn't know! Then he grabs my son and says, "You're supposed to know these things," and takes a selfie with him. Neil said that being an astrophysicist, he "had to root for the alien" so he was going with Superman in the battle of Batman vs. Superman.
Thank you to Jeep and A Girls Guide to Cars for offering this opportunity to me and my son! It was a night we'll never forget.
I was a guest of Jeep at the Batman Vs. Superman Premiere. All opinions are my own.