When my husband and I were looking for where to eat in Saratoga Springs, NY, we found there is no shortage of excellent food. But there is a shortage of parking spots. We were too hungry to drive around downtown hoping someone would pull out of a parking spot, so my aunt, a Saratoga resident, recommended The Local Pub and Teahouse.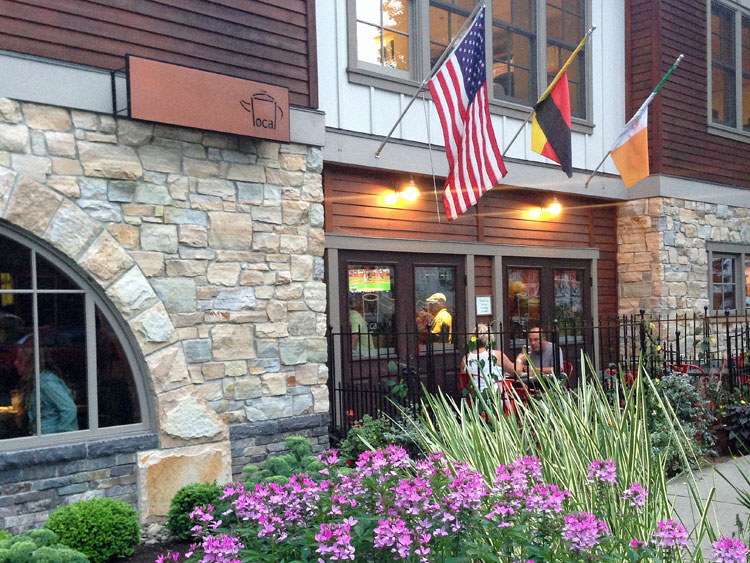 The Local is several blocks off the main drag in Saratoga Springs. The menu is eclectic. The offer pub fare, such as Shephard's Pie and Bangers and Mash, but they also serve German fare, burritos, salads, burgers, and organic teas and tea sandwiches. It sounds like a lot, but they do it all pretty well.
Location and Service
Located on the corner of Grand Ave. and Beekman St. in the Beekman Arts District, The Local is a cozy spot with a small outdoor seating area and a nice bar. Seating inside ranges from high-top tables to bench seating that accommodates larger parties. Our service was adequate – nothing to complain about, but not memorable either.
Because it's several blocks from Saratoga's downtown, The Local might not get as crowded as other restaurants. On a Saturday night during race season, we didn't have to wait for a table (they don't take reservations), but the place was full by the time we left at 8pm.
Be aware that parking is an issue everywhere in Saratoga – we still had to drive around for a few minutes and park two blocks away.
Eclectic Food at The Local Pub and Teahouse
For appetizers, we ordered the blackened green beans and the "bubble & squeek." The beans were zesty and cooked perfectly, served with srirachi mayo (not too spicy) and honey mustard ranch dipping sauces.
The bubble & squeek – which I ordered partially because I love cabbage and partially because it has a really fun name – is a mix of smashed potatoes and cabbage, topped with melted cheddar cheese and scallions. It was creamy and savory and a pretty perfect bite!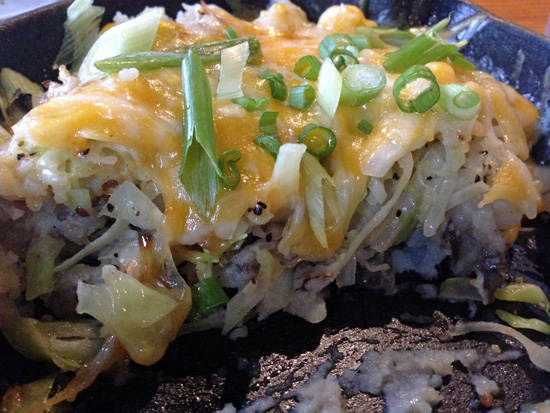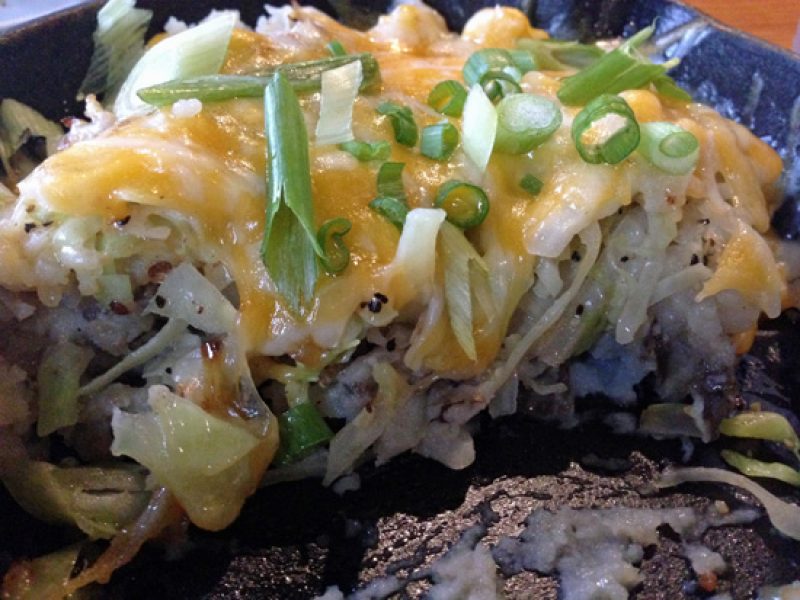 For dinner, I ordered braised short ribs – a special that was actually an appetizer. I had to have it, so I ordered a side of fries to make it more of a meal. Turns out I didn't need the fries because this was the size of the appetizer…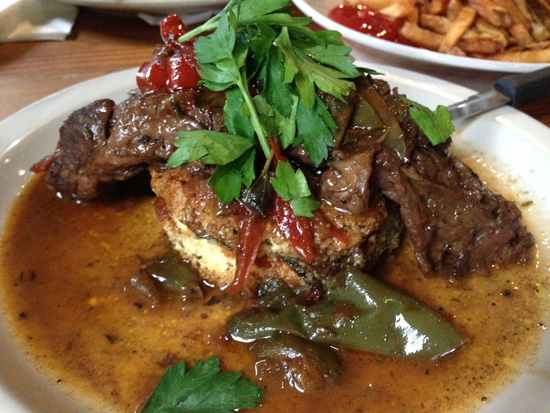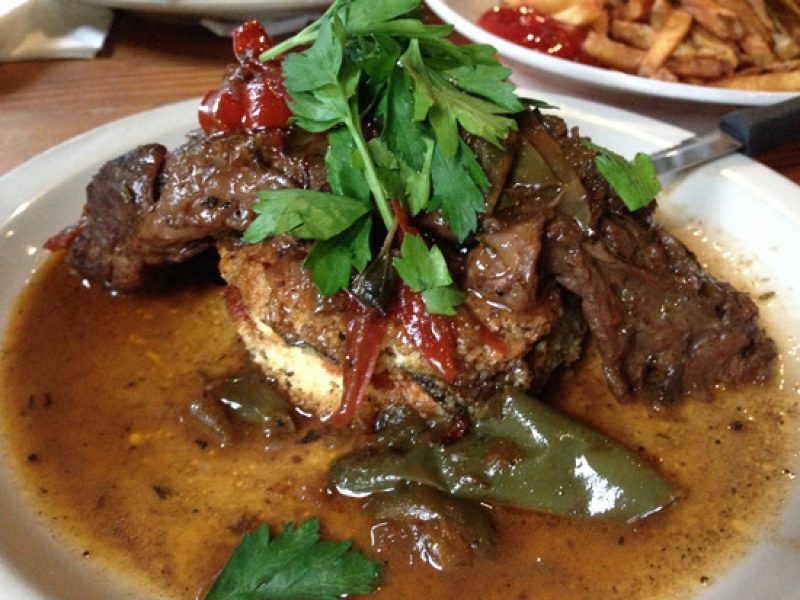 These short ribs were served in a red wine sauce on top of jalapeno corn bread. The best corn bread I've ever eaten – two thin rounds of crispy corn bread instead of the "cake-like" piece that's typical of corn bread. They were just crunchy enough on the outside to delicately soak up some of the short rib sauce without becoming soggy.
And the jalapenos? Actual jalapeno chunks in the bread. My mouth was on fire. Thank goodness for the impressive selection of beers they had on tap.
My husband had the beer sausage served with sauerkraut, German potato salad, thick marble rye bread, and stone-ground mustard.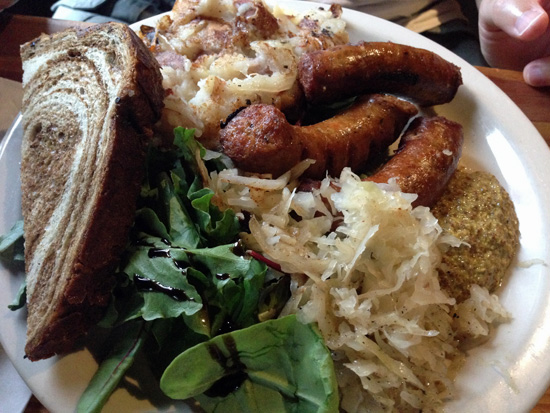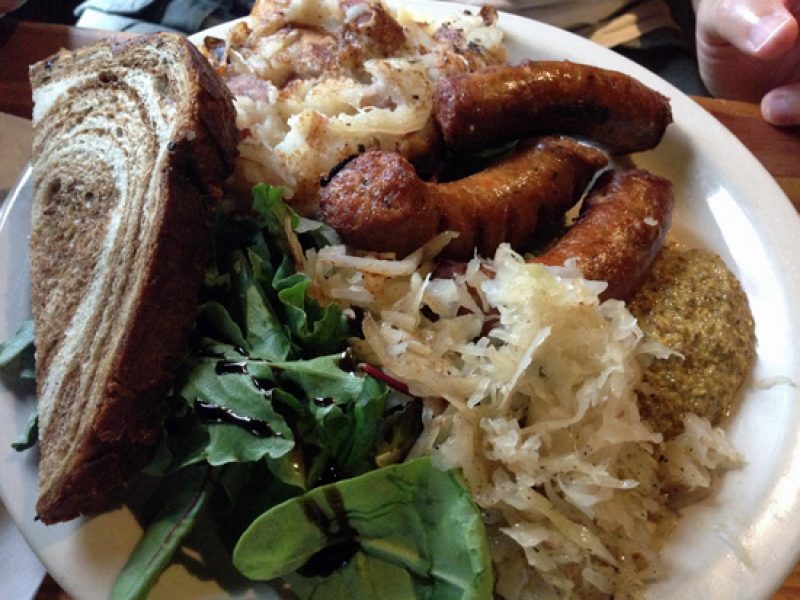 That's a lot of food. He was sweet enough to save the German potato salad for me (one of my favorite side dishes) and I had it the next morning for breakfast with my eggs. Outstanding.
The Teahouse at The Local
I wasn't sure how the "teahouse" fit in at The Local. We thought about having tea after dinner, but it just didn't seem to fit with the beer and pub fare.
So I took a look their brunch and lunch menus online. The Local has a solid selection of tea sandwiches such as salmon and goat cheese, cucumber and tzatziki, and avocado, tomato, and roasted red pepper hummus on crustless wheat berry bread.
Pair those sandwiches with a pot of one of their organic teas – African Elixir, Honey Chai or Parisian Red Herbal maybe? – and you've got a lovely afternoon tea session. The Local also serves breakfast sandwiches and espresso drinks.