Season 2 of The Witcher drops today on Netflix and I'm so excited to get back to the world of monsters and magic with Geralt, Yen, and Ciri. If you don't have time for a re-watch and need a refresher, check out The Witcher season 1 recap below.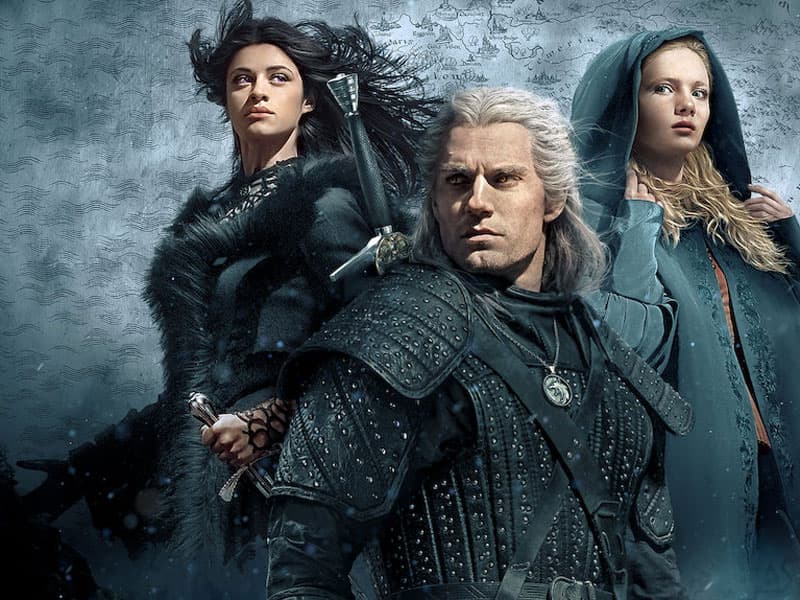 What is The Witcher About?
The Witcher is a fantasy series streaming on Netflix. The story revolves around three main characters: Geralt of Rivia, aka The Witcher (Henry Cavill), Yennefer of Vengerberg (Anya Chalotra), and Princess Cirilla of Cintra, aka Ciri (Freya Allan).
The city-state of Nilfgaard is on the warpath trying to take over the whole continent. They attack Cintra and Queen Calanthe dies. Her granddaughter, Princess Ciri, escapes into the woods after Calanthe tells her to find Geralt of Rivia – he is her destiny.
In The Witcher season 1, Ciri's story spans a couple of weeks as she attempts to flee various would-be captors and searches for Geralt of Rivia.
Over the course of season one's eight episodes, we learn the backstory of Geralt. As a Witcher, his main objective in life is to kill monsters. We go along on many of his adventures. His story spans about 20 years. At the end of season one, he learns of Nilfgaard's eminent attack on Cintra and goes looking for Ciri to protect her.
We also meet Yennefer, a mage (magician). Chronically unhappy and unsatisfied, her story spans about 70 years. Her path crosses with Geralt's a couple times. Yennefer ends up fighting with other mages to stop Niflgaard from advancing into the north after their attack on Cintra.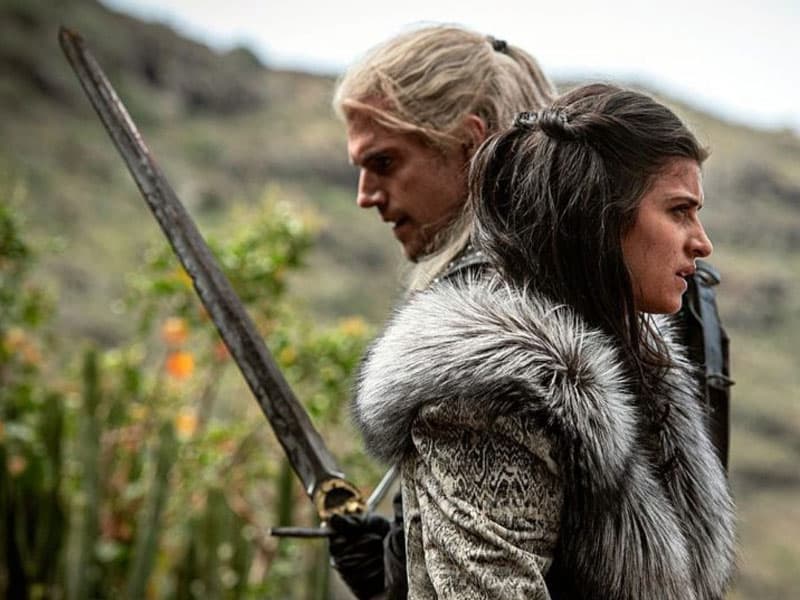 The Witcher Season 1 Timeline
In an interview with TV Guide, showrunner Lauren Schmidt Hissrich says that Geralt's story spans about 20 years, Yennefer's story spans about 70 years, and Ciri's story spans about two weeks.
Like many people, I didn't realize the three story lines were taking place in very different time frames until later into the season. After a second watch of The Witcher, I realized that if you pay close attention, this was revealed in episode one.
Princess Cirilla mentions that her grandmother – the queen – won her first battle when she was Ciri's age. In the next scene, Renfri mentions to Geralt that Queen Calanthe just won her first battle at Hochebuz. That tells us Geralt's timeline is happening maybe 20-30 years before Cirilla's.
We also get clues about the long span of Geralt and Yennefer's story lines – Yennefer mentions that she has been in service to the King of Aedirn for 3 decades.
It's even harder to grasp these timelines because Yennefer and Geralt do not really age because of their magic.

I like to think of Princess Cirilla's timeline as the main Witcher season one timeline, while the others are backstory. This is the (very) basic timeline:
Nilfgaard attacks Cintra. Geralt is there and tries to find Ciri, but loses her. All of Geralt's story up until episode eight takes place BEFORE this event.
Ciri escapes to the woods and encounters several dangers and captors as she searches for Geralt.
Yennefer joins the mages from the Brotherhood of Sorcerers to stop Nilfgaard's advance north. All of Yennefer's story up until episode eight takes place BEFORE this event.
Ciri and Geralt find one another.
We need to know of Geralt's various adventures, Yennefer's power as a mage, how the two of them become intertwined, and how Geralt is tied to Ciri. While it may be confusing on first watch, the stories come together spectacularly by the end of season one.
Where is The Witcher Filmed?
The Witcher season 1 was filmed on location in Hungary, Spain, Poland and Austria. There are many Witcher filming locations near Budapest and the Canary Islands of Spain.
Stregobor's courtyard was filmed in the Jaki Chapel cloister in Budapest.
Yennefer's village from episode two was filmed in the Szentendre Skanzen Village Museum near Budapest.
The archaeological dig where Yen goes to see Istredd is the Geological Park of Bauxite Mining in Gánt, Hungary.
Exterior scenes of Cintra's ramparts and fortifications were filmed at Fort Monostor, a 19th-century fortress in Komárom near the Hungarian-Slovakian border.
Aretuza was created by digitally enhancing the Roque de Santo Domingo in Garafía, a rocky islet facing the northwestern coast of the island of La Palma in the Canary Islands, Spain.
Brokolin Forest was also filmed in the rainforests of La Palma island.
The final battle of Sodden was filmed in Poland at the ruins of the castle in Ogrodzieniec, northwest of Krakow.
The Witcher Season 1 Recap
Episode 1: The End's Beginning
Geralt comes to Blavikan and meets Stregobor, a magician, who wants to hire him to kill a girl named Renfri. Renfri also wants Geralt to kill Stregoba. Renfri attacks Geralt and he ends up killing her. As she dies, she tells him, "The girl in the woods will be with you always, she is your destiny."
Nilfgaard attacks Cintra and Queen Calanthe dies. She tells her granddaughter, Princess Cirilla, to find Geralt of Rivia – he is her destiny.
Ciri nearly gets captured by Nilfgaard soldiers, but she screams and causes an earthquake of sorts, so we know she has some sort of gift. She is able to escape into the woods.
Episode 2: Four Marks
We meet Yennefer, a deformed girl whose father sells her to a sorceress for four marks. The sorceress, Tassaia, takes Yennefer to Aretuza, a school where she can be trained to become a mage.
Ciri meets an elf, Dara, in the woods. They come upon a Cintra refugee camp, but it's soon attacked by Nilfgaard. She escapes with Dara's help.
Meanwhile (but years ago), Geralt meets Jaskier, a bard, in an alehouse and the bard accompanies him on a quest to kill a devil. He discovers the devil is actually a group of elves. They want to kill him and the bard, but Geralt talks his way out of it.
Toss a coin to your Witcher, oh valley of plenty…
We learn a bit about the Elven history – Tassaia tells Yennefer that the elves were the original keepers of magic. They taught it to humans, then the humans killed them to keep it for themselves. Yennefer reveals that her real father was half-elf, which is wear her twisted spine comes from.
Episode 3: Betrayer Moon
Geralt is in Temeria and hears of another Witcher that could not complete his quest. He discovers the Witcher dead from a Striga – a rare creature. The striga is actually a cursed girl and Geralt fights to free her from the curse. He succeeds, but he almost dies.
Yennefer is in love with another mage, Istredd. She discovers that he told Stregobor that she is ¼ elven. They fight.
Yennefer then discovers that the Brotherhood of Sorcerers wants to send her to Nilfgaard to serve on the court after her initiation. She wants to serve in Aedirn and is not happy. She misses the initiation ceremony.
She goes to the artist to have him transform her anyway. She undergoes a brutal operation/ritual that takes away her ability to bear children, but gives her beauty. She then "crashes" the ceremony/party and manipulates her way into serving the King of Aedirn.
Fringilla, another mage, is sent to Nilfgaard instead.
Ciri and Dara continue their journey in the woods when Ciri feels something calling to her.
Episode 4: Of Banquets, Bastards and Burials
Ciri is drawn to Brokilon Forest and meets the Dryads. Dara tells her that her grandmother killed his family and other elves. The Dryads try to get them to drink the magical water to forget their past. They agree. Dara forgets, but when Ciri drinks, nothing happens. The Dryads contemplate what Ciri is.
Geralt accompanies Jaskier to Pavetta's (Queen Calanthe's daughter) betrothal feast. Duny comes to claim Pavetta by the Law of Surprise.
The Law of Surprise says that a person shall be paid by getting that which you already have, but don't know you have it. Apparently Duny saved Pavetta's father and was offered the Law of Surprise as payment. Her father did not know that Calanthe was pregnant with Pavetta, so she became "what he has but didn't know he had."
Calanthe is against the union of Duny and Pavetta. She tries to kill Duny and there is a battle. Pavetta shows an intimidating magical power and the Queen has to accept the Law of Surprise and allow them to marry.

Ultimately, Geralt puts an end to the battle and Duny wants to repay Geralt for saving his life. Geralt flippantly claims the Law of Surprise… only to find out Pavetta is pregnant! Fuck.
Yennefer is accompanying a queen and her baby girl on a journey and she says it's been three decades as the King's mage. She is unhappy with her boring life. Their stagecoach is attacked and the queen is killed for not being able to produce a male heir.
Yennefer tries to save the baby, but is unsuccessful. She decides not to go back to the king.
Episode 5: Bottled Appetites
We meet a changling/doppelganger who is hired by Nilfgaard to take over Mousesack's identity and find Ciri. He finds her and Dara in the Brokolin forest. She is happy to see him and leaves with him.
We learn that Yennefer is "living off the grid with no resources." She is working as a mage on her own, but that is really not allowed. She ends up working for the mayor, though really she is controlling him.
Feeling supremely unfulfilled, Yennefer wants to find a way to have a baby.
It is years later in Geralt's timeline and we see him on another adventure with Jaskier by his side. He has been unable to sleep and is looking for djinn (genie) to help him. He finds the djinn's vessel, but Jaskier fights over it, trying to convince him not to do it.
Jaskier gets cursed and his throat swells. Geralt takes him to the nearby town to look for help. They find Yennefer.
She agrees to heal Jaskier because she wants the djinn to help her have a baby. She tries to become the vessel for the djinn but Geralt stops her.

Episode 6: Rare Species
Years have gone by again and Geralt is on another quest – to kill a dragon this time. Yennefer shows up on this journey. She is looking for a fertility cure that she thinks the dragon can supply.
They find the gold dragon. But instead of killing it, they save it. They are protecting the egg of the gold dragon – a rare species. The gold dragon tells Yen she will never regain her womb and tells Geralt he will lose her.
Geralt and Yennefer seem to be in love, or at least tied to one another in some way. But Yen finds out that one of Geralt's wishes from the djinn was the reason she feels tied to him. She is angry that her feelings aren't real and she leaves Geralt. It's unclear exactly what his wish was or if they really are tied together by destiny.
Geralt lashes out at Jaskier after Yen leaves. They part ways.
Ciri and Dara realize that Mousesack is not who he seems to be. She runs away. She is caught and tied to a tree, but Dara frees her. Then he leaves her.
Episode 7: Before a Fall
Geralt is back in Cintra inquiring about Ciri's safety. He talks to Calanthe and tells her he wants to protect Ciri. Calanthe tries to give Geralt another girl, but he figures it out. He tries to leave Cintra, but Calanthe has him imprisoned.
Yennefer goes to Nazair to see Istredd, telling him she wants to be with him. He denies her, then Yen is approached by another mage that asks her to come to Aretuza, the school where she learned magic. She goes.
The Brotherhood finds out Nilfgaard is is attacking Cintra. Tissaia and some other mages want to fight Nilfgaard.
We once again see the attack on Cintra from episode one, but from a slightly different perspective. We see that Geralt is still imprisoned there at the time and Mousesack goes to look for him so he can protect Ciri.
But with the battle raging, Geralt has already escaped. He tries to find Ciri, but she is gone before he finds her.
Meanwhile, back in "current" time, Ciri is in a town looking for food and warm gloves and a woman befriends her. Ciri steals her horse and rides off. Later, in a field, Ciri is warming herself by a fire and a bunch of Cintran men find her. She knows one of them, but they don't care who she is and only want the money she is worth to Nilfgaard. She screams and falls to her knees and utters some chant.
Episode 8: Much More
At this point, all the timelines are just about catching up to one another.
Geralt leaves burned-down Cintra and searches for Ciri in the woods. He comes upon a camp of dead Cintrans and is attacked by monsters. A merchant saves him, and is taking him on a cart to find a healer. He is delirious.
Through his delirium, we learn a bit more of Geralt's backstory. His mother leaves him as a child and Vesemir raises him to be a Witcher.
The Brotherhood of Sorcerers are planning their fight against Nilfgaard. They want to stop Nilfgaard at Sodden to prevent them from taking over the whole continent. They go to the Keep – it's the only thing standing between Nilfgaard and the north. The mages get to work enchanting bottles filled with stones that will be used as explosives.
Tissaia asks Yen if she's ready to die. She says she's lived two or three lifetimes already and "it's time to accept that life has no more left to give." Tassaia tells her she has so much more to give.
Fringilla and Nilfgaard's army attack the Brotherhood at Sodden. Nilfgaard breaches the gate. Most of the mages die. Tissaia, Vilgefortz and Yen are still alive. Tissaia tells Yen to let her chaos explode so she can save everyone from Nilfgaard. She channels all her anger and burns everything.
The woman from the village finds Ciri in the field – all the men are impaled, the horse is dead, and everything around her is flattened/destroyed. She doesn't really know what happened.
The woman takes Ciri in – she has always longed for a daughter – but Ciri leaves in the early morning after having dreams/visions of Geralt and Yennefer.
As the season comes to a close, the merchant arrives home – come to find out he is the husband of the woman who took Ciri in. Geralt just misses Ciri when they arrive, though he can feel her and immediately sets off into the woods in search of her.
He finds her. He says "people linked by destiny will always find each other." She asks him "Who is Yennefer?"
And that is the end of The Witcher season 1 recap! Enjoy season two!!