Looking for things to do in Charlottesville, VA? This charming city has a lot. With food, wine, cultural and historical sites, parks, and more, here's a four-day itinerary to help you plan your visit.
Day One: The Rotunda and The Mall
On your first day in Charlottesville, head to the Historic Downtown Mall. Why did I choose this for your first stop? Simply put: Breakfast at The Nook.
The Mall is seven beautiful blocks of theater, music, cinema, dining, and shopping. You'll love strolling the tree-lined, brick-paved streets – after breakfast. Head directly to The Nook, Charlottesville's original diner. A restaurant has been in place there since 1912. The Nook has been open since 1951, with a beautiful, cozy interior and original mahogany booths.
But the food. Oh my. This is real comfort food that will keep you fueled for your day. We enjoyed chicken fried steak, real corned beef hash, and scrambled eggs with home fried potatoes (not the frozen, shredded hash browns!). Best bite? The Peach Melba French Toast. Two slices of thick French toast with vanilla roasted peaches, warm raspberry sauce and powdered sugar. Sweet, satisfying, and filling. The perfect way to start your day.
And if you can't get there in the morning, don't worry. They serve breakfast all day. My family loved it so much, we returned a second time.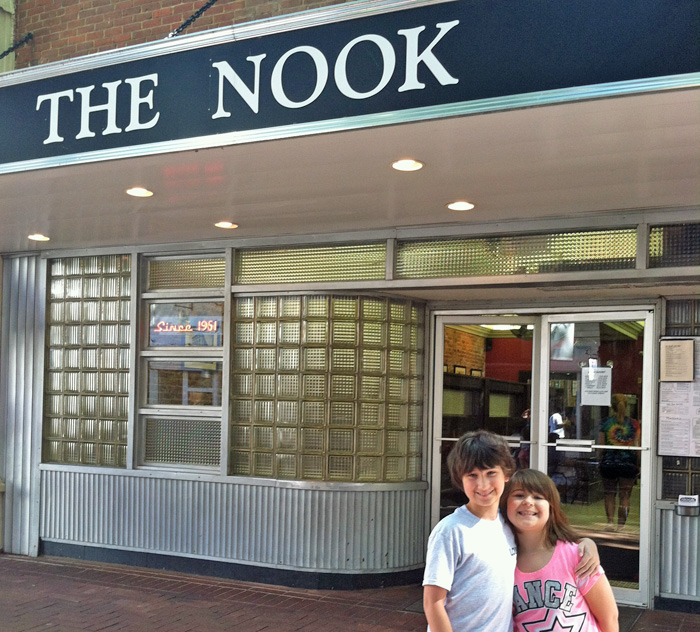 Charlottesville is home to the University of Virginia and its Rotunda. The Rotunda is a building designed by Thomas Jefferson as the "architectural and academic heart of the University."
Jefferson modeled the Rotunda after the Pantheon of Rome. With its iconic Dome Room, the Rotunda is an awesome sight and the surrounding Lawn is a great place to spend an afternoon walking, picnicking, and relaxing.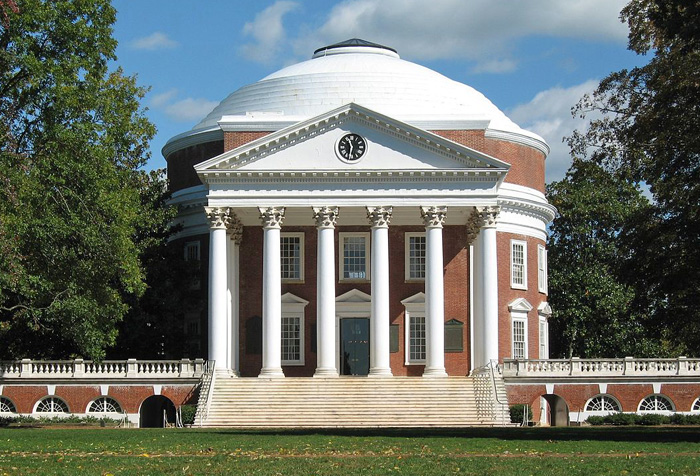 The Rotunda is open daily from 9 am to 5 pm. During the academic year, historical tours are offered free of charge and meet daily at 10 am, 11 am, and 2 pm in the Rotunda's Lower East Oval Room.
Day Two: Michie Tavern, Orchards and Wine Tasting
Michie Tavern operated in the late 18th and early 19th centuries, serving as a tavern, inn, and ordinary (where a complete meal was served at a fixed price). As we listened to our wonderful docent during our tour, we were transported back in time.
We learned about the many roles the tavern fulfilled in colonial times. Most importantly it served as a place where travelers could rest, refresh, and share the community and political news of the day. But the tavern also served as a general store, meeting place, sleeping space, location for dances and church services, barber, post office, and school. The meeting space was about as big as a modern home's living room, yet considered "expansive" at the time. We had some laughs while our docent taught us to dance the Virginia Reel!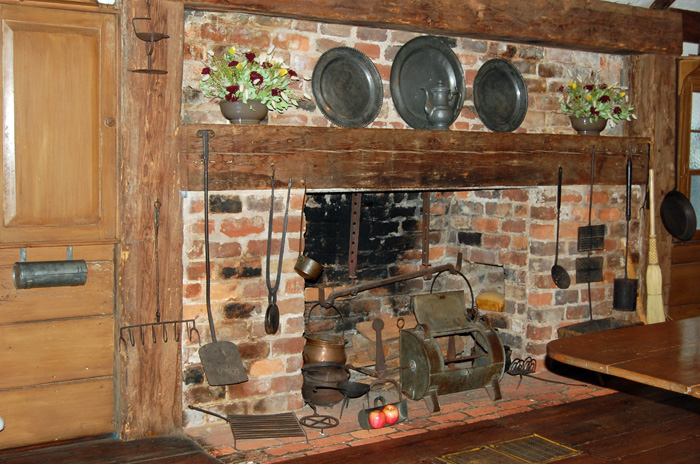 Next we had our "midday meal" in the Ordinary. In colonial America, most people ate a small breakfast, a large dinner in the early afternoon, and a light snack for supper. This was because they wanted to do most of their cooking in the morning, when the kitchens were cooler. In keeping with the traditional timing of colonial dinners, the Ordinary serves meals between 11:15 am and 3:30 pm.
After your midday meal, head up the road to Carter Mountain Orchards. You can pick your own fruit and visit the country store and bakery. Their fresh cider donuts are a treat and they also have a wine shop.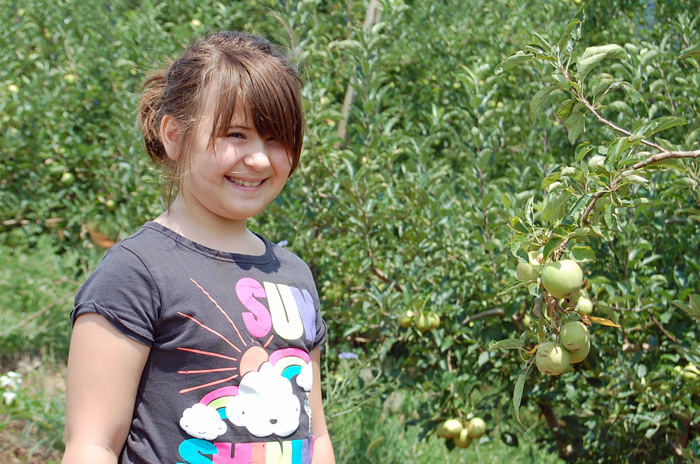 Speaking of wine, you can end your afternoon with a wine-tasting at nearby Jefferson Vineyards. Thomas Jefferson had a keen interest in viticulture and this vineyard pays homage to that. It's a cozy spot with a beautiful view and some excellent wines. Last tasting is at 5pm.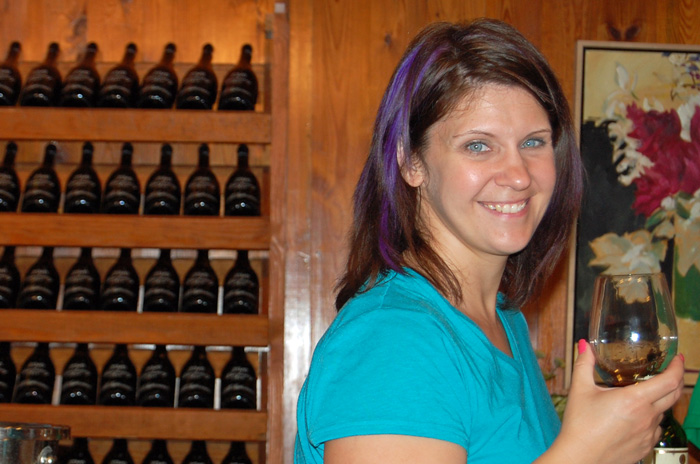 Day Three: Presidential Tour of Highland and Monticello
Among the most popular things to do in Charlottesville are the tours of the Presidential homes.
Your first stop should be Highland, the home of James Monroe. They offer 40-minute guided tours. It's a quick stop where you and your family will learn a lot. It's also a great introduction to the area before moving on to Monticello.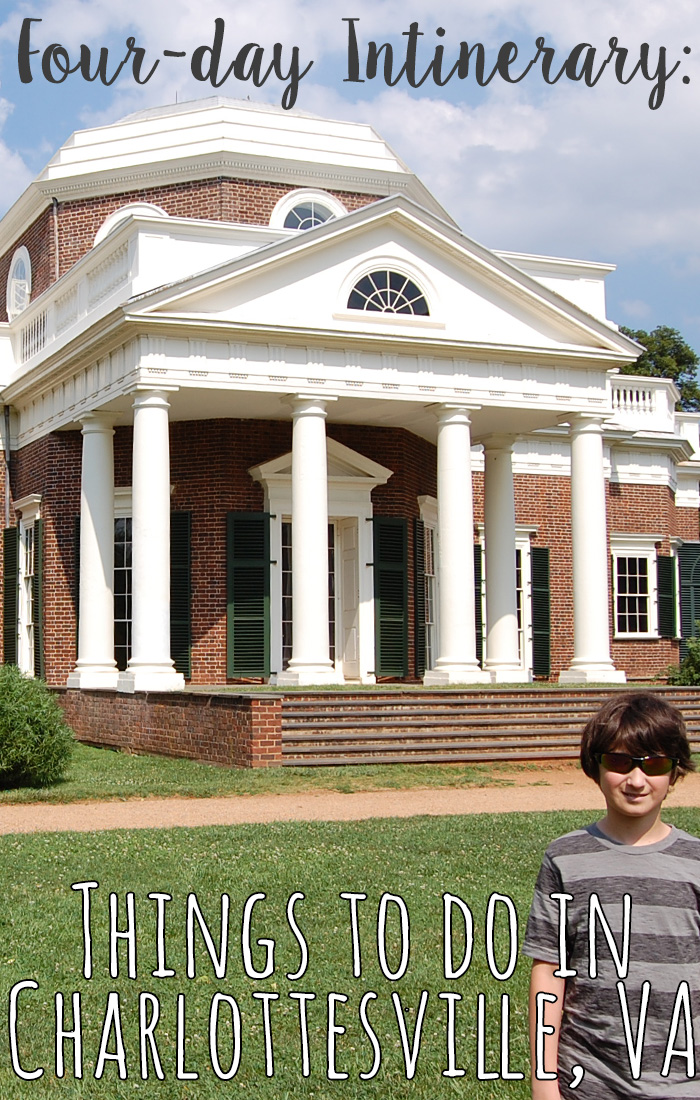 When you visit the plantation home of Thomas Jefferson, known as Monticello, there is so much more to do than tour Jefferson's home.
Start at the visitor's center and purchase a tour ticket. There are many different tour options. From there, it's about a 20-minute walk to Monticello, or a 10-minute shuttle bus ride. Once you get there, you can wander the gardens, the cemetery, the slave quarters, and several surrounding nature trails. And of course, you'll tour his home and marvel at all his incredible accomplishments. It's awe-inspiring.
Jefferson was a ravenous learner and prolific inventor who lived by the mantra "to try all things." My favorite of his inventions that we saw was a device that held several open books and "spun" around – allowing Jefferson to read many books at the same time. We learned that Jefferson was an avid gardener and saw his expansive vegetable beds, which are maintained and producing veggies to this day.
There are also several hands-on activities to engage kids such as learning to write calligraphy with ink and a quill pen, or decoding a secret message with a wheel cypher – which was invented by Jefferson!
Visitors can get a day pass to the grounds and a house tour, or opt for specialty tours like a tour from an enslaved family's point of view, a "behind the scenes" tour that gets you upstairs in Monticello, or a garden-focused tour – you can even taste the vegetables!
Day Four: Shenandoah National Park
About 50 minutes west of Charlottesville is Shenandoah National Park. If your travels take you in that direction, it's a great park to drive through on your way home. And it's totally worth taking an hour to drive out there, even if you're going in another direction.
My family took Skyline Drive, the road that runs the length of the park. The views were insane! We stopped at the visitors center and asked for short hike recommendations. The docent pointed us to the Stony Man Trail. What we thought would be a quick hike to stretch our legs on our drive home turned out to be one of my family's favorite hikes ever.
The meandering trail heads up at a moderate incline. And at the top? Wow, you feel like you can see the entire world.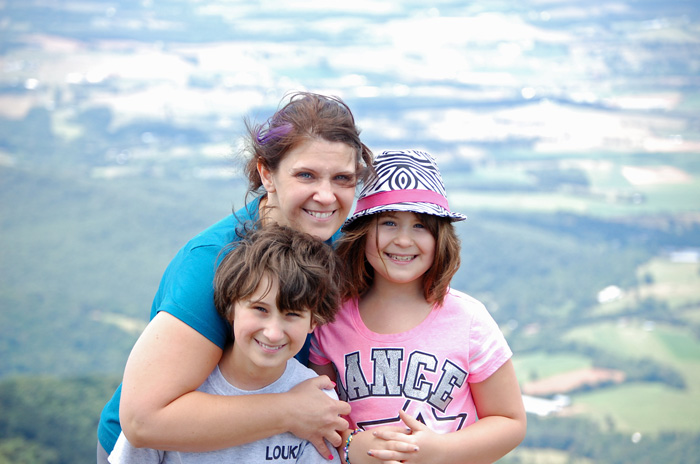 So there you have it, four days and lots of things to do in Charlottesville, VA! Have you visited Charlottesville? I'm hoping to return in the next few months, so let me know what I've missed!