As if today's intense water parks aren't fun enough, how about a water park that overlooks the Atlantic Ocean? Bonus! Raging Waters at Morey's Piers in Wildwood, NJ, offers some unique features that elevate the fun factor over and above any water park I've ever visited.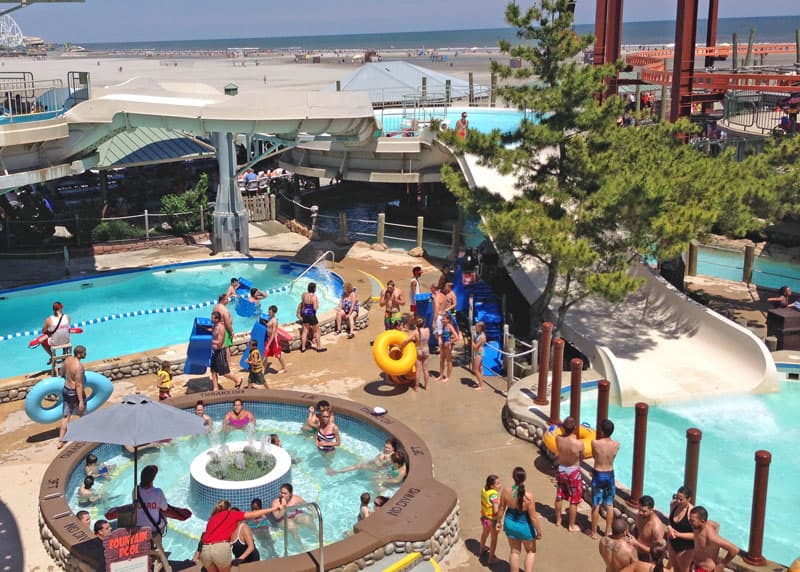 Morey's Piers consists of three piers teeming with water parks, thrill rides, food, games and other attractions. Raging Waters Water Park is located at the end of Mariner's Pier, right on the beach, which is a stroke of genius.
As I careened down the water slides while looking out over the ocean, I giggled with happiness. There's just something about the ocean, the waves and the shore that sharpens the senses and makes everything seem more fun.
In addition to the beautiful views, there are three more reasons why I loved Raging Waters: unique rides, better-than-expected food, and lazy river root beer floats.
Water Rides
After spending some time on the Morey's Piers web site, I was excited to try Shotgun Falls – a quick slide that shoots you off to a six-foot drop into deep water. Just steep and high enough to give me a little thrill, this slide takes some practice.
When they tell you to sit up straight, do listen. Lean too far forward and you'll land on your face (as my daughter did), too far back and you'll back-flop flat onto the water (as I did). Try it a couple times to land the perfect shot into the water.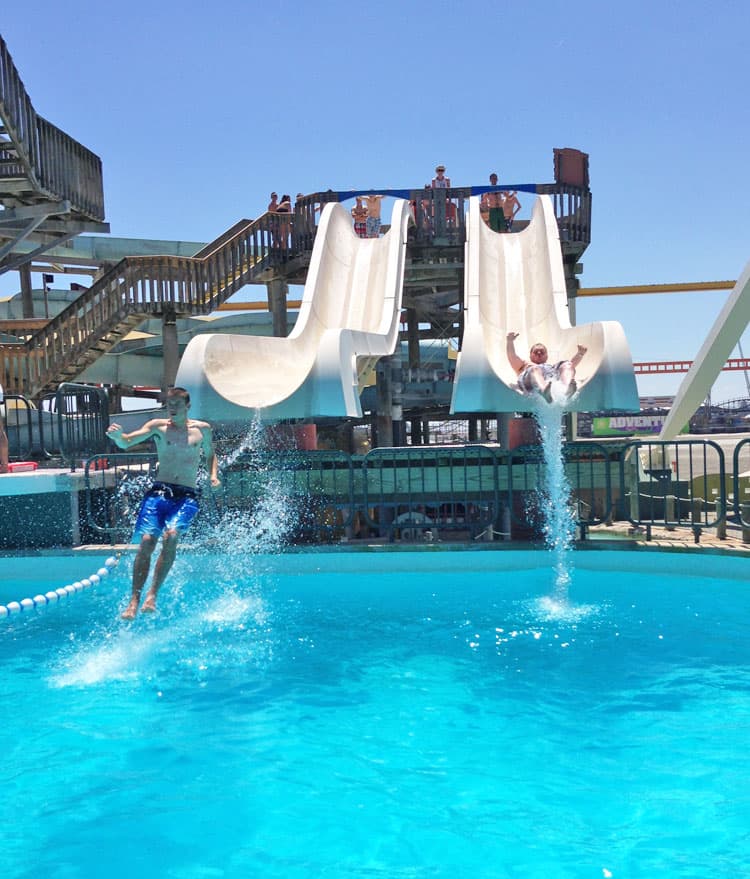 My nine-year-old daughter and her friend loved the Sky Pond Journey, which sends you down short sections of slide into four different elevated pools. They loved being able to float and talk and laugh in between each section.
Unfortunately, you had to wait in each pool for an attendant to pull you to the next portion of the slide. There were several people waiting in each pool to go down the next slide, and it was difficult to paddle to the slide entrance, so everyone waited their turn. Slide, wait, slide, wait. The girls loved it, but my favorite was the fast, long, and twisting Rocket Raft Slide.
I also attempted the rope swing. I hadn't tried one since the old days at Action Park. I imagined myself swinging back and forth like Tarzan then gracefully jumping into the water.
What I did can be most accurately described as jumping off the edge and sliding immediately down the rope, causing rope burns on the backs of my thighs. It wasn't pretty, but it was pretty fun. And I'd do it again.
The girls spent a lot of time in the Activity Pool, just swimming around and chatting. One entire wall of the pool forms a gentle slide that's great for all ages.
Serious Snacks
Eating at some water parks involves waiting on a long line, searching for a table, then ultimately standing while you try to balance your tray and eat at the same time. If you grab lunch at Wrecker's Beach Grill, you can eat at an umbrella-covered table overlooking the ocean. But if the tables are full, simply take your food out onto the beach!
Wrecker's serves a wide variety of food – burgers, wraps, salads, hummus, personal pizzas, ice cream, churros, and more. I had a fresh Buffalo Chicken wrap, while my daughter had Texas Taters – tater tots topped with taco meat, shredded cheddar, and diced tomatoes – and a churro for dessert. It was all excellent.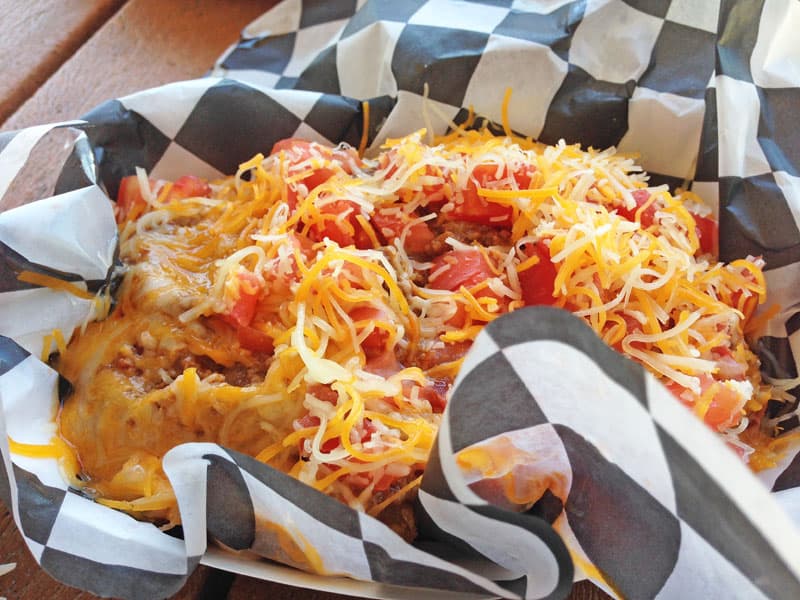 Right next to Wrecker's is Camp Kidtastrophe, the perfect place for younger kids to frolic with tiny slides, water guns, sprays, and more. It's also right on the beach – I enjoyed my time lounging in a chair, soaking up the ocean air, while the girls ran around and sprayed each other.
And of course Morey's Piers has tons of boardwalk/carnival food to enjoy. Don't miss the fried Twinkies and Curley's famous fries and shaken lemonade!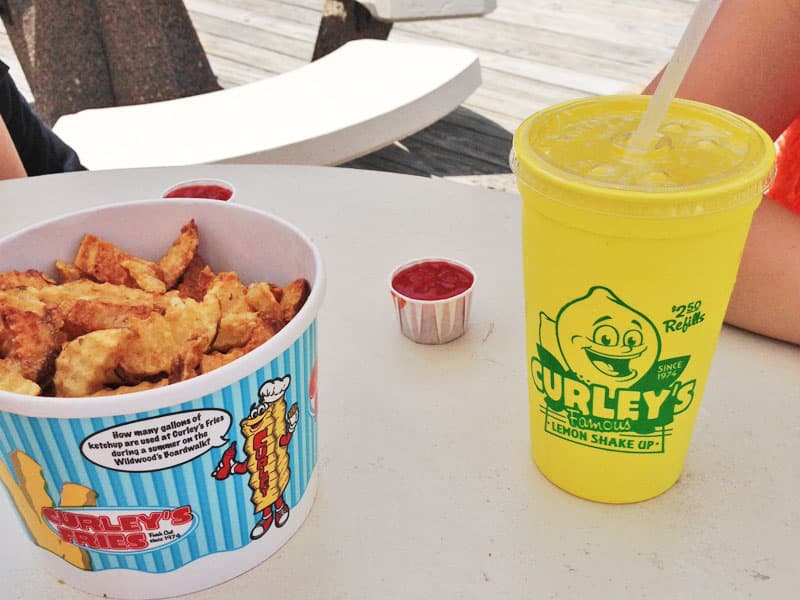 Lazy River Root Beer Floats
Imagine floating along the lazy river with an iced-cold, root beer float in your hand. Yes, you can!
It's easy to miss this feature, which I discovered from a video on Morey's Piers' web site. Not many people seem to know about it. As we parked our tubes in front of Trader Sams and climbed up on the rocks to order, I noticed several people pointing and commenting with surprise. The girls felt extra-special – like they had an insider's secret – as they floated along sipping their floats.
I didn't have a camera with me in the lazy river, but my daughter has re-created her float at home with her souvenir mug.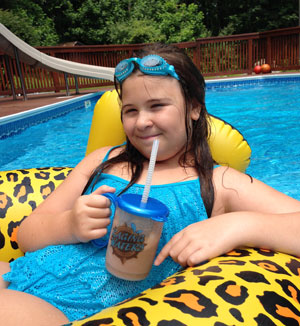 Tips for Visiting Raging Waters at Morey's Piers
Getting around Wildwood is easy. Many hotels are on, or close to, the boardwalk and the walk to Morey's Piers might be less than a mile.
There's also the Tramcar, which you will become very familiar with as you walk the boardwalk and hear "Watch the Tramcar, please!" blasted robotically and repeatedly from the loudspeaker.
The Tramcar is $3.00 per person for a one-way ride. But with a family of four or more, it would be cheaper to pay to park in a public lot. We didn't want to walk back to our hotel at night when we were exhausted from walking around all day, so we paid $20 to park in a lot right across the street from the Piers.
Raging Waters and Ocean Oasis water parks both open at 9:30am, but the piers (rides, food, games) open between noon and 2pm. The water parks close at 6pm, but the piers stay open until midnight.
I wanted to leave our suits and towels in a water park locker while we had dinner and enjoyed the rides, but that plan was thwarted when the water park closed at 6pm. Be sure to check their online calendar and plan your day accordingly.
The piers get more crowded as the day goes on. I found the best plan of action was to get to the water parks early, grab lunch at Wrecker's Grill by the beach, play in the sand for awhile, then dry off and head to the piers.
You could also spend the morning at the beach, then hit Ocean Oasis water park and Stubborn Brothers for a late lunch or early dinner – they close at 6pm so be sure not to miss it! Their food is phenomenal and the view can't be beat. Then you have the evening to enjoy the rides and games on the piers.
Where to Stay in Wildwood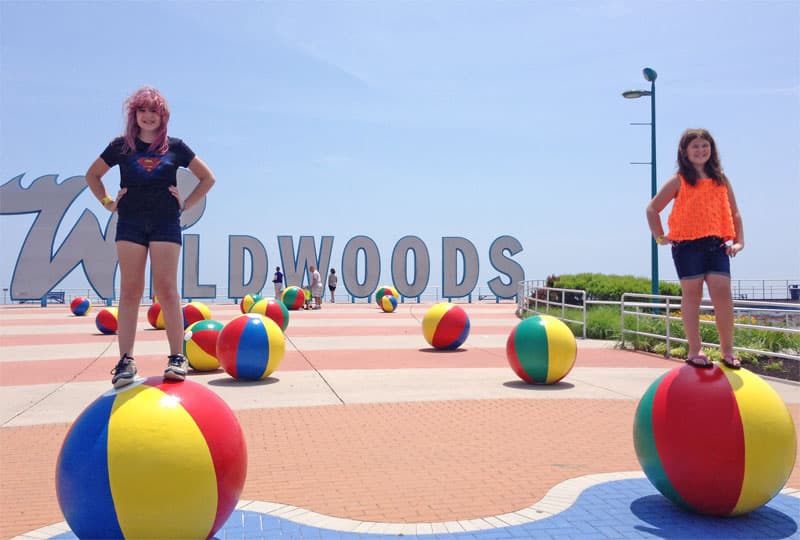 We stayed at the awesome StarLux boutique hotel, which I highly recommend! The rooms are small, but recently renovated, and the retro vibe is super cool. The staff was also wonderful.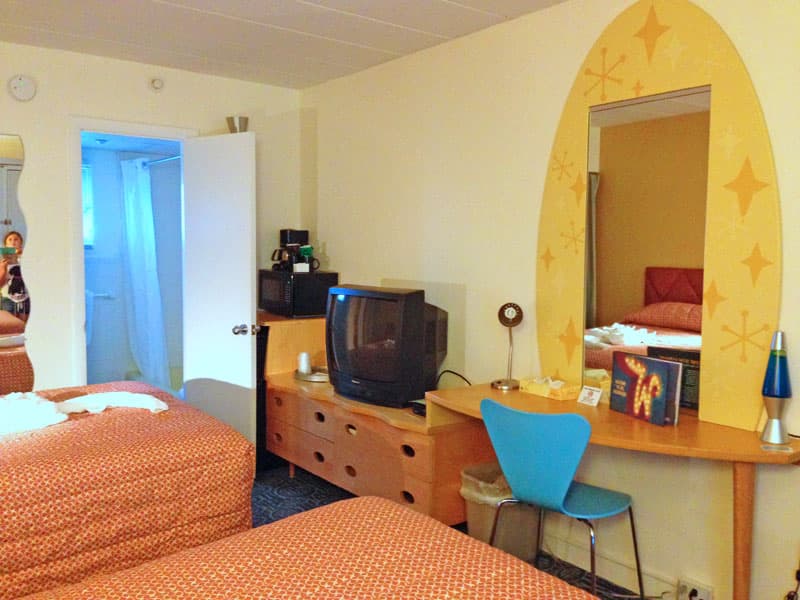 The StarLux is one block away from the beach and there's an amazing ice cream shop across the street. It also has a beautiful pool and hot tub.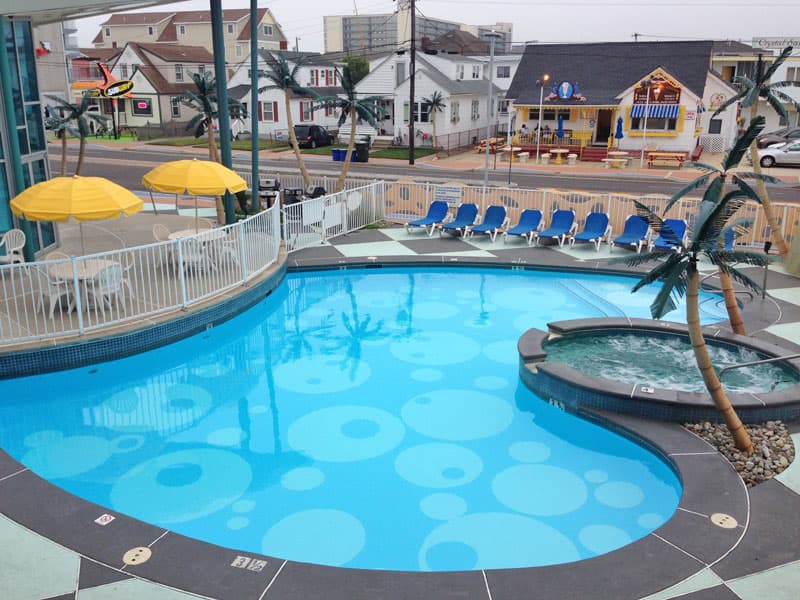 Raging Waters Water Park at Morey's Piers is a full day (or more!) of fun at a classic Jersey Shore boardwalk location. Between the beach, the rides, the food, and the water slides, you'll go home sun-kissed and satisfied.