This 3-day Yellowstone itinerary will help you get started on planning a trip to Yellowstone National Park – an amazing wilderness recreation area that encompasses about 3,500 square miles. Yellowstone is known for its geysers and hot springs, but it also features rivers, forests, canyons, and wildlife that provide a beautiful, diverse landscape for any outdoor enthusiast.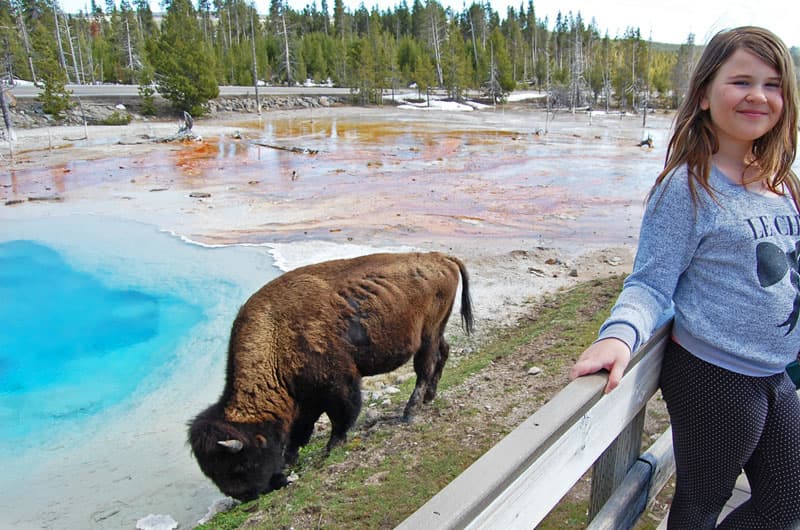 Yellowstone National Park is primarily located in northwestern Wyoming, with parts extending into Montana and Idaho. As I explored the park, I felt as if I was experiencing the Earth's evolution first-hand. Along the trails I witnessed pools of boiling, bubbling water carving out fascinating shapes and colors in the crust of the landscape.
My family visited Yellowstone in early May and some of the roads in the park were still closed due to snow. Be aware that many roads in the park are closed to vehicles from November to May. The best time to visit Yellowstone National Park is June through September, but the fall shoulder season is also beautiful if you go before the snow hits!
Of all the National Parks I've visited, Yellowstone is my favorite and Hotels.com asked me to share my best Yellowstone itinerary to help you plan an amazing adventure!
Where To Stay in Yellowstone
To begin planning your Yellowstone itinerary, you'll need to choose a place to stay and book early! Yellowstone is one of the most popular National Parks in the US, so booking your accommodations should be your very first step.
It's also very important to book lodging that is near the attractions you want to visit. There are two "loops" within the park – the upper (70 miles) and lower (96 miles). Driving the "grand loop" (around both the upper and lower) is 142 miles! And you'll be driving slowly with park traffic, animal crossings and sight-seeing stops.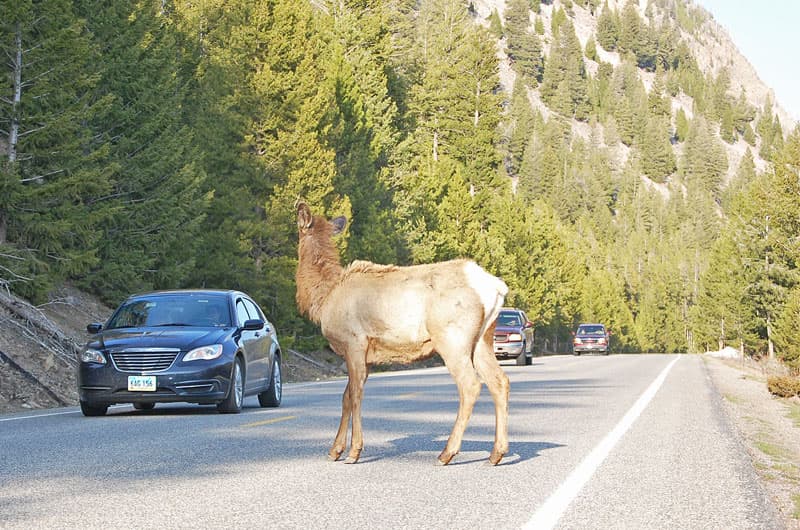 With a park this large, choosing the wrong lodging could mean spending an extra two to three hours in the car every day. Look at a map and choose wisely.
To follow this Yellowstone itinerary, I recommend staying in the park itself at Canyon Lodge or Old Faithful Inn, or in the town of West Yellowstone, which provides easy access to many of the park's best attractions.
When you're ready to book, check out these lodging options at Yellowstone National Park.
Day One: Old Faithful and West Thumb
The Old Faithful Visitor Information Center is the perfect place to begin your visit to Yellowstone. Old Faithful is the park's most iconic geyser, with its "faithful" eruption that occurs every 45 mins to 2 hours.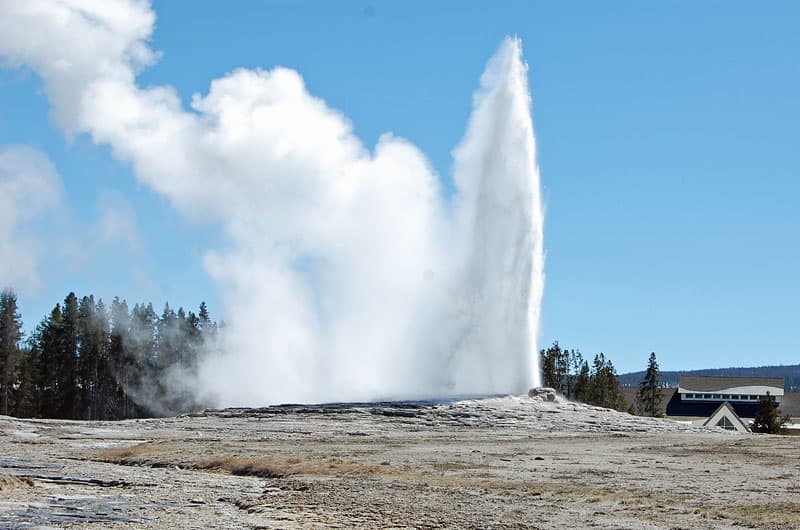 The viewing area is one of the most accessible in the park. There's a large parking area, benches all around for seating, and a ranger station that tracks the time, height and length of an eruption to help predict the next eruption.
To avoid crowds, head to Old Faithful first thing in the morning. After you've experienced the eruption, head to your car and drive southwest toward the West Thumb area. It's called "West Thumb" because Yellowstone Lake loosely resembles a hand and this area is the thumb.
For a short, scenic walk, take the West Thumb Geyser Basin Trail. This 0.6-mile loop trail follows a boardwalk along the shores of Yellowstone Lake and offers views of colorful hot springs.
If you're interested in a more challenging hike, check out the West Thumb Overlook Loop Trail. The 1.7-mile lollipop loop trail ascends steeply, passing backcountry thermal features, and brings you to a beautiful view of the West Thumb of the lake and the surrounding mountains. The trail then descends gradually through meadows and forests. This trail can be accessed from the same parking lot as the West Thumb Geyser Basin Trail, so you could do both in the same day!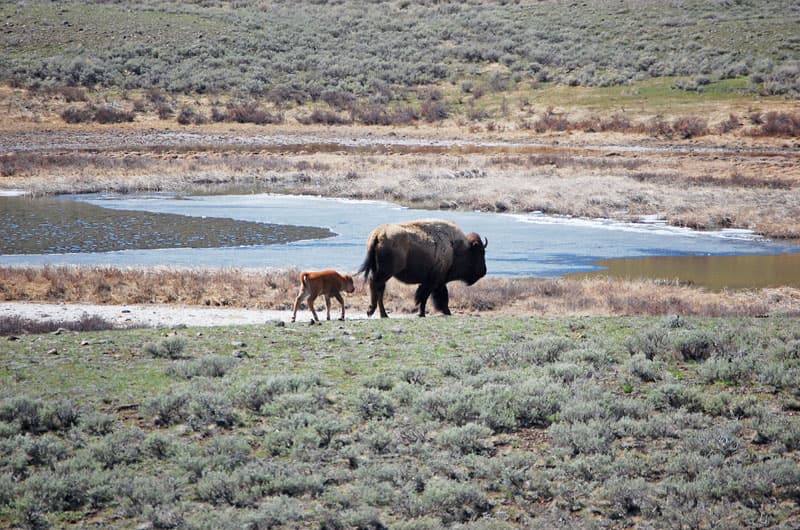 Note: Always familiarize yourself with trail conditions and bear activity before heading off on a longer-distance hike. Visitors centers, park offices, and rangers can give you this information. Carry rain gear, snacks, water, bear spray, a whistle, and other emergency equipment when venturing into the backcountry.
After your morning hike, you'll be ready for lunch! Drive about two miles south to Grant Village, a developed area of the park where you'll find restaurants, picnic areas, gift shops, lodging, camping, and more.
Once you have refueled, drive north along Yellowstone Lake. Keep an eye out for wildlife like bison and elk along (or on!) the road during this beautiful drive. There are several picnic areas along the road if you pack your own lunch and want to avoid the hustle and bustle of Grant Village.
What Can You Do On Yellowstone Lake?
If you love being on the water, take the afternoon to get out on Yellowstone Lake. You can take a boat tour or rent a rowboat or outboard at the Bay Bridge Marina. You can also get a fishing license for the day, or find a local outfitter that runs kayak and canoe tours (there are no kayak/canoe rentals available in the park). There are even remote campsites only accessible by kayak or canoe if you are looking for a backcountry experience.
But if water is not really your thing, you can make this Yellowstone itinerary your own. Just driving through the park along the lake is an amazing experience!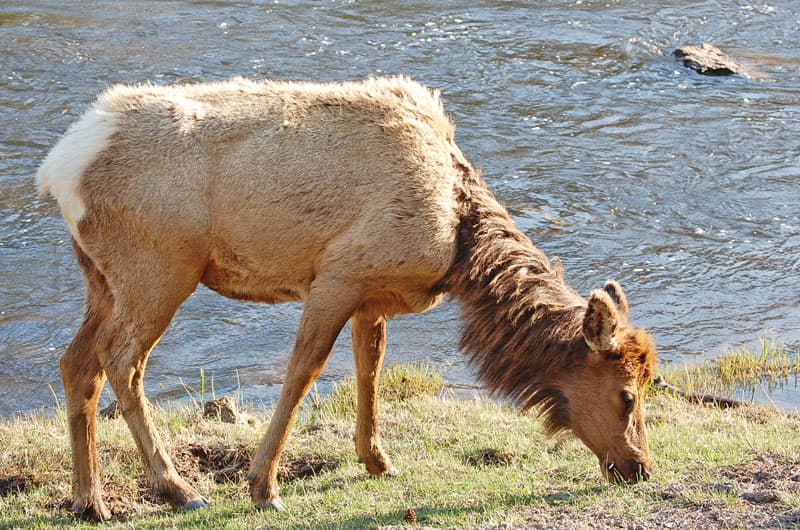 Or if you want more hiking and wildlife viewing, check out the Riddle Lake Trail three miles south of Grant Village. The 4.8-mile (round trip), out and back trail takes you through meadows and forests to the shores of a small, picturesque lake. You're likely to spot buffalo, elk, trumpeter swans, and many species of birds. The trail also crosses the Continental Divide!
Day Two: Paint Pots and Fairy Falls
On day two, I suggest having a nice big breakfast and packing some snacks to get you through the day. Today's itinerary isn't convenient to any restaurants in the park, but of course, you can adjust these suggestions if packing a lunch won't work for you.
You'll start at the Artists Paintpots. The Artists Paintpots Trail parking area is 3.7 miles south of the Norris Geyser Basin. The 1.1-mile loop passes through bubbling mudpots, steamy hot springs, and hypnotizing turquoise pools. It's an easy trail with lots to see.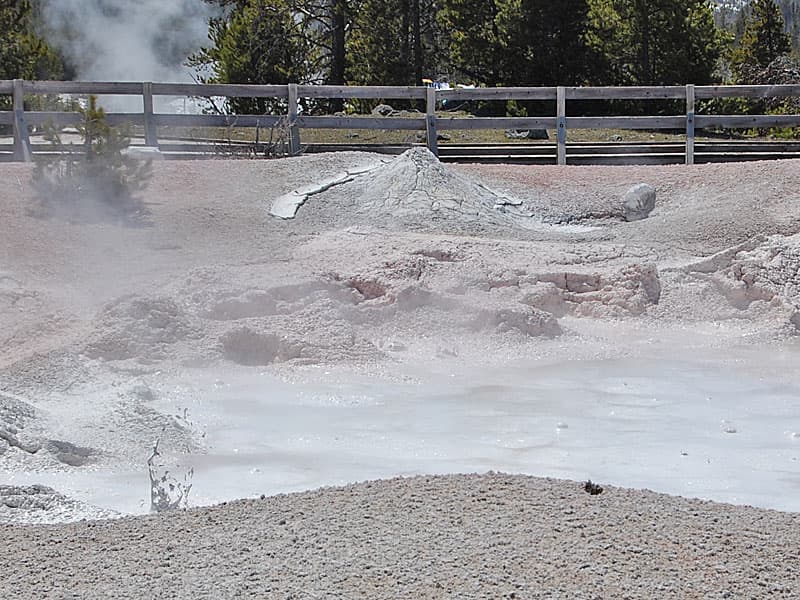 From there, drive south past the Madison Campground on Grand Loop Drive. Shortly after passing Madison, look for Fire Canyon Drive, a 2-mile, one-way road that parallels the main road. On Fire Canyon Drive, you'll see the Firehole River, Firehole Falls and the Firehole Swimming Area – one of only two swimming areas in the park. There are small parking areas, turnouts, and parking along the road so you can stop to experience these features.
If you have time after Fire Canyon Drive, stop at the Fountain Paint Pot Trail, which is south on Grand Loop Drive. It's a 0.6-mile loop on a boardwalk where you can see even more amazing mudpots, geysers and hot springs. This is a good time to have some lunch.
Fairy Falls: The Best Way to See Grand Prismatic
By early afternoon you'll want to get to the Fairy Falls Parking area, which is one mile south of the Midway Geyser Basin parking area. The Fairy Falls Trail is where you'll get the best views of Grand Prismatic Hot Spring. I recommend visiting this area mid-day or later. If you go early in the morning, there is often a fog that can prohibit you from seeing its glorious colors.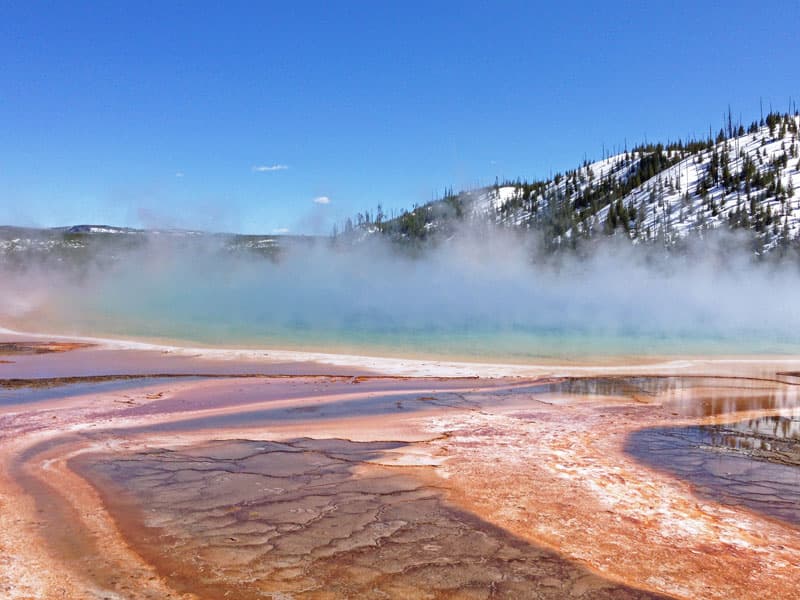 Grand Prismatic Spring is the third largest spring in the world – bigger than a football field in diameter. Extremely hot water travels 121 feet from a crack in the Earth to reach the surface of the spring. Bright bands of orange, yellow, and green – a result of different bacteria in the progressively cooler water – circle the blue waters of the spring.
As the most-photographed thermal feature in the park, Grand Prismatic Spring is beautiful up close, but it's even more stunning from afar. And you can get that view – and see a gorgeous waterfall – from the 5.4-mile (round trip) Fairy Falls Trail. Allow 2.5 to 3.5 hours for this hike.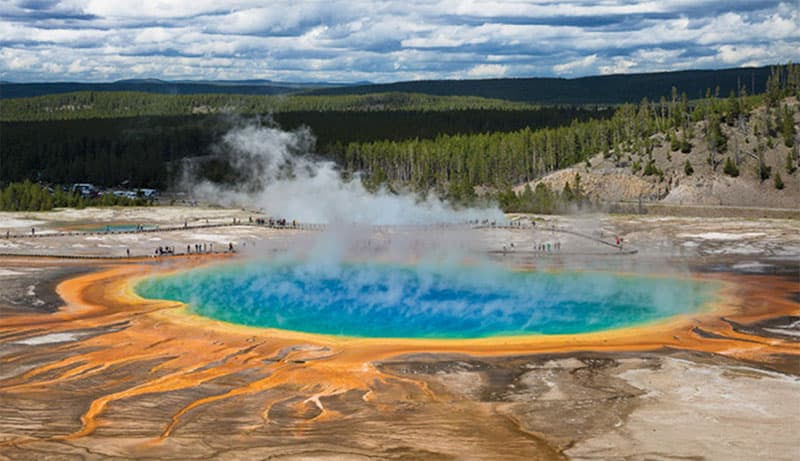 From the Fairy Falls parking area, take the trail for 0.6 miles and you'll come to a fork. Go left and uphill to the overlook for an incredible view of Grand Prismatic. After getting your photos, continue on the trail past the overlook and you'll meet up with the Fairy Falls Trail again.
About a mile from the parking lot, bear left on the trail and continue for about 1.7 miles more to get to Fairy Falls. The trail is flat, easy for all ages, and culminates at the 200-foot high Fairy Falls! After enjoying the falls, head back toward the parking lot, but stay on the Fairy Falls trail – no need to take the detour to the Grand Prismatic overlook again.
Earth Trekkers has a fantastic, detailed post of the Fairy Falls hike, so be sure to check that out!
If you have time on your way out of the park, stop by the Midway Geyser Basin parking area and walk the 1/2-mile-ish boardwalk that snakes through Grand Prismatic Spring, Excelsior Geyser crater, Turquoise Pool, and Opal Pool. This is typically a crowded area, but if you go late in the day you can usually find a parking spot and get up close to these awe-inspiring natural features.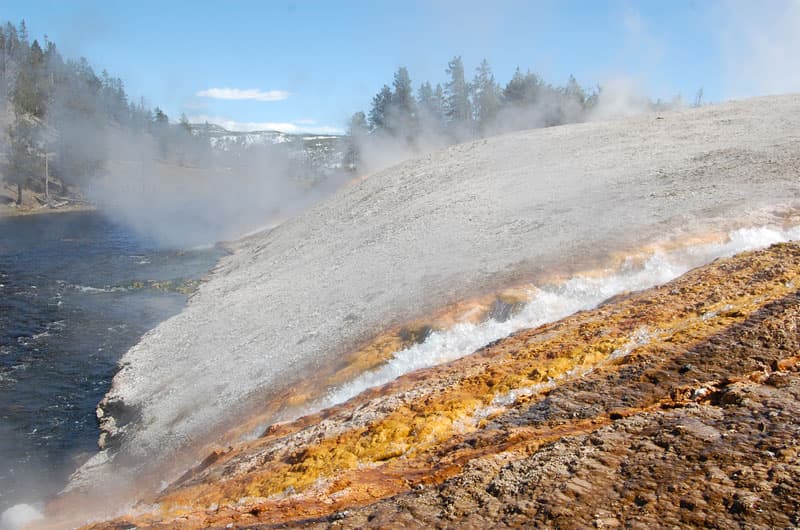 Day Three: Mammoth Hot Springs and Yellowstone Falls
On day three of your Yellowstone itinerary, you'll explore the Upper Loop of the park. You'll see the incredible limestone formations of Mammoth Hot Springs and the famous Yellowstone Falls – the largest in the park.
If your lodging is in the southern portion of the park or in the town of West Yellowstone, it could take you two hours or more to reach Mammoth Hot Springs, depending on traffic in the park. So get an early start and be sure to pack water and snacks.
Approximately 50 hot springs lie within the area. As hot, acidic water bubbles to the surface of these hot springs, it dissolves the limestone, which then reforms into a solid mineral when it's exposed to the air. The result is the formation of alien-looking terraces that have been described as a "cave turned inside out."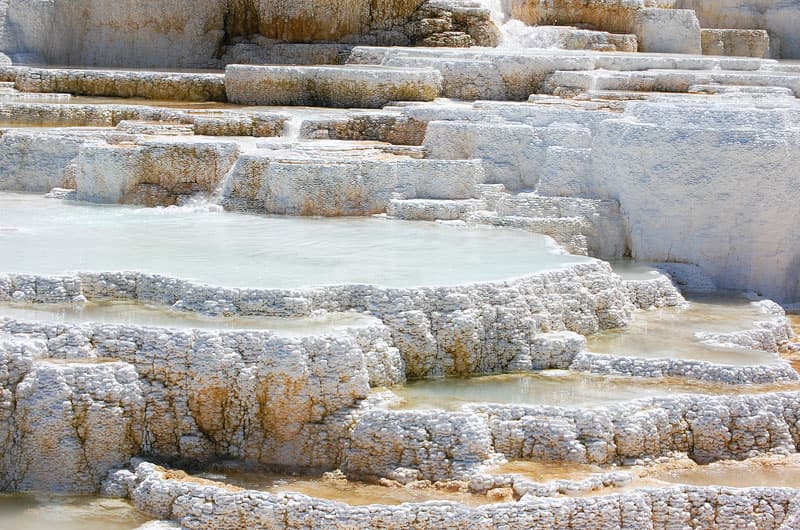 Mammoth Hot Springs has two terrace boardwalks, the upper and lower, which cover about two miles. Plan to spend at least an hour in this heavily-trafficked area.
There are several parking areas, restrooms, and restaurants at Mammoth Hot Springs. We had lunch at the Mammoth Terrace Grill and accidentally left behind my daughter's "baby bear" – her bear/blankie that she'd had since birth. There were many tears and we thought we had lost it forever. We went back the next day and were SO happy to find that an employee had picked it up and put it in the office for safe keeping. I will be forever grateful to that person!
Next you will drive east along Upper Loop Road toward Tower-Roosevelt, then down to Canyon Village. This area of the park was closed due to snow when I visited, but I know there is a ton to see and cannot wait to go back. Take your time on your drive and pull off when something looks interesting!
It could take another one to two hours to make your way down to the Canyon Village area (or more if you make a lot of stops). You're final destination on this Yellowstone itinerary is Yellowstone Falls. There are two falls – the Upper and the Lower.
At 308 feet, Lower Yellowstone Falls is the tallest in the park. You can access the falls just east of Canyon Village via the one-way North Rim Drive that takes you to the "Grand Canyon."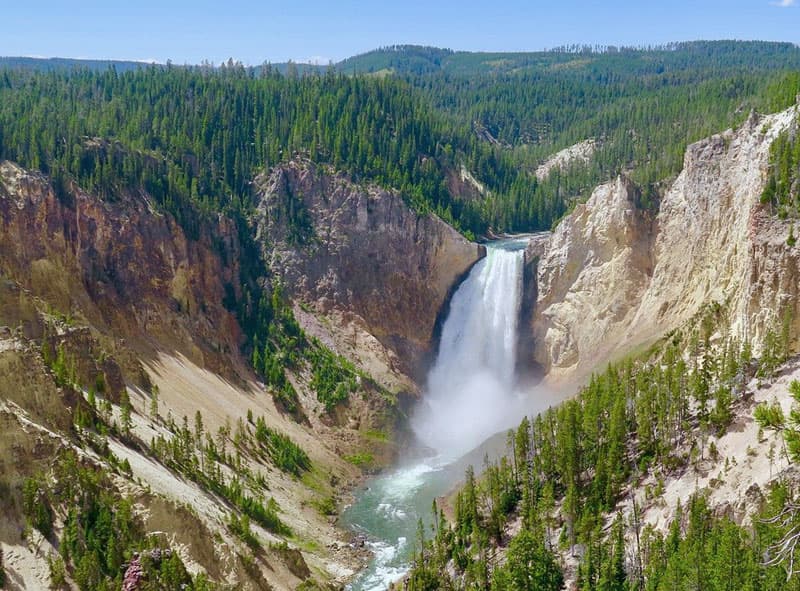 There are plenty of viewing locations along North Rim Drive, with most requiring only a short walk to access. Check out Lookout Point, Grand View, or Inspiration Point. You can also hike the North Rim Trail. The trail is about 8 miles but you can pick it up in several locations and hike just a portion.
One final spot you shouldn't miss is the Brink of the Upper Falls, where you can stand at the very top of the roaring, tumbling falls. Visitors say the experience of standing atop the Falls is one of the most breath-taking in the entire park.
From the Canyon Village area, drive south on Grand Loop Road and look for a left turn onto an unnamed spur road. The road is 0.4 miles south of North Rim Drive and 0.7 miles north of South Rim Drive. On that spur road, proceed another quarter mile to the Brink of the Upper Falls trailhead parking area. The walk to the Brink is just 3/4 of a mile round-trip, but it is steep with many switchbacks.
And that's three days in Yellowstone National Park! You will want to spend much more time there and will definitely want to return for a second visit to this unforgettable park.