Everyone knows about Amish country, but there are also some other really fun things to do in Lancaster County, Penn. From old-fashioned steam train rides to hands-on ice cream making fun, here are my top 4 things to do in Lancaster County.
The Amish Village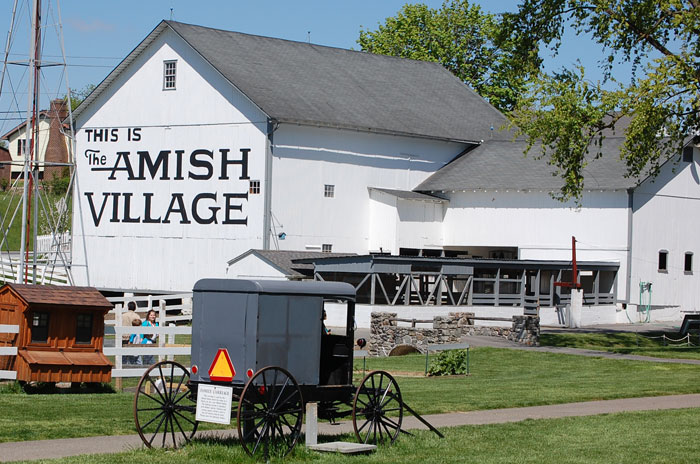 Located in Strasburg, Penn., The Amish Village sprawls across 12 acres of farmland. Visitors can take a guided tour of an authentic Amish farmhouse, then explore the grounds at their leisure.
The tour was short enough to keep kids interested, and long enough to provide insightful information. We learned that an Amish family typically cans and preserves 2,000 quarts of food per year. And I thought my 20 quarts of jam, pickles and salsa was a lot of work!
We also learned about their customs for clothing. They don't have closets, and did you know the Amish only wear white when they are single? You'll see and learn a lot about how they live day-to-day and the tools they use in place of the electricity we take for granted.
After the tour, we explored the one-room schoolhouse, blacksmith shop, water wheel, and barnyard, which was full of this kind of cuteness…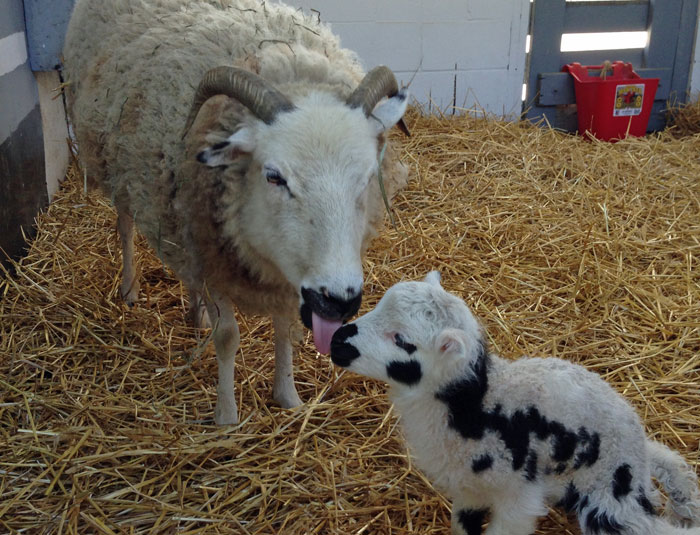 We ended our visit at the village store where we sampled the local favorite – whoopie pies! I've been tempted several times since my visit to drive the 2 hours just to buy their whoopie pies. They were that good.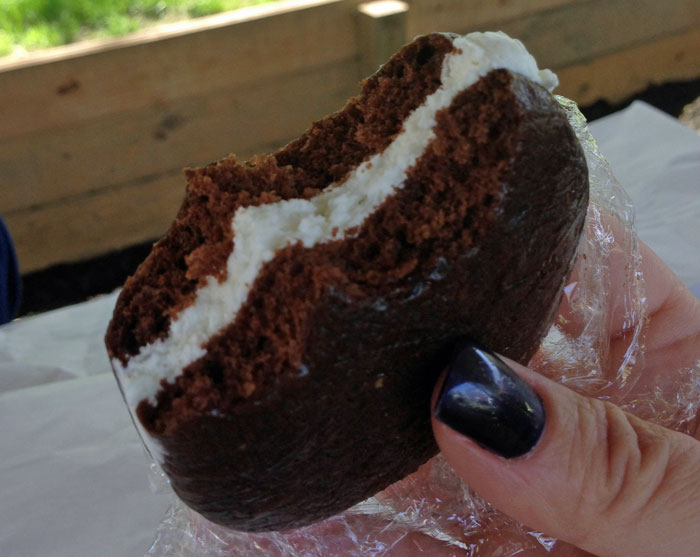 Strasburg Railroad & Choo Choo Barn
On the Strasburg train ride, you're treated to beautiful Amish country scenery and an entertaining history of the railroad and the surrounding area. You'll learn about the many movies that used the Strasburg train, as well as the legend of the Ghost Train.
You can pack a lunch and disembark at Groff's Grove, where you'll find a picnic and play area. A second picnic area is scheduled to open this summer. Or just ride the train round-trip and eat at the station cafe. And, of course, they have Thomas the Tank Engine events year-round.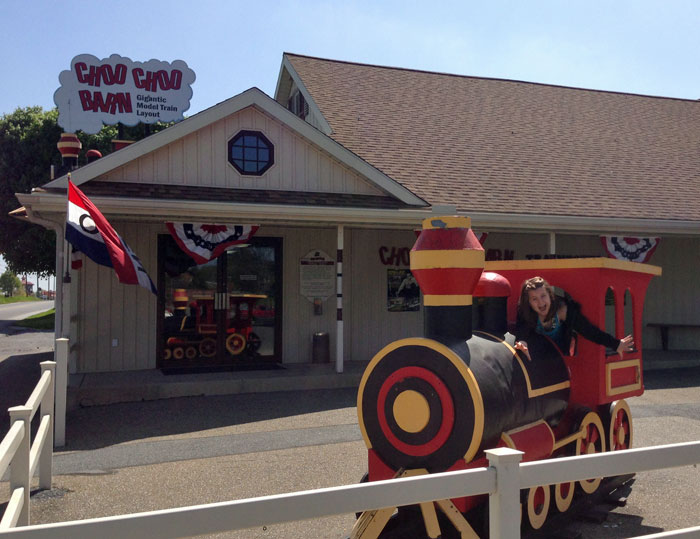 Less than a minute down the road from the train is the Choo Choo Barn, an immense model train layout. You walk around the perimeter of the indoor layout and take in all the amazing details.
This work-of-art is packed with small-scale local landmarks and detailed scenes from Lancaster County. Every ten minutes, the room transforms from day to night and the town lights up.
There are 22 operating trains and more than 150 animations, such as an Amish barn-raising, a circus and parade, a ski resort, real moving water and fish, and a fire crew that comes to put out a house fire.
The Turkey Hill Experience
My family calls the Experience the "ice cream museum." It combines the fun of a please-touch museum with education and a frosty treat – what could be better?
We started our Experience learning about the history and culture of western Lancaster County and the Susquehanna River Valley. Displays chronicle the history of Turkey Hill Dairy from its inception in 1931. Next we milked the mechanical cow and sat in the old milk delivery truck.
The Turkey Hill Experience offers several ingredient games, giving visitors the chance to measure, mix and match while racing against the clock. Then my kids caught site of the tasting bar and made a beeline to the free ice cream!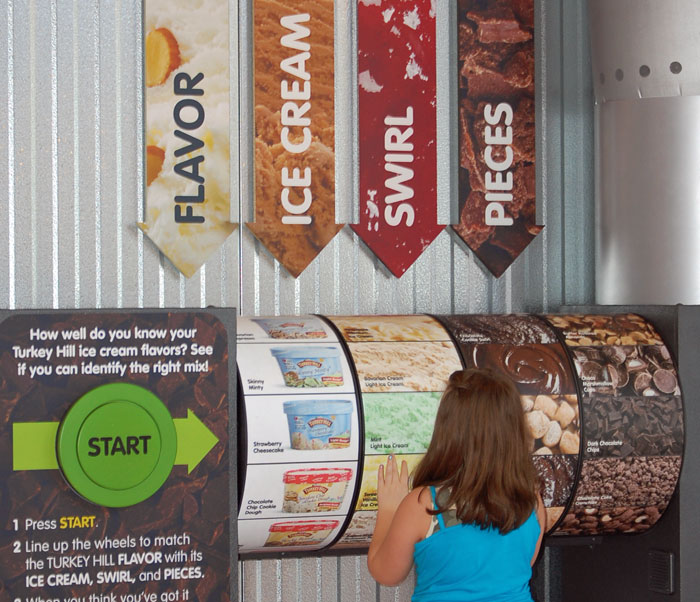 Even better than the free treats was filming a commercial in front of a green screen. First, create your own flavor and get a code that you type in at each subsequent station. Next, give your ice cream a name and design the packaging. Finally, stand in front of an actual green screen and record your commercial, which can be emailed to you. My daughter loved it so much, she did it twice!
And don't forget the Taste Lab! Participants are given vanilla ice cream, then choose from a plethora of flavorings, mix-ins and syrups. This is not any old make-your-own sundae bar – your creation is mixed and taken to the freezer to harden.
During that time, the learning continues with an "Ice Cream 101" class. Reservations and an additional fee are required. The Taste Lab was not open when we visited, but we'll surely be checking it out soon!
Where to Stay in Lancaster: Bird-In-Hand Family Inn
For a family-friendly, packed with activities, yet beautifully relaxing place to rest your tired body, try the Bird-In-Hand Family Inn. Step outside your room and you'll find all sorts of options to help the kids burn off that last bit of energy and get them ready for sleep!
The pool is always a popular post-dinner spot and the Inn offers two separate pools so you won't feel crowded. A landing adjacent to the pool has two billiard tables and a ping-pong table.
If your kids are older and you're comfortable being a few feet away from them, you can play pool while watching your kids swim (or vice-versa!) – it's that close. There's also a small arcade next to the pool. Their adjacent restaurant offers the Grand Smorgasbord for dinner.
The expansive grounds around the Bird-In-Hand Family Inn offer plenty of outdoor fun. There's a large playground structure, a pond with a walking trail around it, a petting zoo, tennis courts, a basketball court, scooter and motorcycle rentals, a fire pit, and miniature golf.
There's even more to do if you venture out of the area a bit to check out all there is to do in Hershey-Harrisburg!
With so much to do in the Lancaster area, why not start planning now?