As cooler air moves into the northeast and the leaves start to change color, the season is ripe for a trip to one of the best apple orchards in northern New Jersey. Weekends are made for a visit to the farm to pick your own apples.
Rural, northern New Jersey has some wonderful apple orchards that are easy to get to from the New York City area. Apple picking is a fun way to spend an autumn weekend and stock up on one of the fall season's best bounties.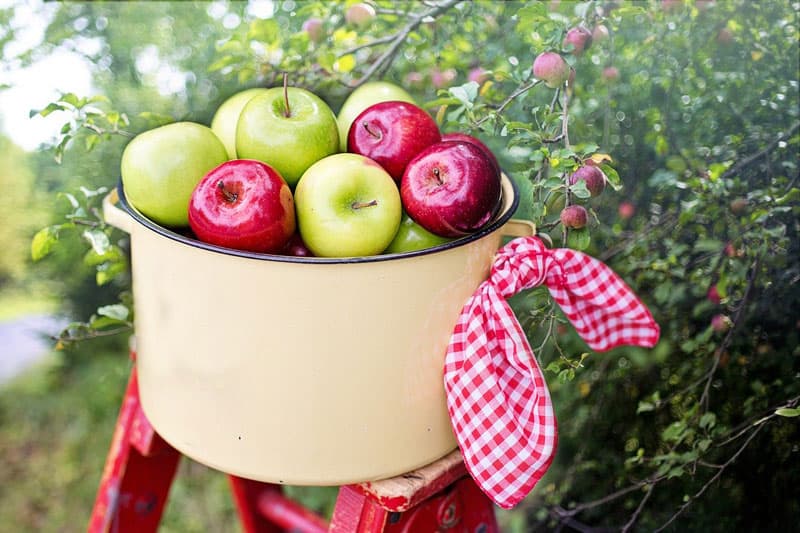 Melick's Cider Mill & Orchards – Oldwick
Less than an hour from New York, Melick's Town Farm Cider Mill & Orchards makes for a fun day trip. Hop aboard a tractor-pulled or horse-pulled wagon for a ride to the apple orchards. With 24 varieties of apples to choose from, including MacIntosh, Pink Lady, Jonagold, and Macoun, you'll have a great time strolling the rows of apple trees in search of the best apples. The orchards are also the perfect spot for selfies or family photos.
After you're finished harvesting apples, check out the old-fashioned apple press, which is used to produce fresh apple cider. There's also roasted corn on the cob and a hard cider tent for the adults. Down the road is Melick's Oldwick Farm Market, featuring seasonal fruits and vegetables, plants, jams, jellies, baked goods, fall decor and gifts, and their own apple wine, Chardonnay and Pinot Noir.
Giamarese Farm and Orchards – East Brunswick
Giamarese Farm and Orchards, near East Brunswick, offers more than a dozen varieties of apples, such as Fuji, Mollies Delicious, and Nittany (invented by Penn State). Located on 35 acres, about an hour southwest of New York City, Giamarese Farm has been in operation since 1941.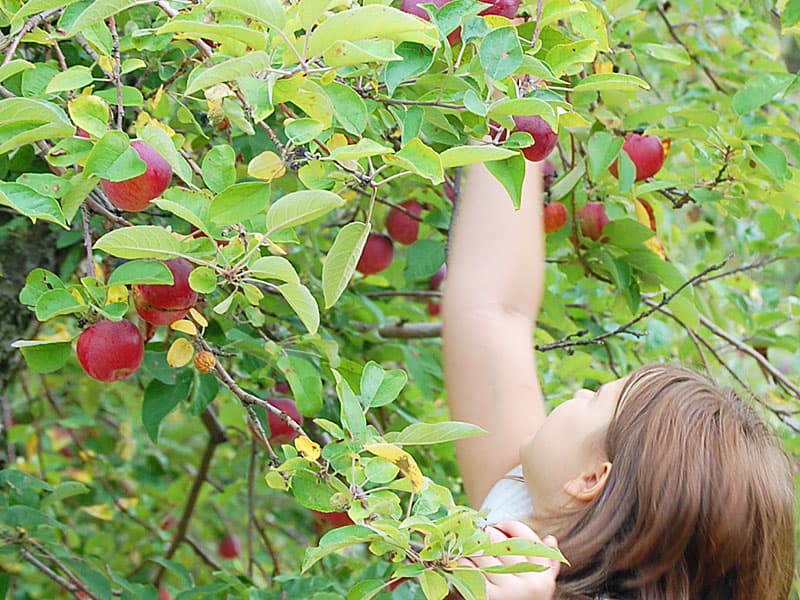 The farm celebrates the season with special activities on weekends as part of its Fall Festival. The hayride tour and corn maze is tons of fun for the family. In addition to apple picking, they have pick-your-own pumpkins, mums, straw bales, corn stalks, gourds and other fall decorations.
Sun High Orchards – Randolph
With about 15 varieties, Sun High Orchards near Randolph features apples such as MacIntosh, Stayman Winesap, and Ginger Gold. Visitors can use a bag provided by Sun High Orchards to pick the apples. About an hour west of New York City, Sun High Orchards encourages you to sample apples, but don't leave the cores on the ground.
Hayrides and pumpkin picking are also offered. Their farm market offers delicious pies, fresh corn, baked goods, and homemade ice cream. Sun High Orchards has a fun farm tour for the kids, though it has been canceled for the 2020 season.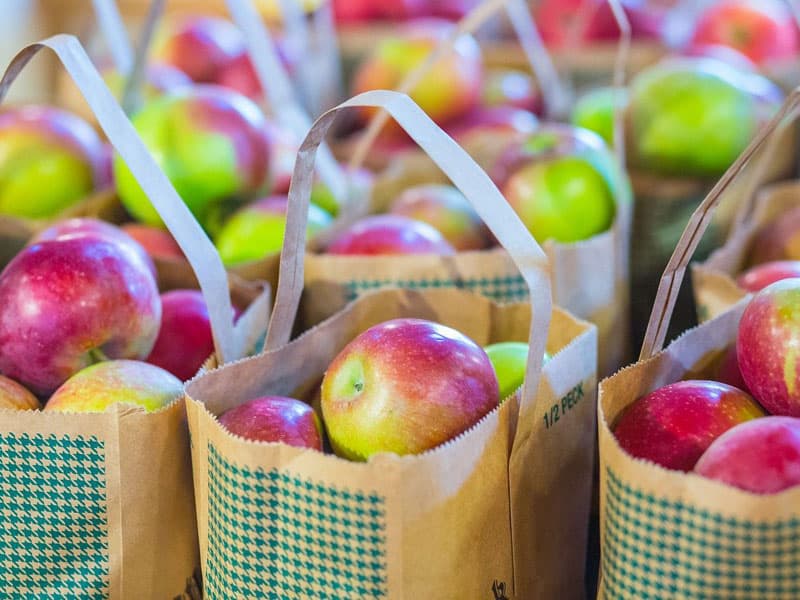 Hillview Farms – Gillette
Only a 40-minute drive from New York City, Hillview Farms features about a dozen varieties of apples, from Empire and Fuji to MacIntosh and their "Bumpy Mac" – a highly colored and superior flavored MacIntosh. Enjoy a wagon ride to the orchards, then pick your own apples in every variety.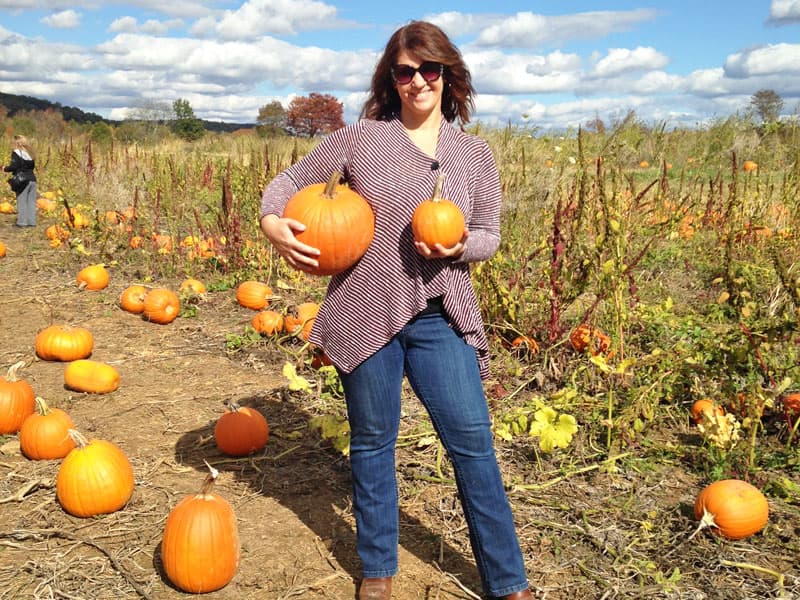 With more than 50 acres of crops, including pumpkins, the 150-year-old farm also has a country market, where you can purchase bags of apples, home-baked pies, free-range eggs, local honey, and more.
Riamede Farm – Chester
Priding itself on being an "old-fashioned" apple farm, Riamede Farm is home to nearly 40 acres of old seedling trees, planted in the 1950s. They believe they are the first pick-your-own apple orchard in New Jersey. Located near Chester, Riamede Farm is about an hour northwest of New York City.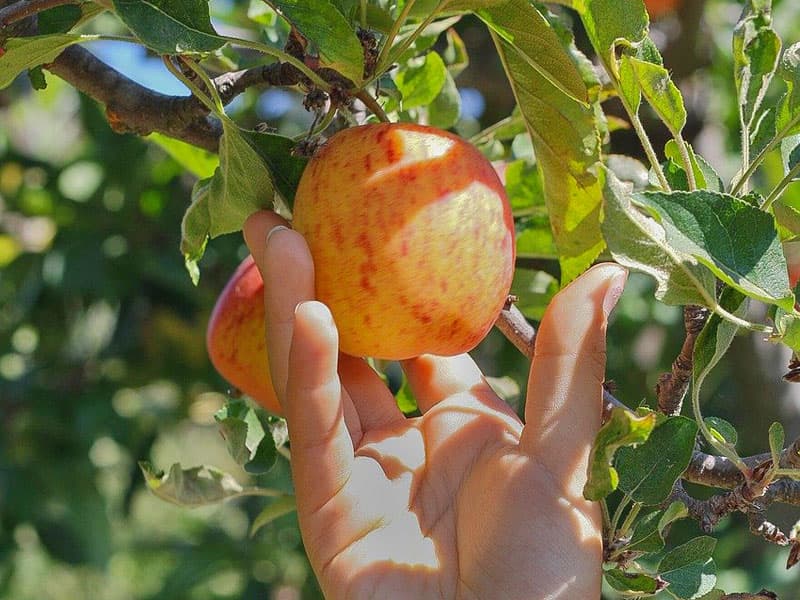 This orchard produces forty varieties of apples ranging from traditional classics to heirloom specialties to modern favorites. With so many types of apples, they each have their own ripening schedule. Check their web site before planning your visit so you can be sure to get your favorites.
Their farm market sells apple butters, jellies, syrups and more. And their apple cider donuts are delicious. Order online ahead of time and your order will be waiting after you pick your applies!
As you head to the orchards to select your favorite variety, ensure you pick enough for apple pie, apple crisp, and plenty to snack on. And don't be afraid to try a new type of apple – variety is the spice of life!