Many people think of New Jersey in two ways: the Jersey Shore or the crowded, urban gateway to New York City. The fact is, New Jersey was not nicknamed the "Garden State" as a joke. Much of the state is a rural playground full of parks, farms, rolling hills, rivers, museums, and living history. Here are 11 things to do in New Jersey that aren't on the shore. (This post was updated April 2018 with new information and latest pricing.)
Things to do in New Jersey: Outdoor Fun
1. Grounds for Sculpture: This amazing outdoor sculpture park will wow your whole family with beautiful art sculptures presented in a fun and unique way. Spend the day wandering the grounds, then eat at their Cafe for casual or Rat's Restaurant for fantastic food and a fine dining experience. The kids love the peacocks that roam free on the grounds. (Hamilton, NJ, adults $18, kids 6-17 $10, seniors $15)
2. State Parks: There are several serene, scenic State Parks in New Jersey with hiking and biking trails, canoeing, fishing, swimming, picnicking, and more. Some of my favorites include High Point State Park (with a monument marking the highest point in the state – great views!), Washington Crossing State Park (see bonus section at the end of this post!), and Hacklebarney State Park (forested park along the Black River with great trails and waterfalls).
3. Diggerland: Doesn't every little boy dream of driving a big digger? This construction-themed adventure park allows visitors to drive, ride, and operate heavy machinery in a safe, family-friendly environment. Fodor's named Diggerland one of the "10 Best Family-Friendly Amusement Parks in the U.S." in 2015. They also have a great rock climbing/ropes course. Check out my review of Diggerland. (West Berlin, NJ, under 42″ tall – $29.95, over 42″ – $34.95)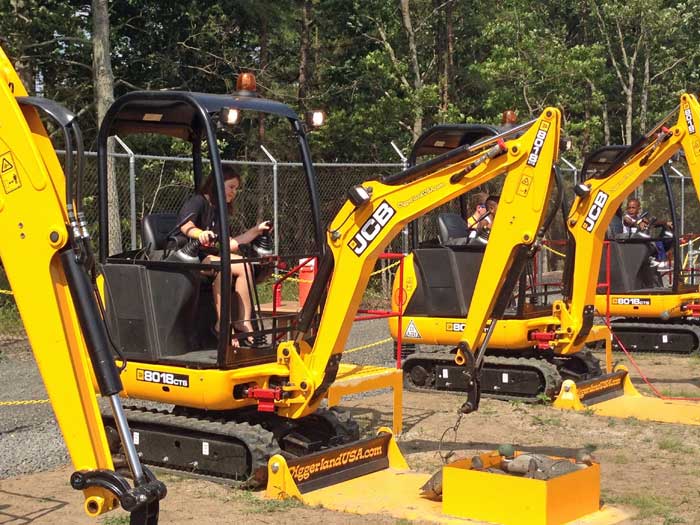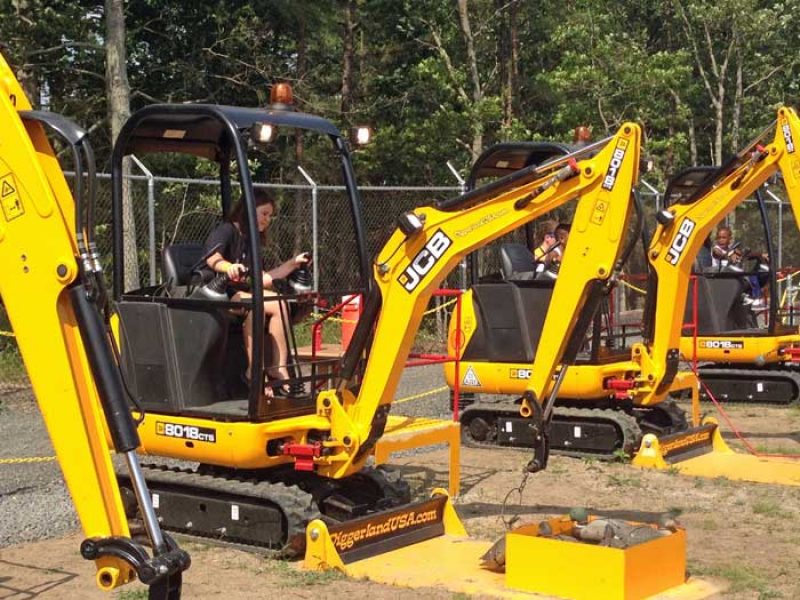 Things to do in New Jersey: Rainy Day Fun
4. Sahara Sam's Oasis: Minutes from Diggerland is Sahara Sam's indoor/outdoor water park with plenty of awesome water slides, lazy river, surfing simulator, lots to do for all ages, easy access to lockers, restrooms and changing areas, an arcade, and more. During warm-weather months, their Outdoor Beach Club offers a leisure pool, a children's splash park, a 12,000 sq ft wave pool, a full service Tiki bar, sand volleyball courts, and the "Samazon" – the world's tallest rope-climbing adventure course. Note: Sahara Sam's can get really crowded. Avoid weekends and peak times if possible. (West Berlin, NJ, ages 3+ $34.99)
5. Northlandz: Rainy day? Northlandz holds the Guinness World Record for Largest Model Railroad with 100 trains traveling over more than 8 miles of track. If you have a little (or big) train lover in your family, they will enjoy the fascinating details in this model railroad museum. (Flemington, NJ, $13.75, ages 2-12 $9.75, ages 62+ $12.50)
6. Liberty Science Center: The spacious layout and hands-on exhibits at Liberty Science Center draw you in to the wonder of science and experimentation, and the inspiring views of the New York City skyline remind you of freedom at every window. There's so much fun to be had. (Jersey City, NJ, adults/teens $22.75, ages 2-12 $18.75, additional cost for special exhibits and theater shows)
Things to do in New Jersey: Educational Fun
7. Turtleback Zoo: Turtle Back is the best zoo in New Jersey, in my opinion. In addition to lots of great animal encounters, they offer mini golf, train rides, pony rides, a carousel, zip lining, and more! The Outback Aviary – home to over 500 free flight Australian grass parakeets, as well as kookaburras and lorikeets – is one of my family's favorite experiences. Visitors can purchase a feed stick and have birds literally eating out of their hands. (West Orange, NJ, adults/teens $15, ages 2-12 $7, seniors $12, under 2 free)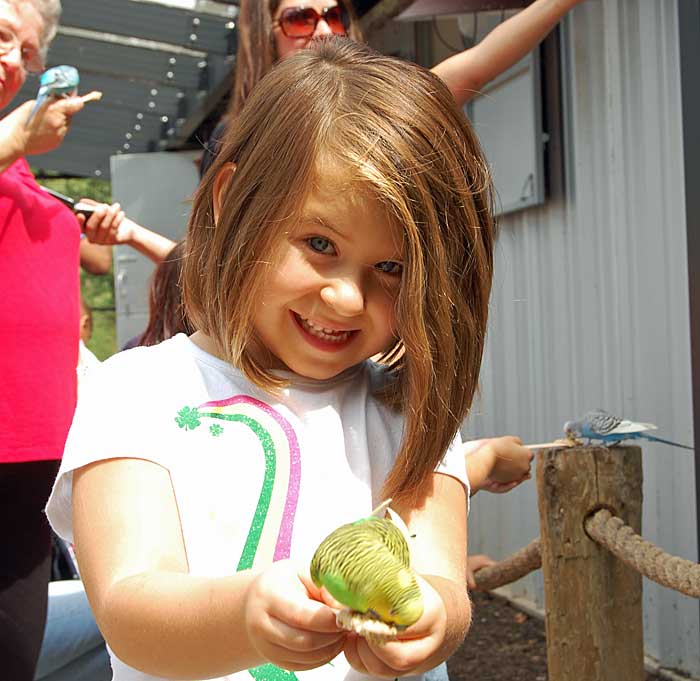 8. Lakota Wolf Preserve: Beautiful spot to hike and learn about the true behavior of the wolf. Lots of other wildlife to see here, too. They are not open to the public to come any time – you must join a wolf tour, offered twice per day (closed Mondays). (Columbia, NJ, adults/teens $15, ages 11 and under $7)
9. Howell Living History Farm: Step back in time to 1900 and spend a day working on the farm. Lots of animals to see and knowledgeable workers dressed in period clothing. They host all kinds of special programs throughout the year. If you visit in October you can experience one of the most challenging corn mazes around! (Lambertville, NJ, free admission and parking) Related: Schaefers Farm for the scariest haunted hayride. New Jersey's Hunterdon and Warren counties are well-known for their autumn/Halloween farm experiences.
10. Field Station: Dinosaurs: Walk along the tree-lined paths and marvel at the life-like dinosaurs moving and bellowing in the bushes. Field Station: Dinosaurs is a wooded park inhabited by more than 30 life-size, animatronic dinosaurs and has been described as a "mini Jurassic Park." They also offer several interactive exhibits, games, workshops, and educational live shows. Read my review of Field Station: Dinosaurs! (Leonia, NJ, $15.50)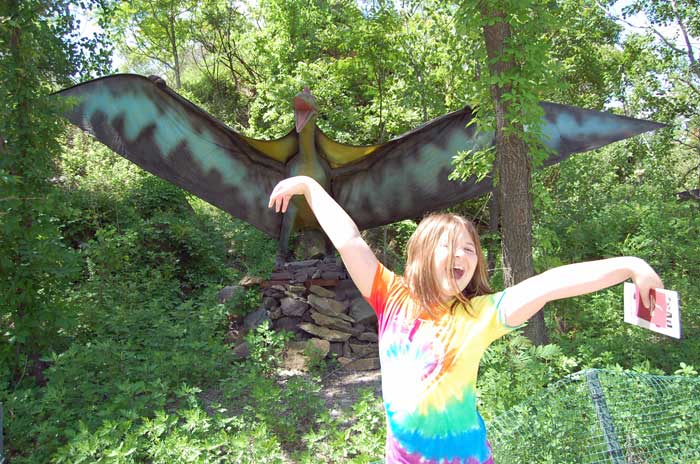 11. Old Barracks: New Jersey is full of colonial and revolutionary history. The Old Barracks Museum brings the world of colonial America to life through interpretive programs, exhibits, and preservation. Visitors will come out with an appreciation of New Jersey's history, the diverse people who made it, and why it matters. (Trenton, NJ, adults $8, students & seniors $6)
Bonus: Things to do near New Jersey
While the following are not technically in NJ, they're just a quick hop over the Delaware River into Pennsylvania and are can't miss attractions when you are in western NJ.
Ringing Rocks Park: Just over the Delaware River from Milford, NJ, this amazing park boasts a seven-acre field of boulders that's not only fun to climb on, it's also musical! Many of the rocks, when struck with a hammer, ring like bells. The park also offers beautiful hiking trails, rivers and waterfalls. And be sure to visit the town of Milford for great shops and eateries like Descendents Brewing Co. and Chocolate in the Oven! (Upper Black Eddy, PA, free admission and parking)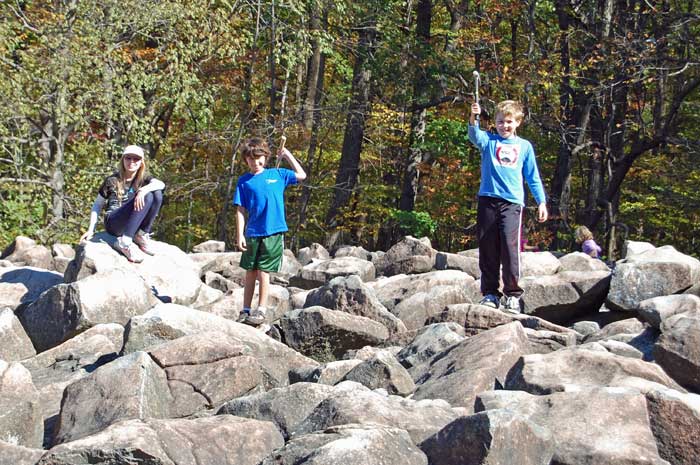 The Crayola Experience: See how crayons are made, then experience hands-on coloring, drawing, painting and creating with the latest Crayola products. Plan to spend 2-3 hours at Crayola, then check out another nearby attraction: the DaVinci Center or the Martin Guitar Factory are both good choices. (Easton, PA, $18.99, under 3 free)
Bowman's Hill Tower: A commemorative monument to George Washington and his army, this tower stands 125 feet tall and provides stunning views (visit during peak fall foliage!) of the Delaware River, New Jersey and Bucks County, PA. The surrounding grounds are a wildflower preserve. Located in Washington Crossing Historic Park, where Washington and his men crossed the Delaware on Christmas night in 1776. (Washington Crossing, PA, $6)