Butterbeer. You've read about it in the Harry Potter books. Maybe you've tasted it at The Wizarding World of Harry Potter at Universal Orlando. If you're like me, you've even tried to duplicate the recipe at home with minimal success.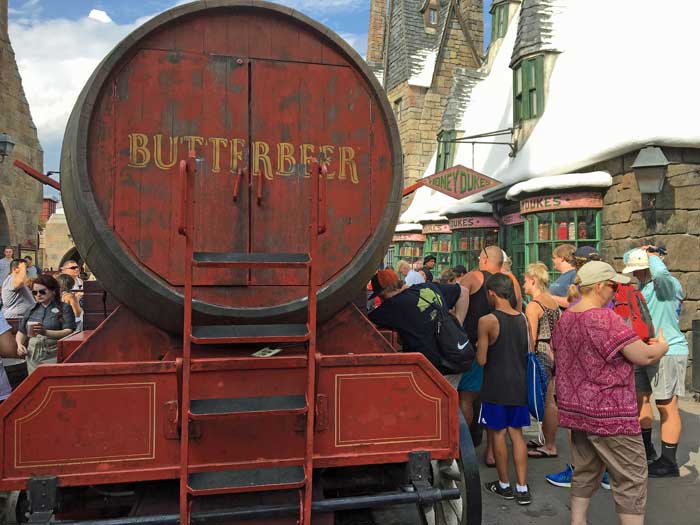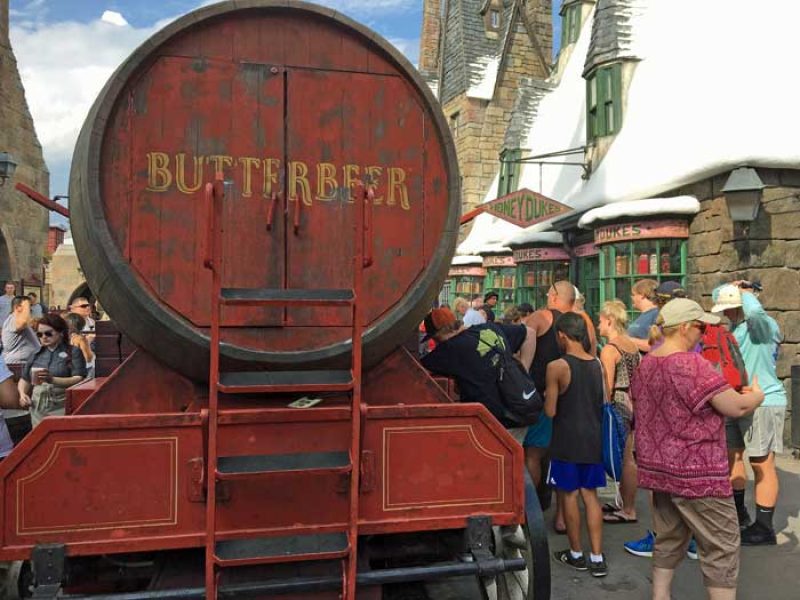 Butterbeer's sweet, cream-soda-butterscotchy flavor is one of my favorites and I've over-indulged every time I've visited Hogsmeade. With the opening of Diagon Alley at the Wizarding World of Harry Potter, we got two new forms of butterbeer – hot and ice cream. During my recent visit, I had the difficult challenge of comparing all four versions and declaring my favorite.
Cold Butterbeer
For those who haven't visited Universal, I need to mention that butterbeer is completely non-alcoholic. The cold version tastes like a cream soda with a burst of butterscotch, topped with a bit of foamy cream. The light carbonation, not severe like a soda, gives it a slightly creamier feel in your mouth.  While tasty, cold butterbeer is my least favorite option.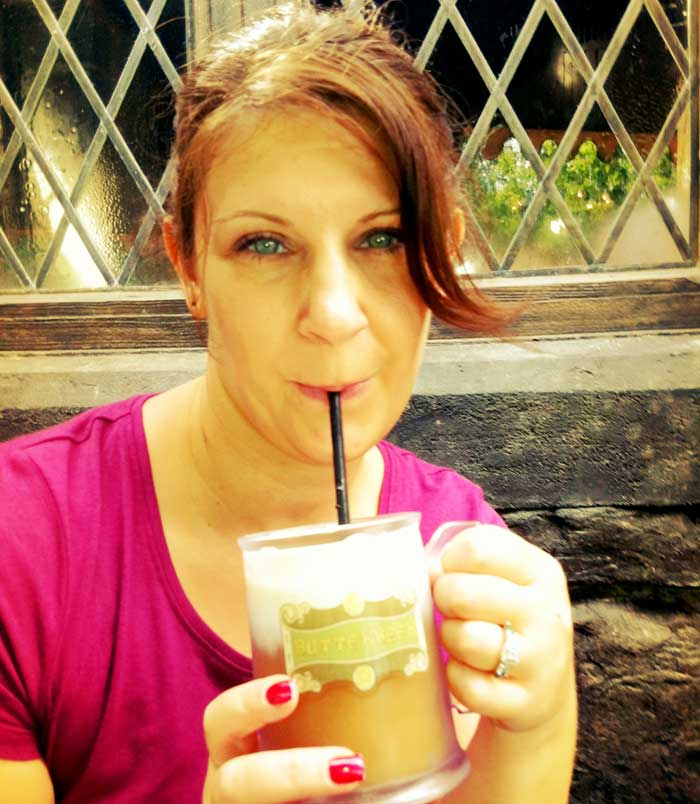 Frozen Butterbeer
Never mentioned in the books or movies, frozen butterbeer was probably created to cool off guests at the steamy Florida theme park. This version is like a slushy, and yes, it can give you brain freeze. Less like soda than its cold sister, frozen butterbeer's icy texture topped with creamy froth is a big win. It's the first thing I buy when I get to Universal. Unless it's early morning…
Hot Butterbeer
This is the way to start your day. Let me say that hot beverages are my weakness. I love all types of coffees, teas, and hot chocolates. A trip to Starbucks or Teavana makes my day. So it's really no surprise that the hot version of butterbeer would win an instant spot in my heart. Smooth, sweet, and butterscotchy, hot butterbeer is nothing like coffee, but a bit like a super-creamy white hot chocolate. In my two days at Diagon Alley, in humid, 90+ degree weather, I consumed four hot butterbeers (along with one cold and two frozen – all in the name of research!).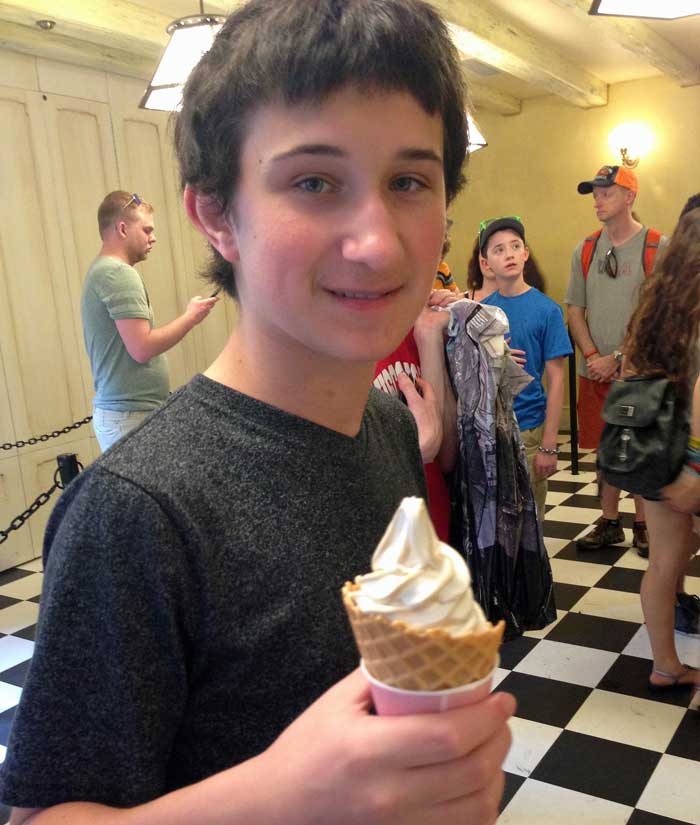 Butterbeer Ice Cream
I was slightly disappointed with butterbeer ice cream. Florean Fortescue's Ice Cream Parlor serves up unique hard ice cream flavors such as Earl Grey & Lavender, Sticky Toffee Pudding, and Chocolate Chili (which is quite spicy – glad I had a scoop of vanilla with it to cut the burn!). But the butterbeer ice cream was simply soft vanilla with butterbeer flavoring swirled in. I was hoping for an intense butterbeer flavor in a hard ice cream. The soft-serve was tasty, but I'll likely opt for more of the other intriguing flavors on my next visit.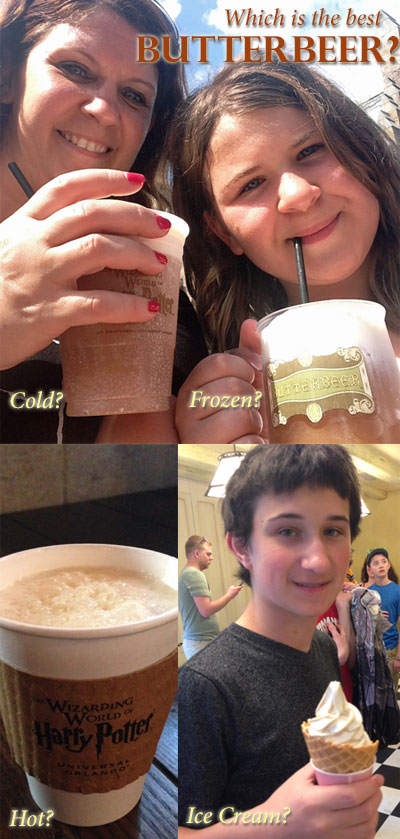 So what's the best butterbeer in my book? I have to choose the hot butterbeer, with frozen coming in a very tight second.
Every time I walk into the Wizarding World of Harry Potter, I catch my breath. Every time I visit, I discover something new. The shops, rides, and dining immerse you in Harry's world like no other book-to-real life experience. Read more about my time at Hogsmeade in this article on Family Rambling. And if you're looking for a place to stay, I highly recommend Universal's Cabana Bay.
Have you tried butterbeer? What version is your favorite?