If you're planning a vacation to Universal Orlando in Florida and want to watch your budget, Cabana Bay Beach Resort is the place to be. Its reasonable pricing, combined with loads of fun, family-centric activities and early park entry, make it one of the best options for a Universal Orlando vacation.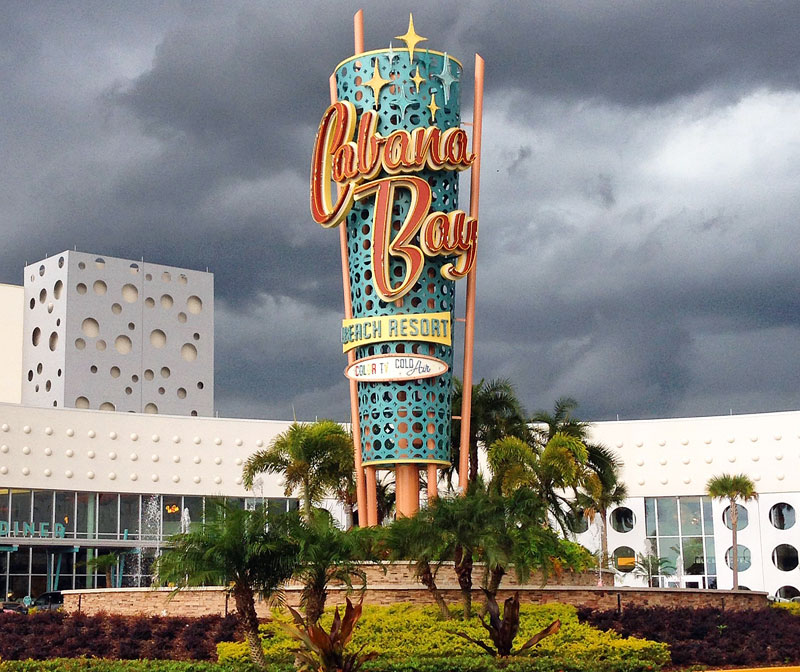 Rooms at Cabana Bay Beach Resort
The 1950's-themed Cabana Bay Beach Resort is full of colorful, retro decor, classic cars, and even throw-back amenities like V05 shampoo. Rooms at Cabana Bay aren't huge, but they are more than adequate. Standard Rooms, priced around $150/night, come with:
Two queen size beds
One 40″ flat panel television with HD channels
Coffee pod brewer
Mini refrigerator
Iron, ironing board, hairdryer and in-room safe
Complimentary wireless internet access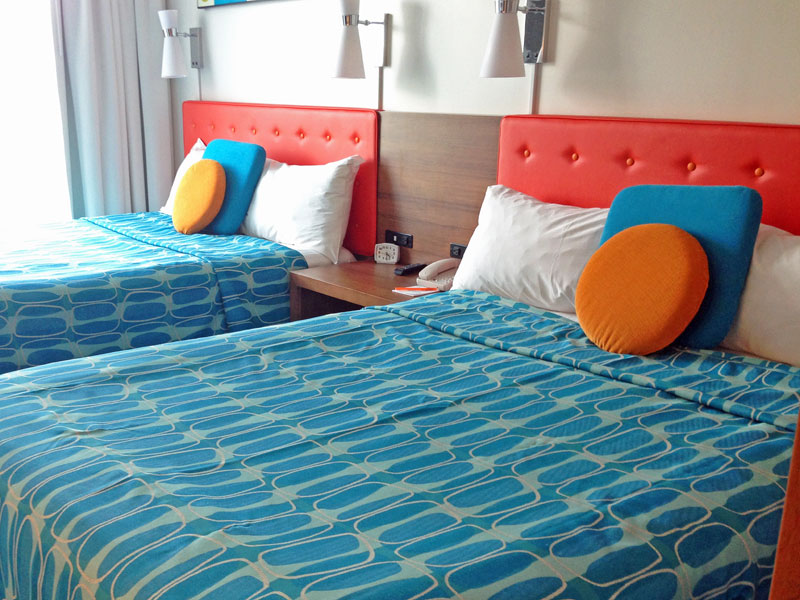 But I highly recommend a Family Suite, priced around $175/night, mainly because of the brilliant bathroom design. The bathroom allows ample space for three people at the same time with a large sink and mirror area in between two rooms – one room with the toilet and one room with a shower/tub and second sink.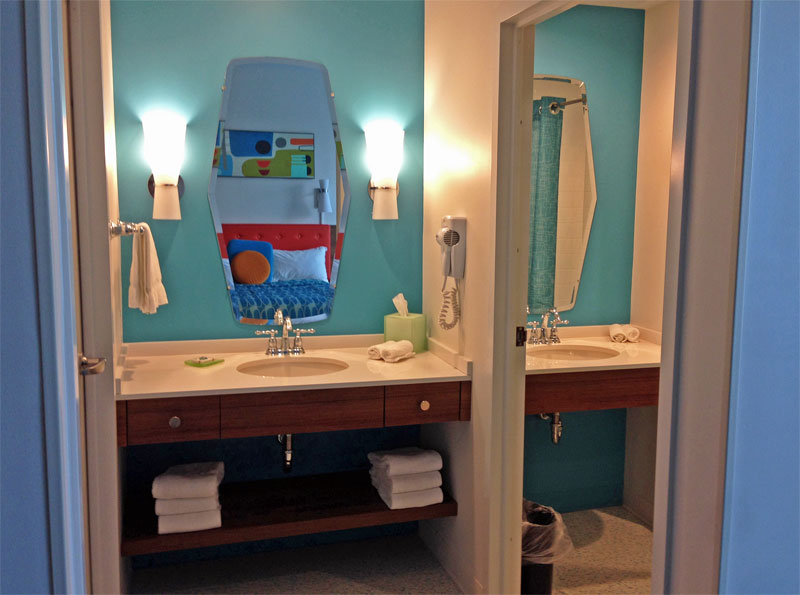 When your family is trying to get out the door to enjoy the theme parks, this excellent bathroom design helps move everyone along a little faster!
Family Suites, which can sleep up to 6, have everything the Standard Rooms offer, plus a sitting area with a table, sofabed, two chairs, and another TV. There is also a kitchenette with a microwave, mini-frig, and small sink.
Tower or Courtyard?
Cabana Bay Beach Resort has two sections: Tower and Courtyard. The Tower is like a traditional hotel with interior corridors. The Courtyard is laid out motel-style with rooms that are outside-entry.
While both sections offer large pools, the two sections offer different water features. The Tower pool area has a lazy river which is rather fast-moving and awesome fun! The Courtyard pool area has a water slide, hot tub, and games like ping pong and hula hoops.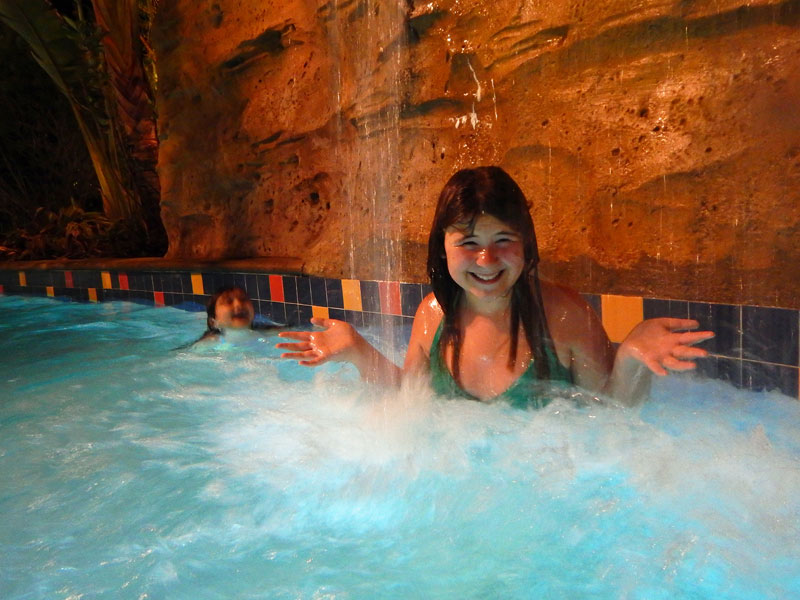 Both pool areas have a kid's splash pad, fire pits, and access to pool-side food and drinks. And both areas are open to all guests – no matter what section of the resort you are staying in.
In between the Tower and Courtyard, you'll find a bowling alley, arcade, gift shop, and movie theater. And don't miss the Jack Lalanne Fitness Studio – where even getting in shape is retro with classic fitness competitions and workouts being shown on black & white TVs. It's worth a walk-through even if you don't plan to exercise.
Cabana Bay Beach Resort has regular events like character appearances, s'mores by the fire pits, and movies at the pool. After a day at Islands of Adventure, my family absolutely loved lounging on inflatable tubes in the pool while watching a movie on the big screen!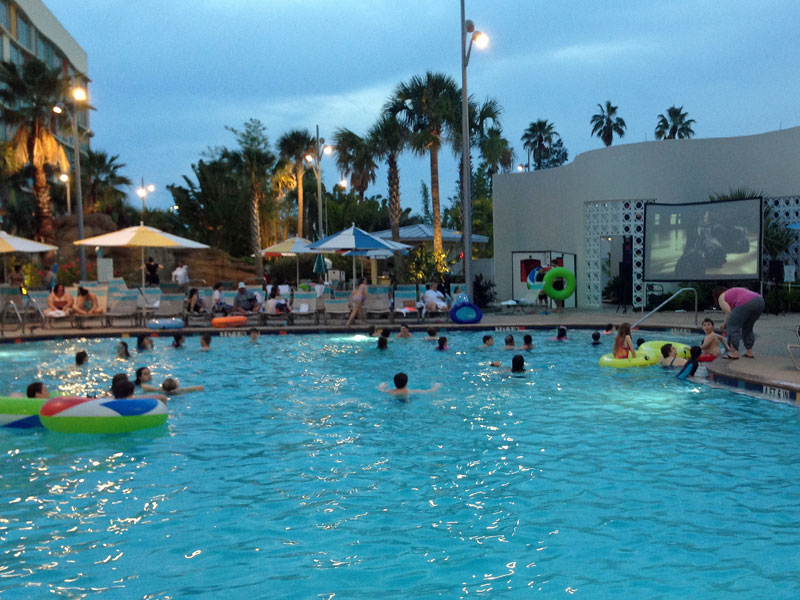 The only thing the resort is missing is a high quality restaurant, though it's probably not needed. Guests interested in fine dining are just a free shuttle bus ride away from all the excellent restaurants at nearby CityWalk: Hard Rock Cafe, Jimmy Buffett's Margaritaville, Toothsome Chocolate Emporium, Vivo Italian Kitchen, and more.
Cabana Bay does have the Bayliner Diner, a cafeteria-style restaurant, which is fine for a better than average quick serve dinner or late-night snack. In fact, the diner offers an excellent salad bar with a wide choice of fresh ingredients. Plus, the on-site Starbucks offers a quick breakfast with all the coffee and specialty drinks you expect.
Perks of Staying at Cabana Bay for Your Universal Orlando Vacation
Booking your lodging at Cabana Bay gives you a lot of perks!
You'll get early admission to The Wizarding World of Harry Potter – one hour before it opens to the public. Get in there early and get your butterbeer!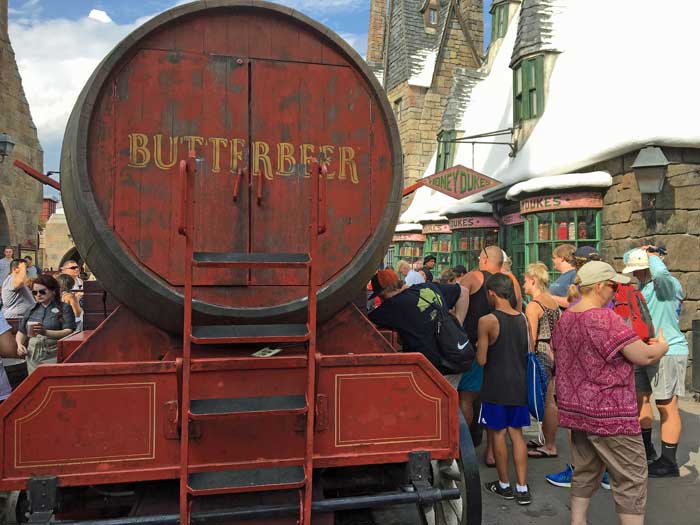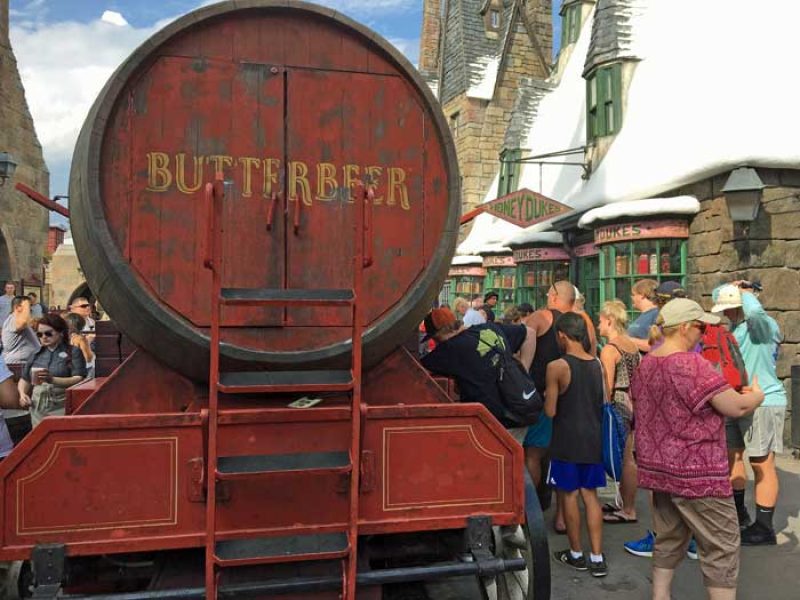 Complimentary shuttle buses leave from Cabana Bay starting at 7am, and there are also walking paths to both Universal Orlando theme parks and Universal CityWalk.
Your Cabana Bay room key gives you resort-wide charging privileges. It's super convenient, especially if you have older kids. This came in handy when my teenage son went to a different section of the park with his friends. He was able to buy food with his room key and not have to worry about carrying cash or a credit card.
Another perk is complimentary delivery of souvenirs. It's a drag to carry bags of souvenirs through the park. If your kids end up buying a stuffed Cat in the Hat, Minion slippers, and a Griffyndor robe, you can get it delivered directly to your room and not have to carry it around all day.
With all these terrific theme park perks, two fantastic pool areas, and those brilliantly-designed family suite bathrooms, Cabana Bay Beach Resort will be my family's first choice for our next trip to Universal Orlando.