Disney World offers something for everyone and the thrill-seekers in your family can definitely find rides to get their heart racing! With two teenagers and an adrenaline-loving husband, my family heads straight to the extreme rides at Disney World. These are our favorites, ranked in order of intensity from lowest to highest.
Soarin' at Epcot
Is Soarin' a thrill ride? I find it beautiful and relaxing. But others find this simulated flight around the world a bit more stimulating and, yes, thrilling.
Soarin' has a height requirement of 40" and it may be a little intense for those with a strong fear of heights. Guests sit in long rows of seats, buckled in with a lap belt. You store your bags and belongings in a cubby under your seat, and if you're wearing flip-flops it's a good idea to just leave them on the ground by your feet. You'll come right back down to the same spot when the ride is over.
As the ride begins, you are lifted into the air toward a large screen in front of you and your legs dangle from the seat. But after that, you really don't move. You only feel like you're flying because of the 3-D movie you are watching.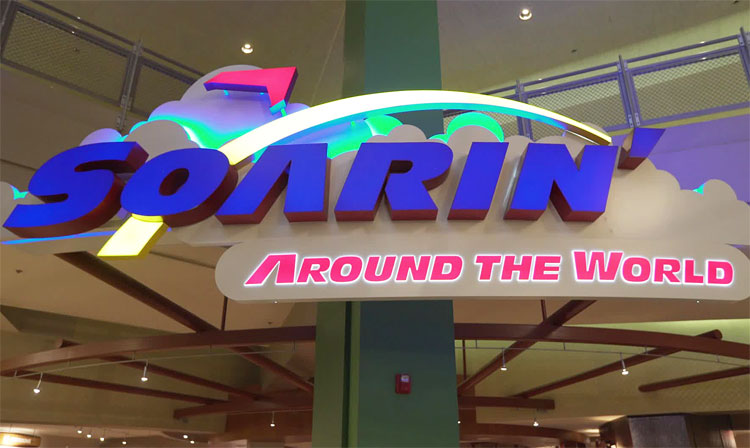 Soarin' flies you over several landmarks around the world including the Taj Mahal, Great Wall of China, Mount Kilimanjaro, The Eiffel Tower, and an aerial view of Disney's fireworks as the conclusion. And you'll even smell some scents on your trip (there's a beautiful, earthy smell of grass when you soar over a herd of elephants in Africa) making the experience even more real.
Test Track at Epcot
This ride starts out in the design studio where you create your concept car on a large touchscreen. Next, you board a six-seat car, attached to a track, to test your vehicle!
During your test drive, you'll test braking maneuvers, cornering, and acceleration. The big finish is a lap around the Test Track pavilion at speeds of up to 65 miles per hour.
Test Track is thrilling but pretty low-key, and you'll quickly discover that you don't really get to test the vehicle you created in the design lab. But I do think there's enough tie-in to convince younger riders that it's "their" car. The speed lap part of the ride is the most fun, especially since your car is open – like a convertible.
The minimum height requirement is 40" for Test Track and the post-ride area has actual cars you can sit in.
Star Tours at Epcot
Another 3-D, motion-simulated ride, Star Tours will shake you and rock you a bit in your seat, but you really don't move anywhere. Riders sit in a large room with rows of seats that do not leave the ground. The action happens on a big screen.
Based on the Star Wars movies, this ride puts you on a transport vehicle and well… things go wrong. You will race through the stars, crash on planets, and more. Star Tours has more than 50 combinations of scenes, so even if you ride it several times, you're not likely to get the exact same experience.
The minimum height requirement is 40" and it may be troublesome for those prone to motion sickness. You will wear 3-D glasses for this ride and if it ever gets a little too intense, you can make it all stop by simply closing your eyes. I had to do this with some of the "racing through space" scenes!
Mission: SPACE at Epcot
Mission: SPACE places you at the fictional International Space Training Center where you learn to either pilot a spacecraft to Mars or orbit the Earth. There are two options for this ride: the Orange Mission and the tamer Green Mission. I've ranked this ride based on the Green. If you choose Orange, it would rank higher on the intensity scale.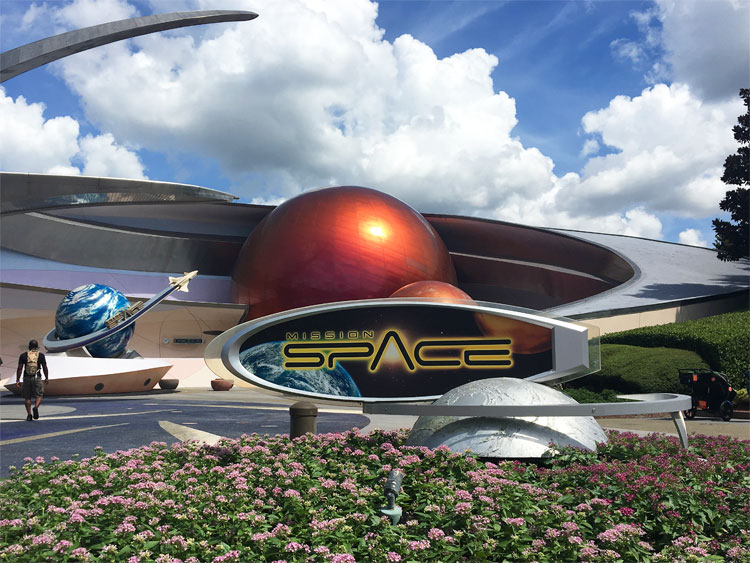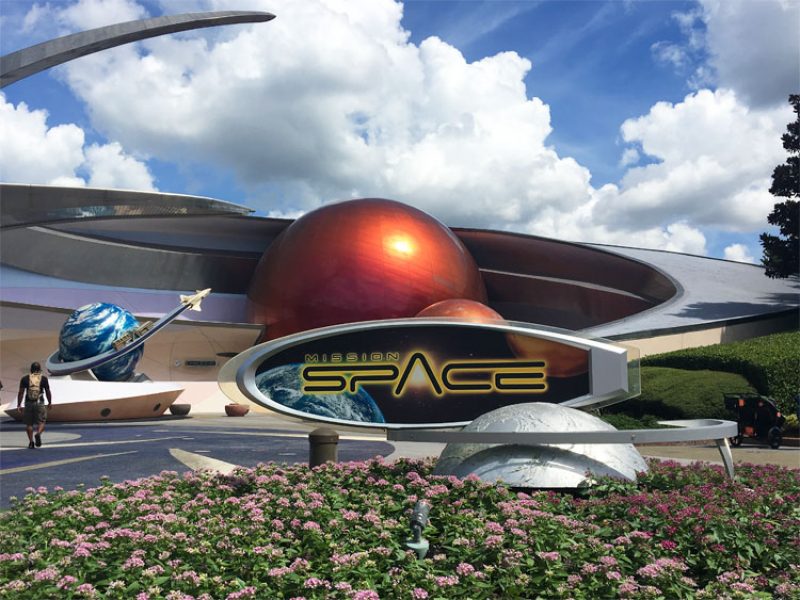 In both versions, riders are placed in groups of four and each given a specific duty for the mission. Your team boards a capsule and experiences take-off, flight, and landing. The difference is that the capsule spins in the Orange Mission and does not in the Green. Height requirement for the green mission is 40". For the orange, it's 44".
From the queue to the training to the pods you ride in, it's all very realistic. The Green Mission is pretty similar to the Soarin' experience, but with a view from further out in space. It's still a very immersive experience, but you skip the G-forces of Team Orange.
The Orange Mission is truly a thrill ride. It uses motion-simulating, centrifuge technology that makes you feel like you are really hurtling into space. During lift-off, you'll experience sustained G-forces of up to 2.5G as you accelerate. Your capsule will tilt and spin (motion sickness bags are included on this ride). Once you slow down, you feel a moment of "weightlessness" that is pretty cool. It's not true weightlessness, but some astronauts who have ridden say it comes pretty close to the real thing!
Some motion simulator-type rides are easy to personally "shut down" by closing your eyes. But that's not recommended with Mission: SPACE. Since it's not just 3-D, the centrifugal motion doesn't go away when your eyes are closed. It's best to try to keep your eyes focused straight ahead, similar to keeping your eyes fixed on the horizon if you get car sickness.
Visiting Disney World during the International Food & Wine Festival? Check out my 12 Best Bites and Tips for Doing the Food & Wine Festival Right!
Slinky Dog Dash at Hollywood Studios
Slinky Dog Dash is a family roller coaster based on the Toy Story movies. It's got curves, dips, and very mild drops, but, topping out at 40 MPH, it's not that fast. The minimum height requirement is 38".
The theming for this ride is outstanding. In the queue, you see Andy's plans for building the coaster sketched out, along with giant Crayola crayons, Tinker-Toys, Army men, glue bottles, empty toy boxes and stray parts all around.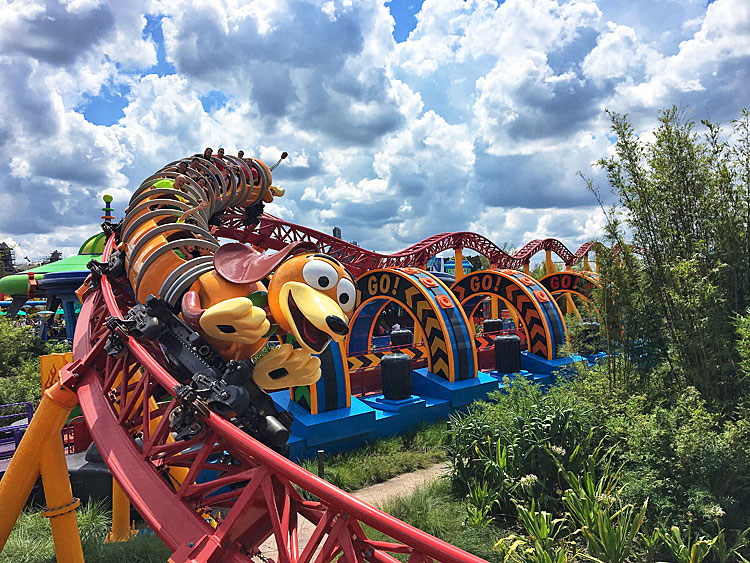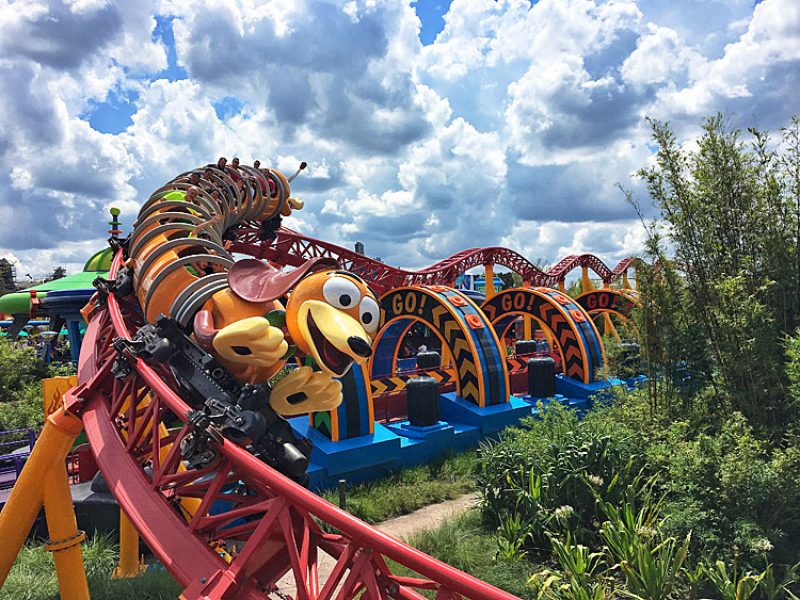 Riders sit in rows of two and the ride itself is extremely smooth. One of the best features is a stop at the mid-way point. The coaster stops, reverses a few feet, then shoots forward through multiple rings with flashing lights and sounds. After that, you roll over a series of super-fun humps that smoothly bounce you along.
Slinky Dog Dash is a tame coaster that looks more intimidating to kids than it really is. They'll love it once they try it!
Seven Dwarfs Mine Train at Magic Kingdom
This roller coaster appeals to the whole family. It has some fun dips and is a bit more thrilling than Slinky Dog Dash. It's actually slower (34 MPH) than Slinky Dog, but it felt a little faster to me, maybe because of the sharper curves and mild drops. The seating is two people side-by-side and four people to a car. The minimum height requirement is 38".
The cars feature an interesting, independent pivot so each one can swing like a cradle. You don't really notice it much during the ride, but it does lessen the G-force so one person isn't getting squished against the side during a curve. I've read that the cars near the back of the train swing more, so if you want to up your thrill game, try to get a seat in the back!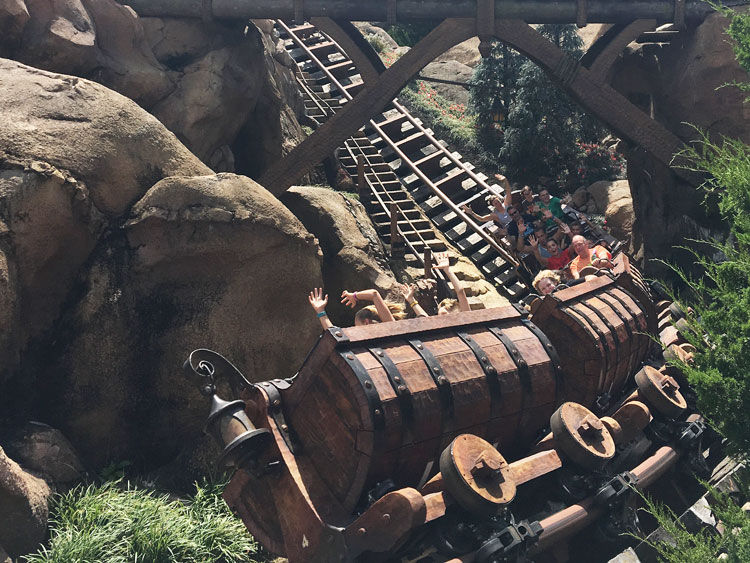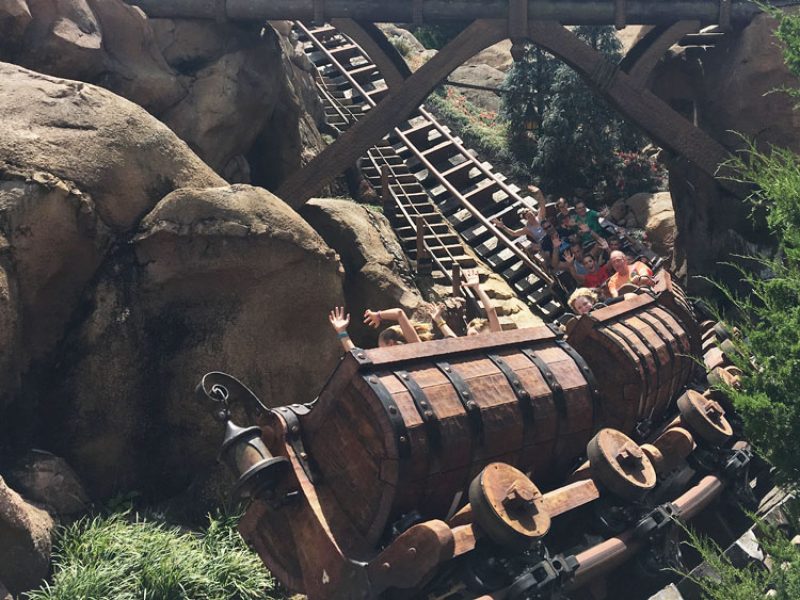 Seven Dwarfs Mine Train runs mostly outside, though there is an enclosed section where you see the dwarfs mining colorful gems and singing the classic "Heigh Ho!" And be sure to watch for Snow White dancing with Dopey at the end!
Splash Mountain at Magic Kingdom
Splash Mountain is a log flume ride where you float along a river until you splash down the big waterfall. You'll probably hear a lot of different opinions on the intensity of Splash Mountain. One the one hand, the only intense part of the ride is that one, big 50-foot drop. On the other hand, it's an intense 50-foot drop!
The ride is a slow, meandering, 12 minutes long. The drop is exhilarating, but the rest of the ride is borderline boring. While the big drop is over quickly, there are 4 smaller drops leading up to it. That can cause some anxiety just waiting for "the big one." And yes, you will get wet. Riders in the front usually take the brunt of the splash.
I often gauge ride intensity by the restraints of the ride. With Splash Mountain, riders sit two in a row and don't even wear seat belts. The minimum height requirement is 40".
Tower of Terror at Hollywood Studios
Like Splash Mountain, the scary part of Tower of Terror is over pretty quickly. But the eight-minute ride provides a decent amount of build-up time to get you nervous as The Twilight Zone's Rod Serling tells the tale of five unlucky souls trapped in the Hollywood Hotel. The minimum height on this ride is 40".
With Tower of Terror, we move into what I think are the most intense Disney thrill rides. This ride takes you into an "elevator" where you sit in long rows (I hear it's extra thrilling in the front row!). The elevator drops you down abruptly and without warning, then lifts you back up, then down, sometimes a short drop, sometimes a longer one. It's very dark, except for the window that opens at the top to provide a brief aerial view of the park before your plunge!
My kids say it's not as scary as you think, but I did not care for this ride. I'm not a fan of drops in general and seeing the window open in front of me to look out over the park really gave me the illusion of free-falling. There's also the fact that you are only strapped in with a seat belt and you can actually experience "hang time" and lift briefly off your seat. Yikes!
Avatar Flight of Passage at Animal Kingdom
Astonishingly immersive, this 3-D motion simulator ride is based on the movie Avatar. Riders take a mesmerizing flight through the colorful planet Pandora on the back of a wild banshee. Avatar is hands-down my family's favorite ride in all of Disney.
After a long wait in the highly themed queue, you'll step into a control room where you are "linked" to a Na'vi avatar. Even this pre-ride process is immersive, as you are told to stand on a spot on the floor and move around so they can "map" your body and match you to an avatar. Then you enter the ride room where you'll sit on a banshee that looks like an arcade motorcycle. After donning your 3-D "flight goggles," you're ready to fly.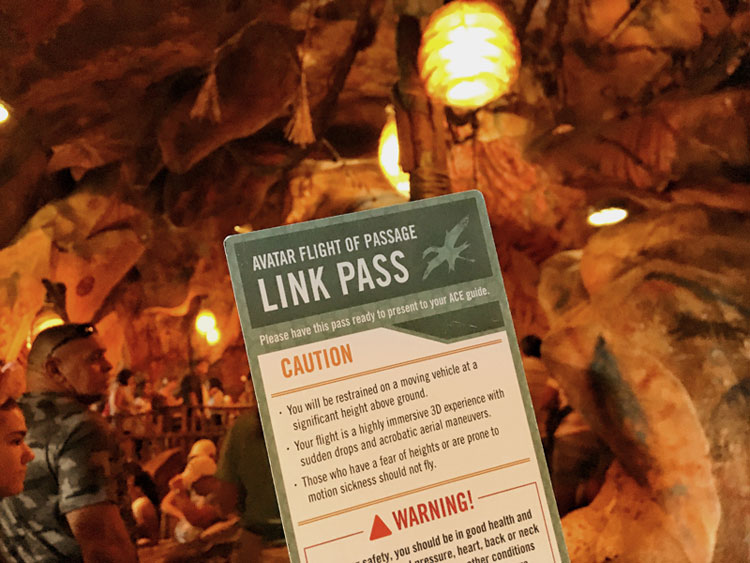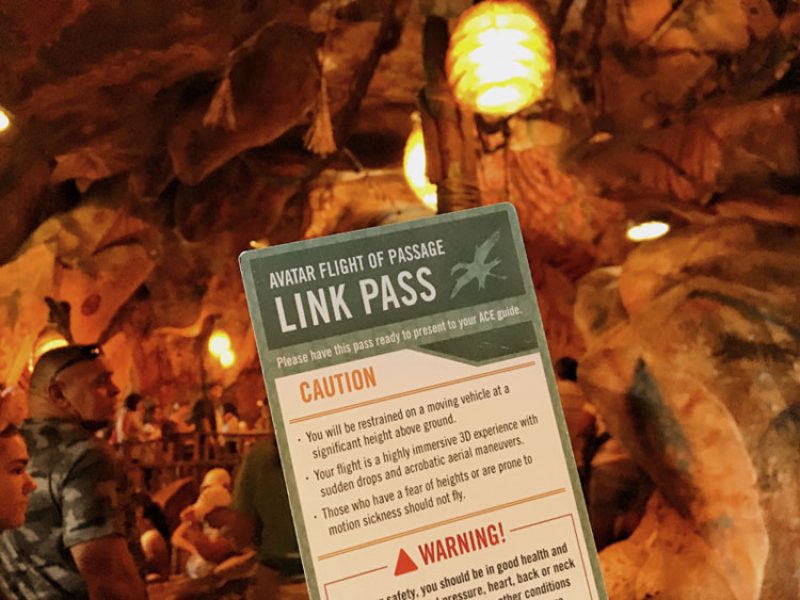 The mechanics of this ride are similar to Soarin'. You sit on the banshee in front of a huge screen. But you move more than Soarin', as the bike lurches forward, backward, and side-to-side. Bursts of wind and sprays of mist hit your face.
The visuals are stunning and the technology falls away as you simply melt into the experience of flying on the back of your banshee. Incredibly, the bikes you sit on feel like they are living, breathing animals. When your flight slows and you stop to rest, you can actually feel the slight vibration of the banshee breathing beneath you. It's a must-experience ride, no matter how long the wait.
The minimum height for Avatar Flight of Passage is 44" and it should be noted that each person rides separately on his/her own bike. Some younger kids may not like being restrained and completely separated from a parent.
Big Thunder Mountain Railroad at Magic Kingdom
Racing through a gold mine on this runaway train, you'll experience sharp turns, fast hills, and dark tunnels. There are two drops that are not very big, and no inversions or corkscrews. The intensity factor for this coaster comes from it's loud noise and the rickety, runaway feeling. Big Thunder Mountain Railroad actually has a top speed of only 36 MPH – but you'll swear it's faster!
The minimum height is 40" and the ride is only 90 seconds long. But it feels satisfying. There's also a decent amount of G-force so riders can get squished against the side of the car and each other.
Tip for thrill-seekers: Ride Big Thunder Mountain Railroad at night. We were lucky enough to time our ride perfectly with the fireworks one night and it was surreal!
Expedition Everest at Animal Kingdom
One of the fastest thrill rides at Disney World, Expedition Everest reaches speeds of 50 MPH as you travel through the Himalayan Mountains and encounter the Yeti. Minimum height is 44" and seating is two people per row.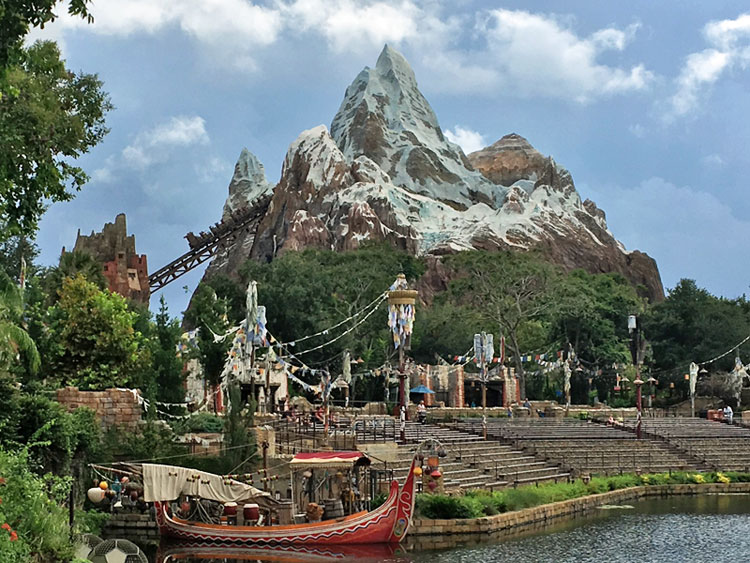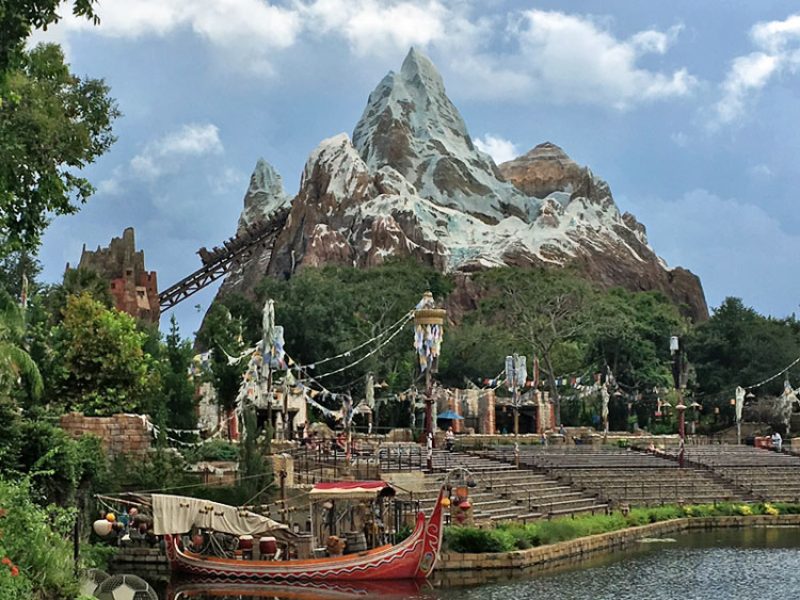 This coaster zips along until you suddenly stop cold when the track in front of you is ripped up. Then you plunge backwards in complete darkness! The coaster is pretty smooth, without a lot of jerking or G-force squishing.
The ride includes fast, tight turns, drops and hills, but no inversions or loops. Guests say that riding Expedition Everest at night is especially amazing.
Space Mountain at Magic Kingdom
Space Mountain races through the galaxy with unexpected twists and jarring turns, but no significant drops, loops, or corkscrews. Minimum height is 44" and seats are single-row, one behind another. Keep this in mind if your child likes to sit right next to you on intense rides!
The coaster is entirely inside and, besides the occasional stars or lighted tunnel, it's completely dark. Incredibly, Space Mountain only reaches a speed of 28 MPH. But the quick turns (that can give you low-key whiplash) and darkness make it feel much faster and more intense than most of the other Disney World thrill rides.
Rock 'n' Roller Coaster at Hollywood Studios
The best thing about the Rock 'n' Roller Coaster is that you don't have to experience the slow climb at the beginning. You are launched from 0 to 57 MPH in under 3 seconds and the ride doesn't slow down until the end. It's fast, dark, and twisty, and the Aerosmith music is awesome.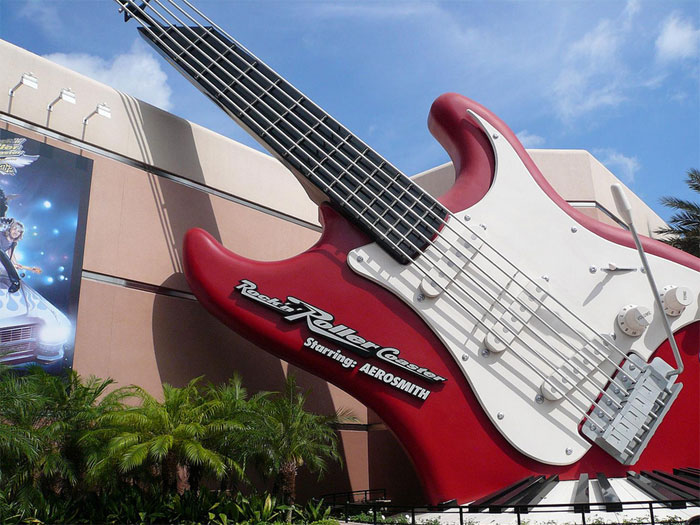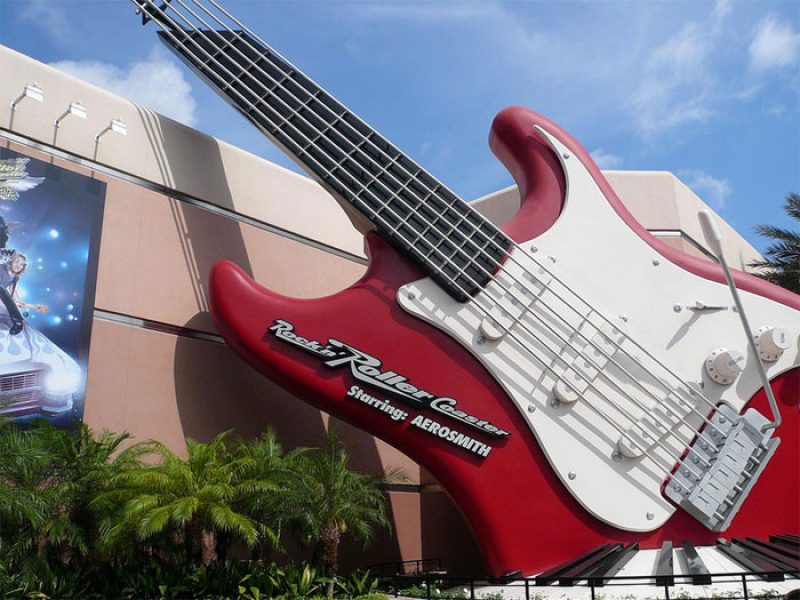 The pre-ride show starts with guests visiting a sound booth as rock band Aerosmith is finishing up a recording session. The band "interacts" with you and invites you to a concert. Next thing you know, you're climbing into your super-stretch limo in an alleyway (seating is two across).
The ride is fully enclosed and pretty dark, though there are many neon street signs and Hollywood landmarks. It's seven minutes long and includes loud music, loops, corkscrews, and drops. And it's 1000 times smoother than Space Mountain or Big Thunder. Height requirement for this ride is 48".
In my family's opinion, the Rock 'n' Roller Coaster is the best, and most intense, ride in Disney World.
What's the most intense Disney World thrill ride you've tried? Which ones will try on your next visit?