Disney's 2018 Epcot International Food and Wine Festival can be overwhelming. So much to eat, so much to drink! I visited a few weeks ago and spent two days eating my way around the world. I'm happy to bring to you my best bites from this year's Festival.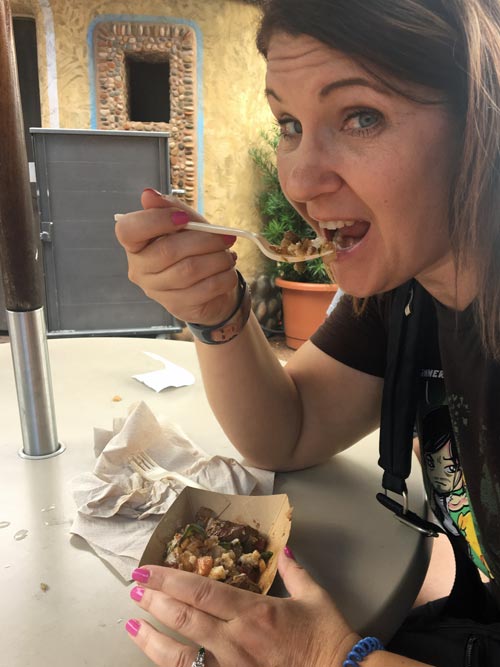 12. Pineapple Soft-Serve Ice Cream. Location: Refreshment Port in Showcase Plaza. Also known as the "Dole Whip" in the Magic Kingdom's Adventureland, this is my hands-down favorite dessert in Disney.
11. Warm Irish Cheddar Cheese and Stout Dip with Irish Brown Bread. Location: Ireland. The cheese dip is just the right consistency – not too thick, but perfect for bread dipping. Enjoy it with a Guinness beer!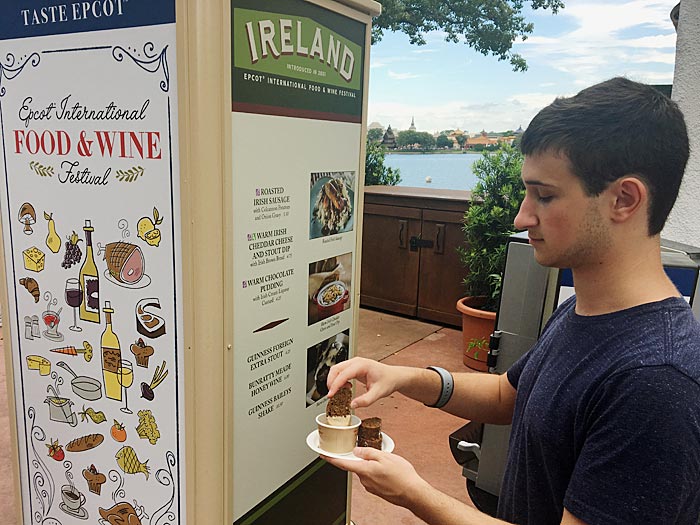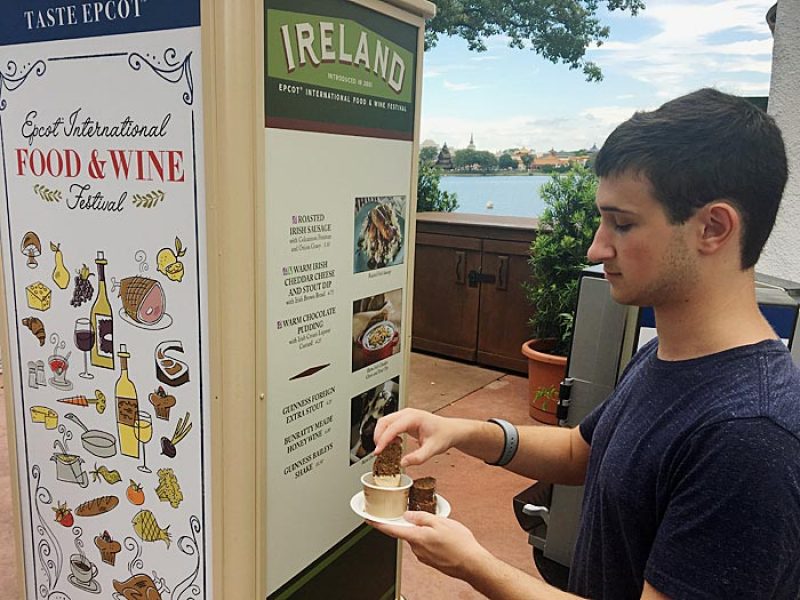 10. Frozen Lemonade with Fireball Cinnamon Whiskey. Location: Joffrey's Coffee & Tea Company at The American Adventure. This hit the spot on a 95-degree day with 80% humidity!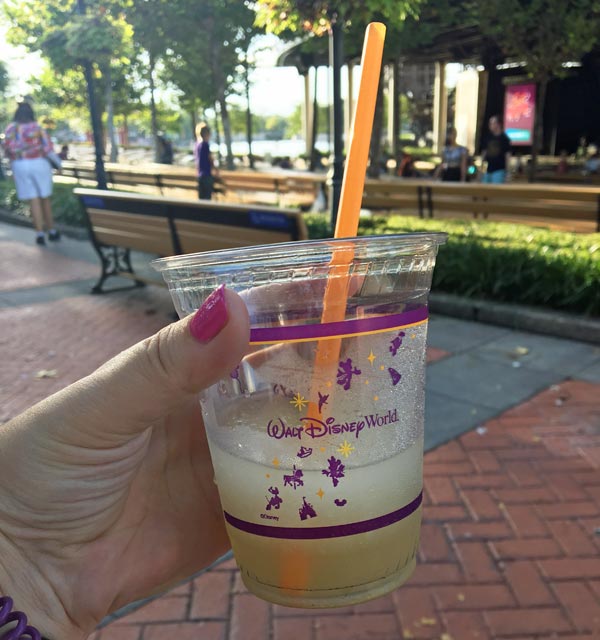 9. Berbere-style Beef Tenderloin Tips with Onions, Jalapenos, Tomato, and Pap. Location: Africa. Rich, tender, delicious beef, paired perfectly with a light cornmeal porridge (pap). This is gluten free, too!
8. Kalua Pork Slider. Location: Hawai'i kiosk near the Port of Entry. Amazing blend of pulled pork with sweet and sour Dole pineapple chutney and spicy mayonnaise.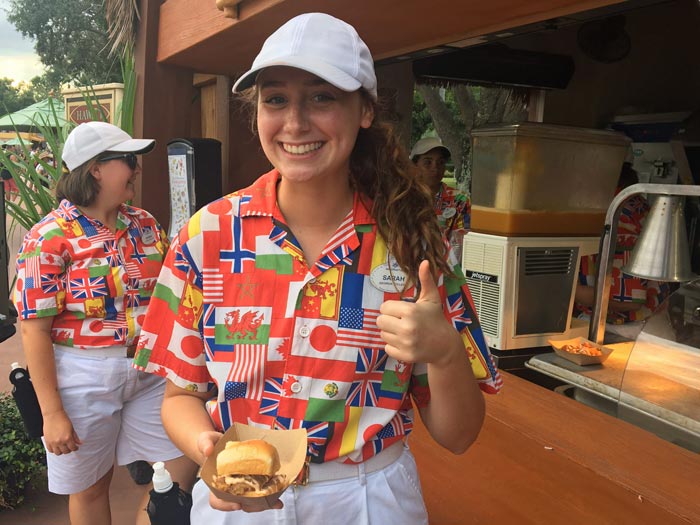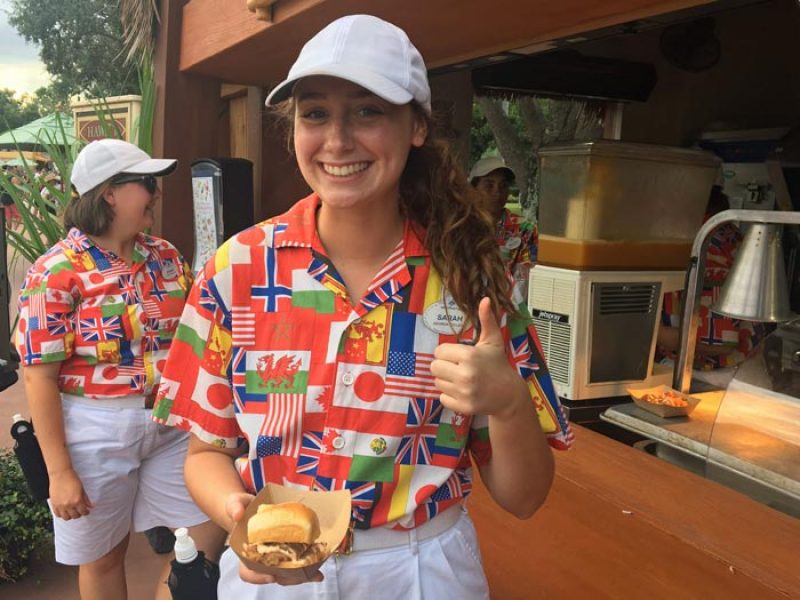 7. Mezzi Rigatoni. Location: Italy. Pasta with vodka sauce, crispy pancetta, and Parmesan cheese. Enjoy with a frozen margarita with limoncello and tequila, and top it off with a cannoli!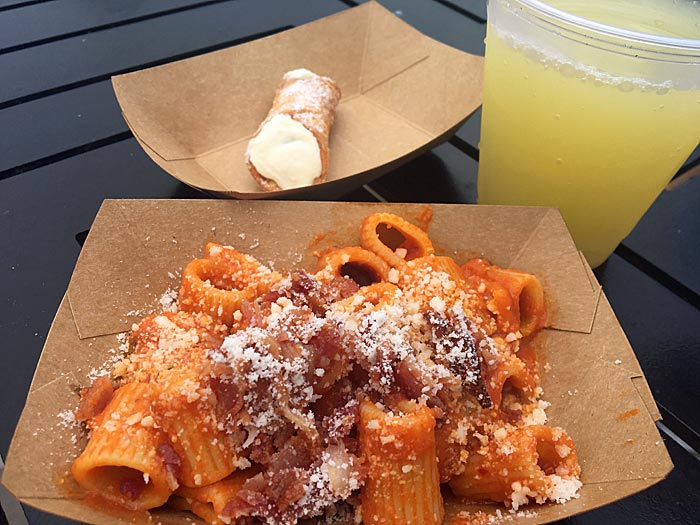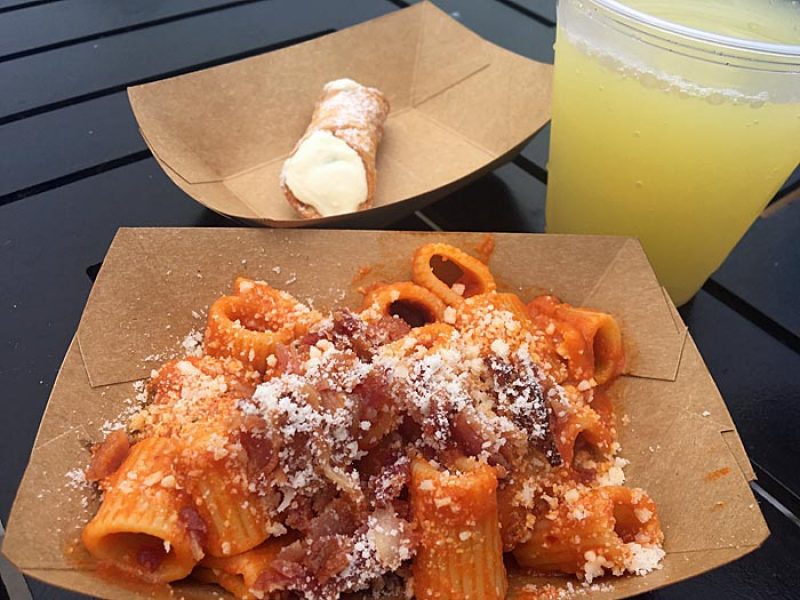 6. Le Cellier Filet Mignon. Location: Canada. A slice of beef filet mignon with wild mushroom and truffle butter sauce. Le Cellier is my favorite restaurant in all of Disney World. I loved being able to enjoy a "bite" of filet without sitting down to the full meal.
5. Short Rib Tostada. Location: Mexico. Corn tortilla topped with short ribs, black beans, salsa verde and spring onion. The Mariachi Loco margarita was pretty tasty, too!
4. Chicken Dumplings and Xi'an Pancake. Location: China. I'm listing both these foods because they were equally awesome and should be enjoyed together. The dumplings were flavorful and paired with a Chinese slaw, while the pancake was filled with tender beef and a light, hoisin-tasting sauce.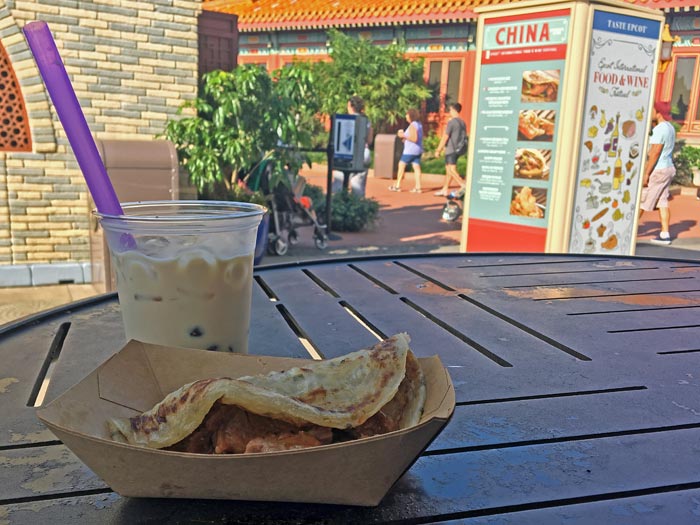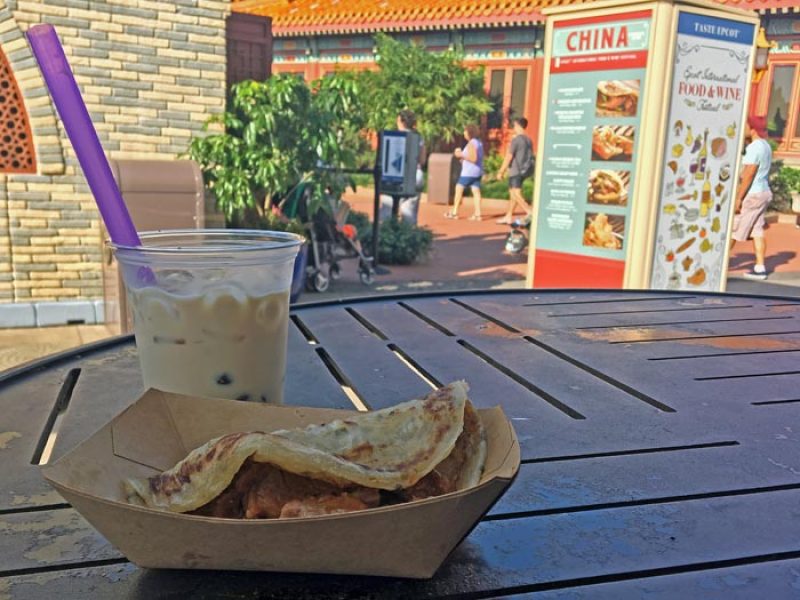 3. Carbonade de Boeuf. Location: France. I am never disappointed with the food at the France kiosk. This beer-braised beef with bacon and onions is served atop creamy mashed potatoes. And don't forget the crème brulee!
2. Chocolate Picante. Location: Flavors from the Fire near the Epcot Character Spot. This dark chocolate mousse is flavored with cayenne pepper, paprika, and mango. It's a fantastic dessert with creamy, rich chocolate and a spicy kick! Flavors from the Fire was my family's favorite spot at this year's festival. We ate there both days of our visit – and that's saying a lot considering the many options!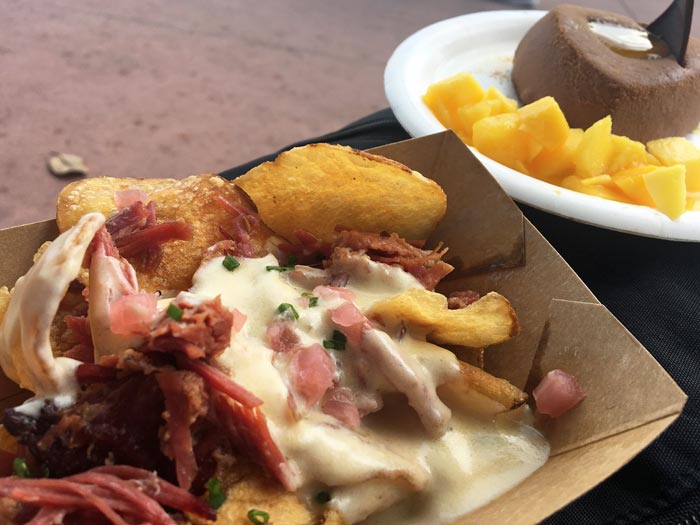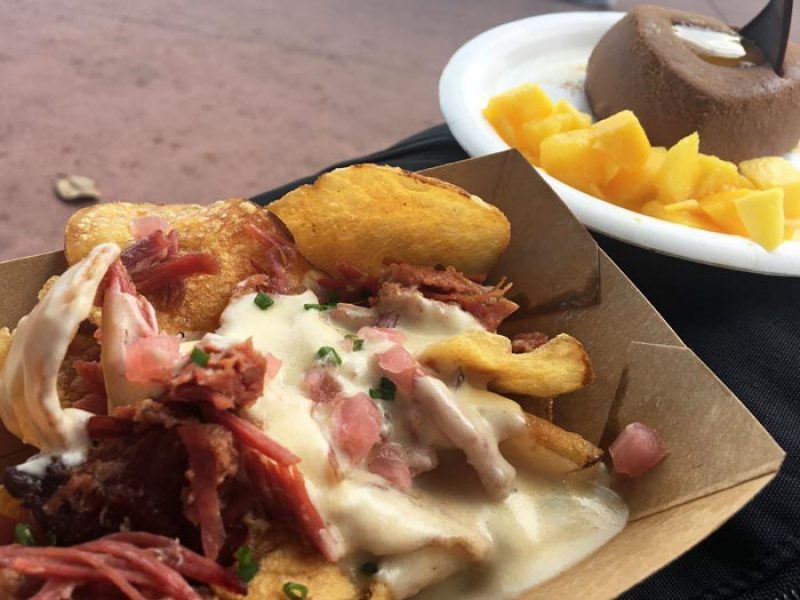 Smoked Corned Beef with Crispy Potatoes. Location: Flavors from the Fire near the Epcot Character Spot. The top spot on my list goes to Flavors from the Fire. In addition to the fantastic dessert at #2, this lean, tender corned beef with pickled onions and blonde ale beer fondue is to die for. The warm potatoes aren't crunchy like a potato chip, but real potatoes slices with a slight crisp that serve as the perfect vehicle for the meat and cheese. My husband and son had the Charred Chimichurri Skirt Steak, which they chose as their #1 pick of the festival.
More to Enjoy than Food
Most people will enjoy sampling foods from the many options around the park, but be aware that there are many other activities going on during the Festival. My daughter was shocked when we walked by the America Gardens Theater and heard the Plain White T's playing a concert! At first we weren't sure if it was really them or a cover band, but we quickly learned of the "Eat to the Beat" Concert Series that offers daily live music during the Festival. You have to line up an hour or two before to get good seating in the theater, but if you don't want to spend more time in line, you can still stand in the back and listen.
Some of the artists playing in October and November include Starship, Hanson, The Hooters, and Boyz II Men.
There are also specialty dining experiences, seminars, and activities for kids. Learn food and drink techniques from industry experts, attend a cheese or beverage seminar, or sign up your kids to make candy sushi. Most experiences have limited availability and need to be booked separately.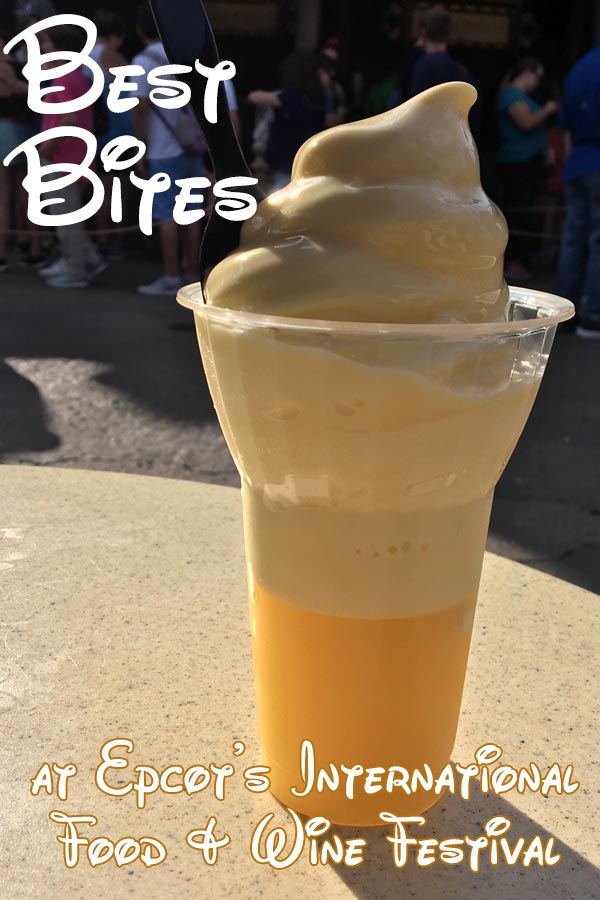 The Epcot International Food & Wine Festival is underway and continues until November 12, 2018. It runs every year from September to November. If you're visiting Disney World during that time, don't miss this celebration of food and drink.