Christmas at Hershey Park is magical, with tons of sweets and screams to get you in the holiday spirit! From riding roller coasters and visiting Santa to driving through thousands of twinkling lights and making your own gigantic candy bars, the festive fun is good and plentiful in Hershey, PA at Christmas.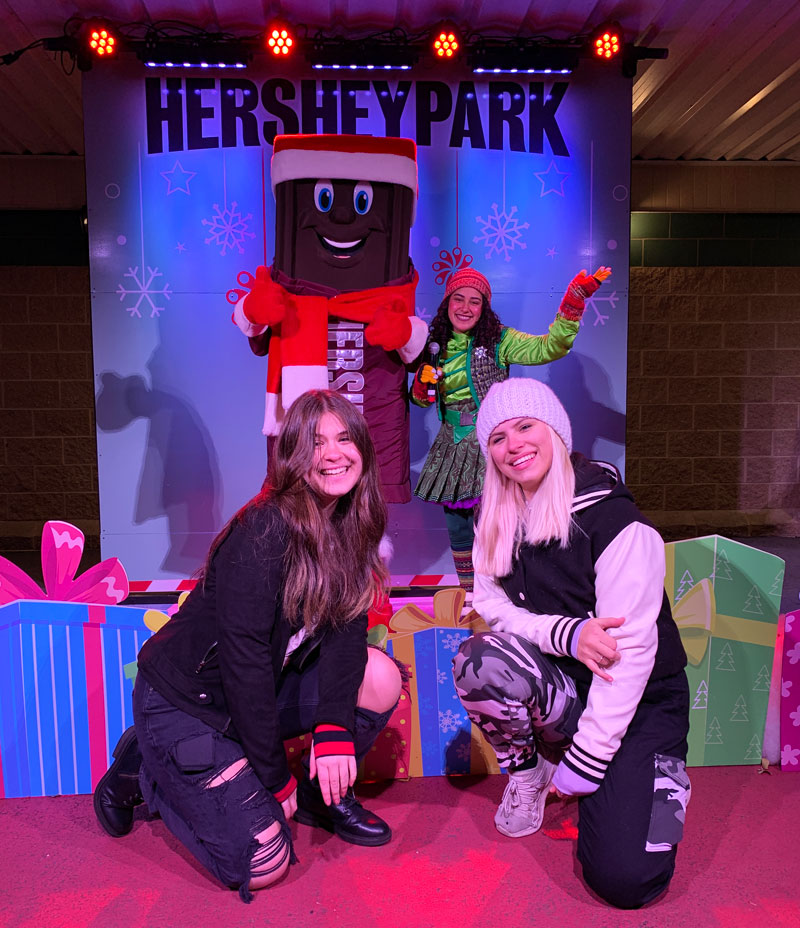 Thank you to Hershey for providing me with complimentary tickets to some attractions to facilitate this article. All opinions are my own.
Hershey's Chocolate World at Christmas
Chocolate World is a must-visit for me every holiday season. I love roaming around, looking at all the holiday decorations, and filling my cart with candy and branded merchandise to give as gifts.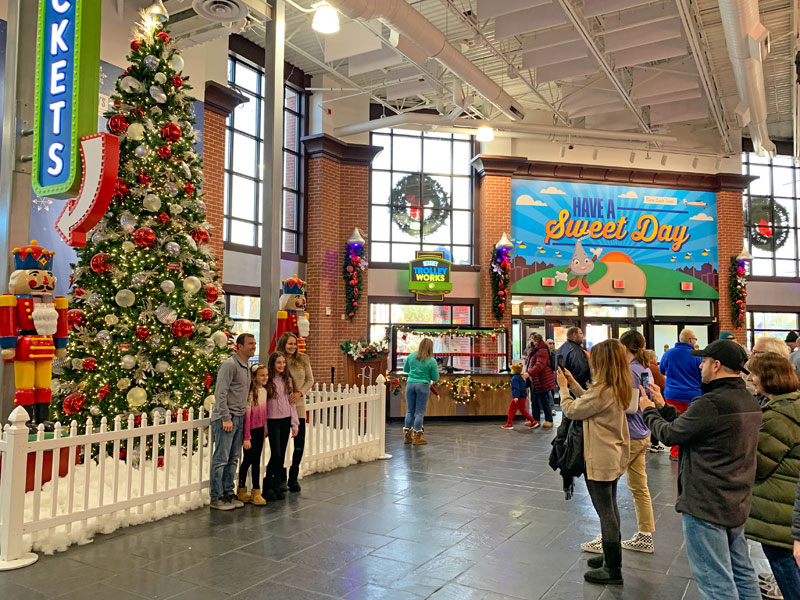 Chocolate World is more than a gigantic candy store. You'll also find Hershey-themed clothing, souvenirs, and toys. Plus, there's a food court offering entrees, soups, deli, pizza, s'mores and ice cream.

This chocolate-themed shopping complex offers several unique holiday experiences that are super fun for the family.
Hershey's Holiday Chocolate House: Decorated entirely with Hershey's chocolate and candy, this attraction supports the Children's Miracle Network. The kids can visit with Santa and get a photo taken in front of the Holiday Chocolate House – and the Grinch stopped by this year, too!
Paint a Milk Chocolate Reindeer: In this activity, Santa's reindeer need some holiday magic this season. You can decorate your own delicious milk chocolate reindeer with treats like red, white and green icing and various candies.
Holly Jolly Trolley: A magical, family favorite, "Hershey in Wintertime" show with caroling, jingling, and even a visit from a certain jolly, old elf who brings presents for everyone on the nice list. The trolley ride/show lasts approximately 40 minutes and runs Fridays – Sundays from November 12 – December 20, then every day except Christmas through January 2, 2022.

Hershey's Chocolate World attractions available year-round
Hershey's Chocolate Tour: Hop on this ride and learn how chocolate is made. See, feel, hear and smell the transformation of cocoa beans into Hershey's chocolate and get a free, bite-sized sample at the end. 30 minutes. Free, tours run continuously during open hours, line can get long on the weekends.
Chocolate Tasting Experience: This live show helps you learn to use all your senses to experience different kinds of Hershey products and describes just how they imagine up all those new flavors! You get a tin of different Hershey products to unwrap and taste as you go through the experience. 30 minutes. Buy timed tickets in advance. Ages 13+: $15.95; 3-12: $12.95; 2 and under: free.

4D Chocolate Movie: This amazing, interactive, animated experience lets you become part of the show by interacting with the Hershey's Characters to help solve a mystery! With over 100 different possible variations, you can experience it over and over and never see the same show twice. 30 minutes. Buy timed tickets in advance. Ages 13+: $7.95; 3-12: $6.95; 2 and under: free.
Hershey Trolley Works: This one-of-a-kind sightseeing, chocolate tasting experience has entertaining conductors taking you through the Hershey of today. During your ride, you'll travel to the past and learn about Milton Hershey, going back to a time before we even had chocolate in America! 75 minutes. Buy timed tickets in advance. Ages 13+: $17.95; 3-12: $14.95; 2 and under: free.
Pro tip: Save money and buy these experiences as a bundle for your visit to Hershey!
Create Your Own Candy Bar: This is a fun, factory-type experience where you choose your custom candy bar ingredients, design your own wrapper, and watch as it makes its way through the assembly line. 45 minutes. Space is limited; reserve tickets early in the day. All ages: $26.95.
Reese's Stuff Your Cup: I'm a BIG fan of the peanut butter cup, so this attraction had me at the word "stuff." You get to choose from 13 different mix-ins and three toppings to create a 1-pound custom Reese's Cup!

I watched as Kenzie scooped two creamy balls of luscious peanut butter filling into a bowl. I chose potato chips, mini chocolate chips, and salted caramel chips to add in.

The mixture is then lovingly smushed into a giant chocolate cup, topped with your choice of sauce – chocolate, caramel, or marshmallow – and covered with a hard chocolate top. I went with marshmallow and it was 100% the right choice. Reese's Stuff Your Cup experience costs $19.95 and advance reservations are not required.
This year, Christmas at Hershey brings new Reese's Peanut Butter cup filling flavors, including potato chip, pretzel, and peanut brittle. I tried them all and I think the potato chip is my favorite!

Hersheypark Christmas Candylane
A visit to Hershey at Christmas would not be complete without experiencing the holidays at Hersheypark.

What is Hersheypark Christmas Candylane? It might sound like a separate place or special attraction, but "Christmas Candylane" is simply the name Hersheypark gives to itself during the holidays.

Christmas Candylane means the park is all decked out with tons of lights, festive foods, holiday music, and photo ops with Santa. Even Santa's reindeer are on hand!

What are Hershey Christmas Candylane hours and dates?
Hersheypark Christmas Candylane dates 2021: Mondays through Fridays in December from 5-9pm and weekends from 2-9pm (closed Christmas Day). They are open 2-9pm daily from the day after Christmas through January 2nd.
What rides are open for Christmas at Hershey Park?
Available rides will vary from day to day during Christmas Candylane dates. The best way to know what rides are open is to download the Hersheypark app.

Indoor rides like Reese's Cupfusion and Laff Trakk are sure to be open, plus many kiddie rides such as Balloon Flite, Cocoa Cruiser, Frog Hopper, Carrousel, and Tilt-a-Whirl. For the more daring, Wildcat, Wild Mouse, Hershey's Triple Tower, The Claw, Sooper Dooper Looper, and the new Candymonium are often open during Christmas Candylane hours.
Dry Gulch Railroad, Skyview, and the Ferris Wheel are among the rides that are simply magical at night, offering a spectacular view of the Hershey holiday lights! Just bundle up if it's cold!

Christmas at Hersheypark also brings some legendary winter treats. Try the Smokehouse Express for chili, pulled pork sandwiches, turkey legs and more. For the sweet tooth, grab something from the s'mores cart, some hot, fresh peppermint donuts, or a creamy hot chocolate topped with whipped cream, candies and a cookie.

I highly recommend visiting Hersheypark during the daytime for the holiday season. We went on a Friday night and it was too cold and windy for several of the rides to run.
However, we were very pleased to find out that we could get a return voucher to visit again the next day! We were able to go back and get on a few more rides when it was sunny and a bit warmer. The lines were still too long for the new Candymonium coaster, so we'll have to hit that one next summer! It looked amazing!

Hershey Chocolate Town
Chocolatetown is a new area of the Hersheypark complex. It's just outside the gates to Hersheypark and steps away from Chocolate World. I love how convenient it is to have all the Hershey attractions so close to each other.
Chocolatetown consists of a new full-service restaurant and bar, The Chocolatier, plus Milton's Ice Cream Parlor, The Sweeterie Confectionery Kitchen and a gift shop.

You don't need tickets to Hersheypark to enjoy Chocolatetown. Park by the Hersheypark Stadium and walk toward the park entrance and you'll see the Chocolatetown building on your left.
We had dinner at The Chocolatier and sampled several delicious dishes. I started out with a chocolate manhattan.
My family shared the Ferris Wheel Sampler: chocolate BBQ chicken wings, crispy avocado, chicken tenders, buffalo chicken dip, and soft pretzel dippers in a fun ferris wheel presentation!

For our entrees, we had the Chocolatetown Burger (with thick-cut bacon, smoked cheddar, and chocolate-drizzled potato chips!), the chocolate-infused beef chili, the Mediterranean Salmon Salad, and the Triple Tower Turkey Club. Yum!

Hershey Christmas Lights
In addition to all the Christmas lights at Hersheypark, Hershey Sweet Lights drive-thru is a nearby attraction that should not be missed! Pack some hot cocoa and cookies and enjoy nearly 600 illuminated, animated displays from the comfort of your car during the 2-mile drive.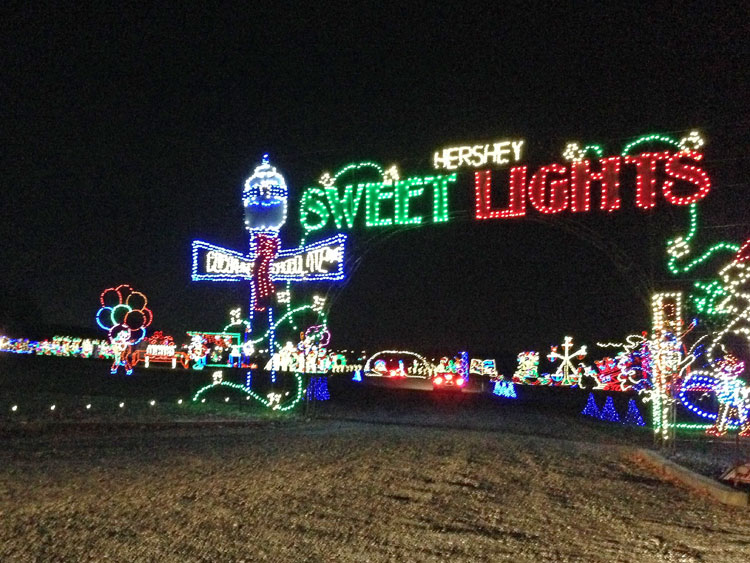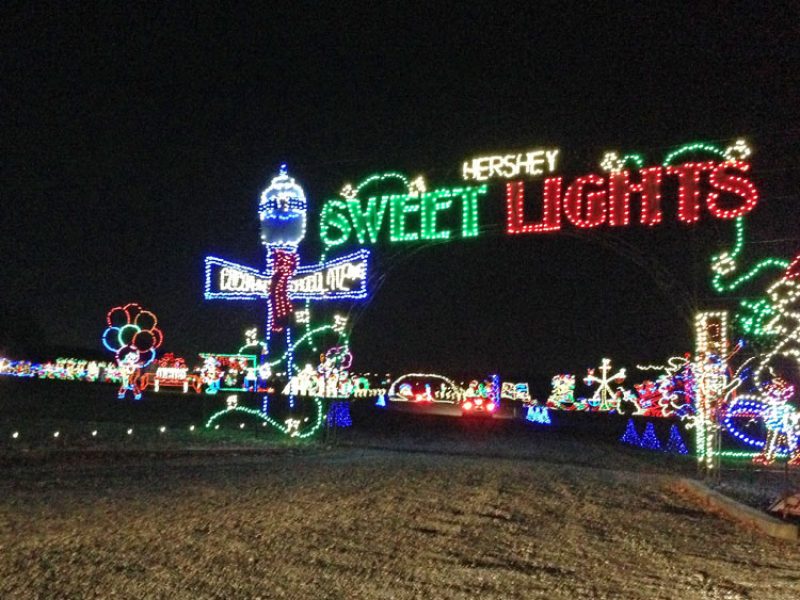 How much does Hershey Sweet Lights cost? As of the 2021 season, the cost varies between $22 and $39 per car. It's cheapest Mondays through Thursdays and buying online can save you up to $10.
It's the perfect way to end your Hershey Park Christmas visit! Happy Holidays!