There's nothing like a festive array of twinkling lights to get you in the holiday spirit. And when you combine the 600 illuminated, animated displays of Hershey Sweet Lights holiday drive-thru with a town like Hershey, Penn., you've got a winning weekend getaway.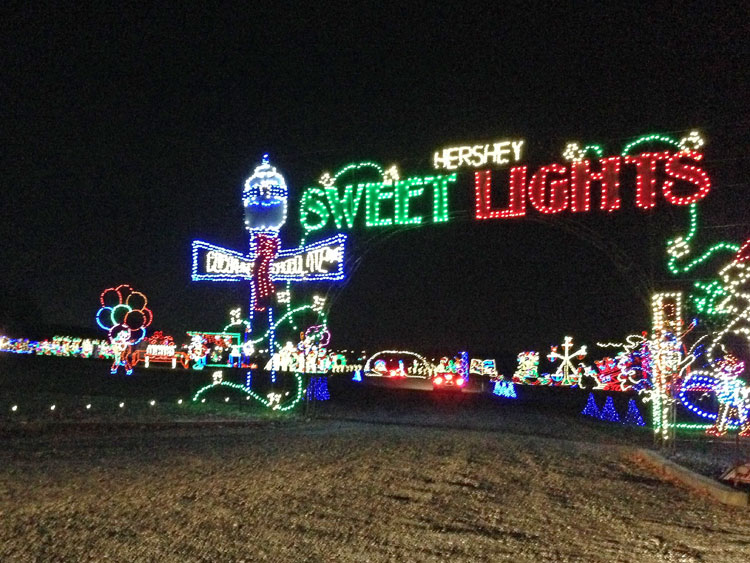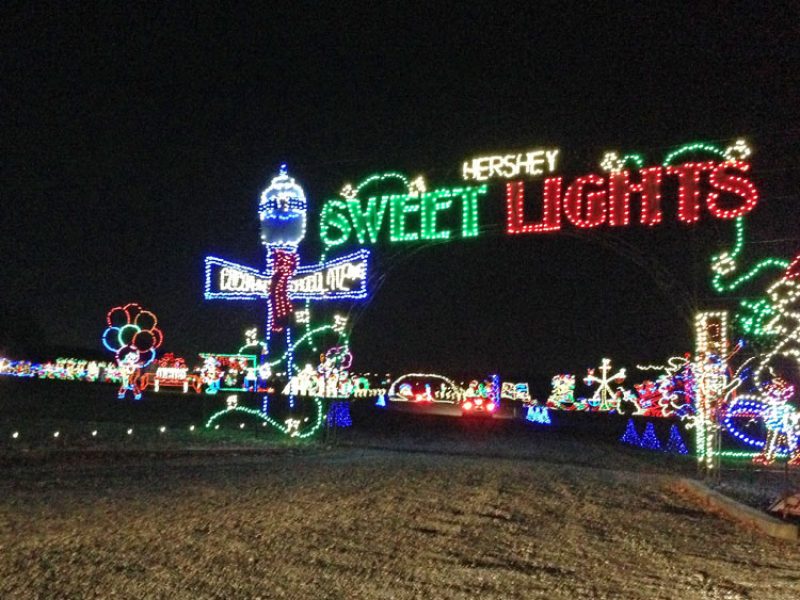 Hershey calls itself the sweetest place on earth with good reason. As soon as we turned onto Chocolate Avenue, we rolled down our windows to breathe in the smell of chocolate that permeates the town. Hershey Sweet Lights drive-thru is just a couple minutes drive from the downtown area.
Enjoy Holiday Lights Displays From Your Car
Upon arrival, you have the option to buy kettle corn and drinks, but we had already packed our own hot chocolate in travel mugs to set the mood. So we paid our admission ( about $20 per car at the time of this writing) and slowly drove down the Sweet Lights lane in our car.
My kids were given special glasses, like the cardboard 3D glasses you get with movies, that produced a snowflake effect on some of the lights. The cool thing is that they made regular car headlights look like they were surrounded by rainbow snowflakes. My daughter wore her glasses for the rest of the night, oohing and aahing happily.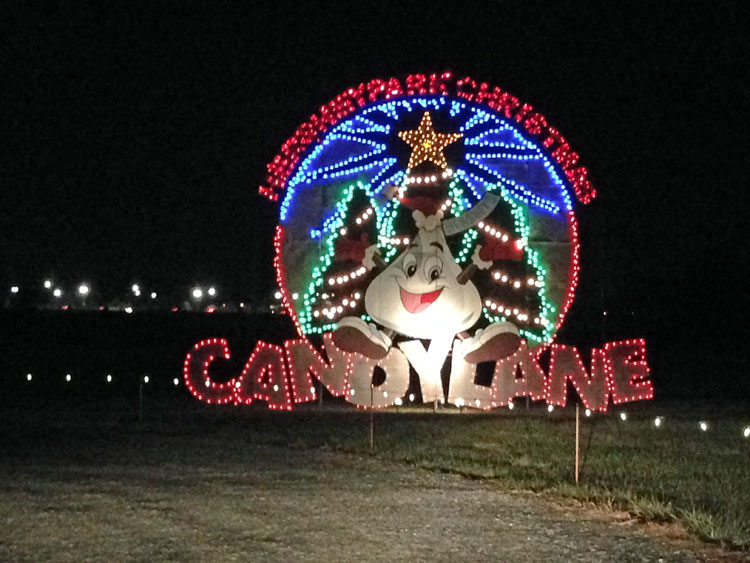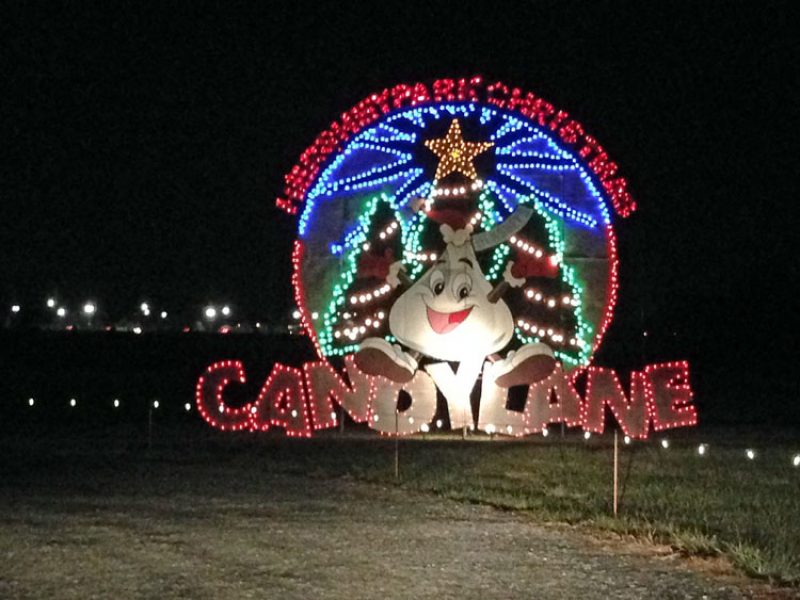 We were also informed of a designated radio station to tune in during our drive through the holiday lights spectacular. We giggled over the dated Christmas music being played. I certainly enjoyed singing along with Gene Autry's original "Frosty the Snowman," but the kids snickered and rolled their eyes. Still, I got them to sing along when Jingle Bells came on.
A Holiday Lights Drive-Thru for All
The light displays were cheery and varied. The first section was traditional Christmas displays – wreaths, sleighs, Santa, reindeer, candy canes, and more. "Find Rudolph" was a recurring theme and you could periodically find the red-nosed reindeer popping out from behind a tree. Younger kids would love this scavenger-hunt idea.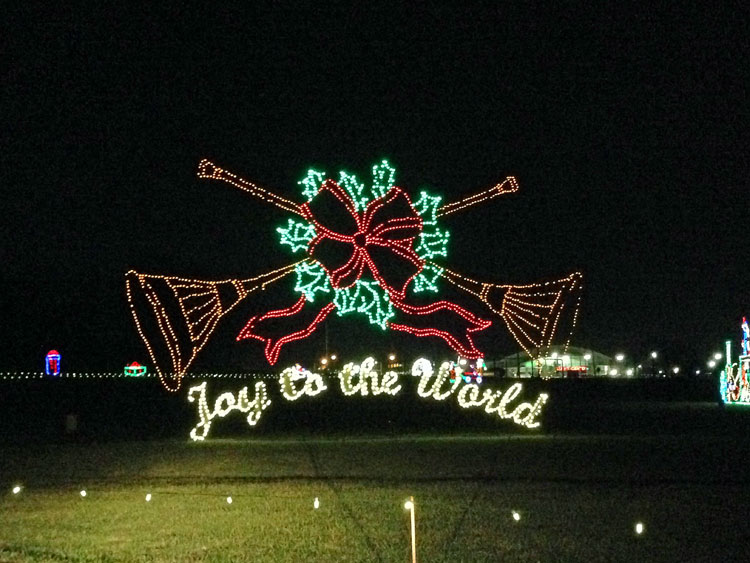 My kids loved the 12 Days of Christmas display. This is one song we always have fun singing, so it was lots of fun seeing it brought to life in lights with 12 drummers drumming, 11 pipers piping, and so on.
The next section of the two-mile drive was the Enchanted Forest where many of our favorite stories were showcased in dancing lights. It was a game trying to figure out what story was being portrayed. We saw the Three Little Pigs, The Three Bears, Rapunzel, and more.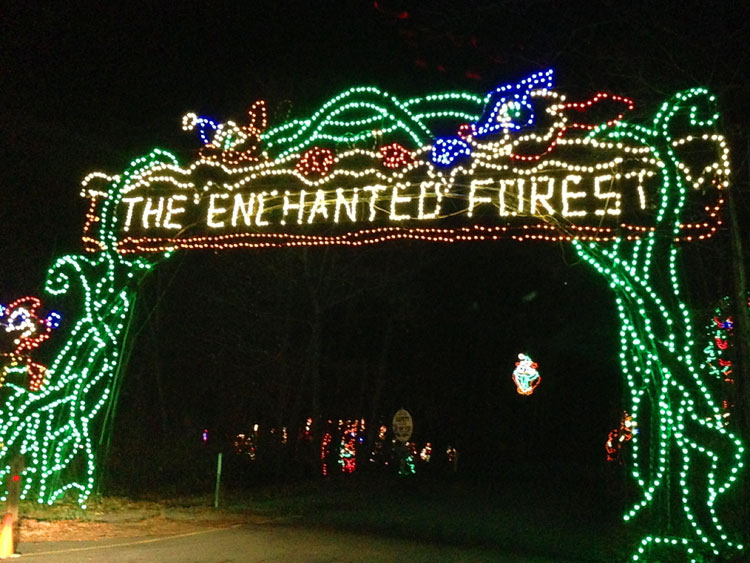 Finally, the Victorian Village section rounded out our drive-thru. My daughter keenly observed that the scenes "looked like something out of that Scrooge movie."
Things to Do for Chrismas in Hershey
Hershey Sweet Lights is open every night between mid-November and January 1st. There are also lots of other things to do during Christmas at Hershey.
I highly recommend the Hershey Lodge, where weekends are filled with Hershey character appearances, crafts, and frosty family bingo. They also offer "A Chocolate Avenue Christmas" – an elegant Christmas dinner and dessert followed by a theater production – on select dates in December.
"Christmas Candylane" at Hersheypark amusement park is open Fridays through Sundays with limited rides and even more lights. And there's Hershey's Chocolate World which offers lots and lots and lots of opportunities to taste, create, learn about, and buy chocolate.
For more information on the Hershey-Harrisburg area: