Looking for an amazing Gulf Shores restaurant that offers fun for the whole family? LuLu's in Gulf Shores, Alabama, is not just a restaurant, it's an experience.
Founded by Jimmy Buffett's "crazy sister," Lucy Buffett, LuLu's serves 4,000 people a day in the summer season and is known for adding something new every year to the "complex."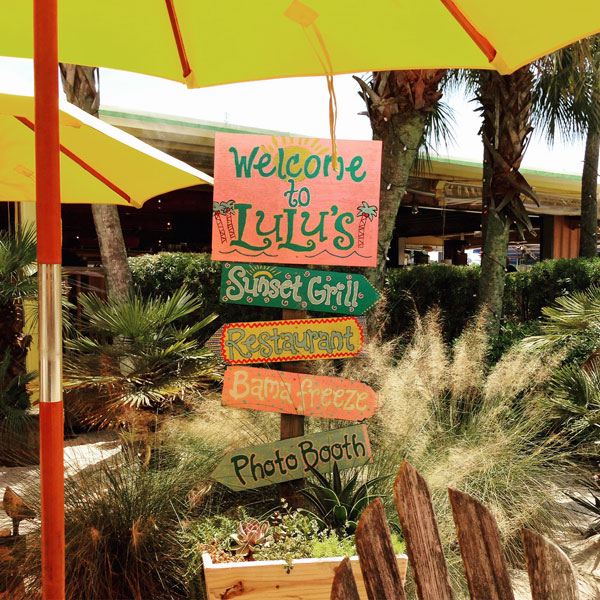 Play Time Meets Dinner Time at LuLu's
The first thing that caught my eye upon arriving at LuLu's was the three-story ropes course and arcade. Cool idea for a restaurant add-on, I thought.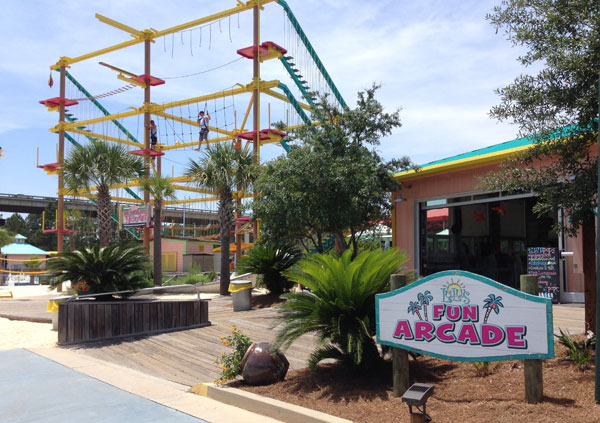 Then I spotted a gift shop that looked like it was transplanted directly from the beach. I paused, wondering if I was in the right place. Walking down the sandy path – lined with Adirondack chairs, picnic tables, and umbrellas – I found an outdoor bar, henna and hair-wrapping stations, a snow-cone snack bar, a stage, and a big beach volleyball area.
What is this place? I thought I was here to eat lunch?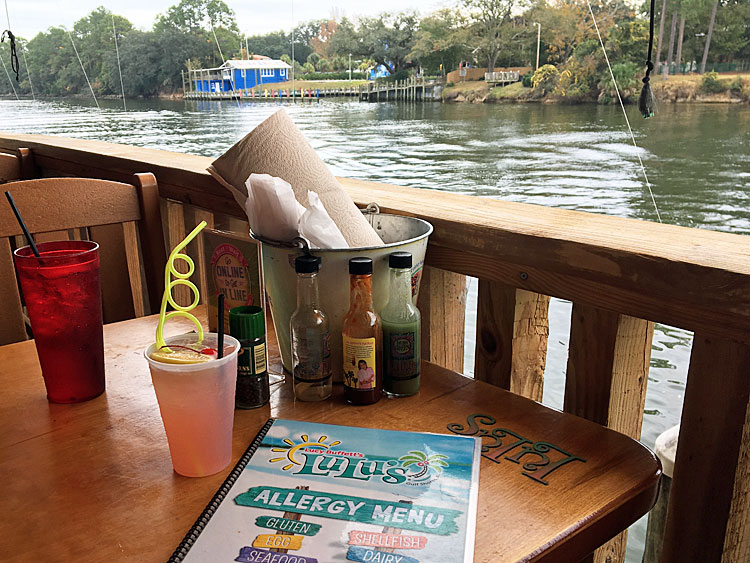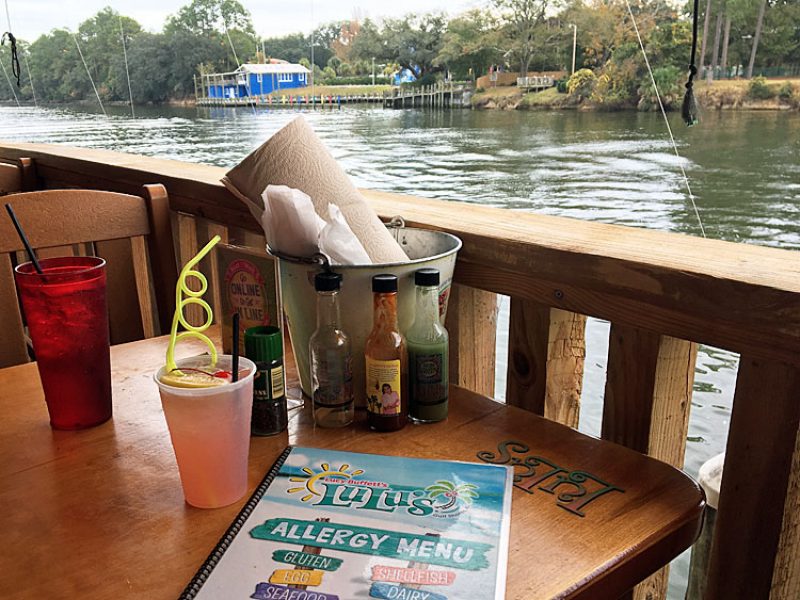 Finally I approached the main restaurant, sitting pretty on the Intracoastal Waterway. Just outside the restaurant was another big sandy area and a second stage – LuLu's has free, live music every night. Kids were playing with hoola-hoops and splashing around in the Fountain for Youth.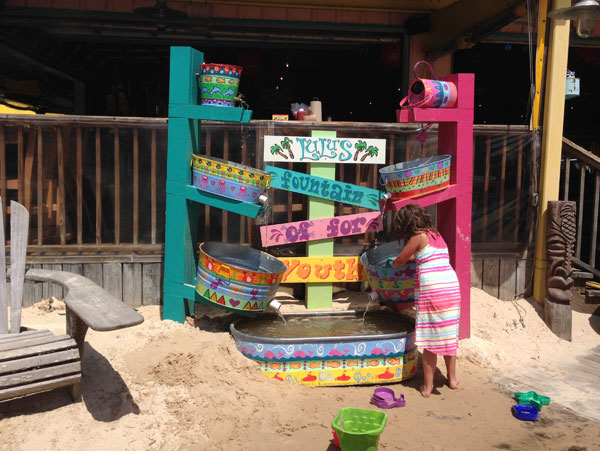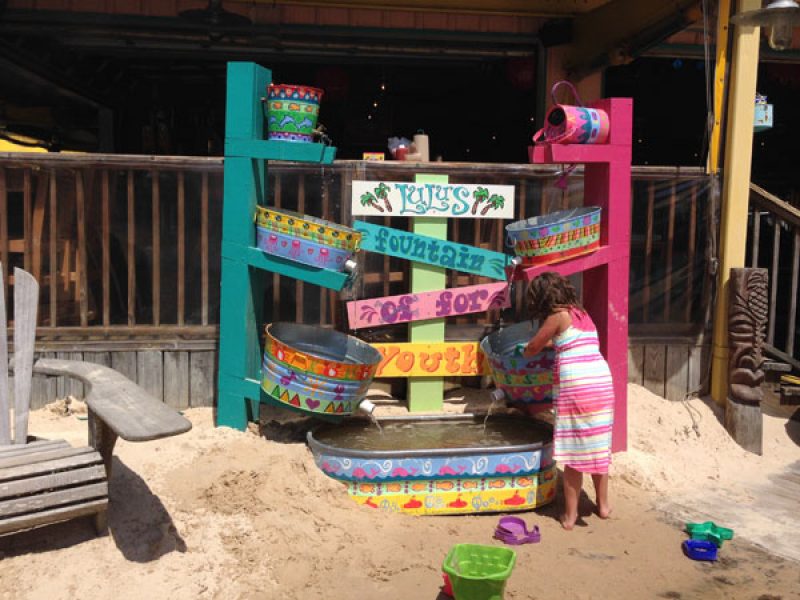 You know how your kids never want to leave the beach, but you're ready for some adult food, beverage, and social time? LuLu's is the perfect place to achieve that elusive blend of family and adult time.
LuLu's offers several outdoor bars and play areas, so you can enjoy live music and drinks while the kids play in the sand, at the arcade, or on the ropes course. Or keep them busy with a temporary tattoo, henna, or hair wrap.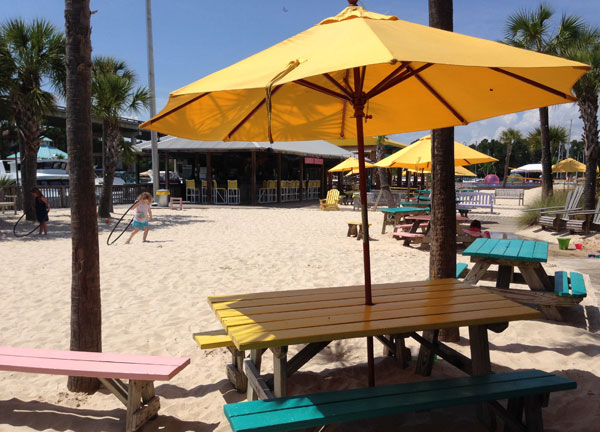 Best Bites at LuLu's Gulf Shores
When it's time to eat, LuLu's has a classic American menu with plenty of fresh, local seafood options.
A friend recommended the smoked tuna dip, and it did not disappoint! I loved this chunky, smokey, not-too-creamy bite. The dip was served with a ton of saltine crackers, but I would have liked something a bit more sturdy, like a pita chip.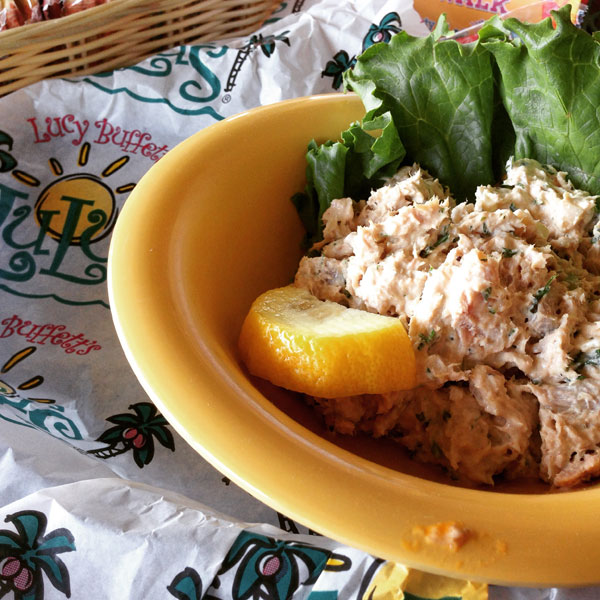 During lunch, my family sampled nachos, burgers, chicken, onion rings, fried pickles, and fried green tomatoes. Everything was delicious. My son (16) was surprised by the chicken finger options – not only the usual kid-meal chicken fingers, but non-fried options like the blackened, which he loved.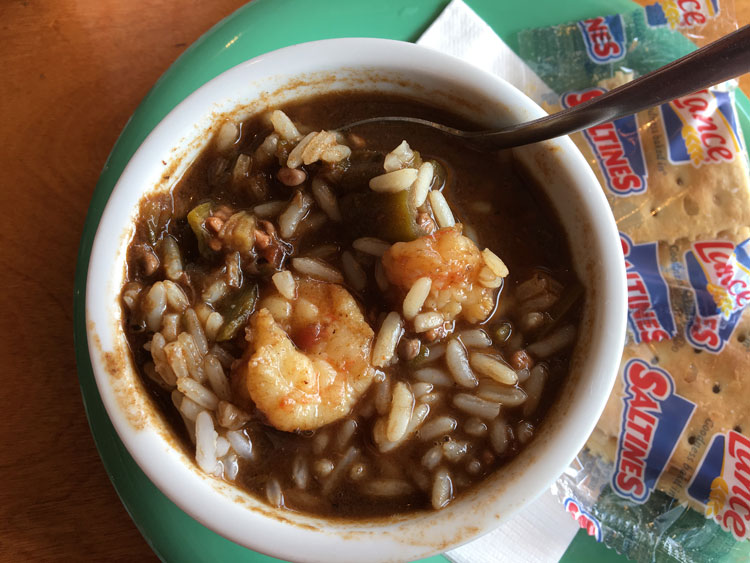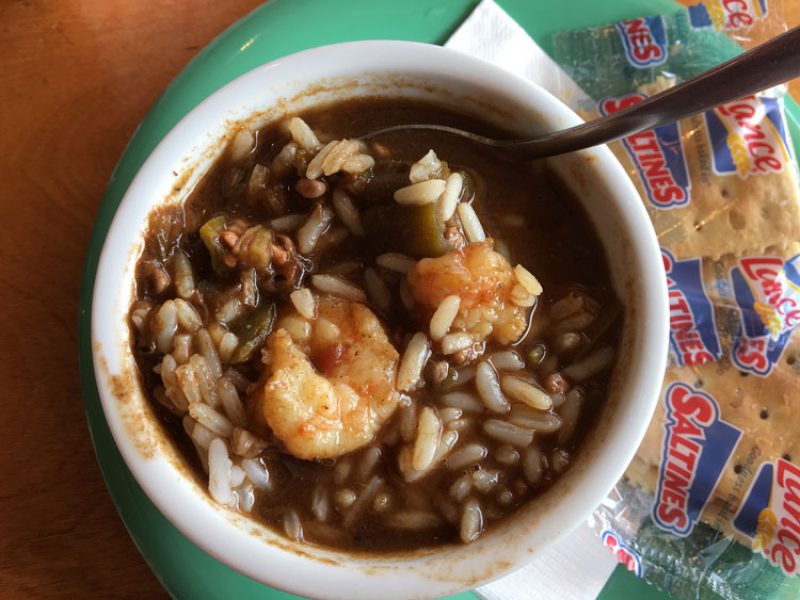 Another favorite bite was LuLu's Famous Seafood Gumbo. Rich and hearty, LuLu's menu states the Roux is hand-stirred "until your arm falls off."
LuLu's also has a separate allergy menu that is simply incredible for kids with food allergies. They get their own menu, with food prepared by a separate chef on a dedicated grill, and a manager personally handles each allergy order. I was so impressed with LuLu's dedication to handling food allergies.
How To Avoid the Wait at LuLu's
During peak times, the wait at LuLu's can be up to three hours and they don't take reservations. We first visited LuLu's at lunch, off-season and didn't experience a wait. Our second visit was in early summer at dinner, and the web site told us the wait was nearly 2 hours. So we used LuLu's awesome "Go Online to Get in Line" service. It's not a reservation, but it puts you in line on the waiting list before you arrive!
While we were at our condo at Turquoise Place, showering after a day at the beach, I went to LuLu's web site and clicked "Get on the Wait List." I entered in the number in my party, my name and mobile number, and BAM – we were in line!
LuLu's gave us an approximate time to arrive and we checked in about 15 minutes before that time. About 20 minutes later, I got a text that our table was ready. It was just enough time for my nephews to enjoy a turn on the ropes course while the adults had a drink!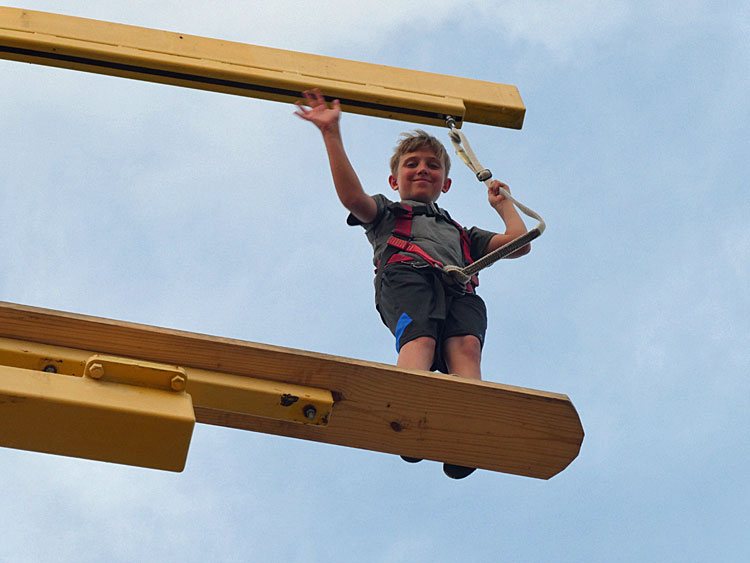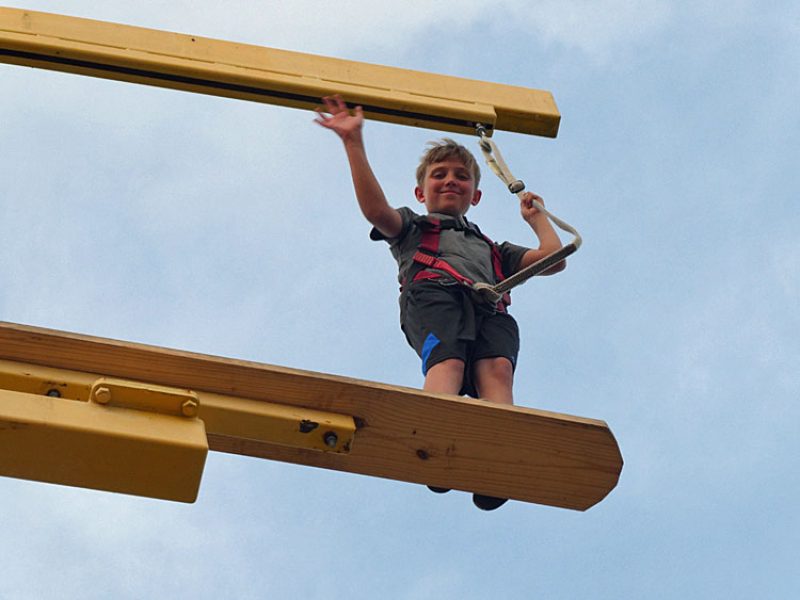 Even if you do have to wait for a table at LuLu's, there are so many ways to pass the time! Live music, bars, games, shopping and more make LuLu's in Gulf Shores an experience you don't want to miss.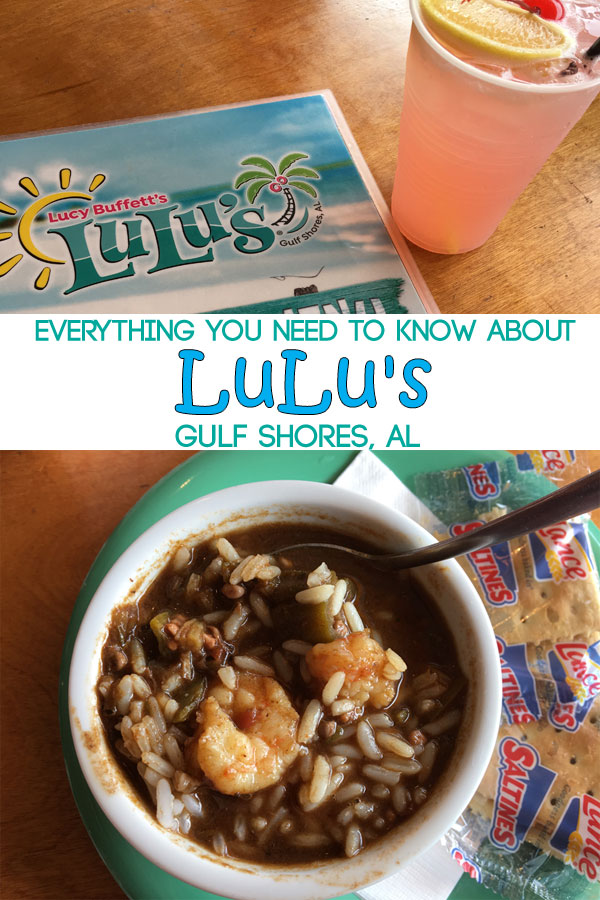 Disclosure: On my first visit, I was a guest of LuLu's courtesy of Gulf Shores/Orange Beach, Ala. I've been back a couple more times on my own! Opinions here are all mine.