I've traveled all over the United States, and when people ask me my favorite beach destination, I always rave about Gulf Shores and Orange Beach, Alabama.
Many people don't know about this gem on the Gulf coast, so I've put together the ultimate Gulf Shores and Orange Beach travel guide.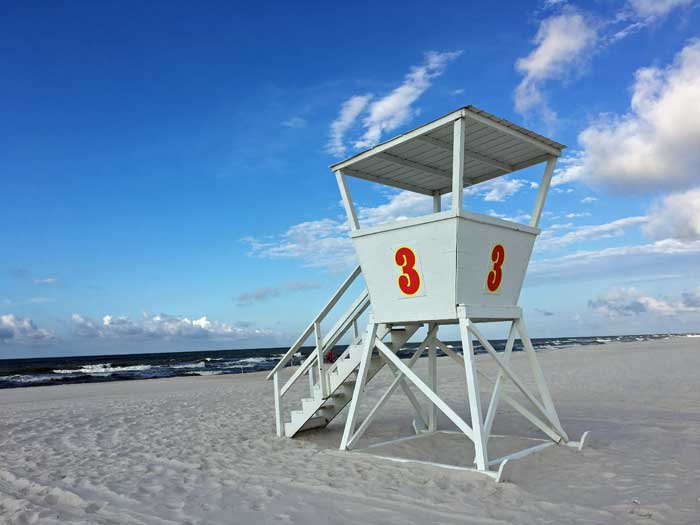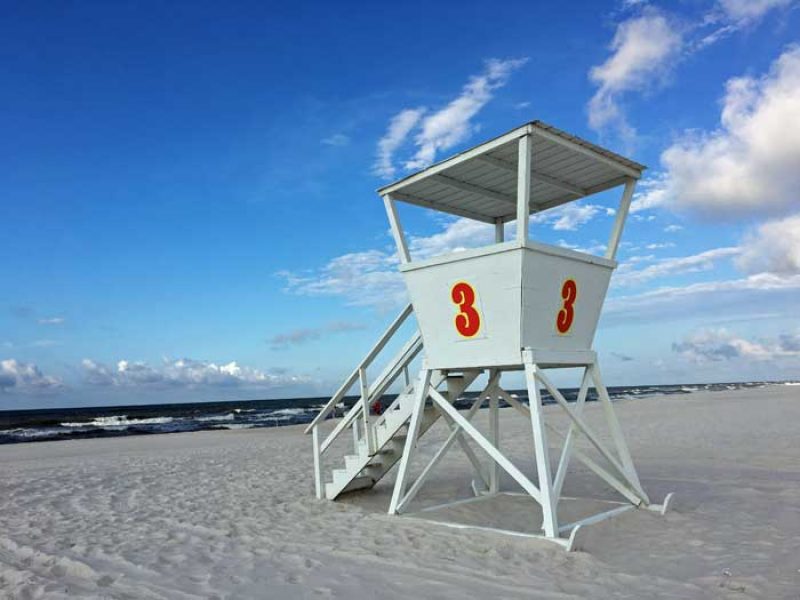 Best Places to Stay
When you're planning a beach vacation, deciding on accommodations is half the battle. Your choice of lodging will depend on how many people you are traveling with and if you want beach-front property.
If you are traveling with a larger family or group (4+ people), I highly recommend a condo rental. Gulf Shores and Orange Beach has some amazing resorts with spacious, luxury condos.
Not sold on a condo? Let me tell you why I love them for a beach vacation. There's nothing like waking up after an amazing night's sleep in your cozy bed, making a cup of coffee or tea just the way you like it, grabbing some fruit or making a quick breakfast, then sitting on your balcony and watching the waves crash.
Or coming back to your condo after the sun and surf have taken all your energy, and throwing some dinner on the grill while relaxing with a glass of wine. You don't always want to get the family showered and dressed to drive out somewhere for dinner!
What resorts do I recommend? My favorite is Turquoise Place by Spectrum Resorts. Their beautiful condos are spacious, with luxurious bathrooms and full, chef-ready kitchens. They are located right on the beach, and they also have several pools, indoors and out, plus hot tubs and a lazy river. Turquoise Place has live music, entertainment, games, fitness classes, activities for kids, and so much more.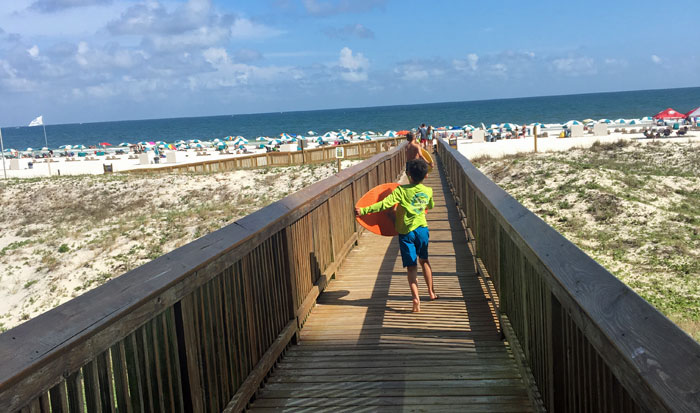 The new Spectrum Club Lounge is another great perk to staying at Turquoise Place. With your SpectrumBand wristband (that allows keyless entry to your room and charging privileges around the resort), you have access to the Lounge for free continental breakfast, ping-pong, pool table, special toddler activities, and video game consoles.
I was also impressed with Caribe Resort and The Beach Club (also by Spectrum Resorts). Both have beautiful condos, beach access, and excellent amenities.
If you are traveling solo or with a partner, or if your budget is better suited to a hotel, I recommend The Island House Hotel by Hilton. Also located on the beach, the Hilton offers spacious, beach-themed rooms, private, gulf-view balconies, a pool, an outdoor tiki bar, and a restaurant.
You can read more details about all these properties in this post on the best places to stay in Gulf Shores and Orange Beach.
Things To Do
There's so much to do in Gulf Shores and Orange Beach! I've vacationed there three times and still haven't done all there is to do. Here's a sampling of all the fun you can have:
Ziplining
Deep Sea Fishing
Parasailing
Boating and kayaking
Dolphin-sighting cruise
Jet-skiing
Biking
Hiking
Horseback riding
Tour a working oyster farm or take a shrimping excursion
Play mini-golf
Visit the Zoo
Enjoy a festival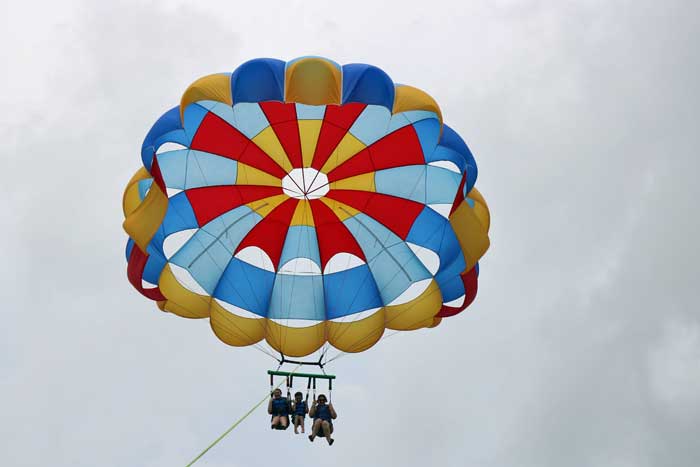 For more details, check out:
Best Places to Eat
Good, fresh, local food is critical when I'm picking a vacation destination. Gulf Shores and Orange Beach has it in spades. Here are my top picks:
The Ruby Slipper Cafe: For its incredible food, breakfast cocktails, and overall vibe, the Ruby Slipper Cafe is my favorite place to eat breakfast in Orange Beach. Eating is emotional and this restaurant hit all my buttons: homestyle menu items, unique cocktails, friendly service, comfortable atmosphere, and a touching story behind the store.
The Gulf: This is my favorite happy hour restaurant. It's right on the water with outdoor seating that consists of picnic tables and couches on the sand. The outdoor bar is pretty awesome, too. It's like sitting on your back deck with your best friends, but with an unparalleled view and delicious food and drinks served to you!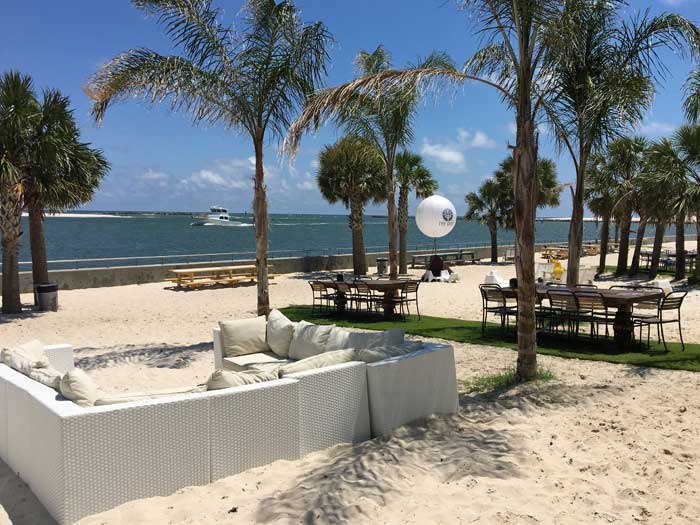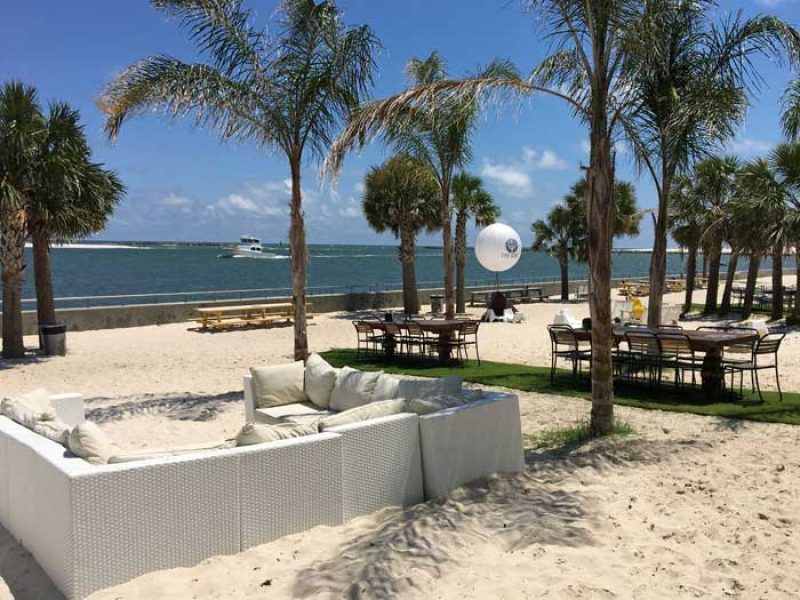 Ginny Lane: Ginny Lane is a casual-upscale restaurant. Here you'll find live entertainment, a fun atmosphere, and a beautiful waterfront location, with just the right touch of elegance. They serve up fresh, local seafood and Certified Black Angus Beef.
Fisher's: Located in Orange Beach Marina, Fisher's offers two distinct dining experiences – the casual Dockside and the upscale Upstairs. At Dockside, you can sit by the marina and appreciate the view while savoring mouthwatering bites like cajun roasted oysters, crab claws, boudin balls, boiled peanuts, and the famous Murder Point oysters – farm-raised to be small and sweet. And their shrimp and grits were the best I've ever had.
Fisher's Upstairs continues to be one of my favorite spots for fine dining in Orange Beach. When you want a quiet night out with your significant other, Fisher's offers top-quality dishes and fabulous cocktails accompanied by a warm, classy ambiance.
The Yard: While most of these restaurants have great desserts, you don't want to miss The Yard Milkshake Bar! Build your own "freak shake" or order one of their amazing creations. And you get to bring home your glass as a souvenir! Block out a good amount of time for your visit, because the wait can sometimes be an hour or two during peak times. But trust me, it's worth it.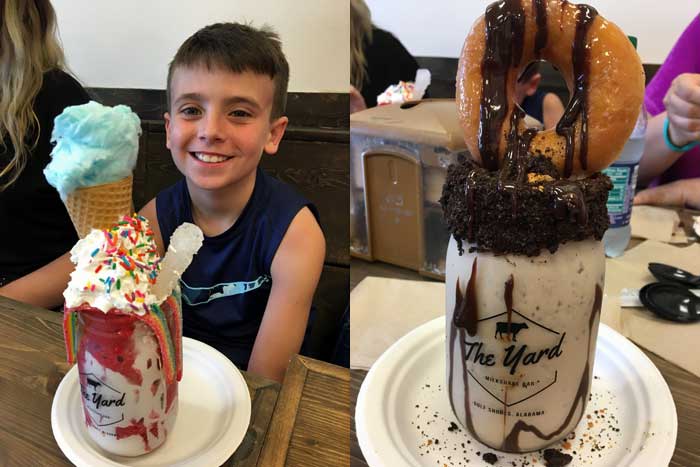 For more recommended restaurants, read my comprehensive post on the best restaurants in Gulf Shores and Orange Beach.
Best Cocktails
Ruby Sunrise at The Ruby Slipper Cafe: I love their cocktail motto: "You can't drink all day if you don't start in the morning." The Ruby Sunrise, made with tequila, orange juice and pomegranate juice, is the perfect start to your beach day.
Mini's Maple Magic at The Royal Oyster: A delicious blend of Maker's Mark, bourbon maple syrup, lemon, mint, and soda. Extremely tasty with just the right amount of sweetness. (This is also the place to go for the freshest local oysters!)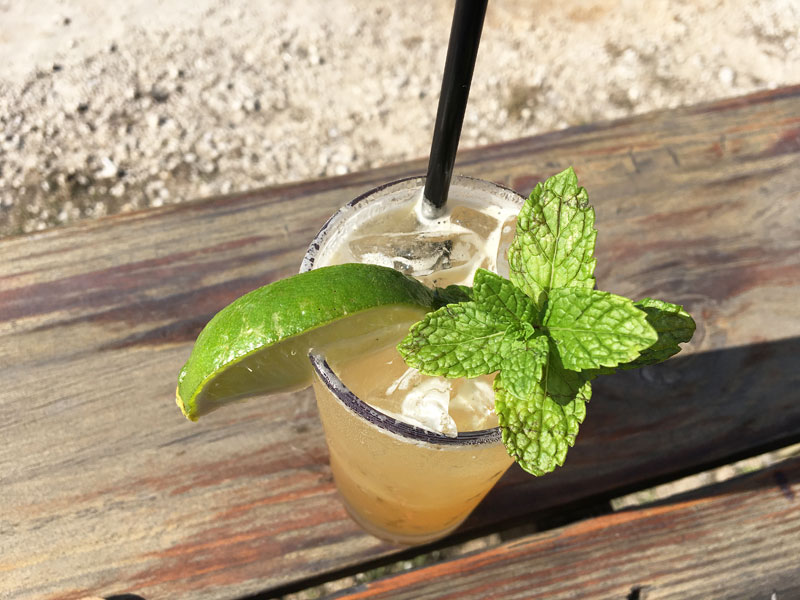 The Bushwacker: The mascot cocktail of Alabama's Gulf Coast, the Bushwacker is made with coffee, rums, chocolate liqueurs, and vanilla ice cream, blended into a milkshake-like consistency. It's the ultimate beach drink. I tried one at almost every restaurant.
I've got a few more favorites you can read about in this post on the Best Cocktails in Gulf Shores and Orange Beach.
How to Get There
The closest airport is Pensacola, Fla. where you can rent a car or take a car service. The drive from Pensacola to Orange Beach is an easy 40 minutes.
My home airport is Newark and there aren't typically direct flights to Pensacola at a reasonable price. So I've gotten creative and combined visits to other major cities with my beach getaways. I've flown into Atlanta and drove the 5 hours to Gulf Shores and Orange Beach. I've also planned a couple days in New Orleans, which is only about 3.5 hours from Alabama's beaches.
And if you live in Tennessee, Arkansas, Louisiana, Mississippi, or Alabama, the most beautiful and closest beaches you can drive to are in Gulf Shores and Orange Beach. Other beaches on the Gulf coast just don't compare.