With an excellent network of moderately difficult, rocky trails, hiking at Ramapo Mountain State Forest in Oakland, NJ offers lakes, waterfalls, castle ruins, and even views of the New York City skyline.
This trail network is accessed by the Skyline Drive exit off I-287. A short distance off the highway, you'll see the lower parking lot on your left. There's also the smaller, upper parking lot just a bit further up, also on the left. We parked at the upper lot for the hike described in this post, but both lots have access to excellent hiking.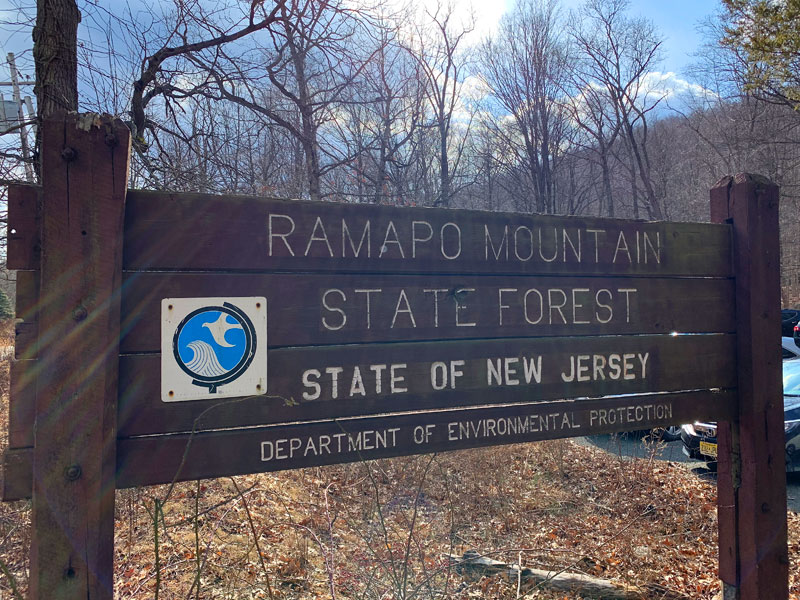 My husband Paul researches and plans our hikes. When choosing our trail at Ramapo Mountain State Forest, he selected the one that included lakes and waterfalls. He knows how much I love the water.
Click here to see my full video on the hike.
The Todd Lake Trail
Access to the trail network is on both sides of Skyline Drive. We planned to hike the Todd Lake trail. After parking at the upper lot, we crossed the road to look at the trail map. The orange trail leaves from this spot, but we had to walk down the road a few hundred feet to find the entrance to the Todd Lake trail. There is a sign, but the entrance is a bit overgrown.
We hiked over rock gardens, around boulders and up to the viewpoint, where we were treated to a lovely view of Crystal Lake and the town of Oakland.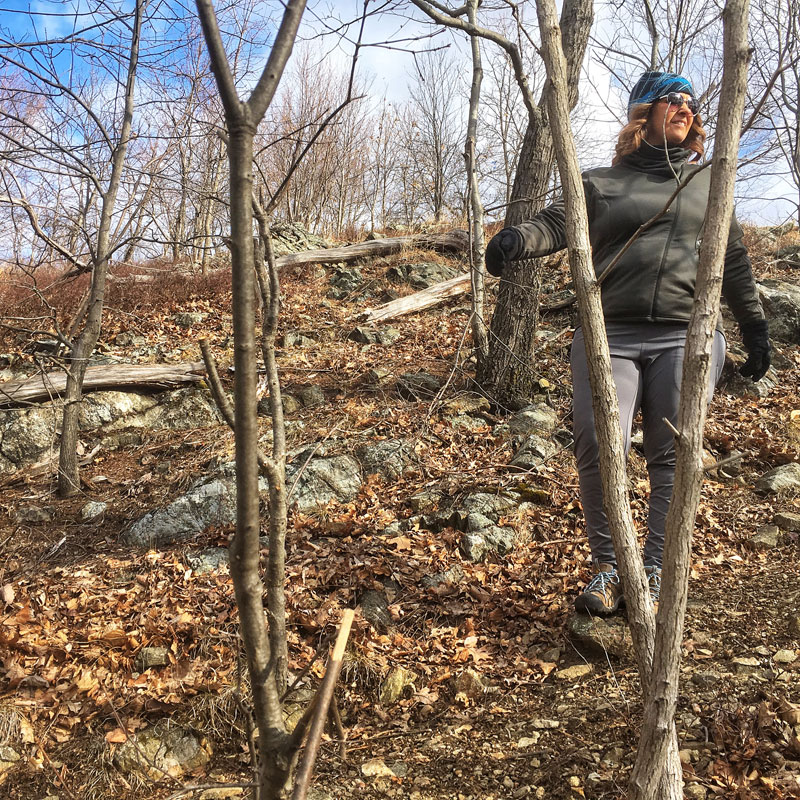 Then we continued on the white-blazed trail back to Skyline Drive – except we didn't realize we'd gone awry and were heading back toward the road. We like to fly blind sometimes when we hike – we had a general idea of where we were going and followed the blazed trail, but only had the online trail map with us by phone.
While that white-blazed hike definitely got our heart rates up, I'd recommend retracing your steps back from the viewpoint at the top. I'm not saying the white trail was a waste of time, but that section offered a lot of woods and more woods. There's so much beauty to explore in this park, so go back and connect with the yellow trail where you can explore Todd Lake, Lake Tamarack, some waterfalls, and various ruins.
The Yellow Trail
Shortly after picking up the yellow trail, you'll see Todd Lake. The small lake is a nice spot to stop for a water break, or even for lunch.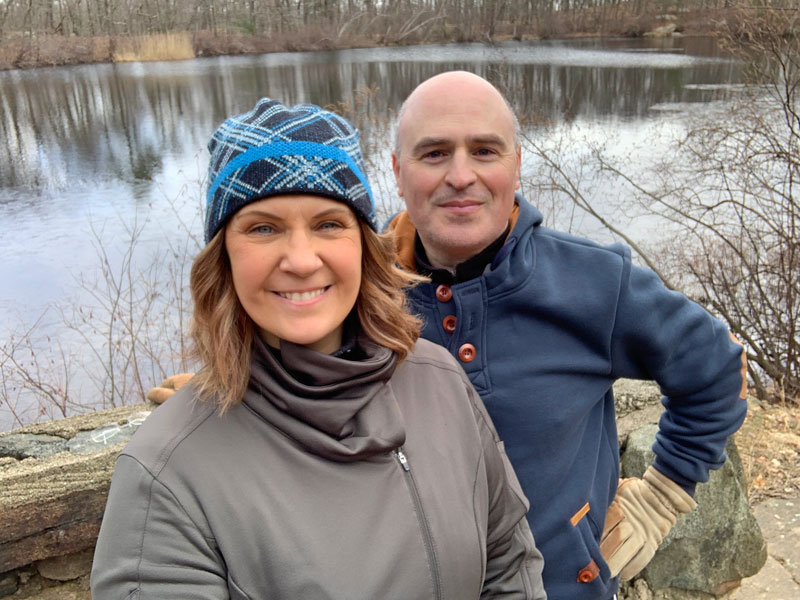 Continuing on the yellow trail, you'll come to a series of small waterfalls in a babbling brook. The trail also crosses the brook at this point, which is always fun.
I think there might have been more waterfall features further down the trail, which we intend to explore in the spring. We spent a little time crossing back and forth over the brook and enjoying the waterfalls, then headed back on the yellow trail. Right before we got back to Todd Lake, we saw a purple-blazed trail that cut to the right.
I looked at the trail map on the AllTrails app and determined that the purple trail connected back to the orange, which is where we parked. So we headed that way. Also, I love a good loop. I always want to see something new, so it bugs me to have to retrace my steps.
This turned out to be a fantastic choice because we soon came across some stone ruins and then Lake Tamarack. Water flowed over a small dam into icy tree branches.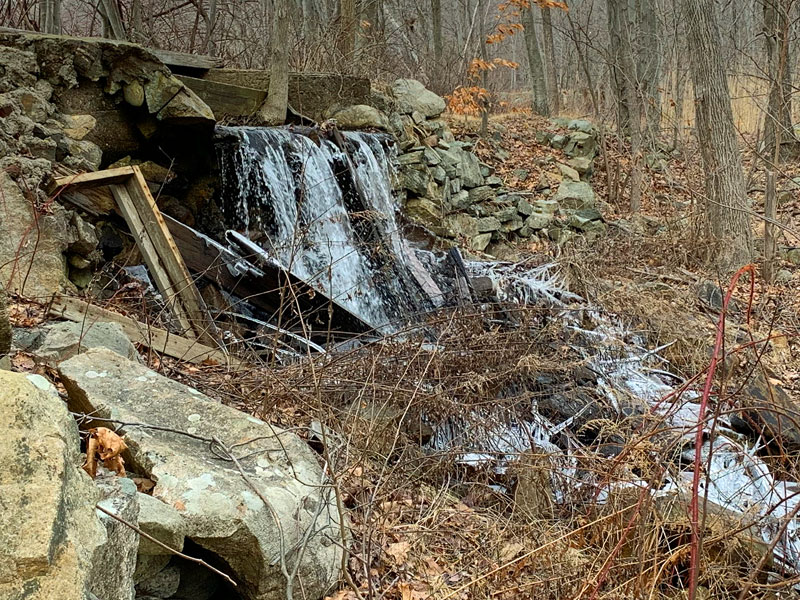 We got up close and made our way to the top of the dam. Three rickety 2×4 boards that looked like they may not actually hold our weight lay over the dam. A path on the other side hugged the edge of the lake.
As we pondered the crossing, Paul commented the worst that could happen is we'd get really wet and possibly slip down the icy dam and break a bone. We shrugged. We're risk takers.
At that point, we weren't on a blazed trail any more, but the AllTrails map showed the path around the lake connecting back to the orange trail where we wanted to be.
Soon enough, we saw several other hikers on that orange trail. It's worth noting that we saw maybe two or three people on the white trail, and no one at all on the yellow or purple trails. But remember, we hiked in February.
Here's a visual of what we hiked: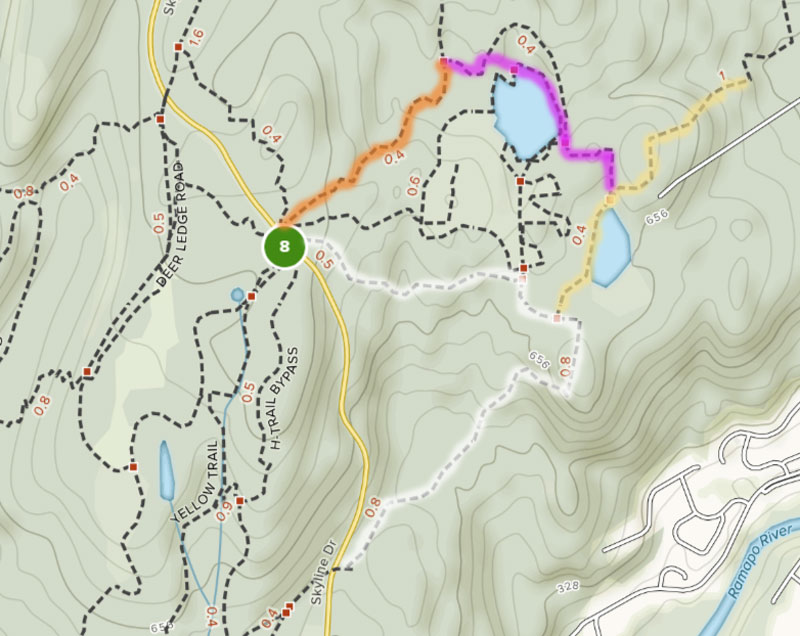 In total, this hike was 8.7 km (5.4 miles). It took us 3.5 hours, though we stopped quite a bit to take photos and video.
Difficulty of the Hike
AllTrails rated this hike as moderate. If you're in average physical shape like me, you might call it moderate to difficult. The trail is rocky, with lots of roots and obstacles. Several sections of the trail were very steep, and you'll be climbing and descending almost constantly. It was a terrific workout!
Trails are extremely well-marked in Ramapo Mountain State Forest. At times we felt like the trails were over-blazed, but we hiked in the winter. In full summer foliage, the abundance of blazes is probably needed. And really, you can't go wrong with more blazes.
The forest has a lot more secrets we have yet to explore! We've read about more waterfalls, castle ruins, and views of the New York City skyline. We'll definitely be spending more time on these trails.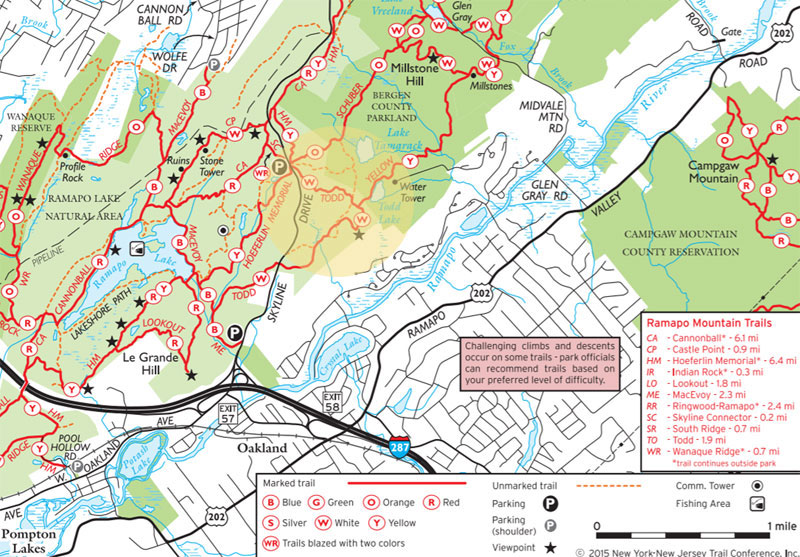 Where to Eat After Hiking At Ramapo Mountain State Forest
There are tons of options in the area to refuel after your hike. You'll be closest to the city of Oakland, where 3 of the top 5 restaurants in the area were Italian food. Fun fact: nearby Fairfield, NJ is known to be "the most Italian city in America" according to Census data.
Since we weren't up for Italian, we chose the Blu Alehouse in Riverdale, NJ, about 10 minutes south and on our way home. Its American menu and casual sports bar atmosphere was just what we were looking for.
It's always hit or miss when you use Google to find your restaurant, but Blu Alehouse was a hit! I started with a cocktail called "Warm Me Up," made with Jameson Black Barrel Whiskey, St. George's Spiced Pear Liqueur, pineapple juice, and a house-made cinnamon simple syrup. It was delicious and not nearly as sweet as it sounds.
The Southwest Egg Rolls appetizer was next. These large egg rolls were sliced in half lengthwise and filled with chicken, black beans, corn, peppers, onions, and cheese. They were outstanding and the chipotle dipping sauce was the perfect complement!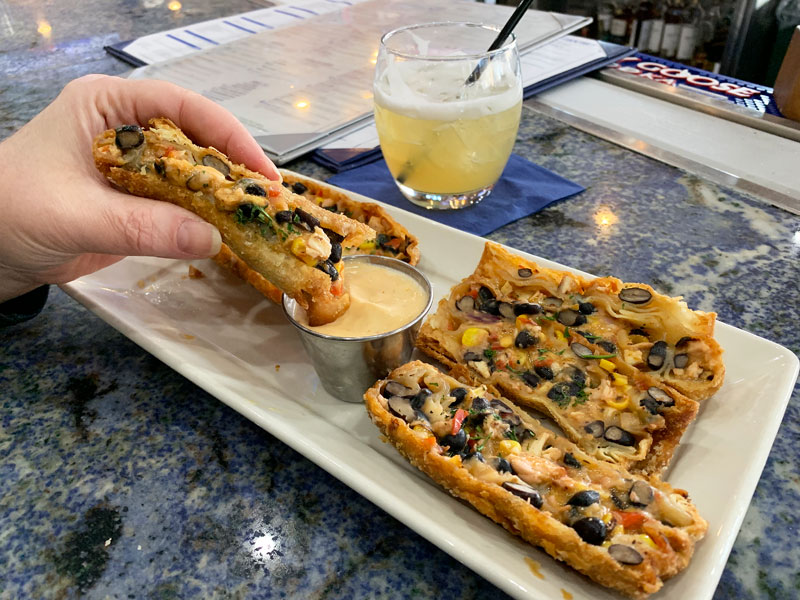 For an entree, I had the "Power Salad," a blend of baby kale, broccoli, brussels sprouts, carrots, cucumbers, almonds, pecans, and craisins, tossed with a raspberry vinaigrette. What I loved most about this salad was that everything was chopped up into tiny pieces. I love being able to eat a salad without having to cut big chunks of lettuce or veggies. And every bite was a perfect blend of the ingredients.
Paul had "The Don," chicken, sweet Italian sausage, cherry peppers, mushrooms, onions, and garlic tossed with orecchiette pasta. This savory entree has just the right amount of spice to warm you up after a cold day of hiking.
Ready to Get Out and Explore?
If you're ready to get outside, find scenic hiking destinations around the world and stay fit and healthy into your retirement years, check out the travel planning services offered by our sponsor, Diamond Cruise & Travel.
Diamond is a boutique agency offering direct access to the owners, who have traveled all over the world and can provide expert guidance on adventure tours, eco-tours, national parks, cruises and motorcoach tours.
We'd love to have you join our quest for physical and financial independence. Mention #401Kto401k and get a $40.1 credit on your next trip booked through Diamond!