"Cassie, wanna have a snowball fight?"
I was slightly shocked to hear my teenage son invite my nine-year old daughter to play. With six years between them, they don't often play together, and being a teenager, he doesn't pay her as much attention as just a few years ago. But sitting at a table on the KT Base Deck at Squaw Valley in Lake Tahoe, Calif., with nothing to do but relax with a soda, he remembered one of their favorite activities.
Quickly, they scrambled up the closed slope and started amassing their weapons. Soon enough, a couple of other children joined in and it was all-out snowball war.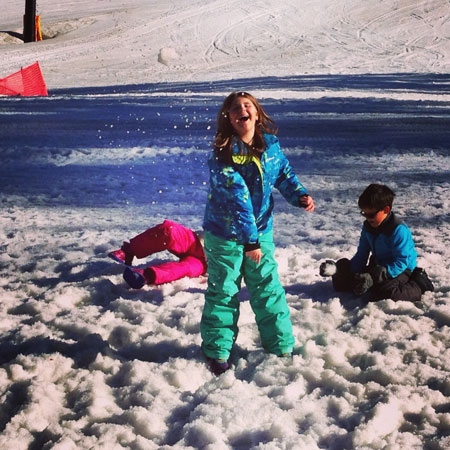 I watched with interest as the kids played. We had dropped our ski gear in the car before heading to dinner, so my kids didn't have their gloves. I noticed the little girl offer her gloves to my daughter, who politely refused. Ever the ring-leader, my daughter soon had the brother and sister team on her side for a three-against-one assault on her older brother.
Before long, the kids were cold and wet, and we all went to sit around the firepit. I chatted with my daughter and her new friend, Sophia.
"I have doggie at home," Sophia said in slightly broken English.
"Where do you live?" I asked.
"Russia."
My daughter looked at me and raised her eyebrows. Sophia asked where we live. "We live in New Jersey, in the United States."
"United States of America?" Sophia asked. We nodded our heads.
"I have robot kitty Daisy."
"I have that kitty, too!" my daughter marveled. I could see she was surprised that a child in Russia – seemingly so very far and very different than us – would have the same toy.
"Do you like living in Russia?" I asked.
Sophia looked up to the sky, formulating her answer. "Um… Russian men and women very angry." She added emphasis to her statement with a sour face.
Cassie got a kick out of this and laughed. Unsure of how to respond, I said, "Oh, that's too bad."
The girls chatted a bit more, mostly about their love of animals, until Sophia's mother called her to leave. I shared a smile and wave with the mom. She didn't seem to want to talk, but I'm thinking there was probably a language barrier.
Language, it seems, is just one of many kinds of barriers to overcome when traveling. When my husband and I started talking about an extended trip to Lake Tahoe, my daughter put up her own barrier.
"What? I DO NOT want to ski every day for TWO MONTHS. I HATE skiing."
Although we assured her we wouldn't be skiing every day (just almost every day), and she would start to enjoy skiing more as she became better at it, and there would be lots of other fun things to do, she was still quite emphatic in her insistance that she would hate the trip.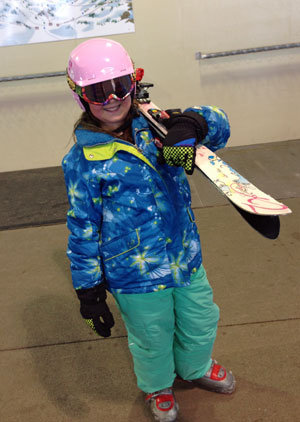 But now, she cheerfully hits the slopes, flies in a downhill racer's tuck, and takes pride in carrying her own skis, even if only for short distances. Yesterday, when we announced it was time to head home, she actually pleaded, "Aww, I want to ski more…"
But if we had skied more, we'd have missed Sophia and the great, international snowball fight.