Twenty-four years ago when my husband and I were planning our wedding, we were faced with a dilemma. We knew we wanted to ski on our honeymoon, but we didn't want to get married in the winter and risk bad weather.
After a lot of research (which wasn't easy without the Internet, folks!) we discovered that the Lake Tahoe area ski resorts often operate well into April and May. So an early April wedding was planned and we enjoyed a blissful honeymoon skiing at Squaw Valley Resort (now known as Squaw Valley Alpine Meadows) in northern California.
This summer, we planned a family camping trip at Sequoia & Kings Canyon National Parks. But we knew we wanted to squeeze in a visit to Lake Tahoe. We'd never experienced Tahoe in the summer. And since we are considering moving there permanently, we wanted to check out the summer scene for ourselves. In July, we knew we'd enjoy the beautiful lake, the water sports, and the perfect weather – usually in the high 70s, with no humidity and no bugs!
But then we read headlines that Squaw Valley planned to be open in July and we realized we could also SKI!!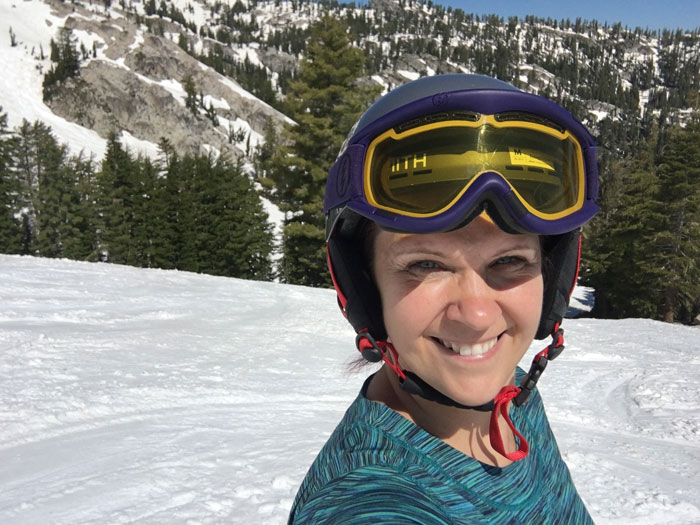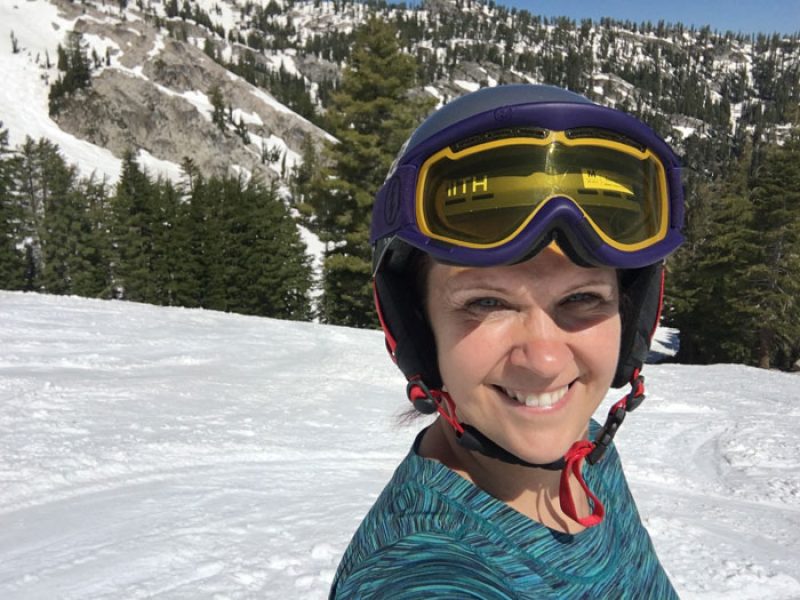 Over 60 Feet of Snow!
Lake Tahoe sits in the Sierra Nevada mountains, on the border of California and Nevada. With an annual average of 450 inches of snowfall and 300 sunny days, Squaw Valley earned its name as the spring skiing capital, providing one of the longest ski and snowboard seasons in Lake Tahoe and in the country.
While the area has experienced significant drought conditions in recent years, the snow gods buried Squaw Valley Alpine Meadows in 728 inches this winter – over 60 feet! And for the first time ever, Squaw Valley will be open beyond July 4th. The resort is committed to running as deep into the summer season as possible.
Tips for Spring Skiing at Squaw Valley
Bright and early on Saturday, July 1st, we drove up the familiar road along the rushing Truckee River and headed to Squaw Valley. We got in line for our rentals at 7:45am, along with about 20-30 other hardcore skiers. The rental shop experience moved more smoothly than we'd experienced at any other ski resort. For as many people there lined up, there were even more people on staff to help get everyone geared up and on the mountain.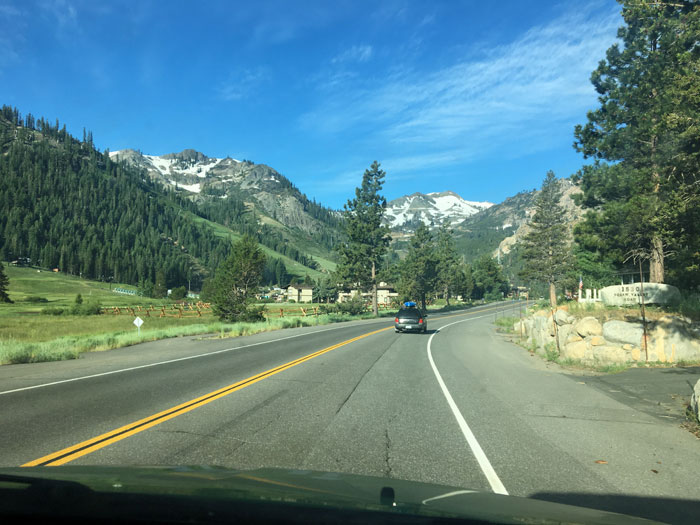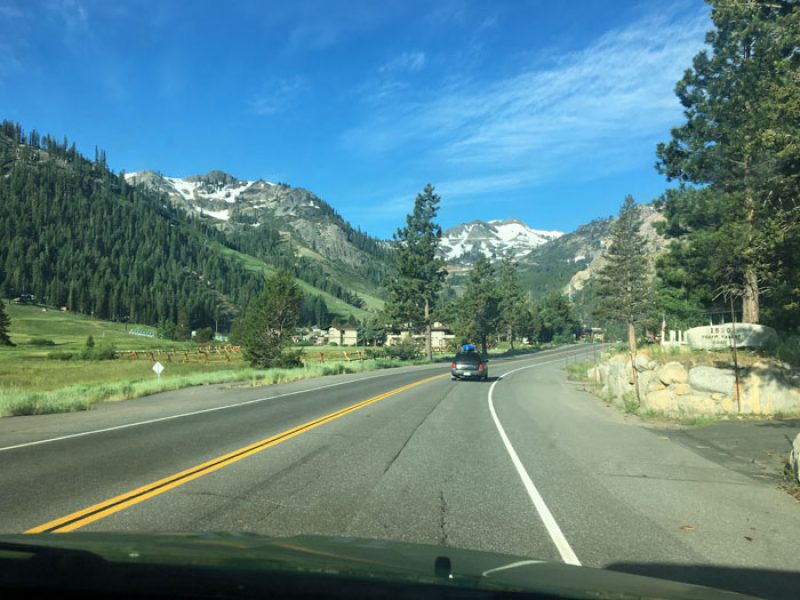 If you've ever skied in the spring, you know it's an activity relegated to the true lovers of the sport. First of all, it's warm. So what do you wear? If you're a good skier, you can wear shorts and a t-shirt. Since it was July 4th weekend, I saw people skiing in all sorts of costumes. There were superhero capes, grass skirts, even a few bathing suits!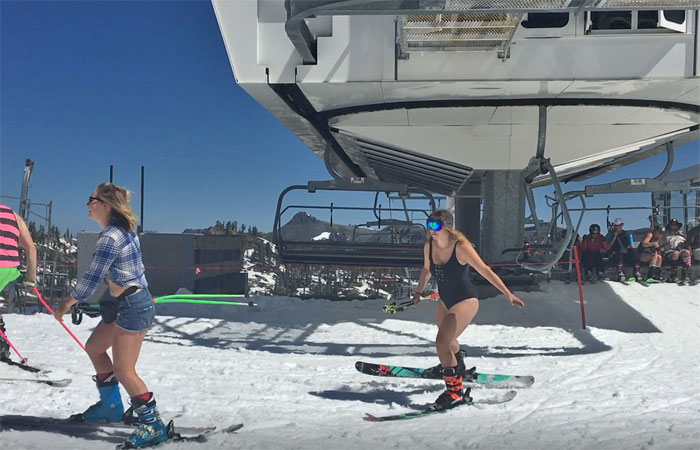 But if you fall, you might get a "snow rash." My husband and I wore thin, waterproof pants and light, moisture-wicking shirts. My daughter wore her red panda Kigurumi costume. You don't really need gloves, but a helmet is necessary for safety.
Second, the scenery is not going to be a winter wonderland with serene, powder-coated trees. You'll see a lot of mud and dirt and the snow has a tinge of tan. But you'll also see beautiful greenery and an awesome view of Lake Tahoe. After all, if not for all of the snow, people would be coming here for the hiking trails.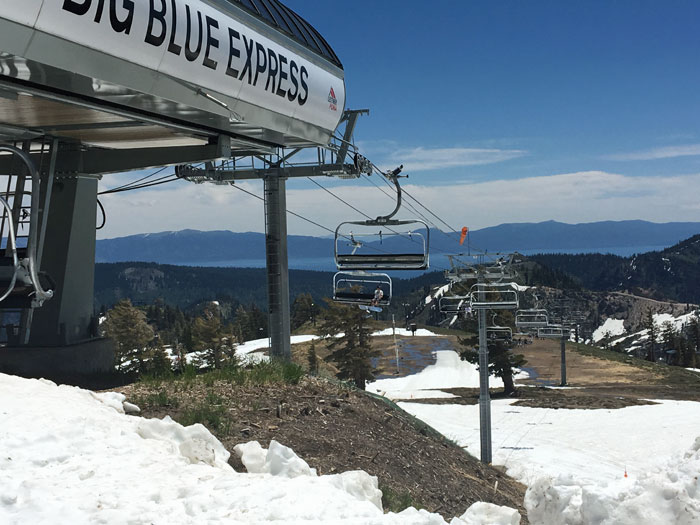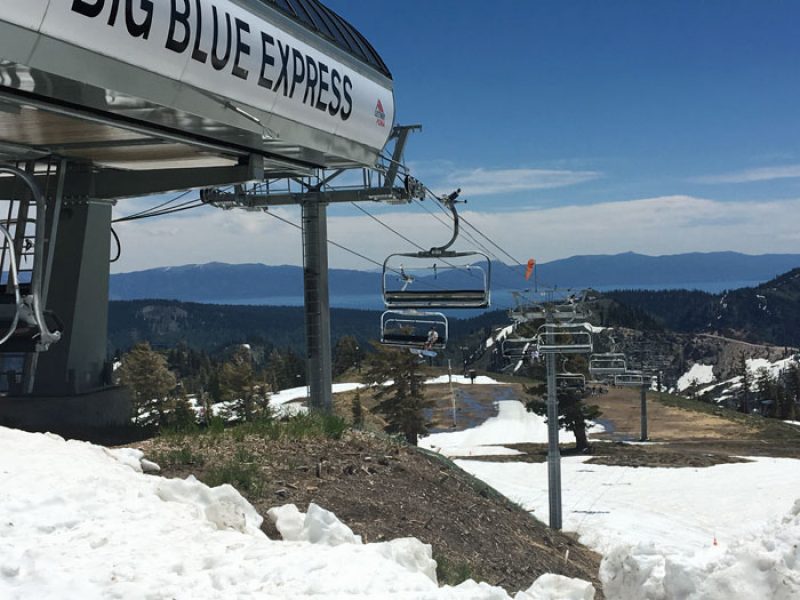 Third, you need to get out on the slopes early! The skiing can still be great in the spring and summer. I was surprised to find some really decent snow. The crews work hard to farm snow from the mountain and groom it over open trails. You'll find the better snow on the backside by the Shirley Lake area. But by 1 p.m.or 2 p.m., the sun is beating down on the snow from a high angle. It creates that "Sierra cement" – thick, wet snow that can be tough to ski through. And that's when you head to the lodge or the Village and enjoy live music, epic food, and shopping!
Shopping and Food at the Village at Squaw Valley
I discovered Lather & Fizz while wandering the Village. This adorable little store is full of unique bath and shower items. My daughter stocked up on bath bombs and I brought home a massage bar and shower vapor in the refreshing "Tahoe Blue" scent that will surely remind me of my spring skiing visit for months to come.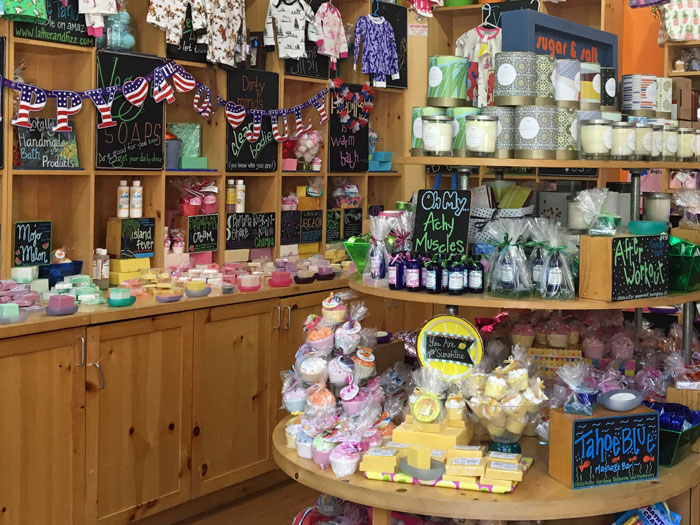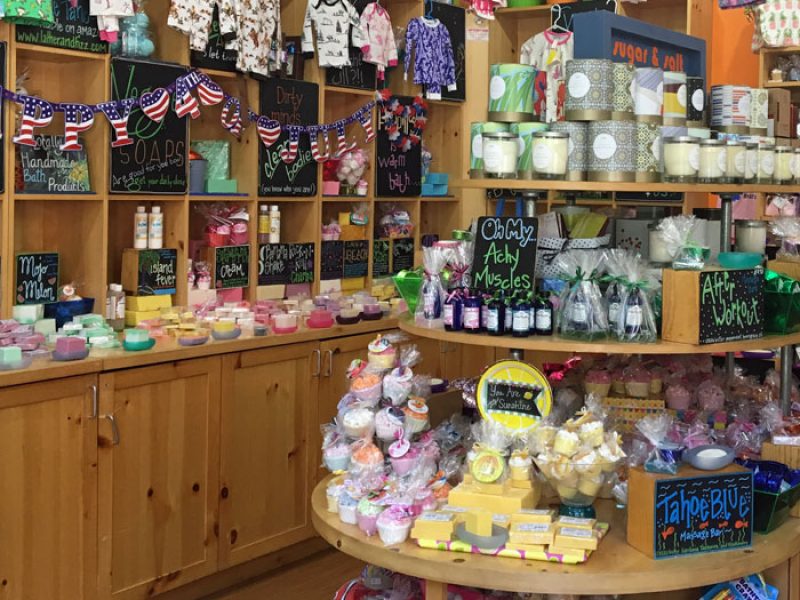 Having spent a good amount of time at Squaw in the past, my family had a tough time agreeing on where to eat. The restaurants are all so good. I love Rocker's brisket fries. My daughter loves the wings and corned beef at The Auld Dubliner. But we finally agreed on Fireside Pizza – where my husband could get a dinner-sized salad with chicken, my daughter got the garlic cheese chips, and I enjoyed a personal size Hawaiian pizza.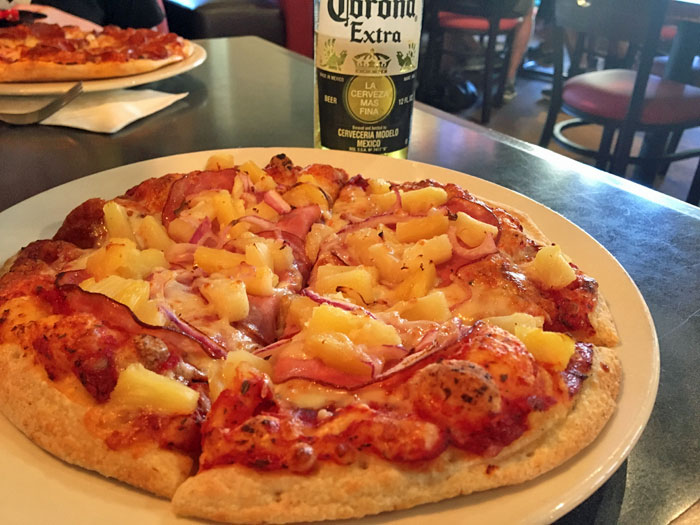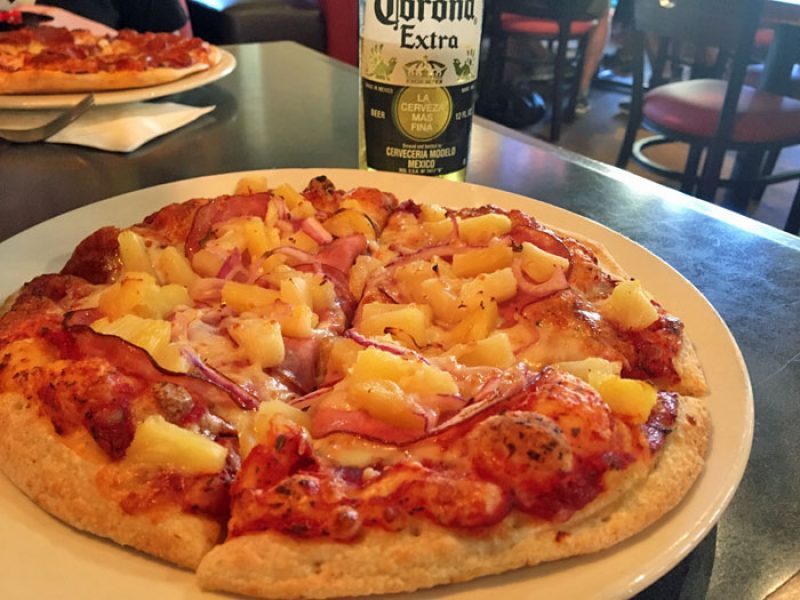 Squaw Valley is an all-season destination
Squaw Valley's High Camp area is also a summer destination in itself. Take the Aerial Tram from the base of Squaw Valley to High Camp, located at 8,200 feet, with 360 degree views of Lake Tahoe's high alpine beauty. Activities at High Camp include a pool, hot tub, hiking trails, the Olympic Museum, dining, shopping, disc golf, lawn games, and more.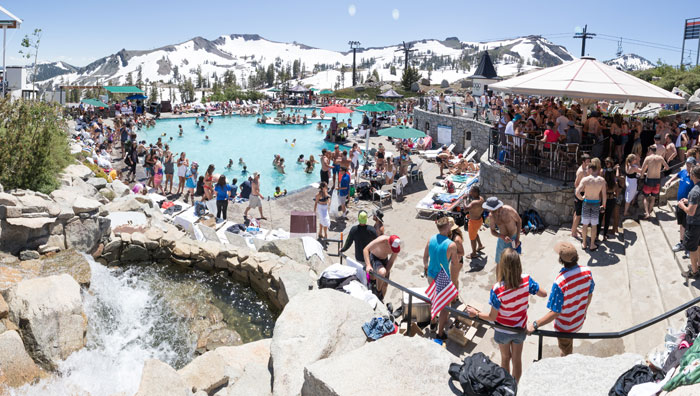 The vibe of spring skiing is different than winter skiing. In winter, people at Squaw take their skiing and riding very seriously. But spring/summer skiers? Everyone is SO PSYCHED. I rode the lift with a guy who was 70 years old and told me it was his dream to ski in July. Another group told me they were going to take a few runs, then go play golf that afternoon. How cool is that? Everyone seemed in full party mode.
As for me, I enjoyed the novelty of skiing in July. The freedom of wearing light clothes, the hot sun tanning my face, the music, food, and shopping, and the people-watching at the lodge… I loved it all.
And then I went kayaking the next day. For all-season fun that truly mixes seasons, Lake Tahoe's Squaw Valley is the place to be.